Writing the Prep List
Jeff Emtman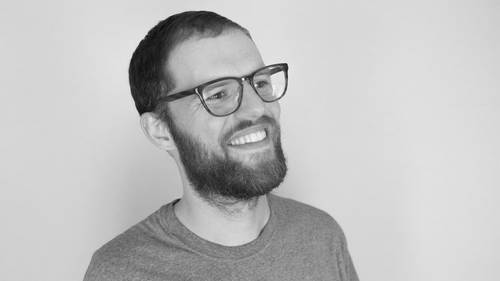 Writing the Prep List
Jeff Emtman
Lesson Info
7. Writing the Prep List
Lesson Info
Writing the Prep List
To recap so far, we've gone from nothing, right? We've gone from nothing, had the spark of an idea, right? We've taken those many ideas and we've pulled some of them down, gotten rid of the fluff. We've connected those ideas together. These are ideas that connect together. We've colored it in with sound. And filled it out with sound and imagined our dream tape and our dream sound, put them together. We've gone through some quick pits of despair. (audience laughs) We've experimented a little bit with form. And now, after all this, it's time to write the list, right? Here's our list. Ooh, this is the one I'm least happy with of all of these little images I made. It kinda looks like an octopus, but like a six-legged octopus if I do say. But the general idea is that it's like, still like in the experimental phase, but like you've taken all these ideas and turned them into lines. And these are our questions here. There's only six of them. It's not to say you have to have six questions, but ...
we've taken all those things and just cut them down to the barest form. So it's time to reopen that research doc and put the stuff in, right? This will be the questions that, the list that you'll actually bring to your interview. This should be something very brief. So, remember this here, right? This was a piece I was telling you about where I was looking into Santeria and Palo, these religions, and I had a source that I wanted to talk to whose dad was a higher up in New Jersey in the world of Santeria and Palo. And I took all of this and I had all these ideas and sat with them for a little bit too long honestly. I think from the time that we first started talking to the time that we wound up recording wounded up being a couple months, which I wish it hadn't been quite so long. But, I recently went down to New Jersey and I got to read a book that her dad helped write. On that, I got to see these old Santeria artifacts and also like, what are these called, Precious Moments? Precious Moments. Precious Moments, they were in there too, you know, and it's just like, these were stuff that her dad and mom had and these gems that were significant as well. I got hit with a huge thunderstorm, this was the unpredictable thing. It said no chance for thunderstorms that day and I just got stuck right in the middle of it in Bushwick, but we did the interview in New Jersey. And so we spent the whole day together, looking at these things and doing all this stuff and that whole big research document that I had originally made, I actually boiled it down to just this. This is all I took with me, this is just at the top of that metadoc. It's like so what do we need to do during the interview? We need room tone, I need an introduction, I want a description of her house growing up, you know? 'Cause otherwise we're going to forget that, I thought it was important. Ashe, which is power in a sense. Her father's relationship with death and cemeteries. How do the two religions relate to each other with a metaphor you can use for that. Why do you go to botanicas today if you don't believe? And I need to get her permission to use the audio. That's my whole question list and we spent I think, we spent a long time, like six hours together, you know? Santeria, I needed definitions for Santeria, Palo, botanica, ashe and orishas. And then I just made two actions. We're gonna go to this Cornish Rose botanica. I was hoping to get my fortune read, that didn't work out. And we're gonna look at her books on fortune telling and her dad's writing. And we spent six hours together and this is all I used as my cheat sheet because you don't want to be sitting there in the interview and scrolling through endless questions. This is actually kind of a thing that beginners tend to do, is way overwrite questions. You don't really want to do that. What you want to do is you want to have it all in your head, if possible. And then just pull from that, in your head. And use that experience that you've had in these very exquisite steps that I've described to you previously to make this list. And when we were talking, it was all organic conversation. Which was really nice. So to summarize our summary, first thing you need to do, you need to zoom in. You need to find your dream tape. You need to visualize sound. You need to listen as deeply as you can. Not only to sound, but to yourself and what your mind is telling you. You need to prep a really good short interview document that you can take with you to your interviews. And, most of all, you need to compartmentalize the dread that you inevitably will feel. All of this is easier said than done, by a long shot. It's stuff that I still struggle with. I've been doing this for six years. But with some of these steps adapted to your own work flow, I really hope that your next projects feel a little bit easier, a little bit more doable, a little bit less dreadful.
Ratings and Reviews
This class has a lot of really interesting insights and ideas. It is definitely focused more on narrative/interview/experimental style podcasts, but I think anyone interested in any aspect of podcasting would enjoy listening to Jeff speak on the subject. He's a really unique person with a really neat perspective on the medium, and sound in general.
Jeff definitely communicates the ideas very well and he is a compelling storyteller. The course offers many useful concepts. However, in my opinion, these little nuggets of insight are strewn about in layers that will have to be discovered as one gains more experience and spends more time honing their craft. I feel, for example, that while I picked up a lot on the techniques, many more aha moments will come about as I keep at it and encounter moments that I will connect back to these lessons. Then I would have peeled away another layer and deepened my understanding. This is a course that will continue to hold value long after you've completed it.
Student Work