Add Styles to Transform Composite
Matt Kloskowski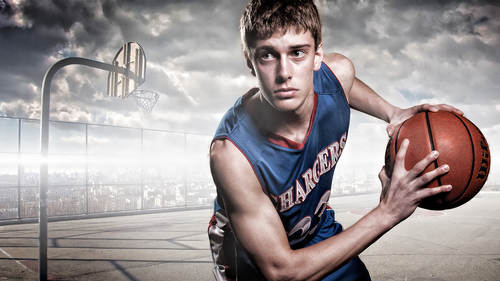 Add Styles to Transform Composite
Matt Kloskowski
Lesson Info
13. Add Styles to Transform Composite
Lesson Info
Add Styles to Transform Composite
Okay, so we're talking about style. So that's one option is we can go in here and we can use, um, some of those color grading Take presets. Teoh, bring everything together. Another option would be I'm gonna go over back here to this top layer. Another option would be I'll go into Camerata, do it because we're inside a photo shop. But you just hop into the camera. Raw filter, Easy thing to do would be press command option shift in the letter e. I say the easy thing to do. Some hard keyboard shortcut to do is command option shift E or control all shift e on a PC. So it's basically like the whole left side of the keyboard e. And you see what it did there? It created a composite layer at the top. So I got this layer right at the top there, and then I would just go into the camera raw filter. And now I can go in here and I can Mormon. So I think warming helps it. I could go in here and out of in yet and that all kind of tie in a little bit into the photo and then another little trick I use ...
is ah, used the ah, I'll use the radio filter up here. In fact, I'm gonna pull down on the warming. We're gonna do that here. I use the radio filter, increase the exposure and increase the temperature. And wherever the sun's coming from, I just create a little bit of sun and you can move it around. So I don't know that I wanted to go over her face. I'm kind of pulling it back a little bit. So we use that a lot. Use that a lot on portrait photos where if there's any hint of light, but I don't have a lot of it. Oh, had to it. You know, if you're taking an outdoor portrait and you've got trees and little specks of light point poking through, I'll add some like two of my landscape Photos, if I have the sun in the photo, are usually enhance it a little bit. But, um, I used I used that trick quite a bit. It's very about there, so that's an option for that one. And then we can always put a couple look up on top of it to probably get a little bit washed out on the left hand side. Kind of like that. I'm gonna believe I'm gonna add that one. I'm just gonna pull the opacity down. Adds a little bit warmth to it. All right, so we're moving along on that, I think finishing touches that's probably the biggest part of it is just doing something to bring it in. Whether it's gonna be one of those little color look up presets, I'll show you one more again. Kind of use a combination of all of them, just depending on what you're looking for. Whatever. Who you're creating it for, the last one would be the photo filter to the photo filter is a nice way to go in here and tie it together. Especially the warming filter. You can crank up that density, so that's a good one as well. I think I like this one and that combination. And now what I'm gonna do is we want to put it onto a magazine cover. Of course. Um, let's go ahead. And so I'm gonna select all okay if I just hit copy. You know what happens? Like it'll just copied the layer that I have selected in the layers panel. But if I do edit, copying, merged, it copies everything. So I go over to my magazine cover paste free transform and let's just bring it size Hope and, of course, backpacker magazine. So we can have some fun with some text up there. Um, the other thing that I did and it was ah, a little harder to do because I made this composite layer. But if I didn't and I held off on that step Ah, what we could do is we could shift click on all three of these layers and then I can kind of pop him in. This is what magazines do is yeah, we see. And then you put the text behind Erica. So magazines always seem that there will be some text coming out of people's head or something like that. So, um, all right, let's see. This one is from Terry in the UK who is winding if you ever use the ingredient map feature with any of the greedy in presets for unifying the separate elements in your composites, Um, I don't use the Grady it map for my composites. I use the Grady. It map for black and whites, though I think the great map is a we go back, go back to the original like, let's say I was goingto convert this this photo to black and white, the great map tool. It's the adjustment that's in that bottom corner there. It is really weird. There we go. Gotta go black to white. Um, it is such it's such a nice black and white conversion tool and sometimes it looks good right out out of the box, and we have to do anything to it.
Class Materials
Ultimate Fighter Look Presets
Ratings and Reviews
Matt is just so easy to listen to and follow, this course was particularly good to give you a well prepared framework to create a composite. Really fine step by step details on unifying the composite, creating lighting & atmosphere. His tips are clever and give great results.
The class was good for me as a beginner in this field, it covered the studio shot well and the use of photoshop, lightroom is clearly very powerful. I would have liked a segment on shooting the background particularly getting the angles correct so that the subject fits the background, just the pitfalls and must do's would have been nice. But overall I learnt a lot. Justin
Not a big fan of this class...didn't offer much
Student Work