Advanced Selections with Hair
Matt Kloskowski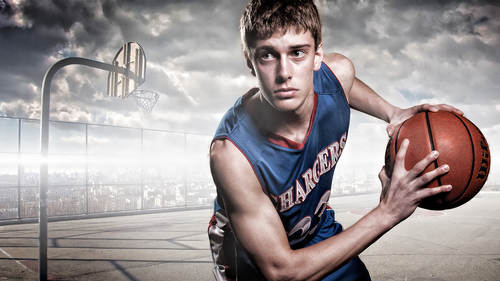 Advanced Selections with Hair
Matt Kloskowski
Lesson Info
9. Advanced Selections with Hair
Lesson Info
Advanced Selections with Hair
So the first thing is over here on the right hand side, Um, we have view. So if you look under view, we've got all these different options that we can come into here with. So you've got onion skin, all onion skin is is a way for us to show and hide the backgrounds right? Or do some degree off background in between there. Don't use it a lot. Come down here. You've got the marching ants again. Marching ants isn't going to really help you with the visualizing the selection. You've got a red overlay which you that one. We're getting a little bit more useful here for me. It's gonna be either the red overlay, the black or the white. Okay, I'll switch between them. What will usually do is pick the most contrast in color and make my job the hardest at first because then I know if I can get it to look good there. I get to look somewhere else. I am going to show you a tip, though that's gonna make your job even easier in the second. But if I find that I'm trying to visualize the selection on a c...
ertain color I'll just pick a contrast ing, one that's gonna that's going to hide my Are you going to show my flaws the most? And in this case, Black is going to show the flaws. Black and white is just, ah, mask view of it. And then on layers is something that will take a look at in just a second here. All right, show edge that's going to show us any work that we're doing here. So, for example, when I go down here to the Radius slider, the radius slider is looking. It's looking at the edge that I've already created because remember, I came in here with the selection edge, and it's looking at that edge and it says, All right, what radius do you want me to go outside of that edge? To start toe? Look for things to bring into this selection. There's auto detection for one. Remember when I said contrast? Contrast is what you want, because that's what Photoshopped looking for. So it's going to see my edge, and it's gonna go outside of that edge to select. So when I start to and we gotta zoom in here, I think it will help you see it better. So when I crank up the radius, take a look. It goes from blocky, and it starts to bring some detail. Okay, now it's not perfect yet. We still have. We still have a lot of that spill over there, but hopefully you can at least see that it's bringing in a lot of edge detail in there that I never had when I made my first selection. So if you want to visualize what Radius is doing, you can go over here. I can crank up the radius slider and then you can click Show edge. And so that's your visual view of what's going on back there so you can see how far out it's gonna go look to find something now. Smart radius. Smart Radius is radius. That's smart. Okay, you got your money's worth out of today already, right? With like with explanations like that, you're like, Man, this guy's good. Um, no. So smart radius, Smart Radius says not every edges is created equal, So what we need more help with is we need help with the wispy Harry edgy stuff, right? And then when it finds the edge of her clothes or things like that. It doesn't need to do a lot. So we don't want to risk taking a real wide radius on a firm edge where it pulls something else into the selection. Like you want to keep it pretty, pretty small there. So because we don't have that option, it gets a smart radius. And what smart Radius will do is you should you should see it along here. You should see it start to go in tighter. Let's give it a try. Hold on. Come on. Okay. So do you see in some of the places how it went in a little bit tighter? And if you go, I'll zoom back out here so you can see the whole thing. You'll notice up here. Doesn't really change. In fact, it actually even goes out further up to the top. So photo shop is smart enough to know there's, you know, there stuff that I want to pull in, and they're stuff that I don't want to pull in, and it'll adjust the radius based on that, um, works pretty good. You can see here. I mean, it's it's doing a decent job. I'm gonna turn that off for now, it's when it comes to hair. It's really tough to have a slider do all the work for us. So when it comes to hair, what I'll usually do as they'll bring the radius back down. And then when you go over here to the left hand side, let's take a look at these tools. The first tools. A quick selection tool. If there was something that you didn't do in quick selection before this, you can add it in here. So if there's something that I missed, um, it's tough. I mean, I didn't miss anything, but you can see it's basically it's the quick selection tool and add mood. So as I start to paint, it's gonna bring something back in the next tools. The refined radius tool, which will let us do a brush on what we just did with a slider. Remember, with the slider, we were changing the size. We can now take a brush, and the radius is gonna be the width of our brush, and now we can paint and put it where we want. And then the last tool down here, this is This is a pure selection tool it's it's not. It doesn't have any smart sensing technology to it. Think of it as I brush, and it's adding to the selection. If you hold down option. Ault erases away. Okay, but it's purely a busters. No edge detection. There's no nothing. Do you see? You know what will happen well happened, is is you'll do your quick selection tool and they'll be like they'll be like a logo on emblem or there'll be some little thing like on the person's body. It's happening me a 1,000,000 times. Or be a belt and you'll get and you won't see it cause of marching. Ansel interfere with with it and you'll get into here and then you'll see like a hole in the middle of her chest. So that's when I usually go get that brush and just painted in. I don't need anything. Thio, Thio help with it, but I'm surprised it didn't happen here because it happens on almost all of my selections. All right, so we got our brush here. So let's go over here to the refine edge brush. And remember Radius did some auto sensing in and out. The brush is the same thing It's just letting us do it with a brush. So the radius is is how big the brushes. So let's zoom in here, and I'm just gonna paint and you'll see on the make my brush a little bit smaller, basically where I know the hair will extend out to. And I want about half in the hair and half out, and I'm just gonna paint and it gets worse before it gets better. Just keep that in mind. So you see, like I'm actually going on the outside. I don't even know where the hair is, but it's pulling it in, All right, so now let's go over onto this side, just paint along. Look at that. It's like I'm kind of guessing if you ever want to see it, you can just go back to one your other views, like I can go back to onion skin and I can get an idea, and I could just paint. You're not really going to see it change because I don't have the background shown there. But if you ever, just not sure, like how far does that little wisp of hair go out to? You can just switch to a different view. Like here it keeps going, and then I'll go in and just try to paint away a couple little holes in the background there where you can see the backdrop showing through. Okay, all right, So forget about for now. Forget about the spillover of the backdrop. I want you to look at the detail. So this was our original big change. It got the detail of the hair. Now what is pulling in is a little bit of that spill over from the backdrop there, but the detail, it's huge. So what's scroll down here? Get a couple of different things. Global refinements run through him really quick. I'll tell you that for the most part, for compositing we're not going to use him, You might find uses them for other things. But for compositing, especially with hair, were generally not going to use him. Smooth smooths out jagged area. So if you ever have a selection and it's a long and heads and sometimes you see a couple jag ease, it was a little round out some of those edges. Feather is a it's basically a blur. You're gonna blur the edges of your selection contrast, kind of like smooth, but it won't smooth it out quite as much. So if you have a if you have a selection, it that has little Jaggi is in, it will just make him a little bit sharper. But the JAG ease will stay there. So again, I can't even think of a time we have ever used it and then shift edge. If you ever wanted your selection, all go in or I'll go out. You can shift it in and out. So something we don't really use for compositing. So that's going to minimize it here. All right, come down here to output settings. So got a couple of things we can do here. Here, here is where here's where we deviate into that. I can't tell you exactly what's gonna happen with your selection, but I can hopefully give you some things to troubleshoot it as it goes along. Um, decontaminate colors. It could be a lifesaver or could be the absolute worst thing you've ever seen. So it seemed to work when I did my test. It seemed to work pretty good on the edges here, but you can see, like see what happens there. So it gets a little kind of, well, weird on some of those edges. So it's one of those things. It's sometimes I've seen it just more total wonders on a photo and it looks awesome. But I find you usually the more contrast there is like it's got a white like gray and dark hair. Sometimes it starts to fall apart on the hair. Um, let's go ahead, though. And so we got decontaminate colors. We're not going to use it. So at this point, we're going out. Put it. Okay. So what do we want out? Put it to I usually just out put it to a selection at this point because what will happen is is when I click. OK, I've got I've got a better selection now and then I'll just go to select save selection and I'll just call this good, good selection. Click OK, and now I can de select. Now if I ever want to call it back up, I just go select load selection. Click OK, and now I have this election. Now I could make a mask. I can put it on a different layer. You know I can do whatever I want with it, when you're in that selection dialog boxes that, you know, Do you want to make a new selection? You want to make a layer with a new selection, but once once I have the selection, save that can do whatever I want with it, so it's usually the first thing that will do.
Class Materials
Ultimate Fighter Look Presets
Ratings and Reviews
Matt is just so easy to listen to and follow, this course was particularly good to give you a well prepared framework to create a composite. Really fine step by step details on unifying the composite, creating lighting & atmosphere. His tips are clever and give great results.
The class was good for me as a beginner in this field, it covered the studio shot well and the use of photoshop, lightroom is clearly very powerful. I would have liked a segment on shooting the background particularly getting the angles correct so that the subject fits the background, just the pitfalls and must do's would have been nice. But overall I learnt a lot. Justin
Not a big fan of this class...didn't offer much
Student Work