Color Grade the Composite
Matt Kloskowski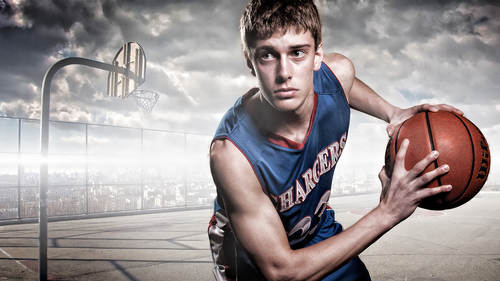 Color Grade the Composite
Matt Kloskowski
Lesson Info
12. Color Grade the Composite
Lesson Info
Color Grade the Composite
So we got her into the background a couple things. So I'm thinking color temperature. And by the way, you guys have what you guys see just for the audience here. What you guys see is a much darker contrast your version for video purposes. So come up and look at the end of the classical. It I'd noticed yesterday. It looks a lot different. Um, but what you got what we got here is I think color temperature were actually looking pretty good. If I could critique my own self on on shooting, I probably should have done something with that new in camera before we ever got to this point. But I think our color temperature is actually matching pretty good. Um, things I think we gotta work on background to sharp the bottom her, her waist and her. You're her pence, I think is too bright. Teoh. It wouldn't be that way. You know, if you can think their shadow down there like, she shouldn't be quite as bright toward the bottom. And she is up at the top there. So I think we want to We want to tone that...
down. Um I think stylistically we could maybe add a little bit of atmosphere to this. So let's start off with the background. I'm going to go, Commander Control J. It's going to duplicate the layer, and we're gonna go up here to the filter menu, the Blur Gallery, and I'm gonna choose Field Blur. So a lot of people, you know, the tried and true blur method and photo shop is always the Gaussian blur. Again, those air older blur tools not saying that they don't have their place. But for most of the stuff we're going to do inside a photo shop, Um, your Blur gallery is the newer blur tool. So especially this field blur, it will simulate a camera depth of field blur a little bit better than the gals and board. So we'll come over here and I'll start to crank up the blur setting. And at this point you go. You know, this becomes almost taste right that I shoot it with a ah ah, 51.8, or we're gonna bring a little bit of it back. You know, I just want a little bit of the edge off. So for me, I don't want it to be I don't want it to go totally blurry. I want some sharpness back there. So something right around there click. OK, so that's my new background. Next thing I think would be let's work on her pants a little bit. Let's make him a little bit darker so we can come back up here to this layer even though we took it off of a smart object. Because remember, we started with a smart object, and that was just, hey, give myself some options in case I need it. Eventually, the inner glow thing that we did and you know a lot of the other stuff we're gonna do. I could I wouldn't be able to do on a smart object player. So we have the photo on a regular layer. It doesn't mean I can't get back to camera raw. And camera is where I do a lot of the toning work when I'm trying to make something fit in. So if I go appear to the filter menu, go down here to camera raw filter, it'll still bring me back into the camera filter. So what I would probably do is maybe grab my graduated filter, bring the exposure down just dark in that I don't care what happens to the background because it's already massed out back in photo shop. There was just showing me everything that's on the layer right now, But the photo shop player has a layer mask in place, which is why we don't have to worry about that background there. So I think that looks pretty good. We'll hit. Okay, so that darkens it. A couple other things. You know, A lot of times I'll go in and I'll add a at a new layer on top when I have sunlight in the photo, especially sunlight like this work, you know, it looks like it's potentially pretty bright. A lot of times we will do is I'll just paint in a little bit of atmosphere. So with the brush tool, So I presby for my brush. He's a really, really large, but using a right bracket here really, really large, soft edged brush in a super low opacity and I'll go in here not black white, and I'll go in and I'll just paint in a little bit off atmosphere to it. If it goes over her face too much, that just add a layer mask and just use that same brush just a little bit smaller and just painted away. But a little bit of that atmosphere, if you think of like, especially when you're shooting into the sun, especially when light starts to hit. Um, you know, sometimes you get a little bit more of that. So I think that helps, um and then stylistically, stylistically, this is where it all comes together. So I'll give you a couple of different options. I do it a little bit different every time, just a lot of its mood. A lot of it's what does the image call for? But I can give you a few different options. One. Is anybody using the color look up tables in photo shop guys, there's somebody out there is raising their hand. Sure, I'm telling it like that is one of the coolest, most untapped, untouched areas that I found in photo shop. I mean, I really have seen him around, and I just kind of tuned him out because they're mostly for video. But what they do is they allow you to color greed. If you're not familiar with what color grading is, you're applying a color tone to your image and videographers used this such, You know, if you ever watch like Saving Private Ryan is a popular one. You know, it's got a very cold, de saturated look, and that footage was color graded for that. If you What's that? Lord of the Rings? That Lord of the Rings has a very greenish look to it s so have you ever noticed? So they it's a fancy term for a fancy term for like a light room preset. It's in the video world, but what it really does is is you basically map a color to another color so you can say math my red tones to more of an orange tone math, my skin tones tomb or of, ah, you know, a warmer yellow tone. Whatever. Um, you, Teal and orange is a really popular one, so there's a lot of needs stuff in there. It's typically been for video, but photographers concolor grade their photo. Forget the term color grading. Forget the term color, look up, which is what we're about to use now. And just think cool looking preset because that's all it is and you'll see here you just click through him. If you look over here in your adjustments panel, see that little that little great up there So right at the top again, Forget the term. What? Look up table. We don't need any of this crap. All we dio is just click through some of them here. So a lot of these Fuji ones look at that. Does that say Pacific Northwest or what? Like that filter should not say Fujito. That should filter should say Pacific Northwest filter because, I mean, it's just, you know, it looks like it's got that tone. It's got the muted blacks. It's a very popular tone these days where the blacks they talk about you don't crush the blacks, you know, it used to be we still but want very contrast e whites and blacks. And today they'll say a lot of photos that the blacks there is no black point in the photo, so it's actually couldn't want, like that one, um, kind of the same. See you trust him in the Kodak. A little bit of a green. It's kind of cool, too. It's kind of cool. There's so many good ones in here. Ah, soft warming. I like that one, like in soft warming. But what we're doing is we're putting a layer on top of everything that's tying this together. It's got a color tone that's gonna tie in your four grounds. Gonna tie in your background. Um, and you're doing that. This is usually the last step that I do. You need something to tie it all together, even if I actually think our skin and our background, I think are toning look pretty good. But, um, even if it looks good, you need something t kind of bring it back in. Um, try edgy amber, no fall colors. That's not bad either. All right, and you could stack them on top of each other. So I compress Commander Control J. And I can do. I don't want to do it, but I could do bleach bypass, but I can there a layer so I can reduce the opacity of the layer. I can change the blend modes. Um, there's a lot of different things you can do with it. Question. So I was wondering, Is there a way that you can create your own like customized, personal kind of like color grading type thing like you just did with all these different filters that you put on top like the Fuji one. Is there? What? You can do your own? Funny, you should ask. So if you look in here, um, you see at the top, I've got a whole bunch of them, so that's exactly what I did. Uh, what I did is so you add a color look up tables like fall colors and then maybe you like the bleach bypass 12 d saturated just a little bit. But you reduce the opacity. You can go appear to the file menu and go down to export. And you can export color look up tables that will create a file. And then you can then always use that file toe load here. So it creates this. They're called. You can even see it there. Three d l three d. Look up table or whatever it is, so creates these little files and then you can just come up here and you can load him because it works for this. Like I have to go through the process of adding all these that's getting techie could make an action, you know, we could record in action and then add fall colors, bleach bypass, reduce the opacity, change the blend mode, Stop action. And then you could always play that action back to. So that's that's how you create your own of these combos and photo shop. If you wanted to make your own color, look up tables where you map the colors yourself. You'd have to get some type of ah color look up program, and then they do sell him, Um, that that will let you actually create color look up tables. Tene. Well, because we're talking about the sort. Uh, there are two presets that come along with this class, and I am wondering if you could talk a little bit about those One is the oh, the Okay. Yeah, that was that. The ultimate fighter. Look. And and the wedding glow and the wedding glow okay, are light room photo shop, the great there for, like, room. So they're light room presets. Um, yeah, there's, ah, one. I did one kind of. You ever see the show? The ultimate fighter. It's got that de saturated grungy looks. I have a light from preset for that. And then is it the wedding glow when that one's just got a little soft glowy warm type of Ah, look to it to actually And, um, if you go to mak a dot com slash creativelive um, I give away. Ah, I've got ah, Hollywood preset back to that. They can download for free, so you'll see it on there as well. But yeah, those those would come with the class, their light room presets. What I would do if I we're gonna use that would be Don't add any preset back here and then Remember when we we came over here from light room with the portrait? We could save this photo and go back over into light room, and then I could start to use my light from presets, um, light room presets to me. I think they're really good for creativity. The one thing I will tell you about the color lookups are light room priests like, so you can get your photo to an exposure that you like. And then if you go out of preset, that preset can go change your exposure because that's part of the preset or could be your color. Look up tables don't affect anything like that. So when you when you color grade your photos or your video footage, you're actually not supposed to do much editing to it. In the beginning, I do shadows and highlights, but that's about it. To me. The style comes in there because they don't mess with your Ah, they don't mess with your exposure There, really Just mess with the colors? Yes. And do you know this is for Win Lindsay? Are these color look up tables only available in CC? She she's not sure if they haven't been seeing six or is wondering if that supply again. Um, I think it came out to see a six, but I'm not positive. Best thing you can do is ah is go to your go to your adjustment. If you go to image adjustments, um, you would see color look up there. And if you have it, then your version has it
Class Materials
Ultimate Fighter Look Presets
Ratings and Reviews
Matt is just so easy to listen to and follow, this course was particularly good to give you a well prepared framework to create a composite. Really fine step by step details on unifying the composite, creating lighting & atmosphere. His tips are clever and give great results.
The class was good for me as a beginner in this field, it covered the studio shot well and the use of photoshop, lightroom is clearly very powerful. I would have liked a segment on shooting the background particularly getting the angles correct so that the subject fits the background, just the pitfalls and must do's would have been nice. But overall I learnt a lot. Justin
Not a big fan of this class...didn't offer much
Student Work