Composite Blonde Hair into Light Background
Matt Kloskowski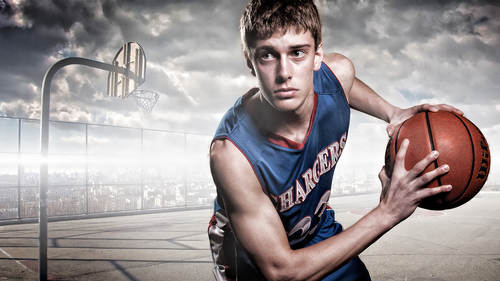 Composite Blonde Hair into Light Background
Matt Kloskowski
Lesson Info
11. Composite Blonde Hair into Light Background
Lesson Info
Composite Blonde Hair into Light Background
All right. Uh, so let's take a look at what we got here. So I think we're looking pretty good here. I think we're off a little bit here, but let's let's get our background into place. Um, anybody see what's wrong with the background? That's Yeah. You could see the lights coming from this side. Um, and that was actually more of a last minute. Thing is, we had the lighting flipped, but production wise, it was difficult to shoot with a big Octa bank in front of everything, so we flipped it. So it's easy enough to just go to this layer over here, Um, and just go to edit, transform, flip horizontal, flip it over the other side. For those of you just starting out, I did something here, and I do it. So it's almost second nature to me. I don't even think about it. Um, the background layer. You can't do certain things to a background layer. There's really no good reason You ever need a background layer in an image. There just always has to be a layer at the bottom, but it doesn't have to be an ...
official background layer. If you just go over here and click on the lock icon. It converts it to regular layer. So now I can flip it. Before I would have been ableto flip or you can't move a background layer. There's certain things you just can't do to it. So let's go transform. Flip horizontal. So now at least I have I have her. Um, I got a little bit of edge over here, too. So now we can move around, going to get her into place here. I'm actually thinking, Yeah, that's actually good. I was thinking of making the background bigger. But the problem with that is, if I do that, she's gonna have a mountain poking out of her head. It isn't bad. We could go on and on, and I probably goto Commander, control tea for free, transform for her, maybe take her down a little bit. Something like that. All right, so let's start talking about. And of course, you'll always you always end up with these little seems sometimes on your selection edges like you've seen on mine. So just use your brush on the layer mask to paint them off. All right, so let's talk about when when We can't get the hair to look like what we wanted to. And I think the right side looks good here. I think depending on what we put the left side over, you know, we could go either way. So I'm going to show you on a different photo, one of the things we can do. And then I'll show you on this one because I don't think we needed as much on this one. So you saw this. You saw this photo in my, uh, in that that slide show. And I said that this is one of those ones that worked beautifully. It did. There was one little trick I had to do to get it to work and forgotten about that. But let's go ahead. Let's Ah, let's open up a background to drop her in and I'll just copy paced her and she's huge. So free transform. Keyboard Shortcut for that, by the way, is control or command t for free transform. So if you ever see that little bounding box come up, I'm just hitting command t on the macro control t on the PC. So we got her into her background. I used my quick selection tool. And I made a real quick selection here. Remember how I told you? See, the big heart in the middle of it Missed it. And I always forget that that happened. And I do this selection, like, half of the the inside has gone, So, um, her heart is gone from of the edge there. So let's take a look. I'm gonna bring into the ah, the selected mask. And I just took the brush Pinkel on the edge and you can see a little bit of the gray poking through. All right, so it I mean, it does wonders. Especially feel like look at the black and white version of it. It does wonders for, but we still do have a little bit of that gray. This was one of those ones, were I think when I tried decontaminate it really made it very blocking. It looks good. All right. It made a liar out of me. Oh, no, no, no, no, no, No. Good, good, good. It did. It didn't make a liar out of me. See? See what it did here. Say there's no detail. That's what happens. Sometimes it like it goes toe one blocky smooth color. All right, so decontaminate didn't work in this case. So what we'll do is let's leave, uh, output to a selection, click OK, and then just press command or control J. And that'll pop her right up onto a new layer. So here's the trick. The trick is, if you double click this layer, you can go into layer style and inside of the layer style, because think about what, Do we have a problem? We have a problem with her hair, and the edges have a different color. It will be impossible to take a brush and to go in there and paint every single color. But there's a layer style called inner glow. An inner glow lets us choose a color that basically goes on the inside of your layer as a globe. So what I can do is I can click on this little color swatch, and I can click on the hair clear that that's before that's after so I can get rid of that little gray fringe that was happening. Okay, so the way that I got there again is go to the layer, just double click on the layer. Add your inner glow and then you're gonna click on your little color swatch over here and just go sample a color that's near the edge. So that was That was the one thing I had to do. That one I forgot before, um, t kind of save it so again, these er hopefully, like as you go down your selection paths sometimes decontaminate works when decontaminate doesn't work. Then give that a try. Sometimes that'll work.
Class Materials
Ultimate Fighter Look Presets
Ratings and Reviews
Matt is just so easy to listen to and follow, this course was particularly good to give you a well prepared framework to create a composite. Really fine step by step details on unifying the composite, creating lighting & atmosphere. His tips are clever and give great results.
The class was good for me as a beginner in this field, it covered the studio shot well and the use of photoshop, lightroom is clearly very powerful. I would have liked a segment on shooting the background particularly getting the angles correct so that the subject fits the background, just the pitfalls and must do's would have been nice. But overall I learnt a lot. Justin
Not a big fan of this class...didn't offer much
Student Work