Composite Portrait to Background
Matt Kloskowski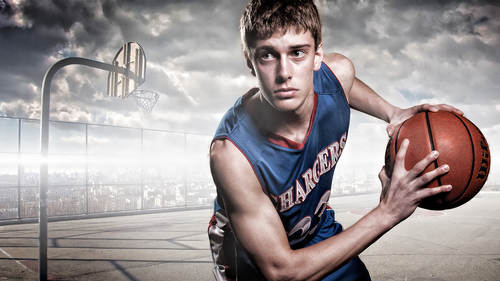 Composite Portrait to Background
Matt Kloskowski
Lesson Info
10. Composite Portrait to Background
Lesson Info
Composite Portrait to Background
All right, let's let's run through something cause there's a There's a really good tip for compositing. We're going, Teoh, We're gonna take this and we usually want to get them into their background as soon as possible, All right, without the black or the white or whatever. If you know exactly what background somebody's going to go into, why not make your selection over that background? So then, you know, if you're fighting, if you're fighting some some spillover from the white background on a part of her hair that's over the sky wife and bother with you're never going to see it. So I usually like to get them over into their background as soon as possible. So we have a background here. Ah, let's go take a look. Remember, I'm thinking I'm thinking magazine cover for something like this. I'm thinking kind of vertical. So here is a Ah, here's ah, raw photo. Women go ahead on reset all the settings. So raw photo at a camera vertical shop. Um, I know that the dark shadows air Probably not g...
onna work for somebody that we lit on the foreground. So probably open up the shadows a little bit. Probably pull back the highlights a little bit here. Um, not going to do too much else to it when it comes to. If this were my landscape photo stylistically and start warming it and start doing a little d. Hayes on the background on all that stuff with a composite, you're really going to save your stylistic stuff for the ends because you want it all to wrap together. So not gonna style one or the other either way, because I want to make sure that they all fit together so stylistically, I'm not gonna do anything at this point. I'm not even gonna normally you can come in here hit this way. I mean, we might hit it with a little bit of D. Hayes, but as I think what we're gonna end up doing is probably blurring the background because you generally not gonna have, like, a person perfectly sharp. And then the background, especially something like that, that's that far away, all perfectly sharp. So I think we're gonna blur the background for ah, for a little bit of depth of field here. So at this point, I'm just gonna click open. Here we go. um and I'm just gonna move that tab a little bit closer. So here's our portrait. Here's our background. All right, let's go ahead and take her. I'm going to use the move tool. And if you don't know this trick, it's one of those. It's one of those weird Photoshopped things. Take the move tool. I can move. Hover. Don't let up on your mouse. Move down. Drop. So that doesn't make sense. You You're not alone. Uh, again, I got it over here. I'd stake the move toe move that this whole time I'm holding down on the mouse. I'm using a pen and tablet here, but move hover, cover for a second, move your cursor over the image, let up and pops in. I know it's convoluted, but it works. So now And I'm probably not going to be able to load a selection because I'm not in that document, But that's OK, because we're gonna run through this one again. Now we have in her own dock in her backgrounds. So this is why I did it. Now they are at this point is because I can take my quick selection tool, and as I learned I'm just going to select the background first. So take my quick selection till I got the background selected. Um, still a couple little Well, areas appear option number. The option All click will subtract, which is not what I want to do there, because I want to add it in. Likewise this not work. Uh, and that in somebody. Ah, somebody had asked before. Does the size of the brush matter the size of the brush? It doesn't give you a better or worse selection, but if you would imagine a real big area and you have a real tiny brush, you're gonna be because it sticks close to the brush. So you're gonna be like scribbling over the over the photo. Yeah, we got questions. So is there a reason that you didn't save the previous election from the first file as a separate layer and then move that over? You know, I could off probably would have been the way to Dio is just put it onto a layer mask in and move that whole photo over. But I thought, Why not watch me make the selection just to see if it would wherever we talked about mistakes. So the weekend as quest this is one of no, he had. So if you didn't get if you don't get what her question waas probably the better thing to do. It would have been for me to load the selection, all right? And then at a layer mask, and then just pop this over into the other photo, just like I did before. That would have been a better way. But I think you guys want to watch the selection again, don't you? You have to because I got to show you. I got to show your really cool tip that's gonna make it easier for you. So you really don't get an option in this? Sorry. We're looking good that we got her hair. We know that we know that we can get all that. Okay, so we got our selection just in the interest of being good save selection called smarty Pants. Yeah, I remember that later. I should have done the inverse good idea. Alright, Save selection. So we got our selection select inverse. And then we hop into that same dialog box as before, But here's the cool part. So all of that to get to this. And that is under view. If I put her into her background, I could go to on layers. And now you concede the background behind her so I can get an idea of what I'm working with here. So we're gonna do this. I'll see. Here, zoom in. I use my brush again. You could see, you know, if I put if I put this over the sky, You're not even seeing it. Look at that. I mean, seriously, I think you could see the mountain for that. That's pretty cool. So we'll just run it along the hair there again. I'm gonna speed this up a bit, just scruple. All right? So I think we got a pretty good selection. Um, again, you have, depending on, depending on where we're gonna put it. I don't see a lot. I am gonna. I still didn't like the way decontaminate worked in this example. I'll try one more time just to see if it changes. Because I can tell you this much. Every time I do it, it's different. But you could look at that. I mean, it actually like Seriously, guys, look at this. That's pretty cool. So I actually think it worked the second time around. Not perfect the run there. I mean, yeah, it's it's pretty good. I'll show you a couple tips where we can fix it. All right, So we have her now on her background. Let's go ahead and go and save this. Will do. It's because I did decontaminate. It gives me fewer options in what I can do here. So I'm just going to do new layer with a layer mask. Just click, OK? And you can see there is our selected version. Okay, Um, looks like I missed a little bit down here at the bottom and just in case I want to move it easy thing to do is go over all that. All of what we just did is just make a layer mask. That's it. And if you're not familiar with layer masks, they work in two colors black and white. So grab your brush tool hit the left bracket key could make my brush really small. Crank my opacity up and honestly got my my my thought process with whether I paint with black arthritis is I try Whatever the default color is. If it doesn't work. Try the other one. So I'll try. Paint with white White is not the color hit X paint with black. There's all those little fancy ways to remember what masks do, and I can never remember him. You got a little bit more careful again. I'll just flip it and paint with the opposite color, and that's good enough. We're not gonna see the strap, you know, the easy way to get rid of that. Hide it. All right. Did you have a question? I have a question, but just on that painting, the black and the white Um, always make sure you're on the lion mask and not your picture. I make that mistake all the time. A public service announcement. Thanks to my question, I don't want to be the one to say thank you. Yeah, yeah. Again, there's certain tips for people that are just starting, and there's certain tips for people that you've been using photo shop for years. I'm telling you, like you just said, like there today. I mean, I've been using I've been using photo shop for a couple weeks, and still today I will paint with black or white and I painted on the later. So if you look at the layer thumbnail, you can actually see which one is selected. You got Make sure you select the mask now to my questions are okay. When you were doing some of the selection tools like the decontaminate colors, that one appeared to work better on the right hand side of the here than the left hand side of the here in the photo. Would you ever consider doing two different selection tools and having two copies off the same image? Or is that I've Akyel? Yes, I half of her is using one selection tool with a layer mask and then another half is something else. No, no, not at all. And that's actually, you know, it's It's a great question. So I think basically what you're saying is you'd almost in order to do two different selections, you almost have to, like, chop her into two. You know, I'd almost like have to go like, take this side, you know, something like this. And, um and I could do Yeah, copy paste and you'll see you know that side and then make a selection and then just flip and do the selection on the other side, and that is, if you're having a rough time getting both sides, that's not perfectly good way to do it. Um, it's to do, and I've had to do it before, so yeah, it's good tip.
Class Materials
Ultimate Fighter Look Presets
Ratings and Reviews
Matt is just so easy to listen to and follow, this course was particularly good to give you a well prepared framework to create a composite. Really fine step by step details on unifying the composite, creating lighting & atmosphere. His tips are clever and give great results.
The class was good for me as a beginner in this field, it covered the studio shot well and the use of photoshop, lightroom is clearly very powerful. I would have liked a segment on shooting the background particularly getting the angles correct so that the subject fits the background, just the pitfalls and must do's would have been nice. But overall I learnt a lot. Justin
Not a big fan of this class...didn't offer much
Student Work