Live Shoot: Model Placement
Matt Kloskowski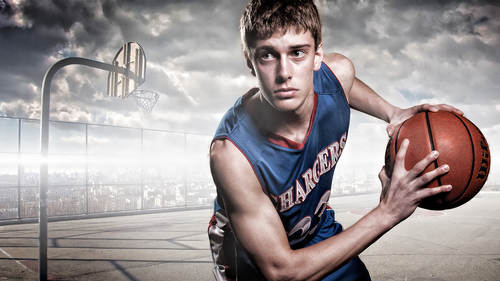 Live Shoot: Model Placement
Matt Kloskowski
Lesson Info
4. Live Shoot: Model Placement
Lesson Info
Live Shoot: Model Placement
the photo that we're gonna composite into had a son coming from the back. So I put a bare tube up there and I chose a flesh head that had a tube that sticks out with no frosting on it to give us a look of the sun. We're filling in with the octave from the front here. We're filling from the same side. Goes out in the while We can't do that photo from the other side, the light from the other side. And we're thinking that we need maybe a little more like coming from the back. And that's where he met. Called for this less late just before we walked on set. And we have no idea if it's gonna work. Yeah, great. Cool. Thank you, John. So depending on depending on whatever your main lights going to be and I've used I've used you know, the smaller Octa banks too, and they'll work just fine. Um, depending whatever your lightings been, you're generally going to be right up against it. So you see me here? I'm almost kind of shooting next to it. And John so kindly reminded me to put my lens shape be...
fore all right. So I got the 24 to 70 on. I'm gonna be somewhere around 50. 50 millimeters. Some around. They're not worried too much. I'm gonna probably do kind of mid thigh up. So I'm not We're not doing We're not doing feet on the ground in this one s. So you ready? Let's look like a happy camper. Perfect. Cool. All right, So why don't we Let's take a look here, all right? So if you look at the if you look at her left hand side, hopefully you guys can see it, too. Will get her left hand side. You can kind of see the lighting coming off of her hair there, Um, goes all the way down. That's the kind of that's to me. What we're looking for is we want a nice edge light there. Enough, I think on the right hand side that we have that on. All right. So why don't we try one with it? That up. Go ahead. Such a happy backpacker. All right, here we go. Let's take a look at those. Did it show? We need more power. A little bit more power on that one. Please try that Yeah, mover, I say you ever say one more when you know that there's no way always on earth, that's really going to be one more. There we go. All right, We got a fashion, E backpacker. All right, so I think we're dialed in on our lighting here. Why don't we? So we got our We've got our front. So why don't we do maybe a little bit more to the side, Like your kind of walking away exactly like we talked about before. Perfect. Looking back, I'm walking away. But I'm hiking, and I don't know why I'm looking back. That's the kind of face that we're looking for. There we go, calling it the slow friends. All right? And then back at me. No, the other way. There you go. Let's try that. Yeah, well, so learning moment. So if we're looking at this, like, you know, when you when you see that, think of problems that we have, right? Lots of lots of light On the one side, um, we lost quite a bit of it over on the other side. The just cause of the way that she's turned there. So I think if you think in terms of that, Yeah, it's a little bit too directional to be outside with the light behind somebody you know, you don't have to always think so technical for this stuff. You know, sometimes you're going to see a little bit of a nod direction to a light. But when it's that dramatic of a direction when you're thinking the lights back here, but she's got a lot of directional light on her face. So some little things like that to keep in mind as you're shooting. All right, let's So let's come back this way. Let's do a, uh, hands on the hand and there we go. And one more I have one more again, all right. And then let's just do I think it really is just one more this time. Um, where we we turn to the side and you're looking back Perfect. And And this last one, I promise your turn a little bit sore, mate. And then you're gonna kind of like like you're looking up at the column in the outdoors and I was taking pictures of me a little bit turned toward your right. Now here we go. Perfect. Now I have a plan B. Just the thought. So we're gonna try this? Um, I'm thinking the coffee cup. We do have our walking sticks. Sarah really wanted us to use the walking six. Let's try a walking stick photo. All right. Ready? Okay. We had some fun with those things. Therefore, So we're gonna try the walking sticks. You is the photographer. Need to keep something in mind. And that is, once those walking sticks start to get outside of everything, you're you're taking your selection job, and you're starting to crank it up here. So? So as like as I see that front walking stick a mic, that's no problem, because it's over her body. So we're good there. Just keep these things in mind. It doesn't mean doesn't mean you have to shoot around it. This might be the way that we have to go. It's just you're gonna make your job harder in the long run. So So let's Ah, yeah. They were going to try that and at me. There we go. We got our walking sticks. 99.9%. Sure, we will not use them Coffee cup, coffee cups. So have a different idea of a possible indoor shot. Um, kind of the living room in the kitchen, Lots of natural light, something just waking up. Got their coffee, like my coffee. And so we're gonna try it. Thanks. Yeah. So she's gonna take her shirt off, but just the top shirt and there's our coffee cup, so I'm just thinking, like I said, Yeah. Living room, dining room, kitchen type thing. Um, early morning, he got that coffee shop, More lifestyle type of a photo. So, uh, you look so home with that coffee. Ah, there we go. Can we kick? You? Wouldn't think about power in that one up a little bit, please Stops up. Let's try. That's even too much. And Comey just the just the out there. That Perfect. All right. Got our coffee? Yes, That was it, John. All right, Marina Wilmore. And then straight at the camera, if you would. Perfect. All right. Cool, everybody. Let's give Marie and a hand. Thank you. Are backpacker and our coffee drinker all in one? You said you like to give yourself options. So my question is, if you're considering giving yourself shots to choose from, that might have more action, especially where you have an outdoor scene or someone hiking. Or if you have that really clear idea in mind from the get go that you want something stationary. So the it's more along the lines of Do do you plan that at this point or, um, hopefully. So I mean, I guess the the ideas is, the more you know what front the the better you're going to be able to pull it off. I don't gets a missing part of the question. Is it just how to plan for something like that? Like more of, Ah, you're talking about more movement. And it seemed more movement from the subject where they might be, adding that, yeah, later So I could give you a couple of tips on that one. So So there's there's two parts of that. There's the technical part of it, which is going to be freezing action. Um, so you have to check your your your sink speed on your on your Cameron, your lighting as far as much as your shutter speed to, because there's gonna be movement. The lighting will freeze most of it, but if they're moving really fast, you'll get a little bit of blur there, so you have to be careful with that, which I'm glad you asked, because it's actually really good question because I faced it a lot. And some of those ones that the composite you're looking at there, um, if you're taking a picture of a person, that's it's a sport. They're moving, they're doing something. If you're taking a picture of person, is doing that stuff. Our inclination is like it's ah, gymnast a gymnast that conduce Ooh, whatever. You know, a backflip or something like that, um, as a private bad example, because if it's gonna be a backflip, it's gonna have to. But what I usually find is you have to get that person into the zone of like, game face on. And if I see composite's done where there's action and somebody's moving and doing something that I know it was done in a pre planned way, their face always looks dead. And so if you're going to do that stuff, maybe have, um, you know, like the basketball player. I was trying to get him moving down with the ball going onto the ground, and what I was really is and every time I did that, it was blurry. I couldn't no matter what I did. You know, between the lighting and the sink, speed and everything, I couldn't freeze him throwing the ball onto the ground like that. So that shoot became about once he hit the ground and getting him to look intense because what he was doing is to him, it was nothing for him to just bring a ball. So he was like this, You know, when he's got the smile on his face elbows. I'm trying to think of some other ones. I did a I photographed, ah, martial artist. And I was trying to get them kicking. And then I realized, you know what? If I can get you to hold a kick and give a little bit of an intense look on your face as you as you get ready to kick, it looks better than me trying to capture your foot moving up into their like that. Every one of them was a miss, and it's so hard to do. But once they got there, they got their leg up. They could stop for a second and get that intense look on their face. That was the shot that pulled it off. Um, I think in one of them I even had somebody hold their leg up because remember, like we're selecting hair off of a background. Selecting somebody's arm out of a photo is is nothing, you know, so that somebody hold their leg up. But the intensity, that's if I had any one bit of advice. It's You got to get the intensity there too long. Answer to the question, but hopefully helps anybody got good. All right, We have got some questions online, and one of them is Is the reason for using when tethering capture one? Is that because of your camera for any particular reason? Yes, I had So So I, uh, in fact, tethered capture. One was not even installed on my computer before yesterday s, so I usually don't tether. I usually, you know, I'm not I'm not typically doing a lot of this type of work anymore, But capture one is the only one that tethers for my Sony, so I had to use it. But if if your camera tethers through light room, I would have been tethered through light. Right? Great. Okay, we've got more questions. This one is from Atlanta. Pollack, who it's said if the natural ambient light of the background is cooler or warmer than what you are perhaps going to be doing before, after two composite the two would you use color gels with the flash or I Good question, because that's that's actually going to be That's actually going to be. I think one of the biggest things that we face when we're putting a person from one background and to another one, is to get that that color temperature in a match so I wouldn't use Dell's on the front side. We're gonna put once we get the photo and we're gonna put an overall filter over it. And so, by doing it after the fact, by getting her photo in by getting your background in, and then you put some type of a filter over whatever you know, there's a lot of different ways we can go on. We'll explore, but whether it's it's a special effect, the light room preset, whatever happens to be you, then even out the photo, you're putting some continuity in there. Between the portrait photo and the background in there, So good question. But I don't know that something I would I would do on the front side of things. So we have some people who may have Mrs when you talked about it earlier. But people are asking and voting by the way, you can vote on questions by hitting the little arrow. That is their next question. Could you explain again about the background people are asking about why white versus a green or a blue screen? And would you ever use those? And will the just white um, the light be enough contrast to cut out with a white background? We'll find out. Uh, so the difference between the backgrounds, um, video tools have tools that won't will pull people off of green screen, which is why you'll see a lot of green screen shooting. Um, Photoshopped doesn't work that way. It's not Photoshopped selection Tool is not color based, so Photoshopped selection tool is more contrast based. So what I'm really looking for in whatever backdrop it is, is just contrast. So the white, the white works well. Normally, if you're shooting a person in the studio and you're using a white backdrop a lot of times we light the backgrounds. Um, Teoh, have it be pure white. Because what will happen is exactly what happened up here, which is it starts to fall to a gray actually works really good for for selections. It's white. And you start to like the edges of the person and the person you you have Ah, you have Ah, really light color sweater on. You start to do that. What you run the risk of is, if they're wearing anything white, then you run the risk of all that stuff bleeding over. So a little bit of pre planning should help that.
Class Materials
Ultimate Fighter Look Presets
Ratings and Reviews
Matt is just so easy to listen to and follow, this course was particularly good to give you a well prepared framework to create a composite. Really fine step by step details on unifying the composite, creating lighting & atmosphere. His tips are clever and give great results.
The class was good for me as a beginner in this field, it covered the studio shot well and the use of photoshop, lightroom is clearly very powerful. I would have liked a segment on shooting the background particularly getting the angles correct so that the subject fits the background, just the pitfalls and must do's would have been nice. But overall I learnt a lot. Justin
Not a big fan of this class...didn't offer much
Student Work