Quick Composite Steps A to Z
Matt Kloskowski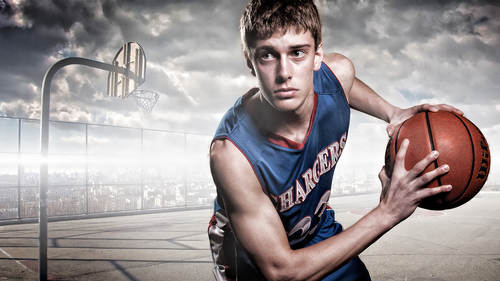 Quick Composite Steps A to Z
Matt Kloskowski
Lesson Info
14. Quick Composite Steps A to Z
Lesson Info
Quick Composite Steps A to Z
So I'm thinking lifestyle. I'm thinking we members should We shot her with a coffee cup. She's got lights behind her. Hair is getting lit. Unthinking lifestyles, some type of living rooms, some type of kitchen. So I've got a couple of backgrounds that we could we could use for it. So let's try it. We're thinking this. I'm thinking we'll go. We'll go ahead on. So photo edit in again. I started as a smart object. If I have to get rid of it, we will. And before we make our selection, let's go find a backgrounds. So got a living room way too big? Probably. Yes. That's the way to make a composite work is just, uh, make your composite work by just taking up the entire background. It's probably still gonna be too big, but we'll go ahead and, uh, we can size it as we start to get her into place here. All right, we got her in her background, make our quick selection tool. Got that? Okay, zoom in. So, you guys, we're going to see you guys are going to see something that I didn't tell you during ...
the shooting part. Um, skin on the white background sometimes a problem. So the white background usually work good for most things but skin. Because, remember, you're lighting wants some type of a sidelight coming on there. And you know that side like, hopefully, it's not gonna get all white, But still, it gets close enough that it makes semi confusing, uh, selection edge here so you can see there's not a whole lot of contrast there. I think I think it's OK. Think it'll still work, but you see, photo shops gonna have a rough time of really snapping to that edge. Yeah, especially over here. All right. Got her hair. It's looking good. Head into selecting mask on layers. Zoom in. Take our refine edge brush tool. It's a nice and easy one, isn't it? Uh, all right, So you notice I missed a chunk of hair. I'm pretty sure he did. If I were to go look at the original photo Oh, no. So her hair is actually Yeah, we're gonna try. I'm gonna see what happens. I'm just gonna take a look in. Yeah, you could see there's a little bit of hair there, so put her hair actually did go in cool, right? And just in case you get to watch it happen. That's what we started with. But that's the That's why I love to do the before and afters. I'm at home. I still do it that way. I'm, like, See the before and after before after. All right, let's see here. And we'll just take a look at the edges around her. Ah, usually, if I think there's a problem will usually run the brush around the edge. So you don't mind that highlight either? All right, so we got her in her background. Um, let's go ahead. And we will output this too. Well, I'll put this to a selection, okay? Gonna save the selection. Good selection. Um, and then I'm gonna make I'm gonna turn it into a layer mask. So if you didn't notice when Whenever we can make a layer mask, and we can paint black and white. But if you ever have a selection active and you click on that layer mask icon, it keeps what selected. So it's easy. Way to remember. If you have a selection, you click on the layer mask. Whatever selected stays, whatever is not selected goes away So we have our selection. This is where the this is, where the smart object is gonna come in handy. So first off, I don't I don't want This is why this crop it in. Here we go. Um, we have our selection active. We we made the smart object layer. This is where I think she's too dark for the photo so we can double click, open up the exposure. Probably open up the shadows to not even so much on the exposure that should help it a lot. Um, what else? I'm thinking? She's a little bit warm even. Try that. The other thing, too, is if you wanted to add more. You know what's really gonna help this at it? Uh, free transform. Flip horizontal. There we go. Because that's the That's the brighter side. The other thing we could do is double click. Let's head back into camera on this one. Take that grad filter. I can kind of pull opens on the other side. I can kind of pull you almost like pulling a hair, Lee. See it? So I can even that out a little bit. So I think that will help. Um, but the crop tool crop that down a little bit. And to me, if there was ever a photo, You know what? Hold on 11 Last thing. Remember what I did before Doesn't have to be super dark just a little bit, but to me, if there was ever a photo that needed a cool little look to it, not that one very go a little bit of, ah, little bit muted. It's almost got a kind of a warm, crisp look to it. So I think that helps out kind of bring it into on and then she might just be We can play with it to put her here. We'll put her here. We put her over here. So yeah, now something like that. But I think once you add that little filter on the top again, cul arises. Everything brings everything together a little bit. And I think that I think that clean almost gives this one a clean type of a look to it. So there we go.
Class Materials
Ultimate Fighter Look Presets
Ratings and Reviews
Matt is just so easy to listen to and follow, this course was particularly good to give you a well prepared framework to create a composite. Really fine step by step details on unifying the composite, creating lighting & atmosphere. His tips are clever and give great results.
The class was good for me as a beginner in this field, it covered the studio shot well and the use of photoshop, lightroom is clearly very powerful. I would have liked a segment on shooting the background particularly getting the angles correct so that the subject fits the background, just the pitfalls and must do's would have been nice. But overall I learnt a lot. Justin
Not a big fan of this class...didn't offer much
Student Work