Relationships Part 2
Daymond John, Chase Jarvis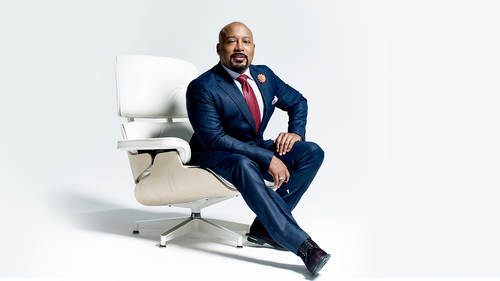 Relationships Part 2
Daymond John, Chase Jarvis
Lesson Info
8. Relationships Part 2
Lesson Info
Relationships Part 2
The last question is focused around the idea of relationships, this last cornerstone of the framework of power shift. We talked earlier on about how powerful relationships are you invested because you like people you believe in them based on their storytelling, based on how they present themselves, based, of course, in part on the product. But it's just a piece of the pie. So there's a part of the book, um, that I really identified with that. I think I want you to share a little bit more in depth with the audience who's tuned in today, and that is banking relationship capital clocked me about that relationship. Capital is extremely important. Relationship capital is somebody that you've already dealt with or you are no or relation. Capital could be used in new forms as well, because you could be a person who was a conduit for a lot of different people coming to you and say, I just don't somebody let me pass it on it. You always want the best of the person. But after a deal is done, gen...
erally you hope to do Barris many deals with that person. But if not, what? You should focus on is making sure that that relationship is nurtured. So they go tell 10 and 20 and 30 people out there about you. Because isn't that why when some people raise capital they have aboard, it's a relationship. It is. Listen, whether you know me or not, you may think that I have ability do this. This person is over here and finances first in the distribution of this first of marketing while cases and they have great names and they're ready to loan me their names, their coal signing on me to say that I am somebody off value. So when your money or anything, your partnership is at risk, you know that I came with a border, trusted people. But I'm going to allow me to give you better information and not making many mistakes. And they're going to guide me because I don't want to be a burden to you. You should focus on making your relationship capital deeper, not wider. You don't want to always try to be everything there, but it's just like right now you won't find out how you can collaborate with people you know, if you are somebody who has a retail store. I love telling everybody about a guy that I was just consulting with a massive Jim and he said, I have all my members. They love me. They come in for me just like everybody here, every single person here, the people they really deal with a lot. Those people make you feel special. And he says, My members, though going through tough times and I can't open the gym what I do So what did he do? He took all his machines and sent it over to his members houses. He didn't took his IPhone. And he's still Ming himself working out because the world is used to now, you know, working out virtually because, of course, the big bike company. What was it by coming today? Saletan. Well, it's time have gotten people used to that. But other relationships that he call carved up. He knows retail stores are having a hard time. So he found three or four retail stores in the neighborhood works were up in his gym. Is that and he said, with the subsoil workout clothes, he said, Guys, can you offer my membership 30% off your cools and you'll give me 5% off course why they get to move inventory. The right now is sitting and getting stagnant. The members get 30% off and he makes 5%. He replicated that. What fresh juice company and a food delivery company. Those are all relations relationships with his his members relation with his staff to do the pellet on type of thing relationship with the new sorts in the community, dug in there and needed collaborative things, and now he's making more money than he ever did before. So it's about digging into your relations, and I'm telling you right now everybody is sitting at home waiting to see what they can do, and you may have some collaborative efforts, or you may have some things that you could dig into for them either. I commend somebody you work with, or would you themselves, you know, mentor you in a better way. It's all about relationships and relationship. Capital is extremely important
Ratings and Reviews
Loved the class. Thank you Daymond for the encouragement and insights to remain "Authentic".
Great information from Daymond John! I am going to purchase the book Powershift today!
Student Work