Post Processing in Lightroom & Photoshop
Rafael "RC" Concepcion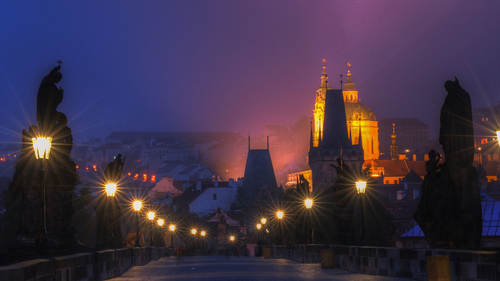 Post Processing in Lightroom & Photoshop
Rafael "RC" Concepcion
Lesson Info
6. Post Processing in Lightroom & Photoshop
Lesson Info
Post Processing in Lightroom & Photoshop
But for now, I'm going to grab this and I'm going to move this back inside of Lightroom. And you'll notice there's the file and it's finished. So this is the second part of the process. What happens here is, I tell people, when you're working with HDR files, think of the HDR as your new base for what you're doing something from, alright. Don't just export and off to Flickr. That's not going to help you. But this is a good foundation for me to be able to start working with stuff. So I will grab this and bring this into the develop module. I'll bring in some highlight control. Notice that helped a little bit right here. Did not help me so much here. I can probably darken the image because I'm going for more Batman. I would pull that green off just a hair. Maybe make it a little bit more darker still. This is like a big beacon, right here, of do something with me. This looks like a mess. But I will start going inside of here, and I'll start making some of these adjustments and start playi...
ng around with it. The next thing that I usually tell people, the other secret tip that you have when you're working with HDR, is that you're almost always blending with an original layer. It's never a full HDR that comes out of it. So what I'll do is, I'll grab this one file, there's my file, but I like this here. So what I'm gonna do is I'm going to grab this and this, together, these two files. Right click on them, edit in, and I'm gonna open them as layers inside of Photoshop. So now I'll take both of those files and remember, who was with me during the layer masking class this morning? Alright, so we'll do a little bit of tame way, right? We talked a bit about how to be able to mask, how to be able to adjust and do all of that kind of stuff. So inside of here, I'm going to grab these two images, right, so there's the original image, there's the regular image. Original and regular. Notice that as I move these together, there's the windows, watch what happens when I hit this really fast. You could see that there's a little bit of a shift in between the two, and that's gonna cause a problem. Remember that the process file took the alignment, but the original file doesn't know that that's what we did so we're gonna have to solve for that. So inside of here, I'm gonna grab this layer. I'm gonna single click on this layer underneath so I have both of these layers selected, and if you have both of those layers selected and you have the move tool selected as well, you'll see that at the very top you have alignment options. How do you want to align the layers? Do you want to align to the left, to the bottom, to the top, to the right, but you have this option right here at the very end, called auto-align layers. And what auto-align layers is gonna do, is it's going to do use transformations to be able to get those layers to kind of line up. Once I do that, I'm gonna click OK. And now watch. Before, after, before, after, before, after. No moving. They put it exactly where I needed it. Not bad. So now, what do we do? Same way. What we did during the layer masking class. I'm gonna take this layer, I'm gonna grab this, I'm gonna invert this with a mask, I'm gonna use a brush with the color of white with low flow. I'm gonna regulate my brush sizes big, small, harder, or softer. If you want to see any of that stuff, you might want to purchase the layer masking class cause it's pretty good (audience laughter). And we're gonna go inside of here, now look. I'm just going to grab some information here, and here, and just kind of blend in some of that original layer, inside of that. So that's the original layer. That's the HDR. They're just sitting on top of one another. From here, I can grab this. I could make a curves adjustment layer, like we did in the layers masking class. I'm gonna bring this up to bring up a lot of detail in this one section. But like we did before, we're going to invert that tame way. Brush, white, low flow instead of opacity. This is where we talk about how that low flow is going to help you. Alright, I'll give you a taste. We'll do it here just a tiny bit. I'll open up a file, because I think that this is extremely important for you to understand when you're working with this. We talked about it in layer masking, but this is where you really start seeing rubber meets road for this stuff. When you work with any kind of layer masking, you're doing any kind of adjustments on layer masks, a lot of the times you're going to be doing brush-based tools. Brush-based tools will then want to regulate how much paint you put onto the mask. Black to hide stuff, or white to reveal stuff. Your default would be to think that you would want to step into that mask by using opacity. The analogy that I usually give people is almost kind of think like you're on the side of a house. So imagine if I told you you were on the side of the house and I told you here's the cup, and I want you to take the cup and I want you to make it halfway full of water. And I gave you a hose, and I turned the hose all the way up. If I did that you would grab it, how hard would it be for you to fill that cup halfway full of water? Extremely hard. But that's what happens when we work kind of with opacity leaving a flow at 100. If you take my opacity and I'm gonna move my opacity to let's say, let's say 27%. I'm gonna move it to 27% and I have it at white. This is just a regular black thing that I have here. A black screen. I'm increasing and decreasing the size of my brush by holding down the control key and the option. Control on a Mac, option, hold them down, drag to the right and to the left, increases and decreases the size. Drag up and down, increases and decreases hardness. Moving this down, and now watch what happens. Opacity is 27, I'm gonna drag and I'm gonna paint. For as long as I keep painting, if I haven't let go, it's 27%. Doesn't change, doesn't do anything, 27%. The moment I let go and I paint again, that's 27 plus 27. But for as long as I keep painting it's 27 plus 27. That's 27, that's 27 plus 27. Then you come over here, that's 27 plus 27 plus 27. That's just 27. 27 plus, I'm not even gonna try. But this does not show any kind of finesse when you're working with anything. Instead, what I would do is I would take my opacity to 100%, and I'll take my flow relatively low. Back to the house analogy. Imagine if all of a sudden I have you on the side of a house and I give you a cup and I give you a hose and I say fill it halfway, but this time I turn the rate at which the water's coming down to a trickle. How easy would it be then to fill that cup halfway full of water? It's much easier. If you wanna fill it, just keep hitting it in that one spot and wait. So watch, same behavior, but if you keep painting it gets darker. Slight trace, heavier. That level of finesse is what you want when you're painting an exposure, when you're painting color and when you're bringing back other portions of a layer. Which is why it is not a cookie cutout of that one original layer. It actually is a semi-opaque, if you were to take a look at the mask, the mask looks like that. Not solid, not a cutout, not a stitch. There's finesse in it. As much finesse as caffeine will let me. But you're grabbing that one file and then the same thing here, when you bring these individual images, I have this curve adjustment layer that I made that's a little bit brighter. I'm gonna use the brush with a color of white, with a low flow, and I'm gonna come in here and softly paint in some of these sections. I don't want everything to be in focus. I don't want everything to be the subject of attention. I just want a portion of it. Once that's done, I might wanna add details to this. I'm gonna grab all of these and I'm gonna use the claw. I need the sum total of all of these guys in its own individual layer so that I can apply a filter, so that I can apply sharpening, so that I can apply all sorts of effects. If I come over here to layer, and under layer I go to flatten image, if I need to step back from any of that effect I can't do it. So instead what I wanna do is I wanna take all of these layers and I wanna put them, the sum of all of them into its own individual layer. It's as if I were to do a layer merge visible, but I'm gonna add one more modifier key. That's the Alt key. So you see that it says shift+command+E. This is the claw that we usually tell people about. Command+option+shift. It's all three modifiers that you normally would see, and the letter E. Gang sign, gang sign E. You'll notice that now it took all of these things and it merged them into a new layer. Not bad. Now, should I mess this completely up? I could just grab this, drag it into the trash, and then do any more adjustments that I want from here and I'm pretty good. The other secret is effects, plug-ins, filters. I'm a huge fan, enormous fan, of the Nik Software Collection. Nik Software was by Nik Software, and they had a suite of images. Anybody that does black and white stuff has always used Silver Efex Pro, hands down. There isn't a piece of software, in my opinion, that can touch it. Even new pieces of software that are out now still can't touch it. From there, they have Color Efex Pro which does all of these different types of filters. That company was awesome and it got bought by Google. Google bought it and then turned around and said we're gonna make that software free. And gave it out to everybody, and it was awesome. Then they stopped developing for it, which sucks. But recently it was just bought by a company called DxO, and they're still giving it away for free. So if I were you, I would go there and download something for free. Take the software while you can because they have a bunch of different software now. At one point or another DxO's gonna have to start charging because I assume they would. But whatever new version comes out, but it says something about the strength of that software that to this date there's new software that comes out and it's like, well can you beat Color Efex Pro. Well, we do something different. Oh that's cute, go. Inside of here, what I'm going to do is I'm gonna grab this, I'm gonna go to filter, and I'm going to go to Nik Collection, and inside of here I'm gonna go to Color Efex Pro 4. Every picture that I have-- I don't think that much about my work but other will be like, oh my God, I love how this thing looks, your pictures look so ethereal. I'm like dude, that's all in a can. There's nothing to that man. You have all these different types of effects that you can use inside of here. There's one effect, glamour glow. Grab this, select glamour glow. Grab your glamour glow, drag it all the way to the right, increase a little bit of saturation, open up the shadows, open up the highlights. Done. All it does is, you'll notice that HDR files tend to have a little bit of a bite to them. They kind of get over-contrasty. By grabbing the glamour glow and applying it, it almost does a soft application, just scrubs out some of that highlighted parts. And that's it. Maybe bring it back in, maybe do a couple of little adjustments on little tones from inside of there. Done. And you send it out. How are you guys with this so far? It's funny because it's like I talk about this stuff and I'm like, it's a very anticlimactic thing to show because the process is so easy for you to be able to do.
Ratings and Reviews
RC is a great teacher and story teller. There'r not a lot of value and little to be learned however RC makes it fun and for that the class is worth the cost.
Student Work