Quick Location Lighting
Rick's Gear Bag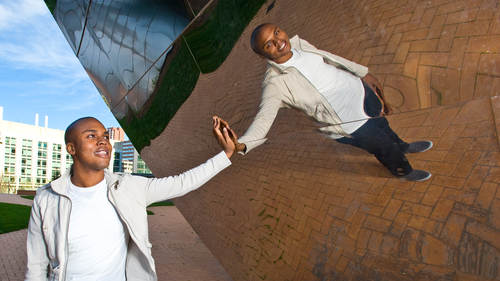 Quick Location Lighting
Rick's Gear Bag
Lesson Info
Rick's Gear Bag
Now we're really going to start to talk about lighting in our approach to photographs on on for those of you on the next couple of photographs. For those of you that air younger than probably 35 you probably have no idea who these people are. But for people my age, you know who they are. So listen, before I actually get into explaining this, I want to talk a little bit about the kind of gear that we use. All right, so let me just grab this here. Just kind of wheel this in over this wire. So when I travel most of the time, all this is what I'll take. I'll take this combination, which is a think tank bear to think. Tank bags on. I have two cameras and I actually get on the plane with this much stuff and you'll see in a second that we can put off a lot of stuff in here. But if we're not traveling, what we're actually using a lot is this Think tank bag and I'm gonna pull this set apart, and I'm gonna start to pull stuff out of my bag and show you what it is that I have. I'm just gonna put ...
this upset. And most of the time when we're working, this is pretty much our kids. So let me go through my kit and show you some of the toys. So what we're gonna have in here, we're gonna three speed lights. This one's connected to a battery. When we use the speed lights, we tend to work with these external battery supplies. Um, we use all rechargeable double A's. I have four rechargeable double A's in here and six more in here. Um, go with the rechargeable. Don't use regular batteries. Don't use regular batteries. You're making huge amounts of trash, but this is a fair amount of power. If you're on the cannon side, this kit holds eight batteries. Let's see what other goodies we happen to have in here. This is my pocket wizards, which are my radios which were going to go into in a couple of minutes. Think that Section two lends wise? I tend to work with a 17 to 35 a 24 70 and 72 8 a 72 200 to 8. Those are my main lenses. The other couple of items that lends wise that I have in here. Excuse me to go digging here in my toys. I love this lens. It's a fisheye. These tiny little fish eyes, They're just give you a different perspective. Doesn't take up any room. I will also have a year and extender. Now I can take my 72 200 make it a 300. Um, All right, what else do we have in here? We have a lens, baby. We don't use them often, but sometimes they give you a really wonderful effect on the lens, baby. And it's so cool. You walk around with this on your Cameron. It's like this and people go, Oh, my God, What happened? Your lens. Likewise. There anything wrong with it? Anyway, these are a lot of fun to play with, and they will give you a different perspective. If you go on to my website, there's actually a Siris of infrared photographs, which is a project that we've been doing for a while on a lot of it is done with lens babies, while the goodies do we have in our little toy chest. We carry these domes which we use sometimes and wanted to more items in here. This is a very important we use this tremendous amount. So what? This is this is a rogue grid set, and I think we're giving one of these steps away in a little while. By the way, we actually really cool giveaways, including a set of pocket wizards that we're giving away. So I'm gonna show you in a little while. How do you use this item? But this is gonna help us really control our life. Let's see what else we've got in the toy chest. Kind of amazing, right? I'm pulling out my whole lighting kid here, right. There's another one of those heroics that's always carry a couple of those. And as a backup, I actually carry and second kind of transmitter. So I just got a couple more things to show you in the front part. I have my very fancy makeup kit. I know it's great. It's like what? The main thing. And you know, I don't do makeup, but if I go do a portrait of someone and they've got a little shine, if you spend two seconds putting some powder on him and Take that. Shino, You've got a much better picture. Obviously, if I'm chasing somebody down the street, I'm not making them up on. They don't let you make up the president. Interesting enough. I actually keep my passport in here cause I'll go somewhere without clothes, But I'm not going without my cameras, so my passport lives in my camera bag. What other fun things you hear pile of press cards, which we just never know when you're going to need your credentials. Sort of funny there, White House ones and all sorts of other good things in there. Don't lose your passport wreck. A set of filters, that little plastic stand that comes with your strobe. This is really helpful. Takes up no room and let's go. I've got to glass filters. That's a couple of things. I carry a polarizing filter, and I carry a cross screen. Those are the two main filters that I carry, and let's come to the final part of it. My light modifier section. We've got a bunch of light modifiers that Aaron my camera back and they just there. So these are called Flash Bender's. This is gonna help us control light it's going to soften our light out. We're gonna use this in about two minutes. What other thing? This? A little flecks. Phil again Going to show you this in a moment. What's in it? Got away. Okay, One more thing. Which I am really, really excited about because we're literally just introducing this. I've been teaching lighting. I teach these workshops all over the country for about 20 of them a year. And I show people all different types of light modifiers how to make them what you should buy. And I've been going to Roscoe and I said, Why don't we just package all this stuff together? So this is actually the Rick Friedman location lighting kit that were literally introducing right now this is available on rick Friedman dot com, and it's kind of fun. The photograph on the cover This is he Hana, who works with Keiko and I in the office, and she's standing in front of a white backdrop and all the pieces to create a picture like that except Deano are in this package. So we tried to get her in there, we couldn't quite get her, So we'll be playing with this stuff. So let me show you a bit about how we create some of this lighting. I just want, you know, people were amazed You're able to fit that much. They want to see the bottom of the bag because they just keep going. It was almost like a clown car for photography equipment. It's true. It's three Other item that I carry, which I have left out, is when Keiko and I go on one of these jobs. Keiko's gonna hand me this right. They think you take up three, only other, and we actually carries the tripod back, So we will show up for a fairly major shoot. With that, I will wear the cameras and in this bag, we're gonna have our tripod. We're gonna have three light stands. We're going to have an item called a Micro mini, which is a reflector that we're gonna be using soon on. We're gonna be using will be carrying a larger flex ville than the one that I just almost threw at you. Um and we have a couple of Shamir a soft blocks in here. But that's the whole kit. There's no hand cart. There's no tons of gear. Can we bring it? Yes, but I find on a huge amount of the work that I do today. I don't need to Gwyn, with 20 cases of lights, which course makes it look better for Keiko Because she doesn't have to move them. You wanna come on? Say hi to people. Keiko, come back. I go. This is Keiko. Everybody que goes a big part of the operation. She is a wonderful photographer. You want to see some great photography? Go to keiko Harumi dot com. She actually is two major shows hanging in Boston at the same time. So and you'll get be getting to see Keiko throughout the day. And now we get to hand this back to you and make you take it away. Thanks. Keiko. Yes, Glenn? Okay. This same kit to everything, or do you have pre packed emergency? Great Harris on the run in Watertown. Great question. Okay, whether a couple of parts to it. All right. One of the most important things I find is that when you are working, when you finish work, get ready for the next job. Even if you don't what the next job is so we come back from a shooting before the gear gets put away, I go to what I call zeroing out my equipment. Zero, not my equipment is to set the cameras on shutter priority. Set them in an ISO 200. Set the strobes on t t l make sure all the batteries were charged. So if a major story breaks or if you just grab your camera and shoot, you're ready to go. So is there. You know what terrorist kits set up? No, But if you go into my office and you look on the desk, I mean, everything is lined up there and ready to go so I can grab my cameras and grab a bag and toss it in the car. A lot of jobs that I shoot, there's much less. I mean, I'm not carrying this on every job. This is to get the year there. Um, let's actually take a look at this photograph that's up on the screen right now. So this is an event that I was hired to do. And then when they hurried May, they said, We'll see if you can get a picture of Chuck Berry and Leonard Cohen together on I showed up like, sized up the room. I had my bag with me, but I took one look at the size of the room and I took my bag and my long lens whips, and I just left it out in the hallway. So the Onley gear that is actually being used in this photograph is 17 to 35 1 camera, body, one speed light. And this is where I want to get into the flash bender, take a look at the light in this image. Okay? This is one speed light on top of a camera with a flash, and that's it. We've got a diffusion panel on it, and that's it. Now, I want to know, in this case, my gear is there. But, you know, if I'm walking around the room and I break Chuck Berry, they're not gonna be happy with May. You know, it's a small room, so you need to adapt your gear to what you're doing. I mean, we photographed the Gay Pride parade the other day in Boston. I carried two cameras 17 to 35 72 speed like that, was it? That's what I carried. So this photograph we talked about the lighting in this. This photograph is what I call a total strobe photograph. There's no available lightness picture. I have created this life. And because of this, I think we create a pretty nice light. And it's a moment I've got to be fluid again. You know, it's although I've been asked to be there and I'm the only photographer in the room you need to think about. How can I make a great picture, get a moment and not interfere with these people? Okay. This is their party, not my party. I mean, one of the reasons I dress in all black is so you don't stand out. The other reason, by the way I dread at your more reasons. One is so you don't reflect and to your clothes always match so But anyway, So this picture is just this Now what did you do with the clicker? Here it is. Let's jump to the next picture. So I turn around a few seconds later and this is happening behind me now. This is just three people sitting on a couch except for those of us who are old enough to know the three people are. But this is a situation that if you cover events, you shoot weddings. You're doing X portrait, location, portrait. You might come across this. So when this image, this is a mixture of ambient light and strobe, And to me, those are the two ways I break down. Flash pictures is the rampant, like How do I use it? We take a look at this photograph, OK, We've got a nice deep blue sky in that. So the technique that I use is you start your exposure with the element you cannot control. I can't control the outside light. All I can do is read it. So in a case like this image Okay, I'm gonna grab this particular camera. And by the way, when you put your strobe on and off, get in the habit of turning your camera off Andrew Strobe off. There are a whole bunch of pins right here. You don't want those pin shorting out the chances of it happening. A virtually nothing. But you really want to find out with $500 strobe or a $3000 camera. So in the case of this image, I pick up my camera. My camera is on manual. My strobe is on T tl the cameras on manual, and I quickly get a meter reading out the window. I read the light as if I was just creating an image out the window. Okay, Now, when I bring my camera back down and this is happening like this, and I quickly recomposed if I were to look at the light meter in the camera, I would see that I am wildly under exposed. That's when this comes in, okay? And because I'm using this, I've got a really nice light. And the one thing you just have to remember is in a case of this, I know there's a window there, so I got to get down a little bit lowers, but it made nice light. Rolling Stone ran it online and in print, which was kind of cool. And I got to meet these three people. I mean, having a conversation with Leonard Cohen. Chuck bearing, Keith Richards. It's kind of amazing. I walked out of this job. I have to take a walk out of this job and I get just far enough away from the building. And my reaction in my head is, what a great job, What a great job. And I got paid for this, and it was just the blast. The next day, Peter Wolf called me up. Who happens to live in? My name is Rick. Wasn't at the coolest thing I'm thinking. Peter, You play with these people. You thought it was cool. How do you think I felt? And I got paid for this. Please. You when you turned and saw this picture where they actually doing that or they were sitting next to each other chatting. I didn't pose him it all okay? No, they were sitting there chatting. They saw me with the camera and they did this. And there's literally a frame of this. They did it. And it's like, you know, you're perfect. You're supposed to get this. We're not doing it again. So anyone else have a question? Yes. Please take yours. Please. For me. Then I'll get you going a problem if you're exposing for the window. But then you're shooting e t t l. Then doesn't the flash try to use the setting for the window? Don't you have to compensate cameras on manual. That's the key. If the cameras on automatic now, it's going to try to expose for the lower part of the picture, and then your window is going to be blown out. So the key is camera on manual strobe on T T l. And you know, these jobs were quite good. And consider how much these things cost. They should be, but realistic. There are times we have to dial them up and down. We have to add a little more, take a little bit out. But for running gun, which is pretty much our this in this case, walk slowly and gun. You know, this is pretty much works quite well. Glenn. I'm sorry you had a question. Yes, atmosphere. It's intimidating for me because I have a hard time getting getting clutter out of the background. How do you get clean backgrounds? But I think sometimes you just have to work with what there is. You know, you have to decide what is the most important part of the picture and what's my best hang on work around. But sometimes it's a simple Is this, you know, as changing your angle slightly. Sometimes the answer one. Yes, I love this. She's got She's got a great reaction. Did you Did you see it on? Where you going? I'll tell you what with this image first happened as the moments having my first reaction is your ruining my picture. And then my next reaction is No, you're not. You're making the picture. I love the fact that you've got these noted rock and rollers and a couple more off on the left side. And then you have an original portrait of RFK and JFK, and she's probably about 13. Andi, you know, she's praying about 13 and she's like on the phone, talking to were friends. I'm speculating what you say, but I'm sort of speculating. She's saying, These old people are so obnoxious. All right, let's jump along here. Okay. Well, this is how we're going to solve the national debt. We're gonna have the president's sell beer during football games. So this actually during the campaign and this was one of those cases. This is a moment we're on the move. I don't know if I'm going to get in. A new agent let me in. And they were pretty low cape and a lot of times I'm loving my flash benders. But in situations where I'm working with other shooters, you know, and they're around if I put this in front of a TV crew, to say they're not going to be happy with me is kind of an understatement. So I'll actually drop back to these domes and I'll be working like this on. So here we are. We come in, you know, I get to the door, one of the agents goes, go. I walk and I see the bar. I know where is gonna go. I mean, I'm not sure, but I got a pretty good idea. So I quickly step back out and same principle. Okay, I want to be able to see back there. I don't care what's going on back there, but I don't want it to go into a wall of black. So again, I quickly take my meter reading off the background. In this case, I under exposed to stop because you're I tends to go to the lightest part of a photograph, and I don't want your eye going there. So I want your I going to the president. So I under exposed it a bit. Get about two frames off. And if you actually look at the image, there's actually a little movement in there, right? So it's a fairly slow shutter speed, and but we don't care that they moved. There's movement. He's tack sharp because he is only exposed when the strobe virus, which is about a 10/1000 of a second. Then a couple moments later, I turn around and I managed to make this photograph. And again, it's the same thing I'm reading in the background under exposing it a little bit. Great. Take your meter reading off the element you cannot control. Cameras are manual strobes on t t l. What I love about this picture is not so much a president eating a cheeseburger. I like the guy in the back who could care less like get out of my bar. This was shot during the Romney's announcement. The last campaign on you know, we get there and remember I said about Carrie. Carrie, it very deep, sad eyes. Mitt Romney also has very deep, sad eyes. So we get there and they're holding this. It kind of high noon right about this time of year and I have a couple of things to deal with here. One. I'm going to start my exposure on the element I can not control. That's the ambient light in the background. Okay? And this is a complete throwing circus. I mean, there must have been 40 or 50 stills and probably the same number of TV, and each one felt they were the most important one there. So you sort of picture photographing planted yourself as the crowd came out on. So what I did here, this is Flash Ville. Okay, so I take my meter reading off the sky, I lock it in. I use my stroke to fill it in. And if I didn't feel the strobe in fill the image in, if we look in the background, that would be the kind of like we would have, but because I hit him with a flash, illuminated him in the baby. And the important thing in this photograph and really any photograph were using your stroke. Put your focus books on the person too. I get that focus box on the face because if somebody is like me, so too pale and dressed in black and you put it here. It's a completely different exposure, and it's not the correct exposure in the case of when I. D. O. S m. J is wondering, like what metering mode you use most of the time. Like for these images for the these images, Most of these are on matrix or sent awaited, depending on what your camera happens to. Call it, sure, but and I'll get into spot metering in a little while. But most of the time on these run and gun things, I'm zeroing in on part of it. And remember, I'm locking my exposure in and manual. The one thing I was going to say on this when I do this type of flash bill Phil, I tend to die on my stroke down a stop. I want to fill it in, but I don't want to blow away all the character. So that's my technique on that. Let me put this thing down. That sort of I have this camera ready to shoot. It's tethered, and I usually trip over wires so somebody catch me if I do. Here we go. Let's see here. Some days my office is crowded, kind of somewhat of the last one. This is that case where I want to get nice light, okay, but I certainly have to be very conscious of the other shooters around May. If you're always on your own, do whatever you want. But when you're out there in these situations, you really need to be conscious. And sometimes I think it's one of those things that foot of journalism school. They need to be teaching young photographers because they all come out sticking their strategy people's way. I you know, I tell shooter, especially young ones it TV guys, you know? Sorry, TV guys. TV guys are kind of like elements they never forget. So if you mess them up once, you're never getting in. It's a lot better to be known as the person who, when he or she says they will stay down, stays down and then they'll always let you in. We also you know, you can see how much room we all have to work here. We're literally like this and what you can't when you consider to see a couple of people the cameras up here it goes up a couple more roads. I don't know what this guy's shooting. By the way, it's like doing a story on ceiling fans or something. This is in case one Hillary isn't enough. And this, this really is a single frame unit. For those of you that caught Ben Wilmore a couple of days ago, right, Ben probably would have done this in Photoshopped. I'm not allowed to change the picture. It's got to be, really. This whole thing is, you know, when we create a picture with journalists, you cannot alter that picture in any way, shape or form. So if there's a telephone line coming out of the guy's head, well, too bad. So anyway, this happened to be one of those things about you. Always have your gear ready. Pictures just happen on. I was talking with an agent and we were talking about an event that news will follow. May and I walk into the room and she comes out early, and one of the other agent says that can't be there, meaning the cardboard cutout. So I'm ready to go. I've got my speed light on my camera and whom I make this frame. I'm gonna run through a couple more quickly, for it was interesting So this was after they had captured the bomber in Watertown and this celebration just erupted on the streets. It was unbelievable. Every time a police car went by, everybody was cheering on. This gentleman's got this flag and he's wearing a shirt that says Boston and, you know, looking at this and the cruisers going by and I think it's got all the omens. I know where I start my exposure. It's the element I can't control. OK, but I want some nice life. And I'm thinking, if I do this or this, I'm not going to get really good light. And I'm thinking, I want something to bounce off. I turn around and there's a white TV truck behind me. So I take my strobe. I pull the dome off it and I do this and I just blow it off the side of this TV truck. Turn it up a little bit Now I've got some nice light. So it was really nice a Channel seven to bring that reflector for me. I'm sure that's just what they were thinking. Goldie Goldie was everything you would expect her to be to work with, you know, but again, going back to the idea of Have your gear ready. Always have it ready. You know, P, I am amazed. I see people. They walk into an event and take their cameras out of the cases, and they put cards in him. Well, this was shot about 10 minutes before my shoot. When Early. This is flash on camera. That's it. I go early, she comes out, sees an old friend. And this happens because I'm ready. I've got it. I actually made my picture before my time ever started. People magazine sent me out. I'm thinking this is great. It's like a three minute people magazine day, right? But it's sort of cooling. Is no fancy lighting at all. You know, I want to talk a little bit about how we're gonna do some of the some of the lighting techniques. Some really quick trips. Yes, please. Sort of on that level. You said you travel with your cameras on you. Is that true? You don't put the cameras in a bag. It all like when I saw you yesterday in the case? No, its members. And they're always with me, you know. You know those two little holes in your next to your driver's seat in your car you thought was for coffee. Fits in perfectly way. Have a whole series of pictures. Give me that. We've shot out of the sunroof and out of the windows. We call him drive by shootings.
Class Description
Quick Location Lighting is part of our special week-long event Lighting Toolkit.
Join world-renowned photojournalist Rick Friedman for an introduction on how to optimize normal light to create stunning, dynamic images.
During his course, Rick will share the techniques he's learned during his three decades of shooting presidents, scientists, and the world's brightest innovators. You'll master doing more with less equipment, finding the light in a wide variety of settings, lighting locations quickly, and more.
Rick's background will inspire you to use your photographs to tell a story, and his expertise will give you the foundational lighting skills you'll need to shoot with confidence.
Reviews
Rick is great fun and I liked this course (he had the 2'x3' too low as it was uplighting the model quite a bit). I love his personality and the way he explains what you can do with minimal gear. it is a shame, however, that he seems to have such an aversion to umbrellas. I don't think he's ever used a deep umbrella as they produce much more focused light than the regular, shallow ones. All in all, though, I liked it. Great presenter. I liked Keiko, too!
Of all the Creative Live classes I've watched this was the most fun and the most motivating. Rick's easy, unflappable style and humour makes it easy to take in what he is saying and doing. Highly recommended.
Rick Friedman does an excellent job in this course. He is a true professional who really knows his craft. He is an entertaining and excellent presenter.