Sculpting in Lightroom vs Photoshop
Jared Platt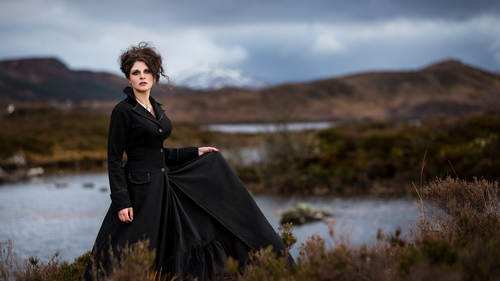 Sculpting in Lightroom vs Photoshop
Jared Platt
Lesson Info
1. Sculpting in Lightroom vs Photoshop
Lesson Info
Sculpting in Lightroom vs Photoshop
lot of people ask me about how much I goto photo shop, what I go to photo shop for and pretty much today I'm gonna show you the reasons I go to photo shop and pretty much the only reasons I goto Photoshopped. And that's when I need to manipulate seriously, manipulate the structure of a photograph or when I need to do something like severe retouching where it's just a little clunky to try and do, you know, a 1,000, different little blemishes inside of light room. So I'm always looking for the most efficient way to accomplish the task. Most of the time, that's inside of light room. But then I'm gonna go to photo shop for some serious work. So we're gonna talk about today, so we're gonna manipulate some photographs inside of photo shop. So if you're ready, we will proceed. All right, so we're gonna start inside of light room. My whole universe is light room, so photo shop is a plug in the light room. That's the way I treated eso. Everything starts in light room, goes to photo shop when I ...
need it to go to Photoshop and then comes back to light room and then from light room, I print it or I send it out to my printer providers or I burn it to a disc or whatever I'm doing with files posted, Facebook or something all happens from light room. Um, so it's the hub of the digital universe. So let's start there, and I'm going to start with. So this is what we're calling. This is sculpting and photo shop, and when I say photo shop, I really mean light remand Photoshopped because there's certain things that you can do in light room before you get to photo shop or certain things you don't even need to go to photo shop for. But you can still sculpt the image, although light room is very limited in what it can sculpt. And so I'm gonna start by showing you what can be reconstructed inside of light room on. And we're not really gonna talk about retouching here because retouching is a told other thing. We're not gonna be removing blemishes as much as we're going to be working on the actual structure of the photograph itself. So let's start then with this photograph. This is just outside of Prague in a little town off the way. Andi, I'm photographing. I love the fact that there's this guy working up in the right hand corner. I love the photograph, but there's a big problem with the photograph, and that is that there's no parallel and perpendicular lines that's all skewed because I'm looking up at the at the building and so inside of light room. I can take care of this pretty quickly, but I'm going to show you that process right now because I think people need to see what can actually be accomplished inside of light room. So we're gonna go into what's called the Transform Area and inside the transform area. There's a lot of different auto type functions where I can go on click on, say, vertical, so it's going to try and shore up those vertical lines. So if I click on it, you can see that it tries to straighten things up, and it does a pretty good job at it. But it's not perfect. So instead and you could use auto and you can try level and full and play around with it and see what it does. But what I want to show you is the when I really want to manipulate it to my heart's content. So it's perfect the way I want it, and that's guided. So if you click on guided, it's going to give you this weird looking little you can see right there. See those little cross out? It looks like someone's playing tic tack toe. You click on that tick tack toe thing or click on Guided, and then you're going to draw lines. And what you're gonna do is you're gonna draw lines to try and tell light room what the vertical and horizontal lines that are most important in the photograph and you get four of them, so choose them wisely. So what I like to do is choose the ones closest to the edge because at the edge of your photograph is where you're gonna most likely see that skew. So choose the ones at the edge, and that's gonna make the frame edge match the interior lines, and that's gonna give you that really perfect design look time. So this drainpipe is an excellent opportunity. So you notice that there's a zoom area there that shows me exactly where I am and it's actually easier to do this with a mouse or a track pad, because you can You're not moving around with it. So I'm gonna click on the edge of that drainpipe, and then I'm gonna come down here and let go over here at the edge of the drainpipe, and that's the first vertical line. And actually, I didn't do a great job getting this one something moving into right there. Okay, so that is the drainpipe. And I want that drainpipe to be level or or parallel with the left edge of the frame, the next one instead of doing the drainpipe because it's not actually very close to the frame edge. I'm actually gonna choose one of these pillars here, so I'm gonna choose this pillar right there, and I'm gonna come down and make sure that I've got it right like that. Do you see what it just did? So now I have a perfectly parallel frame edge here and here, and that makes it look nice and square. But there's still a problem with the photograph. And that is see this angled line down here? So you've got these windows? They're creeping into the photograph. I don't like that. So I want this because this is some some images. You can have that kind of skewed look, or you can have ah, um, angle to it and it looks fine. But when you're looking at something that is very architectural and it's very flat and it's got lots of windows and lines and stuff like that, the last thing I want to see is skewed edges. So I'm gonna go in and grab the right below the window sill. There's a kind of a long line. So I'm gonna click on that long line. I'm just gonna go like this, and then I'm gonna go all the way to this one here and let go, and you see what just happened? So now it's straight on the left on the right and on the top. The last thing that I want to deal with is this line. I don't want to choose down here because there's no lines here of any significance. So what I'm gonna do is I'm gonna click down here at the bottom of the building, so I'm just going to click that edge of the cement there, and then I'm gonna go over here and click that edge of the cement there, there. So now I have a perfectly perpendicular and horizontal. It's like it's perfect. So that is the upright tool. In a nutshell. Very easy to use, very easy to accomplish. And now I really like the photograph that now I'll keep this photograph because I love the story that it's telling. And I love that little guy up in the right hand corner they're doing. I don't know what he's doing painting or something. I just love it. It's perfect. So now I could work on this photograph, play around the but it's pretty much essentially Don when it comes to the structural nature of the photograph. Now I could burn and dodge and do things like that, but that's not what this class is about, right? So now I want also to open this photograph inside of Photoshopped because I want to show you that the same tools exist in photo shop. So when I work inside of light room and I'm working on various things, if I doing in light room, it's also available in photo shop in camera raw. So let's go there, so I'm gonna just right. Click this and any time I open an image that I want to continue to work on in raw, So I always I want to work as long as I can. And raw without ever going to a pixel based image as far as I can go. And most of the time I can get there almost 90% of the time. Maybe 95% of time. I can get all the way done with a photograph without ever converting it into a photo shop document. I keep it raw. All right, so when I hit, edit in, I'm gonna open it up is a smart object. So whenever I opened something in Photoshop, I will open a smart object because I want it to be raw as long as possible. That allows me to go back and rework the raw image. If I want to go back and re adjust it, turn it the black and white. Take it away from black and white. Add some whatever I want to do to. So I'm looking at a raw image here because this right here and you can see that little, um, page looking Icahn there. That means that it's a smart object, so it's actually looking at the original raw image. So if I wanted to then edit that and I wanted to change something about the underlying photograph itself, I would simply double click that smart object. And I'm now in camera raw so you can see the camera raw has all the same controls that you're used to inside of light room. It's just instead of stacked on top of each other like that, they've got them in panels here like this. So all the same panels, there's nothing different about these panels except this one. The presets air here instead of over on the left hand side of presets. Here, um, so all of this is fairly similar. And then all of your tools for local adjustments like the brush tool and the radial, uh, filter. And the Grady in all that kind of stuff is up here. Although they did a weird instead of keeping all the icons exactly the same, this one looks like more like, you know, kid drew them, whereas light room looks all elegant. And then this one looks like a kid was in there sketching icons or something, so I don't understand why they don't just try and keep him all really similar. But anyway, they're just different people making them. So, um, so when you look here, for instance, here's the transform tool that we were just using inside of light room. If I click on that, you can see that the guides are already in place here inside of Photoshopped, so it's used the same information. It's just in a different little spot, and it looks different. See how it's green and magenta and another green one here, so it's a little bit more cartoony. I really don't understand why. Why were all cartoony looking inside of camera raw? And then you go to photo shop and it's all elegant and serious. I think it's because photo shop is for everybody, and light room is for photographers, and we're real serious. So, um, anyway, so that's I just wanted you to see that. So if I happen to be inside of light room, don't fret. It's the same. So they have the same tools inside of both
Ratings and Reviews
I am an intermediate level user of Photoshop, and I found this course to be quite helpful. In each and every video in the course I found one priceless bit of information, and often more. The video about Puppet Warp was a short introduction, which was perfect for me because I had never even known it was a feature in Photoshop. I disagree with Sam as I personally do not view Liquify, Puppet Warp, and Photoshop Actions for Burn and Dodge as beginner topics. I found this course to be outstanding for Ps users up to advanced beginner or intermediate levels. Very good value, great instructor.
This is only if you have very little knowledge about "Photoshop, if not is a Waste of money, nothing new and boring.
Student Work