Direct Messaging With Strategy
Sue B. Zimmerman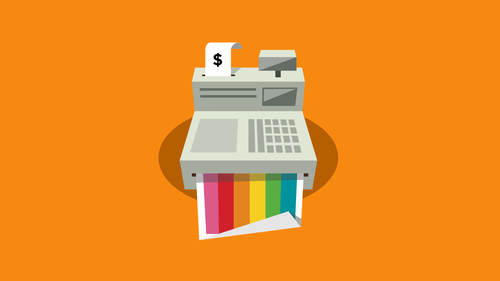 Direct Messaging With Strategy
Sue B. Zimmerman
Lesson Info
23. Direct Messaging With Strategy
Lesson Info
Direct Messaging With Strategy
This is what a lot of people have been waiting for. Direct messaging. I did not teach it last time, so I queued up some really good content here. So you definitely want to be paying attention and taking really good notes you saw earlier today that I just showed you Ah, birthday announcement to Paul that came in through my direct message. And it is definitely a special place to get information and content. So I'm gonna walk you through what is a direct message and how you can use it for your business to make more money. So basically, it's a private message very similar to shat or Facebook. And you can share. You can message one person at a time or up to 15 people at a time. So depending on what your strategy is gonna be, you might want just one person to feel more special than to see three or four or five people in that direct message, because everyone sees each other's faces, which I'll show you in a minute. So this is what it looks like when you get a direct message. And like I said e...
arlier, it's like you've got mail. It feels like Valentine's Day. Someone actually sent you something special. So the orange, which is the notification color on Instagram, pops up and a lot of people. And you did hear Hillary say that she doesn't really use that yet and pay attention, and I told her that she's going to start using it after this course. So, Hillary, I hope you're watching and learning, and we'll get some value from this as well. So basically, it's like the numbers pop up in your folder, and at the bottom is where you get your notifications, that that's the heart icon. And, as you can see here, have had 10 comments. 18 likes in three new followers. So that's what all that means. And I'm sure everybody watching. And here in the audience is getting the seeing orange and that you need to press the home button to see that filing cabinet. So it's very similar to upload a photo like you, a direct message just like you upload a photo. And the difference is, you know, you bring your photo up, you click on direct, which is it's highlighted in green right here. So everyone normally you would just see followers. But when you click on direct, you now have the opportunity to send a message. So this is a download that we did and that we sent two people to see, and I think we might have sent to yet, but we sent it to 15 people. So on the bottom, you see how many people you send it, Teoh. And then once the messages sent, this is what it looks like in your inbox, and you're in direct message box on the far left oops to best. So once it's in the inbox, it's it's a faded color, and you may even see that when the message comes in at the bottom, you have to accept them their pending. So you have to accept those direct messages by simply checking on them, accepting them, and then it's faded until you read it. So once you've read your direct message, it comes in. And of course I got a direct message from pumpkin and sunshine on the bottom there. So this is just kind of the anatomy of what it looks like and how you would see it come into your box. And of course, I want everyone watching Teoh, send me a direct message, so I know that you're getting this. So here's some ideas. I'm gonna talk to you about five different ideas of what can go into a direct message. And if anyone watching has done direct messaging and has another idea, I absolutely want to hear from you in the chat room. And if someone sitting here has another brainstorm idea in addition, like these air some that I have used successfully. But I'm always open toe learning from everyone else as well. So I had a live events in Boston and I was trying to fill the seats in the room. Anyone that's put on a live event knows that it's not easy getting bodies in the room. So I decided to do a discount to people that I really wanted to be there. So I sent a discount direct message to people, and I said, Text me if you have any questions. Tickets are selling fast. Only 100 people attending it's gonna be awesome. And she said, Just got my ticket. Thanks. So I knew that the people that I were targeting and I decided to send it toe one person at a time so they would feel special. This is that situation where one person versus 15. So each I kind of went through my list. My a team list of who I want to sit have sitting in the seats. So this worked really well for me and I did fill the room, but that was that was my way of doing it. I was tweeting. I was on Facebook. I was in emails. I was on Google. Plus, I was trying to get to sell the tickets to the show. It just took ah $100 discount ticket to the key players that I wanted to do that. So selling tickets offering exclusive offers or discounts that you can think of that might help you sell what you you know, your services or products as well is another way to do it. Await darkness would know. OK, so this is, um this is very exciting for me. So taking ah, public conversation, private. So I commented on Icona Square and you gonna hear from Morgan soon. He's gonna take you through how to use Icona Square for your business. But I wanted to get Icona Square to be involved with this course. So I commented on their post on Instagram, and they sent me a direct message to set up a Skype call. A zit turns out there in France there at a conference all week, and no one from their team could be on a Google hang out during the course or come visit. But I was really hoping to get Icona Square to Teoh. Do it tutorial. But don't worry, Morgan has you covered. It's going to be just as good, if not better, I can guarantee, but this is the conversation that occurred so again they just sent me a blank like No, no image or video. I always send an image or video from sending a direct message, but I was just excited to see that I got iconic SKorea's attention. This is a big brand on, and you can't get the attention of break brands easily Again. Direct messaging is special. People pay attention. You can get their eyes on it and their time on it, you know, T take it in and hopefully respond. Another thing I did was I asked for testimonials for one of my cup. My online course insta results I knew some key online experts that I had good relationships with, and I just want to walk you through what's happening with the colors that you're seeing down here. So I created this testimonial in award swag. I wanted it to look good, and I asked for testimonials. So at the bottom in blue, it means that they saw it and responded in green with the check marks means that they saw it but didn't respond yet. And when it's faded, it means they didn't even see it. Which means they probably don't even know how to use direct messaging. So some of you out there could have a direct message and you don't even know it. And if it's faded, it means that the message hasn't been read. The really good news for me is that Chris broken within three minutes of asking for a testimonial, sent me one in Instagram, and that was his response. And to get Chris Brogan's attention is not easy. I know that if I emailed him, he would not be responding because his email boxes oh so full and he's on Twitter. He's on Google Plus, but I know that Chris loves Instagram. And so I was able to get not only a testimonial from Chris, but multiple testimonials from other people that I asked as well, which was really cool. The fourth way is to reach out to people that you want to work with, right? So I wanted. And you can see at the bottom all that I have checked off our people that have been featured here in the course. They've either have been on a Google hang out, or I've given them a shout out. Now when people's feeds air shown here on creativelive, they have to sign a release form. So it takes time to get the whole asked going so that they sign it so that we can feature them here. And so that's what I did. I use direct messaging. I used the image that creative life created, which is awesome for the course, and I message people that I wanted to feature that I knew would give you value because they have such great accounts. And then you see Jackie over here prop up on the right because she wanted to be in the audience. So not only people that we're featuring, but people that wanted to be sitting here in the audience because it's an application process that you have to go through to sit here in the audience. And I knew that. So I wanted a full house right here and I got it because I get what I want now and they know it's true. Andi, I'm sure my family watching knows that, too. So this worked really well for me for this. So that's 1/4 example. And 1/5 example is a call to action. Can you recognize the girl in the middle front center? So service it and I were together, Um, a lot for our photo shoot and subsequently for another photo shoot. And of course, we did a YouTube video, and I took a screenshot of my. So when my instagram account is on my website, a lot of people actually asked us and let us go here for a second. You can take a screenshot of the montage that you see on the Web based application of Instagram, which is beautiful. There's multiple photos all popping up, and that's what you're looking at here. I often use that to put on Facebook to say I'm on Instagram. Come on over to Facebook and I put the link because it's much nicer to look at a montage of face of Instagram pictures like this than just one picture. So again, you know, trying to get people back to Instagram. So that's what I did with that. And then we created what you all contest. This is a download, so text this number, texture, name and email to this number blow 7813 to 80001 So this is an opt in. This is a way that I grow my email list. You are going to be hearing from Julie later from entre port. The system that we use to do just this and we grow our list about 25 to 30 people a day. Doing this. Jackie's mouth is open so you guys can get your phones out and actually try this and to get to get this download Really cool, right? So you're looking for ways to go your email lists day and instagram. It can all happen right there. So these air 50 actually, there six ways. This is another way that that we use it. I think this is important for those of you that have teams out there. We love to communicate cause I know that Morgan and Rachel on Instagram Ah lot. Um, and Rachel responded, and Morgan's faded because Rachel is actually on instagram the most. She does three of our six accounts. So this is a team chat. Like he would get on a Skype and have a team check. You can chat with your team on instagram. So that's what we did. We just needed to schedule our next Skype meeting with Justin Barker, TV. The producer, my producer here and what day do you prefer? And this is actually a re occurring question we had for the past four months to meet with Justin. So So that was what we did there. Before I go to the next slide, there's more. Isn't this good? Is this like the price for admissions right here? Okay. You think it is? I'm exciting. Yeah. I wanted to just add to what you're saying about using direct messages and especially to the point of working with or collaborate with people you want to work with. I've used direct message a lot to meet and connect with people all over, and it's opened up a lot of opportunities, but just a few ideas to throw out there for people to use direct message in that way. We were talking yesterday about doing contest so you could do a contest and direct message those people, or you can organize and events a local event. If you have ah, brick and mortar shop, you can organize, like maybe an exclusive event at your shop. Or if, for example, photographers can organize a little group meeting at a park or, ah, venue. Um, artists can. You know, Let's all go to this gallery that's that's coming by or let's all get together and maybe talking connected. So I think that's a great way. Teoh are all great ideas, and you're talking to everyone listening, giving anyone else jewelry in so many ways. So if you don't have a mike, make sure you're holding one. But you know, I see you do this all the time, so you get into a conversation stream and you'll say DME, and I think that's a really great way to make people feel special and take that relationship from a couple of comments to a really private conversation exactly to something direct. So that's what. Did I do that, too? Yeah, I've seen you do it a lot. It was because a lot of people ask me questions that I don't want to answer in the comment. It's more for them. And I think the comments under a post should be relevant to that post. And when it even on Facebook. Then when it starts to be talking about your babies and your dogs and cats in your kids and it has nothing to do with the content, it takes away from the value of the content. So I say This is the time to say, Al, damn you, Yes, I think it comes across so well, though it just makes them feel special, like you want to talk to them and on one, and that's really effective. It's so basic, but it's greatly important, right? Did you have an idea? Tacky. Actually, I'd like to share one from one of your guests. Earlier this week, a direct message on this came from Keith Griffis. I at at, um if simply and this came in 13 weeks ago and but I want to share this with the home audience and everybody here how simple it is to get somebody to sign up on your email list using direct message. So he sent a picture that was just a text overlay, right? And just very basic about, if simply I had never heard of them before. I must have followed him, actually. Probably. Yeah, from me. And I have been collaborating a lot. Yes, and eso he wrote, uh, what is your best email? Jackie, can I add you to our email list and get more tips to get more tips as well? And so I wrote back immediately. Sure, I'd like to be. And I gave him my email address. That was I mean, it was so easy, right? Right. And staying an instagram and not feeling like you got to go to your e mails. Where you going to get done, Mel Overload or Facebook, where you go? Three. I was just went by. But you're staying right. We want to be Well, that's a really good question. Action. We go just a slightly different point, but it's coming up online. First of all, one very quick question they just want to make sure that direct messages are indeed private. Know everybody's going right. Just two year track messaging to you Put more than one person in there. They'll all see it on. The other question was thesis a Twitter, a Twitter user who is moving away from Twitter onto Instagram. They find the direct messaging on Twitter is very spammy. A lot of generating messages. Do you account him less of a stand? Zero. I've never been span with a direct message. Yeah, I agree with the Twitter Diem's. It's like an automatic GM would. Soon as you start following someone I'm like, Do you even like someone said? Do you want to learn? Instead, I get a direct message like, Do you even know who I am? Because the GM that came in has nothing like like, did you? Did you know that I do know social media or something? So it's obvious that it was just an auto response, like to the follow. So to that point, I have not received any. It's all it's been very authentic content T Grace's point where you're trying to go deeper in a relationship. Yeah, I want to make sure I get through this slides, but can I go through and then you guys hold those. Okay, so this is something that I do. Some of you might have seen this video, So I do 15 2nd videos because you can in direct message. So of course I have a hashtag sign. It got cut off because I didn't do it in the app. But I said, This is when people start falling me on Sue be Zimmerman, which I hope all of you are. And when you do, I send you a video. We might be behind this week. It can imagine why have over 600 new followers? But we send you a video and we say they I say, Thank you so much for following me. Come on over to at the instagram expert, you will get daily tips, tools and strategies on how to grow your brand with Instagram. And I said it really fast. Could you have 15 seconds? But it came out good. I had my sign. So I was branded in my nautical vod with my sign. You know, it's fun and authentic. It's not spam me. Um, and it's really important that it's not Spammy, and you're not going for the sale. You go into the connection. I'm trying to grow my account over at the instagram expert. And this is my way of doing that. The way I keep track of who to send this video to is on a spreadsheet, because I get so many new followers a day not like pumpkin and Sunshine, but enough to keep me busy that I've got to keep track of who they are because I want to give a shout out to them and thank them for following May. So So that's what I dio. And it works really well, So where I have, um, a couple more slides, anybody I want to get through because we're gonna break some right running out of time, But Okay, so yeah. So, um, so that was direct messaging, and that that's like there's so much more there. I want to focus on this, because yesterday I talk so much about product based businesses and I know a lot of the service based businesses. As I said at the top of the hour, you know, struggle with with how to really position themselves on instagram and we you know these are very prevalent industries on Instagram. They're kind of saturated. You might even say right, you know, the fitness, the hair cell. It's the makeup, the photographers, the nutritionist. I mean, you have to get really specific about how you're posting your hashtag strategy, that specific to who you're trying to attract. So in the space of fitness and trainers like Let's talk About nutrition So you're going to meet my daughter, Lila soon, as I mentioned. And she's very specific at how she's posting with our photos, her intention and what you know as in the space of food and nutrition. Are you a vegan? Are you paleo? There's different iterations or different niches within nutrition that you can focus in on so that you attract those ideal followers. So it's really important to be consistent in that space, even if you have a broad category, like, all of these are here. So it's really important to just to do that. And I, as you know, have my my service based business suit be Zimmerman. And what I know more than anything is that delivering contents that gives you all value the post that I get the most engagement on is when I'm teaching you something and you're like I just learned something else from you. This is great. This is a golden nugget. Thank you so much. I want to share it. That's where I get my repost. That's where I get my insta love. And then I know from all of you that I'm doing something right. So it makes me want to do more of the same. So So that's really important. And to just find out what that niches. So I have a few minutes and what I want to circle back. Can we circle back with a couple questions? Let's make really, Really Yeah. I just got a couple of minutes chunk for me My I just want o side of the guys. 40 plus right? So I'm 50. I love instagram, and this is where you should bay, but with direct messaging My journey started 47 weeks ago. I did the first direct message to my son Alexander and I reached out to him and we connected. And then and then I just kept on using it and using it. But there was one person that made an impact in my life and that was super Zimmerman. And I've still got her direct message and she said, Come and see me in this room I won't tell you where at the region at the Four Seasons and I went Oh, my God, this is unreal. So rushed up there. And this is the relationship I have now. I'm come up, come from Australia. I'm sitting here in the audience watching Soupy Zimmerman, the Instagram girl live on TV on around the world. But today, this morning I woke up with my other hero and she right. I hope you're gonna be in the audience today. Can't wait to chat Mawr Kim gassed and I just went, Yeah, what? How do I write? And I just It's powerful. So you guys out there direct messaging is really, really powerful, Big connected connect with people. And don't be afraid to use it for you. All these get out there and put your face up there high. You know we love it. We love it. Great.
Class Materials
7 Instagram® Time Saving Tips
Sue's Top 10 Instagram® Strategies
Cure Your Hashtag Headache
How to Create a Microblog
A Beginner's Guide to Instagram®
Ratings and Reviews
What a phenomenal course. Thank you, Ann, and the team at Creative Live for this jam-packed class. I'll be honest, when I signed up I wasn't sure how there could be three days worth of information on Instagram. However this content-rich class was filled to the brim with wonderful ideas, tools and inspiration for cultivating success on the platform. I'd been struggling with attuning as to how to best use Instagram for my business - I didn't want to be posting pictures of my lunch, cat or shoes; and I didn't want to simply recycle graphics from Facebook. What I really wanted was to learn how to fully utilize this platform to build my tribe, market my business and connect with others. This course delivered all that and more. Sue is a great teacher and her heartfelt style of marketing and sales really fits with my own approach to business. Every day I learned dozens of ideas that I could immediately implement and my mind is buzzing with inspiration and ways to authentically use Instagram to connect with my tribe. I've been recommending this class to everyone I know. I loved it so much that I purchased Sue's first class, Instagram Marketing for Small Businesses. A lovely bonus of taking Sue's classes is that you can connect with her Instagallive tribe, too. I've been meeting wonderful people and making great connections in the community. If like me, you're a solo-entrepreneur looking for a way to bring authentic marketing to your business, I highly recommend Sue's classes. (P.S. I was blessed to get to attend this class in studio at Creative Live. It was beyond amazing. If you ever get the chance to go to a Creative Live event in-studio or take one of Sue's live classes or events, do it. You will come away feeling inspired and energized for sure!)
Thank you to Sue and to Creative Life and everyone who helped for this course. I enjoyed every minute. So many great tips, amazing guests, useful informations. The amount of information is amazing! I could watched all over again. I'm so grateful for Creative Life community to have such a great course like Sell more with Instagram with Sue was. the course really have helped me grow my Instagram account. I have leared so much from the first course, but now I learned even more and I'm doing on IG better and better every day.
Buy Sue';s course. It's a no-brainer that you will NOT regret! Sue highlights real people with real businesses and demonstrates how they are building their brands and sales on Instagram. She walks you through the process of effectively setting up your Instagram page, teaches you about different types of accounts and how to determine what is best for you, highlights how to develop strategies for growing your presence on Instagram, and shares information about how to implement engagement strategies. Also included: the importance of being authentic and how to do that, providing value to engage followers, running contests, encouraging user-generated content, creating graphics, the best apps for creating graphics and managing accounts, how to get and interpret analytics, how to improve your account based on analytics, and so much more. Her enthusiasm is contagious and you'll look forward to the new content and audience interaction in each new video. These videos are FUN to watch! Every business should be on Instagram, but first watch Sue's course to learn how to be there effectively and sell your product or service. You will not regret this purchase!
Student Work