Leveraging the Size of Your Audience
Sue B. Zimmerman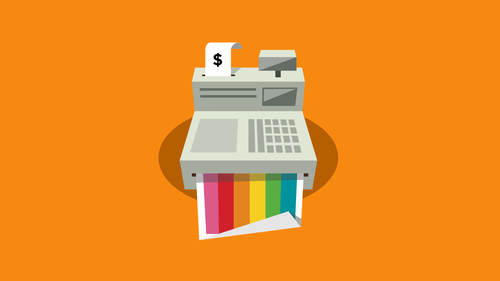 Leveraging the Size of Your Audience
Sue B. Zimmerman
Lesson Info
21. Leveraging the Size of Your Audience
Lesson Info
Leveraging the Size of Your Audience
Let's get into leveraging the size of your audience sponsorships. We've talked about briefly, and, um, we also talked about contests and ways that you can really leverage your community. You know, serous. It just spoke to the heart about what this is all about, to build your community and to really collaborate and not be competitive. But be supportive. I love that This is a great example of a company that does just that. We have Robin and Tracy, who are Robyn was on this. Robin Cream was in the studio last time here, and they have an amazing business where they support Julie makers and artisans that are having a hard time launching their business. So they love creating, and they don't always have the ability to sell or the network to help them figure out how to sell. But they just love creating jewelry. So Robin and Tracy saw this market niche to put together a business called Flourish and Thrive, and when they were here last time, they've doubled their list from, um, 400 to 2200 peopl...
e. So they've really been reaching out and figuring out how to get people to come and start following them. And one of the things they shared with me is that they came up with a unique hashtag which was essentially ah, list building hashtag. It was called hashtag 20 sales in 20 days. So they were really trying to encourage the jewelers to think of ways that they could get sales. And she said that they were all free tips. So for 20 days they gave away free tips, and what they did was they were trying to grow their list and attract their ideal follower. They got 975 people with user generated content with that hashtag so you might want to just kind of check out what they're doing. If you're a jewelry maker, our designer on Artisan, it's worth checking that out. And they did contest and they did tagging, and they were basically celebrating each and every designer in their community and giving the spotlight to them instead of to themselves. So they shared with me that they started to see a huge success in the types of followers they were getting and attracting their ideal follower by really giving value by celebrating the artisans. So this is a great way for you to think about. Who can I give a shout out to? That is a great client or customer and use them as an example. And maybe it's just it's their testimonial. Maybe it's their challenges in their struggles, but ways that you can give value to the community that you're serving at large, that air following you and to maybe some others that want, you know, that you'd want to be attracting. You guys are nodding your head. Does anyone in the audience? Can you think of a way that you could do this with your business with this? Not only a I, um, hashtag strategy, but just toe to celebrate the designers or your clients. Are any of you thinking that this could work for you for sure? Yes, seriously, you had Well, Ash and I were just talking. You just had the reverse happened where one of your clients gave you a shout. How about that? Yeah, that's Yeah, that's Oh, my gosh. So, I mean, I have adorable clients, and and so one of my clients has, like over 6000 people that follow her. She's adorable, she does yoga and she reposted one of my posts on my miracle workbook and I got 100 new followers. Waas Okay, so this is really worth talking about and taking a positive because we talked on and we'll go into this again because it's so important to hit home with that strategic tagging. So someone valued your content and decided they wanted to do was a reposed to was it? She took us a snapshot of my life photo. So she probably didn't know how to use the third party app, repost, wiz or another re posting app. A lot of people try to give credit to the content creator, and I always say to do that, especially if you are a non artist in you. You don't want to take anyone's image unless you give credit. So if you're taking a screenshot, you want it tag that photo and mentioned them in the description. But more importantly, I always say, go to that repost app. I like repost wiz and give credit. So their avatar literally shows up on the photo. So she she took a screenshot. She shared it to her following how many followers did she have? She has over 6000. Okay, that's huge. And what did she say? And she said, This woman is amazing. She's helped me so much in my life. You must follow her. Okay, So that endorsement that you can't pay for that, right? I mean, it was so unsolicited. I I woke up and I was like, 100 new people. Maybe someone from the last did it. I did oppose. That's what I thought. I said maybe Sue did a post and tagged me. And then I looked and it was my client. I can't believe it. That's awesome. So I want to show you something on my phone. That happened last night. That's pretty exciting. Um, first time was going. Okay, so here we. So, to the point of Okay, remember I told you that we're gonna talk? I want to dive in deep. I know that you all are waiting for this direct messaging. There's so much to share with this. But I've been getting direct messages from a lot of you. I see all of them. I appreciate all of them. You are literally telling me exactly what your takeaways are. Some of you are not sleeping on, and I I'm reading this and then you're saying I'm just gonna buy the course. That's what you do. If you don't want to stay up and you want to get your rest. So we're here in you see the filing cabinet? I'm gonna look a direct message here, and I want to bring this one to your attention. Oops, Wrong one. Sorry, because this morning I got a direct message from Paul's girlfriend that I have to share. So she said, Hello, Sue. We haven't personally met, but I've heard plenty of nice things about you and your work. I'm Jessica, Paul's girlfriend. I'm reaching out to you in hopes you can help me with a surprise. It's his birthday tomorrow and I'll be on my way to the Philippines. I'd just like to send him a cake to the studio. He'll be so surprised. Just a little way to let him know how specially is on a special start crying on a special day. My flight leaves tonight at 8 30 hoping we can connect before then. Here's my number. And I just said we'll make this happen, Morgan. My sense like, is she really asking you to get a cake. I'm like syriza go get this game. So eso I said she said, Oh, my gosh. Thank you. This is great. So we are like, this is the real deal. This is happening here. How to use and direct message. She was smart. She saw she saw that she knew that I was watching my direct messages. Because mornings like, why don't you just send it to me or Rachel? Like cause you guys wanna be checking to record direct messages like Ideo. So she was smart. She knew to check him. I hadn't met her yet. She introduced herself. This was nice. This was loving. Of course we got him a cake and they sang Happy birthday to mid breakfast. I heard it. And, um, this is just the power of the community. And so happy birthday. So let's stay on topic, though. Okay, So the topic is sponsorship and I wanted to bring it back, Teoh, in that way, because of everyone here you've shared with us on day one. And there's a lot more good things happening with you. You're eating your kale team. Sure. We took a photo. I it doesn't surprise me that people want to be sponsors, I'm sure cable companies going to reaching out too soon. So let's talk about all the successes that you've had in the space of sponsorship in a way that that others that are listening can can really learn from you. Just you just need to everyone. No. We do know the chat rooms air down. So thanks for letting us know. We've got a 911 on it. We will get them up as soon as soon as we possibly can. Please don't use the ask tag to let us know about emergencies. We already know, but we'll get them up as soon as we possibly can. Pull. Sorry is excited, Jr. So I, um, the reason why I guess Jessica was reaching out to you is because I had spoken so highly of you. And I think, um, when I took your first class, I learned so much and I didn't know anything. Like I said on day one. I don't know anything about instagram it all. And that's when I started it. Did you watch all three days? I did. I was there and I was focused and sitting down at the house and watching, and I learned incredible amount and the engagement with people that have made just over the last few months. I've made so many friends and people have been reaching out to me on my travels because they see what I do because I'm trying to keep my profile relevance and my content consistent and they see that I'm traveling around. They say, Oh, if you're ever in this area, come meet up with me and of all the different places upon to admit a lot of friends and and connected with a lot of people and through those people in those connections, I've made even more connections. And because of that, I have gotten sponsorships as well. Eso So when you talk, when you're talking about the sponsorships to talk about the process so that people listening can really should take them to heart and with the sponsorships I was keeping in mind, Um, because of what you were talking about, about keeping the content on point and relevant, I want to make sure that that's taste insistent and with the sponsors I connected with them in the sense that showing them that how I can reach their community, and I wanted to let them know that, um, endorsing me and working with me weaken both connect with their people and what kind of what she was saying is connecting with their clients. And what source was saying in collaborating. You work together with people and doing that, you build the stronger community, and I think it's I think that's that's amore important. Take away that I think people are can benefit from proven that you engage with people, that you have a solid community. And so when you already have a solid community, other people can also benefit from it, you know, from I mean from in a way that's that's authentic, which for you all these sponsors are part of what you stand for anyway. And what the people that you connect with stand for two. So it's like a May sense, So we have time here. We have about minutes that we can share from each one of you, and you can state your industry because everyone watching, you know, we have a great representation here. We have product based businesses and service based business, and one of the questions I hear over and over again is you know, I have a service based business. Does this work? And I say, if you are in business and you have a pulse, you need to be on instagram. It works for every business. You just have to figure out what your strategy is and what the value is that you're gonna deliver to get the kind of engagement that Paul is talking about. So how many? How many sponsorships have you gotten? And did any happen since you said you mentioned one? So share the one that's happened since you've been here. That one's actually I don't know what you mention the name, but they're a major clothing company, Can, you know? Well, it's not official, So I have because we're still major clothing company. Yeah, very big. And because I do a lot of alpine climbing and outdoors and it'll be huge And so, um, I'm really excited about that. And who knows where that can take me and again, kind of bringing it back to Instagram. It's It's a little unconventional because people maybe might be used to traditional forms of marketing or connecting with people. But this platform is really huge and opens up a whole new world of opportunities and possibilities, said maybe we're not usually exposed. Teoh. Yeah. So I love what you said. You don't know where that connection is gonna take you to because so much of my success and my business is over. The years have been to the point of being a part of a community and giving to a community. But being with people in person, as much as we are all behind our computers trying to run our businesses, I can't stress this enough The, um the investment in spending money to go to places where you gonna find like minded entrepreneurs and then connect in person is priceless and invent in investing in conferences where you can be there. And I know that not everybody can afford to do that. And travel, especially if you know airplane is cost is in there. But I think when you put yourself out there and you invest in being with the people that you want to be with, what you think's gonna happen in your intentions of when you get there, completely shift by the people that you meet, and it always opens up another opportunity Um and it's it's exciting. So I would love to hear more from each of you. You know, again, what do you do? And sponsorship ideas? And if any successes have happened to you sitting here for the past two days, we want you to share that with the live audience has come in from online, actually, and I just want to remind people of this a forest. Come with this question, Sue. I've just bought both of your creative life courses, and it's been such great content so far. But do you have any suggestions or ideas for an author with a published book to sell more books doing a reminder of the Sioux and I have been running an experiment here from CREATIVELIVE when we started on day one. I haven't I haven't got a Crear Instagram accounts to set it up. She helped me with my profile. She's been helping we with Hashtags and posting. And today Rachel sues Assistant is going to helping me Now get a hash tag strategy together so we can see by the end of today scores how that has worked. So for our I'm in the same boat, hold on by the end of today, we should have some real demonstration of how that actually works. Yes, so I love that question about authors because I've worked with several different authors as clients. I worked with one a year before she published her book, Suki Forbes Angel in My Pocket, and, um, she's doing amazing. It's almost, I think it's now a New York bestselling book. Um, she just launched it this past summer, but she came to me before knowing that she was gonna launch her book, and she did all the work in 3 to 6 months, not the week before. The book's gonna launch. So she talked about the strategy of her keywords, her book, other people that are mentioned in the book and what you know what at mentions to use as she's posting and then and then as an author, you want to get people you want to give your book to people so their face can be pointing to the book. I have a lot of these photos on Instagram endorsing the book and getting them to say why they like reading the book. I know so many authors that do that that if you search the hashtag of a title of a book that you love Michael Port Book yourself. Solid search that hashtag you will see a ton of Hashtags in that hub endorsing his book. So absolutely the title of the book words that represent the genre of the book and the subject of the book. And you just, you know, just take taking a picture of a book can be boring. So I think you want to make it exciting. And then another thing I see is when people's books are at the airport literally taking a picture of the book at airports stand and geo tagging. Remember, we talked about this a lot on day one, Geo tagging that book and letting people know where the book you can where you can purchase the book. Julie, I'm sorry to interrupt. You know, you have a question. I was just gonna comment on some successes and my experience. Is that okay, So So OK, so I've had a following on Facebook. I have a strong following on Facebook, but I'm really nude instagram, which is why I was so excited to be here. Um, and what has become increasingly obvious to me is the power behind this community of people. You know, I think that, like I always say that like, Oh, we live in a disconnected world because we're always on our phones so much. And I think what I'm really, really discovering is how much smaller the world is and how much more connected we can actually be in this way. So since Wednesday, my likes have increased by our my following has increased by over 100 people, which is amazing. I haven't been on stage. I haven't You know, I'm just It just happened organically. Um, I have changed my bio. I've linked a retreat that I'm running. And now I implemented you and Nathan's stuff yesterday. So I've made almost $2000 sitting here with strategies. So talk about our stuff. Nathan and I. Yeah, he's coming back today, and you definitely want to be watching. He's on the last segment. So talk about the stuff that made you the hello. $2000? Yeah, that's a lot of money. So I So I am a coach. I'm a life coach. I, um women's empowerment coach. Ah, lot of the work that I do is helping women like reconnect to their hearts, and I create experiences for them. So I do coaching. I do retreats. And one of the retreats that I'm having is in February into the very first day when we talked about a bio and having like a tagline underneath it a little like finger pointing down. Um, I posted it on there, and I announced the retreat yesterday, and one of the first women that signed up did it through Instagram. And then this morning, while I was a little bit late to breakfast, was because I was implementing some of the stuff that we had done yesterday with you and Nathan. So I created the, um, I created my my Facebook situation with What's it called her? Hail. Thank you. I use Heo to sell an e product that I have an e book that I have, and this morning I again changed out my tag toe link. It created a picture that said, You know, Fear Fighter Guide, only $9 and then had the information that I used in my notes, and I made it all pretty and formatted. It had the link at the bottom linked it up with the top, and I've sold five in the past hour. Wow. So it's like blowing my mind. Yeah. I mean, this is stop this huge and I must and I am not a product based service. So I think that's really important, right? It's like I don't have a storefront. I saw services. So to be able to know that So now what he's thinking, What do you like? That's why you were late to breakfast, right? So what do you think? Yeah, I mean, it's just, um I am blown away. So I mean, I literally like and blown away by the content that you have offered that creative life has offered. I just feel like doorway has been opened and I'm gonna just like we sucked into the world of instagram. So you're going to like me every morning. The first thing you do isn't gonna be yoga or having that greens for the day. It's gonna bay. It's creating these amazing little picture images. So I'm so great. Such a great, So cool. Well, that's such a great success story that I think so many people listening can have hope and, you know, inspiration to know that you can make money in Instagram. And that's what this course is all about. And you know, I love that it's it's happened in hours. Did you say $2000? Almost 24 hours and you've been sitting here most of the time. But I mean yeah, exactly. All my phone talking, listening, connecting yes, and making money. That's beautiful. Thank you. Yeah, Mike, we haven't heard much from us. But you've You've been instagram. She does. It is good stuff. Yeah, you've been doing well on instagram. But I do have something that pertains to this. I don't have ah, product based business. And I came to the first class and I didn't know much about Instagram. I was on Instagram on Lee to see what my daughter was doing because she was hiding from me on Facebook eyes. Really? What was going on? So but I came here, I had I have a marketing consulting business. I do graphic design for these clients, and I came here to help them get on instagram and increase their you know, their following awareness in the community, that kind of thing. But when I came here because of the design thing. It just really clicked in with me some of these tools and I put up a lot of designs. I want the little contest. I was one of the winners of the little contest that we had, and so I went back and I help my clients and everything was great. But people started asking me, How did you do that? How did you do that? And so in my community, it turned out over time I had a class where I taught them how to design graphics on Instagram, and that is something that I am taking online that I'm going to be doing now. But the real point that I want to make is that not only was I swept into this instagram world which changed my life, but one of the reasons why I am here is because I thought, well, you know, I don't know if there's gonna be that much new for me to learn, but at least I'll be with the instagram people, you know, I'll soak up that great friendly, positive energy. I was wrong. I have more notes. Thisted time that I did last time. This is the advanced course. So I just want to say to and I think many people in the audience took the course online. They weren't here. And wouldn't you agree? It's not the same. There's a lot more to learn. Greenlee. Thank you Soon. I'm so glad you're here. It's great to see you here again.
Class Materials
7 Instagram® Time Saving Tips
Sue's Top 10 Instagram® Strategies
Cure Your Hashtag Headache
How to Create a Microblog
A Beginner's Guide to Instagram®
Ratings and Reviews
What a phenomenal course. Thank you, Ann, and the team at Creative Live for this jam-packed class. I'll be honest, when I signed up I wasn't sure how there could be three days worth of information on Instagram. However this content-rich class was filled to the brim with wonderful ideas, tools and inspiration for cultivating success on the platform. I'd been struggling with attuning as to how to best use Instagram for my business - I didn't want to be posting pictures of my lunch, cat or shoes; and I didn't want to simply recycle graphics from Facebook. What I really wanted was to learn how to fully utilize this platform to build my tribe, market my business and connect with others. This course delivered all that and more. Sue is a great teacher and her heartfelt style of marketing and sales really fits with my own approach to business. Every day I learned dozens of ideas that I could immediately implement and my mind is buzzing with inspiration and ways to authentically use Instagram to connect with my tribe. I've been recommending this class to everyone I know. I loved it so much that I purchased Sue's first class, Instagram Marketing for Small Businesses. A lovely bonus of taking Sue's classes is that you can connect with her Instagallive tribe, too. I've been meeting wonderful people and making great connections in the community. If like me, you're a solo-entrepreneur looking for a way to bring authentic marketing to your business, I highly recommend Sue's classes. (P.S. I was blessed to get to attend this class in studio at Creative Live. It was beyond amazing. If you ever get the chance to go to a Creative Live event in-studio or take one of Sue's live classes or events, do it. You will come away feeling inspired and energized for sure!)
Thank you to Sue and to Creative Life and everyone who helped for this course. I enjoyed every minute. So many great tips, amazing guests, useful informations. The amount of information is amazing! I could watched all over again. I'm so grateful for Creative Life community to have such a great course like Sell more with Instagram with Sue was. the course really have helped me grow my Instagram account. I have leared so much from the first course, but now I learned even more and I'm doing on IG better and better every day.
Buy Sue';s course. It's a no-brainer that you will NOT regret! Sue highlights real people with real businesses and demonstrates how they are building their brands and sales on Instagram. She walks you through the process of effectively setting up your Instagram page, teaches you about different types of accounts and how to determine what is best for you, highlights how to develop strategies for growing your presence on Instagram, and shares information about how to implement engagement strategies. Also included: the importance of being authentic and how to do that, providing value to engage followers, running contests, encouraging user-generated content, creating graphics, the best apps for creating graphics and managing accounts, how to get and interpret analytics, how to improve your account based on analytics, and so much more. Her enthusiasm is contagious and you'll look forward to the new content and audience interaction in each new video. These videos are FUN to watch! Every business should be on Instagram, but first watch Sue's course to learn how to be there effectively and sell your product or service. You will not regret this purchase!
Student Work