Sell Your Products to Retailers
Megan Auman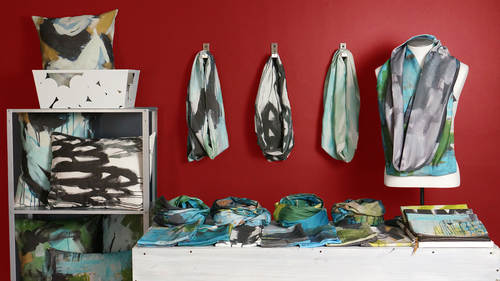 Sell Your Products to Retailers
Megan Auman
Class Description
Selling your products at local art shows and craft fairs is a great way to network in your community, but it's not the easiest way to grow your business. Landing your products on the shelves at boutiques or other retailers is the key to success. Join designer, educator and wholesaler Megan Auman to learn how to navigate the complex wholesale market like a pro and get your goods into stores everywhere, by learning how to sell your products to retailers. .
Drawing on her own experiences selling her products, Megan will take you step-by-step through the terminology, policies, pricing strategies, product creation and even distribution methods that you need to successfully work with retailers. You'll learn everything you need to know about the two parts of a wholesaler's target market: the store buyer and the eventual retail customer. Megan will also help you navigate the tradeshow landscape. You'll gain an understanding of buying cycles, finding the right shows, designing a booth, creating and promoting your tradeshow line, and preparing line sheets and catalogs.
Whether you're an Etsy seller who's ready to diversify their product line, or a long-time wholesaler ready to expand, this course on selling to retailers will give you concrete, easy-to-apply tools for using wholesaling to bring your products to a larger audience.
Class Materials
Sample Order Form and Wholesale Terms
Private Facebook Group Access
Ratings and Reviews
This is the first course I have bought. That's how valuable it is! I have a wish list of courses I dream of owning, but alas I'm on a 'starving' artist budget. I wish I had more time to watch all the free courses on CREATIVELIVE. I WISH I could 'save' a once for free watch time. they aren't 'conveniently' timed. And there are reasons I don't buy w/o seeing what the course entails vs. cost etc. I might buy more if I was able to do such. There are so many I am interested in but time constraints for watching it or catching a re-run are really prohibitive. I won't buy 'blind' and funds are limited. So I must be selective in choosing what to buy. It has to fulfill multiple requirements for me personally. Perhaps others have this dilema and CL could work on that. Or hey, maybe everyone just has more $ than they know what to do with. That said I am astonished that there are only 2 reviews that are lukewarm at best. This course crosses over so many platforms that whether or not I am ever intending to sell to retailers (which I have zero interest in) it is jammed so heavy with idea's and info on how to expand your mind and creative thinking processes that it's inspired me into action!!! My brain is on fire. Thank you Megan! I'd shave my head to own everything that Sue Bryce has taught. Megan is in that league of sharing insider info that is impossible to put a price on! I was only able to listen to a small percentage of Megan's free class, but it was enough to know that it was pure GOLD! Such Inspirational and visionary idea's are dense in this course. I also have sitting next to me two bags of coffee from one audience member! I think Creativelive is the #1 most amazing source I could ever hope to find and I still can't get over the steller excellence of the team that runs this. I live 4 hrs from Seattle (on a good day) and crave to be in an audience...but I love watching from my forest hideaway! The glitchiness in streaming during this course was annoying. I have broadband and multiple browsers to avail upon but there's something afoul in the air possibly because each browser had issues. Either audio was not working or visual was not working. I had to open 2 browsers. One for hearing and one for seeing. I hear from other brick and morters that make me think it is/was statewide. I will put the blame on Century Link because that was the common denominator. I'm following through on that one. They have been quirky ever since they took over Qwest. I'll end with major kudo's for the fantastic offerings that CREATIVELIVE has given to creative's everywhere! My life was changed when I stumbled on this tremendous opportunity. I am so forever grateful!
This is the perfect class for me! Was looking for this kind of information about doing trade shows and getting in to retail stores and found driblets of info here and there online. But, this is the whole deal and real deal. I think Megan is an AWESOME teacher and find her so easy to connect with. I love that she is funny and engaging and she clearly cares about the studio audience. She's a talented metalsmith and talented teacher. The information she gives in this course is so so so valuable. I feel like after going through this course and having it as reference I will be so ready and confident with taking my jewelry business to the next level. She makes it so approachable and breaks everything down. Thank you Megan!!
Absolutely fantastic! Meg's course was one of, if not THE, most comprehensive and educational pieces I've seen in a long time. The knowledge she shared was dead on, inspiring and very, very generous and gracious of her. Meg presented the materials very well and the added bonuses were...well, just awesome! I've followed her blog for a long time and now I'm a fan of her classes. I'll be taking/buying more! Thank you SO much, Meg and Creative Live! 10 out of 5 stars for this class! - Ronda
Student Work