Final Render of Exterior of Street Cleaner
Jorge Paricio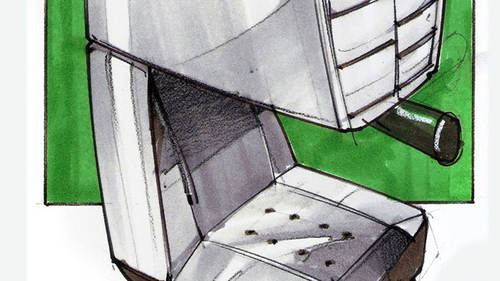 Final Render of Exterior of Street Cleaner
Jorge Paricio
Lesson Info
11. Final Render of Exterior of Street Cleaner
Lesson Info
Final Render of Exterior of Street Cleaner
all right in this face, I'm going to do the final rendering off my street sweeper. And then after I'm done with this will work on the interior. And the last phase of this second part of the class would be the big moment when we would be mixing the outside view a detail over the back on the inside on one page similarly to what we would be, But we would have done with the coffee maker will do a good composition off those three on one page. All right, so in this case, I just get started so we can connect these two points a little bit better. So we have, um You guys going to start doing that too will work with the lighter tones from top. We need to find out where the parting line would be between the dark and the light tones I'm going to do with the needing Eraser. I'm gonna raise highlight right at that break point between the dark and the light tones. And we talked about the very supporting line on the rear, so that has to be repeated. Whatever I done on the top, it's gets gets repeated ...
on the bottom. So I have my highlight here. And then I would have again, from the bottom half from the bottom to the top, he would be light from the bottom from the middle to the bottom would be dark. This is when I would get my markers and work on the bottom. What do I do? First I test my markers from this I just to make sure that I get the right colors. Do we want to make these one more yellow? Yeah, Why not? So I would dio this is gonna be yellow. Yellow Street sweeper. So you have some yellow tones over here that it would be repeated over here. Um, things would be my brake lights over these two over here. This is just some chiseled edges that I have. Um, so first you're divided into halfs again. The bottom would have to be more heavy. Has to be more colorful on top of the great. If you work with, especially with yellows, you have to be very careful when you used wore gray markers. If you use a lot of gray on top, your yellow will appear muddy. So you just have to be careful not to overdo it. Okay, so it's better to use. Instead, you would use brown pencils first. I would start with a okra color said, like a dark yellow, but not too dark. And then progressively, I would work toward darker colors. And then you were just working combination. Always test your markers and decide just to see if it is the right color that you want to use. All right. Even darker. Here. Lighter on the top. Let's now find some red for the brake lights. I really want to make an impression there. The red would be bright and visible, which is, after all, what we want for a brake light night. We want colorful spots. So that's what we got there. We have a bump on the back. Similarly, to what we have on the front. I would do something like this. All right. These guys over here, the structure that prevents the cabin from collapsing. If it fools, we're gonna work with them using graze. Um, but before I do that, I'll start marking my outlines similarly to what we have done with our coffee maker. We would want to use line waits to define my shapes. Right. This case I have slightly thicker to to find the perimeter of the object. All right? And that we can use thinner lines for the inside parts. Just make sure it's probably season balloon on the black Black. We have a parting line here. We talked about that, How it is going to be opened. Maybe over here, this whole part would be lifted. So now let's add some gray for that, um, lock that would be made of rubber over there. And then we have some metallic elements here, but we will render. We're just adding very thin black line there just to get ourselves started again. If we have good pulse, we would do this curve lines by hand. If not, we would use our French curves to clean up my lower lines. Okay, so now, um, this is how we would get started from here. That's now we have lengthy to. This is how I would get over here before I wrap up this, I'll say a couple more things. It is very important that you focus on your design on what's really important. You don't have to render everything all right in this case. My point wants more to render how the colorful shield would be, how the outside would look like. And they're these mechanical parts that would necessarily not changed. I would want to keep them intact. So that's why I added a gray over the whole thing to mute them. And then the focus really would be on the color on the yellow, on the brake, lights on the lights on the front. All right, so I just added darker tones over here to push it back, and then a different blue tone over there. On the next phase, we're going to be designing the inside, which would be a completely new approach, different to what we have done for the outside.
Class Materials
Freehand Industrial Design Packet.pdf
Ratings and Reviews
I thought this was a well rounded introduction to this subject. Really liked the teachers attitude as well - very inspiring!
Student Work