Final Rendering of Interior and Exterior of Sweeper
Jorge Paricio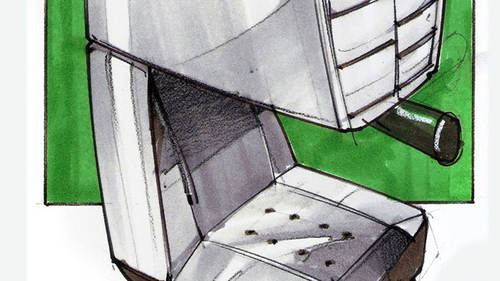 Final Rendering of Interior and Exterior of Sweeper
Jorge Paricio
Lesson Info
14. Final Rendering of Interior and Exterior of Sweeper
Lesson Info
Final Rendering of Interior and Exterior of Sweeper
All right. So in these legs last phase, we're gonna be composing the entire page, the inside and the outside on the same page. So I have a preliminary layout over here. But first, let me just mark very quickly here where I would have the main areas for light on dark tomes. All right, so, um, what color's had you work? Are you guys working on, uh, outside? It's a lot of natural over the dark time. No, no. For the paint on the main body. Oh, like grays. And this, like tope color. Okay, what if I do it in grey? So you get you guys. Get that right? Yeah. All right. So the main area here would be where we have the chrome line. All right, let's draw directly on top of these. So you guys would see and then will apply what we learn here. Over there, you see the chrome lines, right? We have the main line cutting across its use permanent marker here. These line over here is the line that separates dark from light tones. Kind of gets a break over here, but starts again over there. So it's roughly...
a whole rice This is your whole rice on nine in a car. Typically, the site of cars has a slight curvature to it. All right, so right at the break point where the curvature goes from concave to convex or when we goes from bumping out to bumping in right, right at that edge at that, um, tangent point, that would be the break from light to dark tones. And that's what we have over here. That's what we have on this photograph over here. That's what we would have over here. So let's marketing red roughly where that would be. Miners, you know, the imperfections or the new insists off the shape. So we have another plane roughly here and outlined roughly here and online there. From here up, it would be more sky tones. From here down, it would be darker tones. So if we're working with gray tones, what I would do, here's let's pick on picking a W five. This is not marker papers or markets appear. We would appear a bit darker, so you would dio your break point over here you would make it more evident from the middle down would be darker from the middle up would be lighter. Just like what we had seen under photographs. You can do a second pass to darken that, um You see, whenever we have a bump out, that's a signal that you would have another highlight. Okay, So much to see. If I did a portrayed off me, I would have a highlight on the nose. Look at this photograph, for example. You see these rear hard bumps out when he bumps? How would you get another shine? Because it cuts coming out so disguised, reflecting on that bump out. All right, that's what we have over here. That's why I didn't do the gray all the way down. I reserved that spot for a highlight. So much like duplicating my horizon line over here. I do another one over here, and then this would be dark so we can work that way from the middle to the top. We could use more pastels. I know you guys don't have pastels, but you can work with very light markers instead. That's also something that you can do very light markers over here. All right. Just to, um, get that going on. Then from the bottom down, he would be even darker. All right, so you have to make that line very clear. All right, so now let's to get going on the final rendering here, and we would have to figure out what we want to highlight on these rendering. First, let's get some collar is going, and we need to have a practice paper for our markers. Just make sure Is that to read to, um that may be interesting. I actually like that red better than this Brown. It's like a reddish brown. So let's use this. All right, so I need to figure out where my main colors would be. All right. One thing that I have done here to just to make the composition more interesting. Let's say you want to sell this concept to somebody, right? And you want to show everything just on one page. What you would have to do is mix the inside on the outside everything on just one page, so that at a glance they would be able to see how good the concept iss All right. At this point, you would want to really devote, you know, some good time to dry. You don't want to rush this face. Um, So again, if you like to use some good music, you put some good music on the background or talk show whatever you do to just keep your attention going or really nothing. But just find your put it this way. Your zone. You're quiet your good zone to get you going So I want to work with my wood tones over here just to make it more interesting. And I'm gonna mark where I would have the main elements wanna work now, which they already defined the main elements of my design. The next thing would be to add a sense of depth, um, where I would have my, um, bottom the floor. And we have learned over here with these two examples that the floor we can just up very easily add dark tones to push it to the background. Rendering, after all, is nothing more than pushing colors to the foreground, into the background, front and back, front and back. It's like accelerating in and breaking, so you go both ways. So now let's break will add dark tones. Is that a great tone that I like? Yeah, again, I am pushing things to the background, so I would add a dark tones so that the floor off my cabin would look deep. And I can do this anything on the other side. All right, so I'm signed to get some sense of volume. Also, let's go back to some of these photographs. You see whether we have the outside, we have the front grill and also the inside. Whenever you have Irvin's coming in, the events are actually hiding a hollow tube right that carries the the cold or hot air, depending on the season. So how are we going to do that? We need to. Whenever you have a void space, you need to add a dark tone to make it really go deep. And that's where we going to do over there. And then let's figure out where else we would have vents. Think always of the use of Remember, you would have a posted place somewhere Who is my user? Who would they want? Who will want to use this? A piece of equipment? Well, it's a young person and would like to be proud of using these piece of equipment, so we want to have their conditioning. You know that would have an interesting shape. So I'm masking. I'm adding your my events on different areas just to gain that sense of death. All right. Do you think so? 1236 of them. That's plenty right to give yourself cool. Three on each side. When I'm driving on this side, it would be three on the other side. It would be three. All right, so I don't need to do more. I would use then a lighter grey. So Mark where the dial's would be. I don't need to mark them a stark because because if I used the same dark tones, they would look like more events. So I want to use I want to make a deliberate choice. Are these lands Where are these buttons? I thought initially, events. Now let's make them buttons. I am just a this point adding some grace to show main volumes. All right, so notice over here. Hum. You saying, um, watercolor pencil and that smears slightly. So we would have to be careful if you want to Me, my smearing You would have to get close to the edge without really getting too much smear. So that this one is just a matter off controlling your strokes home like this. Who is there? Something else, Um, is reminding me of something when we have again. Let's continue working on materials. Right. When we have screens, we want to use a different material. Okay, this is have blue. That is very intense. Years that I know this one can use to darkness use other blues I have of the blues. Likes it. Perfect. So what I'm gonna do? Let's mark where the windshields would be on all the drawings I'm gonna mark over here. My reflections. And then where's my windshield? Here. My reflection Here, Um, and I would have a reflection here. Reflection there. So what I'm gonna do is just very light pencil. Very light marker, flu marker tones. Over here. Over here, Over here. This is a void space, because that's the over structure issue. Didn't have rendered that. So That's good. That's white over here. This is a big windshield because I really want to see a smash as possible of the street so that I don't really get into problems kind off sweeping her neighbor's yard. Right. I would be lifting all the all the grass and what not? So So I marked where the screen where the windows would be all the glass. And also this is how it started using Rabia blue Because I also wanted to mark where the digital screen would be. I'd rather have you know, this would be a great feature to have. What if this link this is linked Teoh a road map, a digital war road map so that he would tell me what would be the best route without really having to jump from one side to the other. So I would always do Let's say I would do on Lee the right turns. And then I get out after one hour and I would do all the left terms. I do one side at a time without really having to go around all the time changing seats again. Think of the user. What make the life is here. Off off. The people driving this vehicle. All right. I made a mistake here. The blue has to go over the hood over here, right? Because the hood he is beyond the glass. I would do something like that. So once they get the main materials going, I can continue adding some more gray tones. It's at some gray over here, but now let's pause for a moment and see what's happening over here. This is when you know, as you have more experience rendering, you can really have some fun. You can overlap your drawings. I have the inside trying that is 1/3 of the way done. But then I have the rear design here, and it's overlapping my interior. So I do not want to finish my interior entirely because I wonder. Start working on the outside and then makes the to right. I think that would be a very interesting way off working so a little bit of both and then figure out how I blend that intermediate step pail cherry. What if I did like a cherry on plants? Agree? Gray or cherry? What do I like best? Great. All right, so let's that adding the outside over here again, I have the intermediate line. The horizon line from that down is start from that point high this light. You always want to make that distinction. Always test your markers on the side. Always right. Always, always promise me that um um I have taught you already how we can cut out and fix drawings, but it's better that we don't have to do that. All right, So we want to do, like, a gray design. We can work very lightly on this. Um, let's add contrast. Let's work with darker graze. Oh, that's juicy. Black dark grey, This is C nine almost black. I love it. Um, this is when we would have to have no fear, right? You trust that everything is gonna work out and they just go for it. I'm gonna have the outer structure dining, black, big thing. You see, whether you are left or right handed, you're going to have in your hand um, some very nice smears in some color that you would take home. So it's important that you're aware of that. Meaning not so much that your dirty because you can always clean yourself. But if this is still fresh and you put it right there, you would have a wonderful print on your drawing. That is not fully done. So just be aware of that. All right. Some designers like to dio the parts that they might not be working on. They may just be rendering full black or very dark tones. Why would we do that? So that we can keep the focus on what's really important In this case, I am just designing the mid metal parts nuts, much the structure, how it really how it really runs, Right. So I would be doing that Everything in black and I can transfer that into my wheels too. At this point, it is just not so much economy. But I have this marker or video opened up. Might as well use it on the other drawings to just to get a sense off volume. Are you guys working with contrast? How you adding contrast on the bottom? Yeah, trying Teoh leap of faith. So basically, whenever you're trying to make chrome, you're basically putting whatever color feel you're working in an ombre. You're just putting whatever colors you're working within the hombre. Like you're going light to dark light to dark toys. Ray Horizon line in the middle That separates. Yeah, Okay. All right. Some adding strong contrast on this cabin from and just to get myself going. And now you'll see how quickly these will come together when I start applying my reds and yellows for front and rear lights. Let's find my read. Always task your markers and decide, Right? You always to that. Now that speaks rear because I have the brake lights. Without that, we wouldn't really be sure that red might show a little bit over there. So I'll add a little dot. I know front lights of necessarily have to be yellow. But if we add, for example, a pale yellow toned that would make it a bit more clear that that's front If he was not clear enough, which I think it is, it's just a little bit of a yellow, um over there.
Class Materials
Freehand Industrial Design Packet.pdf
Ratings and Reviews
I thought this was a well rounded introduction to this subject. Really liked the teachers attitude as well - very inspiring!
Student Work