Small Business Finance Basics: QuickBooks & Beyond
Day 3 Pre-Show
Ken Boyd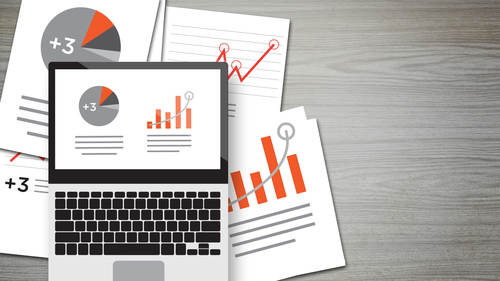 Small Business Finance Basics: QuickBooks & Beyond
Ken Boyd
Lesson Info
25. Day 3 Pre-Show
Lesson Info
Day 3 Pre-Show
Good morning and welcome to our third and final day of small, small business finance basics, Quick books and beyond with Ken Void right here on creative life. This is Chris Jennings. This is Evelyn Danford, also known as E V. Thank you on. We're gonna be your host for this final day of small business finance basics. We have learned quite a bit over the last two days when you say it's been a jam packed 1st 2 days of this workshop. We've covered a lot of the terminology. A lot of the formula really got down into the nitty gritty of how all of this works. And what I'm really excited about for Day three is taking all this information and applying it to our business is the business that we started here in the studio audience as well as everyone online. Now that you have these tools, you can apply them directly to what you're doing in your life. And that's really when it gets starts to get exciting, to see it go into play. And you see really how we can use this to the best of our ability. Ye...
ah, it's kind of all hypothetical in theory. But now you can see how this can improve your business and make it more profitable and have that long term stability that you're looking for. Absolutely. Yeah. So we have a great studio audience here for the past two days. In case you have missed that, we're gonna have them reintroduce themselves, all of you out there. So why don't we do that right now? Why don't you tell everyone your name where you're from, and remind them why you're here and what you've been enjoying about? Of course. Go ahead. Hi. I'm Candice Betty from Huntington Beach. I'm here because I own to small businesses one organic skin care, one photography. And I'm looking to make them profitable in the long term And get my numbers. Ah, don't pat Terrifying. My name is Joshua from San Francisco, and I'm hoping Teoh learn how to better manage some rental properties. Okay. Hi. My name is Jackie O. I live in San Francisco and I own a textile and batik boutique, and I'm just interested in learning everything. There is a noble quickbooks like use it better for my businesses. Thank you. I am Christine Sugrue and I'm from San Francisco. And I'm a freelance producer of film and video and also looking to former production company with other individuals. So learning the accounting basics and QuickBooks is really useful. Hi. Good morning. My name is Renee. I'm from Sacramento. And I'm here because we're starting up a new business and want to get a good foundation for that. Great. Thank you. Wonderful way. Yeah. We have a lot of people who are coming back. The chat rooms have been there the past few days, so welcome to Dick Horner is joining us from Germany. We've got em cut. We've got Rogers Pro Photo. And also today we have Cindy droning joining us from Woodstock, Illinois. So welcome, everyone. And we're looking forward to day three. Absolutely. You know, Chris and I were discussing this this morning, just talking about the student experience and what it's like for what they're expecting. And then when they get here, what they actually experience as students here a creative life. And we have one of our students. Christine has a unique perspective, being that she comes from a production background. So we thought we'd bring Christine on up here and talk to us a little bit about your experience here, Christine. Welcome, huh? And then we were talking this morning, and we thought we would share with our audience a little bit more about who you are and what your background is. Okay, Well, I, uh, believe it or not. Originally, I was a accounting major on. It's great to get the basics again and come here and see that. But yes, After a year of accounting, I decided that wasn't for me. Yeah, and got into marketing, which turned into advertising and photography and now film production. And, uh, I've never done live. So it's really fun to be here and see what it's like. And it's quite impressive. Eso give everyone a little bit of a sense of what it's like to be a student here in person. Is this what you expected? Having that production background sort of seeing everything that goes on behind the scenes here? Creativelive. How's that experience been for you? It's been really enjoyable and relaxing and a very professional crew, and it's nice to just sit and watch it for a change was opposed to doing what were you expecting coming into creative life? Did you have any images in your head of what this experience would be like? I saw chairs, but then when I saw couches, think couches made you happy eyes there anything that you that you have as a background with this background and production that you thought might be different or anything that surprised you, uh, overall just how smooth it all is on. And, you know, I'm sure you've been doing it for a while now, so you got it down. But it's just a very comfortable experience. Way wonderful food to All right. Great. Well, how about within the finance and business? Is there was there any area of your business that you specifically needed this for? And how do you see yourself growing now that you have this education from Ken? Uh, well, I am, As I said, I've been doing kind of my own thing and sort of hobbling through with that. And now that I'm looking to join with other people, it's nice to see how we should be forming the business. And then I'm sure I'll take on the responsibility of the finances in that in that group, too. So it's been wonderful to get a refresher. Really? Definitely thing that I need to pay attention. Especially that segment we went over yesterday when we were talking about partnerships and exactly the smart way to go into each of those. I imagine that was an effective section. Definitely Waas because we've started with a little bit of paperwork on what we expect just with who put what money in and how you get that out. But to pay attention now to the roles of people in the values of them, that is really useful. No, you work primarily as a freelance freelance producer. How have you seen yourself grow? And is there anything that you've learned in here That you thought that if I knew that, You know how way? Well, yeah, definitely the accounting. Yeah. Candace and I were talking about that. We'd, uh, maybe look at how you have been doing things and do things differently. And yet why? Perhaps now QuickBooks will work even better for us. Yeah, that's great to hear way always say, Like, now is the time to take this on. If you have been out there and you have been overwhelmed, I know a lot of people are intimidated by this subject. I think that you're a great example of how you can get into it. You can overcome it, and today is the time to start improving your workflow and getting your finances in order. Well, we you know, one of the other things that we you've been so supportive of us just beast questions. I didn't expect we'd have such a glowing review. I mean, we love it here, but it's always nice to hear and so many of you online as well. We have such a great support system here, a creative live from right here in the studio to everyone all over the world. And we're really grateful for that. And one of the things that we've been talking about a lot lately because we are genuinely so excited to have been nominated for the crunchies, which, if you're not familiar with the crunchies, this is it quite honor to be nominated in the area. We were nominated in his best educational start up. Yeah, we're really proud of this nomination. There are a lot of other wonderful companies out there doing things in the educational space, but we're really proud of our efforts here. You know, when we get this these glowing reviews from our students from everyone online, it means a lot to us. So if you have it enjoying what we're doing here, I creativelive We would appreciate a vote for us as the best educational start up for the crunchies. TechCrunch is annual award to help give some recognition to a lot of companies that are doing great things in the space and and start ups that are making a difference which we feel that creativelive I think we are. And if you'd like to give us that support, you can vote for us at the URL on your screen. You can vote once a day up until January 26. So thank you for that support and thank you, Christine, for coming on and joining us. It's such a pleasure to have you here, and we love hearing your perspective as well. I've loved it, Pat. Absolutely. And with that, I think we're about ready to introduce our instructor. He is a former c p. A. With over 29 years experience and education, accounting and financial services. He is the author of Cost Accounting for Dummies. and co author of Accounting All in One for Dummies, both of which are available right now on Amazon and on his website. He's also the owner of owner and instructor at ST Louis Test Prep and a small business owner himself who professionally counsels other small business owners, providing them with feedback and guidance to reach their business goals. So with that, I'm gonna go ahead and introduce Can right up here on stage. Can thank you for joining us. Way have covered so much. It's amazing. And I know we have more to go, so I'm gonna let you get right to it. Okay? Thank you. Thank you.
Class Description
Accounting can be easy if you know how to use the right tools. In this course, Ken Boyd offers an in-depth introduction to the accounting and QuickBooks skills that are the foundation of every thriving small business.
Learn QuickBooks Online
Ken covers everything you need to know about understanding and managing your business's cash flow to insure that your business stays profitable and that you have the right amount of money at the right time. You'll explore the principles of making sound business decisions that both grow your company and protect your bottom line. Ken will also cover best practices for integrating QuickBooks as an accounting tool, from setting up payment and invoicing systems to generating accounting reports to paying your company's bills, and much more.
Whether you're a first-time entrepreneur ready to learn the basics or a long-time business owner looking to sharpen your skills, this course will give you the tools you need to confidently manage your company's finances -- no stress or guesswork required.
Class Materials
bonus material with purchase
Ken Boyd Keynote.pdf
Ratings and Reviews
Student Work
Related Classes