Small Business Finance Basics: QuickBooks & Beyond
Finance Basics Q&A
Ken Boyd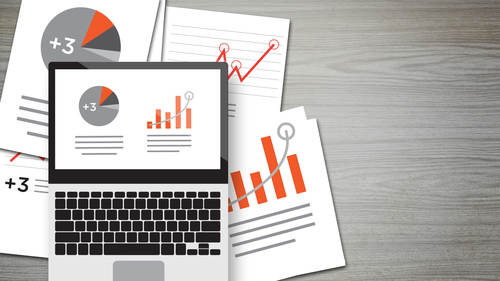 Small Business Finance Basics: QuickBooks & Beyond
Ken Boyd
Lesson Info
3. Finance Basics Q&A
Lesson Info
Finance Basics Q&A
we actually had another question come in. If basically just wondering if you could describe for us the differences between QuickBooks online and the actual software in which you prefer for a beginner. I like QuickBooks online because in fact, the one I'm gonna show you later today I got a 30 day free trial just to show you hey, get a day free trial. Then if you get once you get it figured out a little bit, you can start using it for more complex business like you got inventory. Like somebody who's got a depreciate assets. You probably want to go beyond the basic QuickBooks online and get the other QuickBooks versions that have the ability to do more things. Another examples. Payroll. Sometimes you got to do it. Add on for payroll. Okay, we'll talk about payroll during the course, so I recommend online for a basic user. I recommend the more complex there's QuickBooks pro, and there's QuickBooks. I think there's premier when you have more complicated issues, when you have more complicat...
ed issues, Okay, the QuickBooks pro advised, and I'll get you to second the QuickBooks. Pro advisors are very good at telling you and helping you figure out which version you need. When you look at the the task to get certified as a QuickBooks pro adviser, which I looked at and just ran out of time and didn't do, one of the things were tested on is your given scenarios and you're asked to tell the client which software they need. So these guys should no, go ahead. I'm sorry. I was just wondering if there's a point in your business where How will you know if cookbooks isn't thorough enough? Toe cover all your business needs. As I mentioned, I know some people that are running QuickBooks using QuickBooks, a version of it, a souped up version for pretty big businesses like 10 $15 million a year in sales so it can do just about everything you wanted to do. Now. The exception is if you're in a some people get to the point where they're in an industry that's so specialized, and it's so specific that they need to have somebody come in and write code. And at that point people will switch over, for example, in investment company that I know they use QuickBooks for their accounting. But they have a different software to come up with the investment statements for clients because QuickBooks can't do that. So that's kind of the cut over right way. Have a lot of creative that watch creativelive in a lot of our in our chat rooms have a lot of photographers, and that's having our base. And I know that you know a lot of creatives as well. What do you see is the biggest challenge that they face when dealing with the financial aspect and the QuickBooks type stuff for their business. The biggest challenge I see is is that people's businesses ramp up, they get busier, they get behind stuff, ends up in a shoe box. Then they get to the and that creates two problems. The first is they don't know where they are from a profit standpoint. And the second is when it gets to year end. You've got to do your taxes, no idea, and that can get out of control quickly for a creative person that could get out of give you give you an example. There is a chef I know in ST Louis who was a brilliant creative guy who does customized parties and events with very creative, exotic food. He's a genius, I said, and talk to him for a couple hours. But he's in a business where he's got employees. He's got people who are preparing food, delivering food or location serving food. He's got employees, and his payroll was a complete disaster because he was such a creative and so not a numbers person and so disorganized. It got to the point where he couldn't do business because his payroll was so messed up. He what he was. He wasn't paying people on time. He was. He couldn't get people there w twos and their 10 90. It was a mess. So that's an example of what can happen that a talented person who's got business coming out of his ears. Everybody wanted this guy, but he got so buried that he literally had to stop doing business for about a month and get help to get this all unraveled. Yes, so how often is too often to review your finances? Okay, Westman the minimum. I would hope in my perfect dream world that once a month you would get all your data into QuickBooks or Excel or something, all your data loaded. What? I mean by that all your receipts recorded in a in an accounting system, all your deposits recorded. Okay, get everything recorded All those slips of paper recorded somewhere. And then and I'll talk about it later. Within five days of getting your bank statement, reconcile your bank account. You're all doing that anyway, right? Don't. Uh um when you run out of checks that need you don't have any money. But if you would do that, if you would reconcile your bank account within five days, and you would at least get all your financial information loaded and see where you are once a month, that's what I'm begging you to do. Okay, once that ties into what you were just speaking about. And so w A media wants to know if we've been using QuickBooks, but we're not well organized at the beginning. Maybe they haven't been following that monthly upkeep of their finances. What would be the best way to catch up? Is it easier to just start from scratch and build it all up? Or we gonna talk about how to fix it? If you haven't been doing it correctly, number one problem with QuickBooks. That is the number one problem is that you started and you get off track and you either fall behind on what you're recording or you record it wrong. And now it's a mess. You don't know where your happens all the time. My recommendation. So then it's like, Well, do I just start over? Well, the problem is, if you start over the historical information, so I'm just going to start a new company. I was company. A company is messed up. So now I'm just going to start the beginning of February, Company B, and we're gonna We're gonna keep company B records, Correct? The problem is that now A and B are connected, and you've lost that history and lost the history. But the history of company A is not linked to be, and therefore you can't go out and look at how things were doing historically. So let's say that company A has 10 items in inventory and company A has at the end of the month some payroll that still needs to be paid at the beginning of the next month and you decide Well, I'm just going to record it all and company be so that all that hanging stuff, the pending stuff and company A is now in company B and fine. But the problem is, you've lost the ability. Compare. My recommendation is you call a pro adviser and you have somebody come out and you bite the bullet. You spend the money and have somebody get it fixed for you. So you have no. Why do I say that? You're like, Well, I don't care. The only person's going to see it is me. Why do I care? There are several people that I will talk about later. That may end up wanting to know. And you may want them to know about your historical financials. Maybe you got to go get a bank loan down the road. Okay? Commercial bankers, people that loan to businesses are concerned about One thing. Can you repay the principal amount of your loan and the interest based on your profitability? Okay. How profitable were you going back? Well, if you switched over to Company B and three years of company A is in a different system and probably not correct. What you going to say to your banker? Okay, what do you want to bring in any partner your business, who wants to see your historical financial well of A and B or separate. That creates a problem. And it also it sort of makes the owner not look very professional if they don't get that fixed. Okay. But we want to present our best foot forward and have the lender or the or the partner see everything in order about the functionality of QuickBooks. And it's more about four projections because a lot of angels and venture capitalists want to see what is your break even point when exactly in the life. Okay, Wendell, in life cycle of your company, will you break even? And when will you actually start to make a profit? And this QuickBooks Are you able to do that in QuickBooks? You can. It's on our version. I think that's a little tough, but let me talk about that because this is a good point that you just brought up. Well, I want to go out and raise money at some point, and I want to do what we call an accounting pro former, which is what if financial statements. Okay, can quickbooks do it? You probably have to get a more souped up version. However, um, I think we had a course where we had business planning a week ago. Didn't way. Why don't you guys comment on Absolutely Last week we had small business planning, and it was about the Barbara Findlay Skank and her husband came along as well. And they've owned businesses and they consult others and businesses. And that's really about starting your business and making a business plan in a business model, so that whether you're just starting a business or you're taking your business and your wanting to consolidate everything and really have a business that you can sell or you can make money off of cousin their The way they describe it is basically that if you can, if you're you don't have a business that you can eventually make money off of themselves. It's a shame to put all that work into it. So that is, of course, that you confined in our course catalog, and it might be something that fits nicely aside along with this morse for everybody. But thank you. We have talked about that in the production meeting. Let me say a couple things on business plans real easy. First of all, I recommend that you look at that course because when I'm going to suggest is probably not at a level that that course covers and you need to see that course because you need to ramp it up. But it a very basic level. I want to do a business plan. You can go toe OfficeMax or Office Depot or go online and get very basic packages that will do business plans. Specifically. If I want to do three years of projection, you can go out and get a piece of software that will do that for you. You plug in the numbers and you say it's gonna grow at this rate per year. Click and it forecast it all for you. So in a basic very basic, there is your business plan tool. Then you can ramp it up and watch that course because I think to go out and get an investor. The basic model that I'm suggesting is not enough. Okay, going back to your company and company, be not being in sync. Let's say you're transitioning from not using accounting software, and you have all this paperwork receipts. How far back should you go back and re create from all your bank statements and do a bunch of that entry into the software story question and I don't have a perfect answer for you. Um, my first reaction of that is I would go back to a point where you you feel like you were doing kind of a substantial level of business. So, for example, let's say you've been in the business seven years and it took you two years to get to break even. I don't know what industry is. Beloved is gonna pick two years. I would. And now it's your seven. And you were profitable in your to I hate I hate to say it, but I would go back and put in all the way back to your to when you started being profitable. Now, what about before that? Well, maybe you weren't probable to your five. I would keep all that data backed up somewhere, even if you don't formally put it into financials just in case, cause it's a nice problem to have when somebody raises their hand and said, Wow, I'd like to invest in your business or I'd like to. I think you'd like to give you a loan or on Angel Investor. I love that embraces social network, great example for novices about growing a business where there's a scene in the movie where they go out and get I don't know if it was 250,000 of the 1st 500,000 funding and they finally get office space. So people are in that situation, and that's and that's great. And it's a tough call on how for you go back. But my first reaction is I would go back until the moment so you're profitable. And then I would keep all the records before that, just in case. And I would imagine we have a pretty wide range of experience levels within business, finances and QuickBooks and all of that. Can you give us a basic breakdown of the structure over the next three days? Because what's great is we have three days for this material, and I think that that's perfect for what we for what we need to learn. But maybe you could give us a breakdown of what everybody can expect. Great. Um um, So I just talked about you know, I kind of set up the course in a very general boy. But now let me be more specific. So segment to is defining your financial framework, which is can just give me a skeleton of what I need to note frame the house. What's the minimum I need to know in terms of financial jargon type, stuff, that segment to Okay, we're gonna talk about and we're gonna talk about a term that I repeat through this course. And I was telling the producers yesterday it is critically important and I'm going to say it now even though we're covered later that you match the revenue of sale with the expenses you incurred for that sale, even though they happen in different time periods. So if you're a photographer and you fly to New Zealand in July and take pictures and you incur all the expense travel, all that and then you sell those pictures in December, somebody write you a check. You've got to match the revenue from December with the expenses when you went to New Zealand, even though they they happen in two different time periods, in other words and again, we get to this later. Don't just go by your checkbook. Well, look, I've got revenue in December and look in the summer. When in which New Zealand. I have this big expense and I ran a loss. You can't just look at it that way. You need to match the revenue with the expenses to find out if you're really profitable. Okay, so that segment to excuse me. The other funny thing is, it wasn't mentioned in my bio, but I was a an adjunct professor of accounting at ST Louis University in ST Louis for about three years, which is a lot of fun. We're to cover debits and credits the ultimate accounting Jordan. Right. And remember when I always did this when I was a college professor, Always see what page it was explained not. And I say, you know, nothing else in this course memorized Page 89. I'm talk about time. Blue in the face memorized Page 89. It's weird. It's it May not. It may be a logical, but we'll cover that again at the minimum we need to cover. That'll be in segment too. Segment three is setting up your system. If you were going to QuickBooks online for the first time. How do you navigate it? How? Doe eyed Avery. Minimum level. Set up a company. What do all these sections mean? Okay, I scrolled it. So Home page kind of stuff. Another big problem cause we talked about taxes. Um, if there are multiple people who are owners of the company tax accountant, friends of mine faces every day. What? What is it? January late January. We're getting in a taxi. One thing that quickly runs off the wheels and has not kept track of is what you will. Here I called capital. How much money did everybody put in the business? How much money did everybody take out of the business from profit or return of their investment? Keeping track of that? Everybody gets off track on calculating who put money into the business who took money out of this accounting. Friends of mine are scrambling every February and march to figure that out for people. So I'm gonna mention that because that's an important thing to remember. And it's forgot, right? You're out there running, trying to get business, and nobody remembers. Well, wait a minute. Look at the checkbook and see how much money I put into the business or who contributed that piece of equipment that we use for photography. Who? I don't remember. You got to keep track of it, Capital. Okay, Section four, I really go into profitability. You know, when you ask people, what do you want to see in your financial? Most people want to figure out why. Making any money or not. My wife always wants to know that my wife controls all the money in the house, and we've been married 27 years and it works. But obviously she wants to know how much money did you make? How profitable or you? And since she's an accountant, we also she helps kind of coach me on will. Are you gonna do that project and how much you're gonna charge which we'll talk about it. Is that profitable? Or should you stop doing that and do this? We have this kind of conversation. Okay? We're gonna talk about different calculations of profitability again. There's gonna be a little bit of algebra a little bit trying to minimize it, but it's stuff you really need to know how to do. And as I described it, to creativelive a lot of it. A stuff like back of the napkin stuff, its three numbers. And you do what if scenarios. Well, what if What if I could lower my inventory? Cost 10%. Or what if I charge that person 15% higher than I normally charge? But there's more work involved. And you do What if What if What if What if is that piece of work even doing Number one problem in business? For those of us who were out here on her own, we don't charge enough now. I'm not talking about greed. I'm talking about people who don't charge enough for work that should be legitimately at a higher price. And the other one turning down work. Oh my gosh. Turning down work. Are you nuts? Yes, Turning down work. We'll talk about that now. In accounting standpoint, turning down work means it's not profitable enough. Personally, it could also mean I just don't want to work with that person. Have we done that or have we continue to work with people with it? We can't stand? No, not ever. Not ever. I had a client one time every time he called me he marked. The call is urgent. This voicemail is urgent Every time he called me, it's a nightmare. Your call. This call is marked. Urgent. I could just I could still hear it in my voice mail this call it marked Urgent. Um so we're gonna talk about different profitability calculations and again I'm gonna use a catering business. Is an example. Setting up your client's expectations. Okay, What is the client coaching your client? Here's what you can expect. I'll use it in my business. I used to do a lot of tutoring, an accounting of finance of MBA students who and my typical client was a student who was probably like you and didn't have any accounting and finance an undergrad. And now they're in an MBA program and it's accelerated and they lost and they never had accounting. And they find me on YouTube the way I started my whole business. And inside was I started YouTube channel. It's Kemboi STL. It's on my site. You can go look at it and I have about 320 videos on YouTube. So you're an MBA student and you're desperately trying to figure out something in accounting and you come across me? The point of the story is is that there was certain business that I don't do. I don't coach or train people on taxes. Why? Cause it's changing all the time. I just can't do that. So when you think about profitability, think about what are those things that you're not willing to do, Even if you could. Because I'm telling you I could make it rain if I said okay, I'm going to tearing people in tax. Just be a flood. Please help me, please. You know, but I can't do it because I know I can't do it well, and I know it won't be profitable for me. Okay. Could you do it? Yeah. Should he do it? No, no, I've learned my lesson. I've learned my lesson cause I tried and it didn't work out. So we're gonna talk about a particular client that segment four, Segment five, which is forming your business. Now, several of you mentioned that you've just started new entities or you started it in. And recently in one case, we know we're gonna have partners, and we talk about forming that business as a friend of mine says you need to have the who gets what discussion If you're gonna be in business with somebody else. What I mean by that is who owns what in terms of percentage. So Bob's going home 50% and I own 50% who gets paid what? Well, Bob is more the sales and marketing guy, and we've made a judgment that he should get more of the income. So Bob's going to get 70% of the income and can only gets 30. Why? But we made a judgment that what he brings to the table is more valuable. That's okay. And we're gonna write that down in agreement. I'll get to that later, and that's the way we're going to run our business. Okay, you need to have that discussion at the front, and particularly if it's a partnership. I can't tell you the number of times that I've seen partnerships not work out, break up, get painful because nobody's had the who gets what decision? A discussion. Who owns what? Okay, in some cases, in a partnership, you've got a person who's there every day and they're getting paid a salary, and then you've got another person off to the side, who is like a silent partner who's got money in the business, but they're not working it every day. Okay, we'll have that discussion in the forming your business. I'm gonna talk about three silver prior ship, which is most of us. I'm a sober Friday partnerships, which I just talked about and corporations and in terms of angel investing, let me to are getting financing most of you and let me back up and say, I know there's a lot of people who don't want You know, I'm doing what I like to do. I don't want to create the next big company. I just doesn't fit my personality. It's not what I want to do. OK, I'm getting to that point in my life or I'm like there's only so much I'm going to do here. But if you do want to create the next big thing, it's very likely that you're gonna have to become a corporation at some point and have shareholders because generally you can have as many shareholders as you want. So that means you can issue just about as much stock as you want and raise just about as much money as you want. We hear about initial public offerings and all that, but I'm talking about even before you get to that step where you go to 50 people privately and say, You know, we've got a corporation and if you guys are willing to invest here or shares, you cannot grow a business and get it big generally, unless you're willing to become a corporation.
Class Description
Accounting can be easy if you know how to use the right tools. In this course, Ken Boyd offers an in-depth introduction to the accounting and QuickBooks skills that are the foundation of every thriving small business.
Learn QuickBooks Online
Ken covers everything you need to know about understanding and managing your business's cash flow to insure that your business stays profitable and that you have the right amount of money at the right time. You'll explore the principles of making sound business decisions that both grow your company and protect your bottom line. Ken will also cover best practices for integrating QuickBooks as an accounting tool, from setting up payment and invoicing systems to generating accounting reports to paying your company's bills, and much more.
Whether you're a first-time entrepreneur ready to learn the basics or a long-time business owner looking to sharpen your skills, this course will give you the tools you need to confidently manage your company's finances -- no stress or guesswork required.
Class Materials
bonus material with purchase
Ken Boyd Keynote.pdf
Ratings and Reviews
Student Work
Related Classes