Obtaining Creating The Images Youll Use
Erica Gamet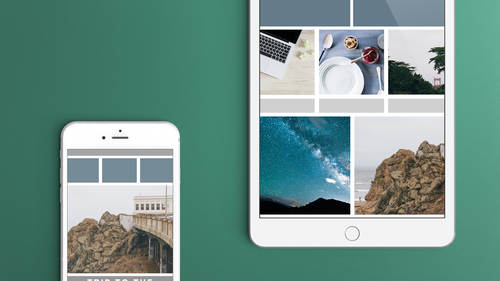 Obtaining Creating The Images Youll Use
Erica Gamet
Lesson Info
4. Obtaining Creating The Images Youll Use
Lesson Info
Obtaining Creating The Images Youll Use
Alright so let's start talking about how we get what it is we need. Where do we get these images? So we've got all these images that we're talking about, how do we get those? Well if you're a photographer or you have you know, a product to sell, you probably have your images there right because that's probably what you wanna focus on. If you're a photographer you're not gonna go use stock images but we are gonna look at a lot of stock images in a minute. So again, if you're an artist of any kind, you're gonna have your own photos to work with and sometimes that's helpful. Some of the apps, most of the apps let you access those photos whether it's something you're doing on the desktop or something that you're doing on tablets or on a mobile device of some kind and so if you're a photographer like I said you would have your own. You've got products to sell, you're gonna use your own as well. But if you don't have that and you just want these great images, you just need a picture of a pup...
py, you have a puppy, maybe he's not very photogenic, maybe he won't sit still. I tried to take pictures of a French bulldog the other day and I got like two really good pictures out of it, but the rest was blur, you know? So again, I was just trying to, you know, chase this dog around. So sometimes you just are like, you know, maybe you're a dog walking service, you don't necessarily wanna go take a picture of a dog, you're not a photographer, you're a dog walker, you know? And so you just want a picture of a dog, where do I get that? And again this is blog post stuff or whether it's Twitter, whatever, you're not gonna pay for a photo shoot, right? It's just again, the purpose of that is to catch people's attention. If you're a photographer, you're selling some kind of art or craft or something, yeah, you wanna take the time, you might even wanna hire a photographer to take pictures of your craft products if that's not your thing, or you know, so you, 'cause that is the focus, but I don't wanna spend money on stock photography necessarily, for a blog post. I'm gonna use it if I'm gonna create a brochure for a client or whatever, yes I'm going to pay for that, I want that exclusivity. I don't care if I'm doing that, like the inspirational quote where I have the guy climbing up the mountain. I'm not gonna climb up a mountain, first of all. I do climb mountains but I'm not gonna try and take a picture of it and make it look good 'cause me climbing up a mountain is not gonna be very inspirational, I can tell you that. (audience laughing) Aspirational maybe. But so for me I'm not gonna do that so I'm just like, and I don't care if you already used it in an inspirational quote the week before, I don't care. 'Cause nobody's gonna go, (sighs) that's a picture that she used, that's not her climbing the mountain, obviously. (audience laughing) And so I just want something that's free, quick, easy, free, and know that I have the right to use it. So that's what we're gonna talk about as well, is the licensing on that. So I'm just gonna jump out and jump to some of the websites that I use. We've got some free ones, we've got some low cost ones as well. So I'm gonna jump out here and the first one is appropriately named FreeImages.com. Alright, so and actually some of these I don't have, I don't know that we've actually list 'em and I can probably put them together for people later. Some of 'em take a little bit of searching within the actual company or whatever to find the place where you can get the images. This is FreeImages.com, and a lot of 'em, I like this one because it's professional. Like sometimes you'll just get one that's called Free clip art, or something like that, I wouldn't use a lot of those. If you kind of look at it and realize this just looks like they did it in Word and somehow imported it to the web, I don't know, you just look at it and go "I don't know" because the thing you might get is, this is free. Sure it's free, and let me state that really quickly. Some people just go, oh I just went to Google Images and looked it up and grabbed it. Okay, Google Images is just pointing you to images on the web. They are not a free repository of unrestricted images to use. I only say that because I know designers who weren't quite clear on that. I don't understand how that happens but there you go. So I just wanted to put that out there. We are gonna talk about licenses in a minute. But I like this one, it's pretty decent. A lot of 'em when you go to them it'll say you know, no free ones found but here's some premium ones and it points you to some of the other premium sites. Cool, great, I already knew those premium sites were out there (laughs) that's why I'm at the one called free, because I don't wanna pay for those other ones that are out there. So anyway, so that's FreeImages.com. That's there. And the other one, this is one I like a lot, this is Creative Commons Search. Is everybody familiar with Creative Commons? So Creative Commons is the, you know it's just got these really easy to use and easy to understand licenses. They don't have a lot of restrictions placed on them. But this is a great place and this has been in beta forever and ever but it's still here, it's search.creativecommons.org. And that lets you search by things you can use for commercial purposes, which is nice. So yeah, if you're trying to sell your product that's something you need to keep in mind. A lot of people say, oh, I'm just putting it on my Instagram for personal use. But you're selling a product, that makes it commercial. Money's gonna change hands, that's commercial. So I can say use for commercial purposes, and also if you want to be able to modify, adapt, or build upon it, so that is where you can add and make changes to it as well. And then call it your own. So if that's restrictions that you need. If you don't need it for commercial purposes, puttin' some fun inspirational quotes on your personal Facebook page, but if you're gonna put it on your business page even though it's, you know, kinda just not selling anything, it's on your commercial page, you're better off looking for ones that allow you that. Then you just kinda get around that, so, not get around it, you avoid that information. So then you can choose the different things you wanna look at. So maybe you just wanna look at the Wikimedia Commons, which is what I'm actually gonna look at in a minute. But instead of having to go to each of these individual pages I can say what it is I wanna look for, let's look up butterfly, and let's go to, let's go to Flickr. 'Cause Flickr is gonna have some great ones. You know, a lot of photographers put their stuff up on Flickr, and they're already, what they've done is they've vetted them by the Creative Commons license that's there. So it's anything that's here falls under Creative Commons license, but the one caveat with this is to make sure once you find an image that you like that it's still under that license because they can change the license at any time. So let's just click on one that we like, or actually I don't know if I wanna do that one, we can do that, just click on one. And then I can look at, what I wanna look at is down here. I wanna look at what we can and can't do with it. So, some rights reserved, what does that mean? So I usually click on it just to make sure. I like that most of this is in plain English. Alright, so I am free to share it. So I can copy and redistribute it in any medium or format. That's awesome, this is actually a great one, the ShareAlike one, 'cause I don't even have to tell anybody where I got it and who shot it, so sometimes you need to. I can remix, transform, and build upon it for any purpose even commercially, this is great. I'm like good, I wanna do something with this image I can do it. Now they can revoke it at any time, if you don't follow the license term. The license terms are pretty easy. Oh wait, you must give appropriate credit. Okay so this one says you do need to give appropriate credit, so provide a link back to it or indicate if changes were made. So on this one I would have to put a link back to it. Now, it says in any reasonable manner, 'cause that's like how do you do that? So if it's printed, you might just put a little watermark on it and just put the user's Flickr account, Flickr.com/ whatever the user name is, you can do that as well. So again you can remix it but if you do that you have to make sure that this license goes with it. You can't do a license that suddenly says I'm in charge of this and I own this. You have to use the same license when you redistribute that. So again licenses are kind of, they're kind of tricky, they're really tricky, but I like, that's why I like the Creative Commons ones 'cause you're pretty much starting with you don't have to pay for it, first of all, and the attribution is probably going to be pretty simple. I don't need to ask permission, that's the other thing. Because some licenses say not only do you have to attribute the person, but you have to ask the permission of that person, and so that's not something that's always viable to do. So I'm going to Wikimedia. So Wikimedia Commons, I guess I just opened up Wikimedia here, so let's go to Wikimedia Commons. So it's like Wikipedia but it's Wikimedia, so most things on Wikipedia, all things on should be under a Creative Commons license. So when I look at something here, let's just go to this picture of the day, I can look at that image and again it's going to tell me what my Creative Commons is. Now, it's got all this little BY-SA, what does that mean? I don't know, but I'm gonna click on it and it's gonna tell me what my license is for that. Again, goes right back to the Creative Commons and tells you what the licensing is on that. So can I use that for whatever I need it for? Make sure it falls into that category. But again I can look at it and go great, I wanted to talk about, you know, some inspirational quote about not being stung by idiots, I don't know, something like that, something uplifting and, you know, (audience laughing) I don't know, a bee sounded good 'cause they're the picture of the day, right? So I can use that, I can download that I can put that into my inspirational quote, as my background, it's beautiful, and I'm on my way. So again, I might just go through and say, okay, I'm gonna work on a bunch of Instagram posts that are gonna be there for my inspirational stuff. I'm gonna start thinking, what sorts of things are inspirational? So what do you think of when you think of, like, good inspirational backgrounds. Not bees probably. (laughs) They're hard working. What's that, they're hard working, they are hard working that's right, I'm busy as a bee. (laughs) Mountain climbing always seems to be one. The sunrise. Sunrise, yeah, absolutely. Flowers. Flowers, that was the other one I was gonna say. I don't know, does anyone, kids, kids laughing, things like that. Balloons for some reason, why is that inspirational? Lifts you up, I don't know. (laughs) So yeah, so for me, sometimes when I've got some down time I just go and start looking through the Wikipedia or usually the Creative Commons 'cause I can look at the different portals that are there like the Google one and they have Flickr and they have YouTube and things like That. So you can also do that, you know, one of the ones was YouTube so if you're looking for a video as well. So let's do butterfly videos, and it'll come up, and those come up as well. Now, again, you need to go to it and check it, and make sure that it still has that proper license. That's like the big thing. I've heard people say, yeah, but I'm just putting it on Facebook. Yeah you know what? You never know who's lookin' at Facebook. It's public forum, you never know who's on there, it might be the person that made it. And I can tell you as someone who's had their stuff re appropriated, it's frustrating and as a small businessperson you don't have time to track all that down, so if you put your images out there, just know that at any point, you know, I see sometimes my friend is an artist, she does these great, she does like cats, she's an animal like fanartist, but she does cats like as Dr. Who, and Star Trek and all these geeky stuff and whenever I come across someone who's selling on a t-shirt, I track it back and make sure that that's hers, because she's hard working she puts this stuff out there and to see that is just really frustrating and you just never know. You think, oh I'm just gonna use this image, no big deal, but you never know where that's gonna get to and you have to think about it, we're all creators and DIY'ers, would we want our stuff being used? So always do that. That's why I like these free ones. I know I can have 'em. I try not to wait 'til it's time to put a blog post up to go look for images. I try to have a nice repository of them. And then the nice thing about that is that you can download 'em, and put them into individual folders that have the difference licenses so you kind of know ahead of time. 'Cause you might find the one that's perfect that says not for commercial stuff, so you're like, alright, I really want that but I gotta remember I can't use that for my business purposes. So that's Creative Commons. Here's a great one, this is just the army, but I don't know if you know that most government images are not copy writable. So you want a great picture from the International Space Station that's owned by NASA, 'cause who else is gonna take a picture from there, I suppose some of the other countries, but if it's a NASA picture, you are free to use them, because we all pay taxes and so that, okay let me rephrase that, in the United States. I don't know how it works in other countries. I also don't know if people from other countries have the right to use the US Government images. So I'm just gonna put that out there, I'm not a lawyer, I don't play one on TV. (audience laughing) Check the licensing. And each page is going to have that. If you go to NASA's page and you dig deep enough I really don't know what the URL is for it, but just look for copyright notices. They will tell you what you can and can't do with it. But like the army, so I go to the army one all the time. I just go to army.mil, and then choose the pull down menu and it says photos, and when you do that it usually shows you the photos of the day. Now it's gonna spin and think I had it up there. There we go. And I can do a search based on that. Now, when I do a search, let's look at helicopters, 'cause I bet they don't have a lot of butterflies so we're gonna do helicopters, and I'm gonna come over here to images 'cause otherwise it has everything, all the news and everything. So there's a bunch of images. I don't know how many pages 'cause it doesn't tell you how many pages, it just keeps saying next, and believe me, there's a lot. So let's say we decide we like this, we're gonna use this for our uplifting image. That's not a great photo, it's alright, it's not bad. So I can use that, just grab it, again, check out the licensing that's here. This took me right too the Army's Flickr page. I had no idea the Army had a Flickr page. They used to have a whole repository of where their images were, now it seems that they're all on Flickr which is actually kinda cool. So then I can just click on that and then use the Flickr search engine if I want. So now I've got everything that the army puts up there as well. It's probably a little harder to search, I like the search in the army one. So just know that NASA, like I said, is a great one. You want inspirational? Put a picture of a Galaxy, something from the Hubble Space Telescope or something like that. That I use all the time. And there's one called Pond5, P-O-N-D-5, and they are a commercial site, so you can buy images there, but they have this public domain project, so here are images that are in the public domain, I.e., old, (laughs) they're not all old, but a lot of 'em are gonna be old. You want something historical this is where you're gonna come for that. So we're up to 63 thousand images there, we've got some 3D models, that's cool, looks like a space shuttle one that's there, some audio files and some footage files as well. So that's kinda cool, if you just wanted to do maybe you're doing a Veteran's Day something along that line Veteran's Day parade or something like that or hey, we're gonna be in the Veteran's Day parade, or come pay your respects to veterans or whatever. You can go grab some old images of war footage, something like that or the raising of the flag of Iwo Jima or something like that. If that's in the public domain, I don't know, but you grab something like that and you can have that as the background in your Instagram, so you could have some images, a video playing in the background with some text on top of it, and do that. I didn't want it to sound like that was for commercial purposes this is what you should do, but I mean let's say you're going to be speaking at something Veterans related or whatever. I live in a military town so to me everything is always military focused. But I love it so keep in mind the US Government, all that is available. They do have, like I said, some restrictions that are on there. And those are the free ones. Now I've got some that are low cost and also that give you free stuff if you're a member. And one of the ones that I like is Creative Market. Has anybody gone to Creative Market at all? I love creative market. (audience laughing) Because you can put in what your price is. You wanna pay from $1 to $9 or something really odd, that's what I do all the time. So you have to log in if you wanna get the free stuff. But Creative Market, they have this thing at the top and it says Free Goods. And every week they have six items that are free. Now they might not all be images, because they have things like themes and fonts and templates and all that. So in this case this week it looks like we have a photo pack, so I can go there, I can see what's available there, and it's a free download. Then you come in here and say, okay great, I've got these options for free, maybe we can put this. That'd make a nice background, it's got plenty of room for text over here. That's kind of a nice one, we could download that put whatever it is we need to say, we're selling, we're having a sale on house plants, there we go we've got our plants, and we've got that image ready to go. Those, because they're only a certain set every week I tend to just go and grab the free images that are there every week. Just grab 'em, you know? So that they're there for you. Same thing if we go to iStock Photo, so again if you're logged in you can come in here and you can get the free ones, which I believe are on the front page, yeah. So here's, where's our free ones? Down at the bottom, if you're a member, every week I think you've got a photo, an illustration, and a video clip. So again this is more of a grab this now, I don't know if I'll need it but I'm gonna grab it. And you might put it in a folder, again, that says from iStock, so that way, you know what your licenses are. So when you go to use it, you can remember, oh yeah I got it at iStock, then you can go check out the licensing on that. And that one's a good one too. Looks like it's got a lot of space over here you could put some text on there as well. And the illustrations are fun. It doesn't have to be all photos. We can be looking at vector images as well. I just tend to use photos for a lot of stuff, that just tends to be the kind of the trend right now. Everything has to be photo. And that annoys me because I don't have photos of my, again, my textbooks and things like that, those are boring, so I have to use kind of these generic photos that are out there. And the last one's Fotolia, which I don't use as much anymore. I think because they're part of Adobe and Adobe Stock which I'm gonna talk about in a second. I'm not sure that there's a reason to be at Fotolia anymore. 'Cause it's all integrated through Adobe now. And I'm not sure if it's everything that's integrated, I haven't had a chance to look at that. It says the best of Fotolia is now integrated. What does that mean? They left the junk stuff behind, I don't know. (laughing) So yeah one of the last ones is Adobe Stock. So it's Stock.Adobe.com, so how many people here are Adobe subscription users, Creative Cloud? Okay, a couple of you. And so I know that that's a big thing to have to pay for if you're a DIY'er and you're not doing a lot of design. As a designer of course I'm locked into the Adobe products that are here. The great thing is Adobe Stock is available to you even if you don't have a Creative Cloud membership, so you can still purchase the individual items. They don't have free ones, they're not exactly cheap, but they are good, but if you were let's say this was going to be your I guess I wouldn't use it for YouTube 'cause that's probably something quite often. I would probably use this for maybe web, your actual web design as opposed to a blog post header. You know, like if you say I'm going to talk about I'm an inspirational motivational speaker. I wanna get some really great motivational photos and those are gonna be there longer term, and it's not gonna be the quick social media where it's like, here's this and then you know tomorrow I'm gonna have a different picture. I'm gonna use this and I'm gonna put a little money towards it. Because it is my website, this is what everybody's gonna see when they come to look me up online. So I would probably use that. But again you don't have to be a Creative Cloud member to use this. And I think the images start at like $10 a piece so again you're putting out money for this but again if it's something that you need to make money with or are going to make money with that's something you're gonna have to do. And they have wonderful photos of course, being that it's Adobe right? So those are some of the places that I go for images. So anyway so I take all these images and then I do what with them? And we're gonna talk about that in the next lesson. I wanna kind of show you again back to this collage that was here, we're gonna start with something like that, we're gonna open up, we're gonna look at the collage software that we use, and how we create a collage and how we then use that either by itself or we can then bring it into something like Adobe Spark Post. So that's what we're gonna jump into next. It's kind of pretty much unless I have questions here, does anybody here have questions about what we talked about? It was just a lot of information we're gonna actually start making stuff in the next lesson which is good. Take all the stuff that we've learned and start putting it into practice. Sure any questions from our in studio audience? I do, are the tools that you're gonna recommend desktop and mobile? Mostly, yeah, Adobe Spark Post is. I'm gonna show it a little bit on mobile to start with, I'm mostly gonna show it on the iPad and that's actually something there isn't actually an Android version of the Adobe Spark ones. Adobe products are just some are and some aren't and it isn't, so if you don't have an iOS device, an apple device, then you can work online for that as well. And I'll show that at the very beginning of the next lesson. And then Erica, I have an online question as well, one of our students is wondering just in sort of broad terms in design when you're looking at creating for your brand you're usually thinking about a consistent look sometimes the rule is what are three words that describe your brand and keep all of your imagery within that. When you're creating your social media graphics do you follow that sort of criteria, kind of keeping that consistency of imagery and text? I don't for most of my social media. And that's mostly because it's very much just really quick, and they're gonna see it and it's gonna go away. I don't worry about being on brand so much because it's more that hey I'm Erica talking to you at that moment, but then I do like I said my YouTube thumbnails that I keep consistent so it's the same as the titles on the video itself so that you get that connection because that to me is actually the hard end product that I'm selling, you know, selling, it's on YouTube, but that is my product, and that is my brand, but I think a lot of Social Media I try to not do like hand drawn stuff one day and photographs the next day. It's always gonna be photos, I might keep with, if it's a theme I might keep with the same setup like a nice, the same look to the type, but I tend to change it up because I think online nobody has a long enough attention span to remember what I did last week. But I try to, like I said I wouldn't do something that's like hand written or like I said drawn in Mac Paint one week and then do something that's very nice and typographical the next week, things like that, I try to keep that together, but as far as the photos go because my photos are not the focus they tend to be an addition like you know someone climbing a mountian, I'm just gonna use good photography. That's basically my criteria for that but I think it really depends on your business and what it is you're trying to achieve with that but that's a good idea, and a lot of the programs don't give you a lot of ways to reuse the same stuff, I mean you can but it's more take an old thing open it and reuse it, so for me I find it's just easier to start from scratch on a lot of it.
Ratings and Reviews
I learned about some great free apps that make it easy to create images for social media. You can make some great images with text really quickly after taking this class. I actually made a little animated image during class and posted it Instagram. I also learned about some good places to go for free images. Erica's very personable and fun, which made it an enjoyable class. The apps are easy to use and you can start making images right away. There isn't a steep learning curve.
WOW this course is jam-packed with information on so many apps - not just Adobe Spark Post. I love how easy Erica makes everything plus she's very funny and has an approachable style. Thanks CL for another great class!
I really liked how informative and helpful the class was, even do Ive worked with some of the programs used in class I feel like There was so many new things I learned. Thanks to Erica and the whole crew for such an awesome experience
Student Work