What is the Best Social Media For you? Part 1
Janine Warner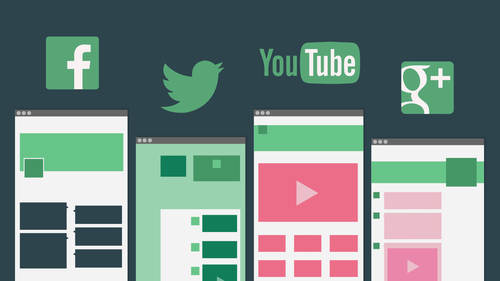 What is the Best Social Media For you? Part 1
Janine Warner
Lesson Info
2. What is the Best Social Media For you? Part 1
Lesson Info
What is the Best Social Media For you? Part 1
What's the best social media slight. It's really all about you. The best social media site for JD May or may not be the best social media site for Shantel, and that has to do with how you're using it, where your friends are, where your audience is. It also increasingly has to do with how old you are. We're talking about Instagram. Instagram has become very popular with the kids, and Facebook is getting older. It's kind of interesting. So Facebook, undoubtedly the £800 gorilla in the industry. More than a 1,000,000, people. That's more than most of the countries on the planet. I think China and India are the only larger populations in the world than Facebook and Facebook. They actually be nudging them out of that position by now. Obviously, it's made up of people from all over the world also fascinating to me, as I travel in many other countries. Twitter, instagram, others are catching on or getting used. But Facebook dominates in many places. Russia and China are exceptions. They have ...
their own social media sites in different languages and definitely big exceptions to this. But in most places around the world, Facebook seems to be the dominant social media site. Of course I have a Facebook profile. Of course. I welcome your connections and will definitely spend a lot of time talking about how to design that header, how to make a really good first impression on Facebook and why you might choose to dio some of the design techniques that we talked about. So Instagram. I'm not going to spend a lot of time talking about design with Instagram because there aren't a lot of design options if you've been Teoh Instagram recently at the very top of Instagram. Now, though, put the most recent photos that you've put up there and they automatically go through. I may have a screenshot of that, but, um, it isn't something you can really control the design of the way you can and Facebook and Google and Twitter and others. So there's not a lot to teach you about design with Instagram, but I have to share it in part because it's so popular with photographers. And I know that's a lot of the audience here creativelive and because, in part because a couple years ago I started hearing kids say things like, Oh, No, my mom's on Facebook, and then I started hearing Oh, no, my grandma's on Facebook. Seriously, the grandma demographic growing fast on Facebook because they figured out it's how to keep up with the grandkids. And if you think about it as you get older, you tend to be it's harder to get out in person, and Facebook can actually be even more useful to people who are older. Kind of interesting. But I knew a couple years ago when I started hearing that Facebook was in trouble with the younger people, not because they don't want to connect with their parents. They all keep those profiles there, although there are some statistics about them going away from Facebook. But instagram now surpasses Facebook among the young demographic. They're more young people using instagram that Facebook, so that really speaks to a couple of things, thinking about your audience. If you're trying to reach moms and Grandma's do not think Facebook is the wrong place, it's exactly the right place to be. Lots of people think social media is this place for young people. Facebook is actually increasingly a place for people who are middle aged and older. If you're trying to reach the really young people in your audience, then Instagram is probably a much stronger place, and there's some other places that are evolving as well. So one of the big questions to ask yourself when you think about which Social Media site is most important is who am I trying to reach? What's their demographic? And it may be that you photograph high school students, but your customers are really their parents, and Facebook may be exactly where you should be, so you need to think about that. But as we go through these different sites, you want toe definitely be conscious of what's my demographic, and what site are they most likely to be on? So this is the Instagram design, and what you see here are just some of the more recent photos I've put up there and they sort of cycle through the top. And here's a quick tip. The one of the things that I'll talk about a lot as I go through This is the importance, in my opinion, of having a consistent look across your different social media sites, and many people say you should use exactly the same profile image on all your social sites. I actually think that's a good practice. There's some exceptions to me. As long as you're recognizable to the people that you want to be recognizable to. You're probably doing fine. But using the same profile photo across all your sites is a very good way to make it easy when I go from Lincoln to Facebook to Instagram to know that I'm connecting with the right Jessica Drake or the right radius. Right. Because there may be other people that share your name. Some of us have more complications with that than others. JD. I'm not calling you out. Don't go garni. All right? Um, yeah. Don't go my first name either. She and I have a similar challenge with the women with beautiful names. So my tip before I derailed us into Jessica You look like you're gonna just laugh out loud there. It's okay. You could laugh in this class, I In fact, you get purple chocolate for laughing at my jokes. First thing in the way. My tip about instagram is that if you want to change your profile photo after I tell you, you should use the same profile photo and everyone and you go to Instagram in your browser and you hit that little edit profile button that you see right here in the screen shot. You will not be able to change your profile photo, and you can spend a long time looking for it. I spent a little time before I figured out you can only change the profile Photo from the Mobile APP For Instagram, an instagram is really a mobile first application. It didn't even have a website until fairly recently. The idea that there's this band or space at the top is pretty new over time. I would not be surprised if they add some design options and you'll get to trick out this page more in the future. But today, if you just want to change that profile photo, go to the app on your phone or whatever mobile device or using, and you can change the profile there and you can change it to use the same profile photo. You're using another social media sites or upload one. So if you don't have your headshot on your phone, don't worry if you've got that headshot on Facebook or one of the others, you could bring it into Instagram from there. So just a quick tip on Instagram. I can't do much more on Instagram in terms of design over the next couple days. But I wanted to give you those tips once we get started. Something we get to Twitter now. Didn't some of you said you're not even on Twitter, right? Yeah. You on Twitter? Yes. And pretty. You're on Twitter. Okay, Jim, to use Twitter. Okay. Is that a tweet right now? Dio tweet right now, not officials. I feel I should, but I guess I'm gonna learn a little bit about that. Okay. Can we just stop this should you know, really, there's no short here. Social media should be a want a desire. Pleasure to share our stories with the world. There's no should. I don't like you should have a beautiful profile design on Twitter. You should updated if you haven't done that in a while. Okay. Optional. But if you haven't been paying attention over the last month or so, Twitter radically changed their design. And if you had a design that looked really awesome with the cool background image and a cool cover photo and you just click the switch to the new, it will fall apart. I have yet to see anybody's old profile design on Twitter transferred to the new design and not fall apart. The resolutions different the aspect. Ratios different. Everything's different, so you really have to create a new design. And there's some challenges toe where it crops and where it cuts that we will talk about. Twitter actually made it much harder in many ways to create a consistent design across different devices because, among other things, your profile photo will move to different places. You'll see that at the end of the day today, I'll focus on Twitter. What about Google hangouts and do the plus? Anybody ongoing Plus got a thumbs up over there from J. D. You are all over the Web, aren't you, dear? Then Bree Blogger that you are you hanging on Google? Plus, I had it at first, and then I just kind of everyone seemed to fall off of it. So I don't know. Google Plus is kind of among certain groups. They're passionate. I have some friends who just live on Google. Plus, they love it better than any of the others. They're so glad it came along. And then I have a lot of friends, and only then I'm kind of in this category are kind of their cause. We think we should be, but I'm not quite sure if that's really the right place for me. You might think Google Plus would be good for me because I find, in general, geeky people like Google plus. So if you're a programmer or if you're hanging out with people who are early adopters of technology, you may be more likely to find your people on Google plus than some of the others. If you're going for more this sort of mom and grandma demographic, you're probably gonna be much better off on Facebook. That's certainly not bleeding over toe Google, plus as much yet, but the big thing that I have seen traction on and the thing that I have used Google plus for the most and I have seen particularly journalists around the world, I mentioned I specifically work with journalists. Google hangouts this ability to have a conversation with multiple people on video and switch from one person to another and even record those or do them live broadcast to YouTube because Google and YouTube will. Google owns YouTube. So there's a very nice connection between Google Plus and YouTube, where you still have that microphone in their hand. Is there something you wanted to say about Google? Plus, you just you just standing by in case I will talk about Google plus first thing tomorrow morning again. I'm kind of breaking this in the segments. If you get the still it list when you RSVP'd, you'll see exactly what I'm covering over the next couple days. But the highlights. Our Facebook Right after this session, Facebook profiles. Then we're going to Facebook pages and groups after lunch. Talk about Twitter at the end of the day. Talk about Google plus first thing tomorrow morning and you need I don't know if I missed it. But do we talk about our Skype or sites our interviews? Yes. Oh, thank you, Yeah, just to give people a heads up. I have four wonderful guests over the next two days. So first thing in the next session Ah, wonderful photographer who uses Facebook very adeptly to promote his images and is part of how I came up with a tip for photographers, which is toe upload a bigger cover photo when Facebook recommends, and I'll show you why. Bigger really is better on Facebook, and I'll have a wonderful guest to help me illustrate that later today I'll have my fabulous friend Aaron Manning, author, photographer, photo instructor, creativelive instructor talk about how she uses Facebook pages and groups. And she's a good person Jim, to compare notes with When you want to talk about, um, this whole issue of whether I'm posting the same things to all these different sites or shy used these for different reasons. She has multiple Facebook, one profile but multiple pages and groups that she uses for different reasons, and I think she's a really good example of how to do that. But she can also talk about how maybe she went a little too far at first, and I recently helped her close a couple of those down so that she could focus more in on the ones that were getting traction and and fit her evolving business model better. So we'll talk to her this afternoon. Um, I'll just bring up another screenshot here. This is the Google plus profile of my husband because I have to get that human there. Hi, Dave. This is a photograph taken down the street at the museum. What's the name of this wonderful glass? Julie. Thank you. If you're ever in Seattle, it's one of the most beautiful places. That image that you see in the cover there is it takes up a whole room, and it's like walking through coral Reef. It's just stunningly beautiful, but the other thing you'll see is Google Plus now repeat. So over here is a repetition off. Whatever is in the middle of your image, that's what blurs it into the background. It's another relatively recent change. Google Plus used to just have one big giant photo there and photographers love. That was great realistic for your photograph. Now there's a lot less face and this repetition, and if you have the wrong thing in the middle, there can count look funny. So one of the things will talk about tomorrow is how to line that up. So that's tomorrow morning, and then the other two guests that I have tomorrow, um, right after Google. Plus I will talk about YouTube, which is really another huge social media site and deserves a lot of attention in this class both and because of design options that you have there and just incredible traction that you can get with YouTube and popularity of videos. And I invited a friend of mine row Merkel Ruess, from Mexico City, who has a great YouTube channel. But he also teaches young people how to use social media more effectively. So he's going to Skype in from another country and join us. Don't worry. He speaks English beautifully, and although I may greet him and Spanish, we will do the interview in English for everybody out there on. He can talk about how he uses a whole bunch of different social media sites and some of the tips he gets to young people specifically which believe me, transcend culture and re useful to young people all over the world. After that, I have one more guest. Thank you for reminding me of them, Jim. Um, later in the afternoon, I will be talking to Curry Anderson, who also is a creativelive instructor, recommended to come here. She is an author, consultant, speaker, and really fantastic teacher of communication. So she teaches people how to communicate, to connect and is really great at helping people be more vivid and specific and how they describe themselves and talk more about, um and just crystallizing their methods. So some of the things we're talking about, how you introduce yourself, how you talk to yourself. She's also a fantastic user of social media. She has some great tips herself about how she gets engagement with people. She's made some fantastic connections through social media, and she'll be in a later segment where I talk about some of the sites where you can bring all your social media profiles together, which I'll show you in a moment. But before I do that, my space, anybody have MySpace. It's so last decade, right? Like last century. Maybe. I uh, except it's trying to go back its crazy. They're reinventing themselves for musicians. And so if you are are a musician and you're really into that scene, you might actually want to consider my space. I'm not going to spend a lot of time on it, but it's definitely getting a little more attraction than it had had. It certainly had a major design facelift, and it definitely seems to be trying to be a music oriented site. So again, thinking about which site you choose based on who you are, what you wanted it. What about Vine? Anybody hanging out on fine. So what is Vine Janie or not in your head? Some people don't even know what mine is yet. Um, originally, it's kind of like what they now have on Instagram with their video section. But it's just taking a quick snippets of video, and it kind of just puts it all together and sends out a cute little video of segments. Or you can do a full one. But it's just a small How many seconds of video do you get online? I cannot remember. It's like it's seven. Is it only really short? Yeah, really, really short. It's another mobile first app, so it's very focused on mobile again. As a result, there's not a whole lot of design control that you can have in there. There's not as much you can do with it, but I just want to acknowledge that it's a happening thing, much like Instagram's getting more traction. Vine is getting more traction and just this trend toward video, particularly if you're trying to figure out how to make money on the Web with content. So some of this use social media to promote what we do offline. I use social media to promote my books and my classes and my workshops, and I have some engagement online, but it's really more a promotional tool for all the things I do off line that something like you bring might be thinking most of what you do is online, and you really want to get more traction online and make that a bigger part of your business. Video is clearly the place that people are starting to get more traction, especially when it comes to monetizing your content. So YouTube channels becoming very lucrative for the popular people on YouTube and Vine, becoming a very powerful way to drive people to content and attract people to it. What about Lincoln? You're being official on linked engine. Can I find your official profiling? Consider hiring. It was a hosted creative. Absolutely. I'm on their needs. Left day, just like all my stuff. Oh yeah, you're back to that. Should think. I know it's terrible. I did not come here to make you feel about it. I'm here to inspiring. You. Want to have anyone to like. Lincoln is one that I, you know, just like to stay in touch with. You know, it's just very professional. So I'm sometimes I can be a little old school, and that's it's a good place to be. Wellington is the professional site. You're pretty much limited to one head shot, and that's it. It's gotten a little bigger over time. It used to be a T. If you haven't updated your linked in profile in a long time, you might want to go upload. Ah, higher resolution profile photo because those little teeny ones don't look very good to get kind of pixelated when they get some blown up to the bigger size. So if you haven't updated it in a while, the one thing you might do is update your profile photo again. I won't spend a lot of time on Lincoln because there aren't a whole lot of design options, but it's such an important site for professionals. I want to at least acknowledge it. It's definitely a great compliment to the other sites. Many people realize that they have multiple audiences, so I may be broadcasting on Twitter. I may be connecting deeply on Facebook, and I may only occasionally make connections on Lincoln, but I may make them at such a high level that they drive all the other things that I dio. So Lincoln becomes an especially important place when you're job hunting. When you're trying to reach executives when you want to be able to search for people based on their business profile in their title linked in a very powerful way to connect on a very high level, we're not gonna cover it a ton. Correct. Quick question on it. Do you mind, please Endorsing? Do you find endorsing is powerful? Necessary? Should do. Don't do you forgive me for rearranging the furniture. I'm not really good at things. Still, I think one of the hardest things for me it creativelive is like sitting in this chair for E. I really want to be dancing around the room, but I'll try and behave. Uh, endorsements are really good. Question. I When Lincoln first started, they actually recommended that you Onley except people that you felt a strong enough connection with to give a personal recommendation. And that's a pretty high Bar A. Somebody who in my career has employed a lot of people in different positions. Among other things. I worked at the Miami Herald for a while and it pretty big team there that still get in touch with me once more and say, Hey, can you give me a recommendation for this job? I'm applying for different people who worked me over the years, and I'm always happy to do that. I've had great experiences with past employees and do that, but once in a while, people will contact you on Lincoln that you don't know as well. You have to make a judgment call. When I first started using linked and I was really strict about who I accepted, um, because I wanted to be able to endorse anybody that accepted. We've gotten a little more lax, mostly because I've taken the perspective that, for me, social media is a way for me to broadcast, and I'm pretty open about my social media profiles. Many people are much more restrictive on linked in, so if you ask somebody for an endorsement and they ignore you or you try to connect to somebody and they don't respond don't take it personally. If you don't know them well, that may just be there. General policy. You'll also notice the connections here. I have 500 plus connections. Lincoln limits you to that number. Doesn't mean I don't have more connections than that. I have quite a few more connections than but Lincoln won't put a number above 500 because they don't want to encourage us to just go out and get us many connections. It's possible Facebook. You can go up to 5000 and then you could have more subscribers. Twitter people get up to millions and that part of the claim the same. Lincoln is rolling more about personal connections. People. You can get testimonials from people you can do recommendations from, and they recently added this endorsements idea, which just makes it easier to give a good recommendation. So writing an actual recommendation for somebody is kind of a lot to ask it. Take some time where the endorsements come up at the top and it just says, Do you want to endorse somebody? For these? Lincoln will actually TZ with that. I can show an example of that if you want, but, um There are a lovely way to kind of send an Atta boy to somebody to give them a little endorsement. But again, I would say you should only do it if you really feel that the person warrants it and you know well enough to speak to that. Yeah, No, it's a good question. So the main thing in Lincoln is Just make sure your profile photo is the right resolution. And if you've got the little tiny one, you're gonna want a bigger one. You can go at least 2 200 by 200 maybe even 300 by 300 pixels. Another thing that you'll notice here if you look at the bottom of my profile, Lincoln is one of the few that will let you have multiple language profiles. Just kinda nice. So if you do speak another language or you work in another country, you may want to add a second version of your profile, and you can switch in my case, English to Spanish. But you may speak French or Russian or German. You can have multiple languages and linked, which is a nice feature that I wish the other sites actually handled better you can now put presentations, videos, things like that in the body of your linked in profile. If you're a speaker, if you have some work out there that you want a showcase, especially if you're job hunting or you're trying to get speaking engagements, that might be another thing that's worth going back and updating with some video clips, some extra material on Lincoln. But overall, there's not a lot of design capability here, and this isn't supposed to be a broadcast area. This is really supposed to be a place for making more focused connections when you upload or change a photo on linked in one of the things I do that I think it's kind of cool is they give you a preview of how that profile will look across the different Lincoln views. The other sites should do this better, but it's it's a great precursor. Just some of the things we're gonna talk about here, and that is often you have a photo and Ukrop it in a certain way, and then it gets used in different ways on the same site. So you want to be conscious of the fact that sometimes when something that's cropped into a round circle. It cuts off the edge of your logo or it cuts off the edge of your face, depending on how you're looking at something. If there is around version within and Lincoln now has that you want to make sure that photo is gonna work that way as well.
Class Materials
Social Media Design Templates
Creating Animated GIFs with Adobe® Photoshop®
Social Media Design Template Guide
Facebook® Template Guidelines
Ratings and Reviews
I picked up some great tips about the different social media platforms. I found some of the social media templates a bit confusing to use, but the course was useful overall.
Student Work