Bottom Controls
John Greengo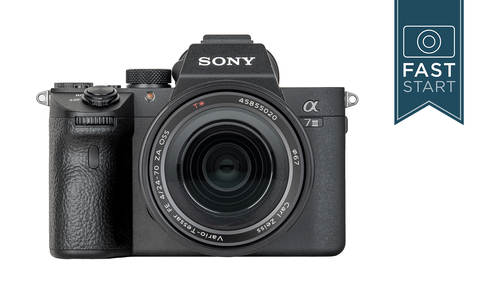 Bottom Controls
John Greengo
Lesson Info
10. Bottom Controls
The camera body doesn't have a lot of pieces at the bottom, but here, John walks photographers through easy tricks like finding the serial number and adding the battery grip accessory.
Lesson Info
Bottom Controls
Looking at the bottom of the camera you have your standard tripod socket for monopods, tripods and all the other accessories. You have your serial number for insurance reasons. We have an alignment pin for hooking up with the vertical grip. Now the vertical grip, thank you Sony for keeping it the same with the previous Sony A7, that is A7R Mark III and the A9. We actually have one grip that works on multiple cameras. We don't need to have multiple grips out there. And this is good for a number of reasons. First and foremost, if you have big hands it's gonna help you hold onto the camera a little better. If you shoot a lot of verticals, sports photography, portrait photography, the camera is gonna be more comfortable in your hand with that vertical grip without having to reach over and reach under into those other positions. It also holds two batteries. So, you wedding photographers are gonna be highly unlikely in having to change batteries at all during the day. The batteries, first of...
f are fantastic in this camera. They are really, really good. You may not need two batteries to shoot an entire wedding with his camera. But, with two it's gonna last even the heavy shooters, a very long time. If you do want a little bit bigger grip, but you don't want the vertical grip, there is the GP-X1EM grip extension and this just gives you, basically, it's a home for your pinky. Because normally when you hold this camera the pinky just doesn't really have a god location, so I have to help support it on the bottom. But, if you would like a home for the pinky you can get the grip extension. The downside to it is that the camera sits very wobbly on the table and does not work well with tripod mounts. And so for handheld users it might be a low cost option to get a better grip. Looking at the Power Options. We have our new FZ100 batteries which are much improved in battery life, but bigger, heavier and more expensive than the previous batteries, but pretty much everyone's raving about this and on my recent traveling tour where I was using this Sony camera fairly heavily, I never went through a full battery in a day. Never shot enough with it, and so it's classified at around 600 images, but many people are getting more than 1,000. So, it just depends a little bit on you shoot. Now, the battery charger comes with one of these cords, which annoys me to no end, and so what I like to use is these little right angle adapters. I've got a couple here, let me grab them. The charger is nice 'cause it's relatively small, but I hate having to bring that big cord with me, and so there's a couple different options. One is ideally you can just buy these right angle adapters and as you can see this is an adaptor that you can just, I went on Amazon and I got three of these, 'cause you know you're gonna lose these things, for like nine bucks or something, and it's just a right angle power adaptor. And this is something very familiar to people who have MacBook Pro's and so forth and so Apple has one that has a retractable one and this is called Duckhead 'cause it kinda looks, got the rounded duck head on it there and it's foldable and it plugs in there just as easily. And so if you have Apple you may not even need to buy this, but I have Apple, but I didn't wanna use my Apple one for this, so I bought some generic ones which are five to $10 for a small pack of those. And so these are little accessories that I think make charging a little bit easier, 'cause that cable is just annoying. And Sony, if you wanna make the world better just give us a little flip out plugin right on this like Canon and some of the other manufacturers have done. All right, what else do we gotta talk about? Okay, so there is a little door on the door. I know that sounds weird, but there's a little door that opens when the big door isn't open, and this is to have a cord running out of the camera to power, I'm not even gonna say all these letters. It's the Multi Battery Adapter Kit. I think this is designed for people who shoot a lot of video. Like, if you were gonna shoot video for a long period and changing the battery was just no go, 'cause maybe the camera's in this gigantic, stabilized rig that you can't get access to very easily. You can adapt four batteries onto this thing. Four batteries should last you through, I don't know, a couple continuous days of video. Realistically, each battery is probably good for about one to hours of video. And so this thing will allow you to power the camera for a long period of time. You can use it with two batteries, you can use it with four batteries, you can mount it on a tripod, it's got some other features I'm not gonna go into, 'cause most people aren't gonna use this, but if you need to power your camera for along period of time, it's giving you some serious options with four batteries connected into it.
Class Materials
Sony A7 III Recommended Settings
Ratings and Reviews
John GreengO! What a wonderful teacher! As always to the point. You do all the testing for us and we get an amazing tour of the camera. Really thrilled with your class once again. Thanks a lot!
Thanks John. Another great class! I appreciate the thorough explanations. I many never use all of the features on this camera but at least I know what they do. Love all of your classes and would definitely recommend them.
Wonderful class. John is a great instructor. Learned a lot. Only wish he'd include a bit more on using a7iii to shoot video, such as using Clear Image Zoom, and including video in the ending Camera Operation settings section. Loved the course though.
Student Work