Camera Controls: Control Wheel & Shutter Release
John Greengo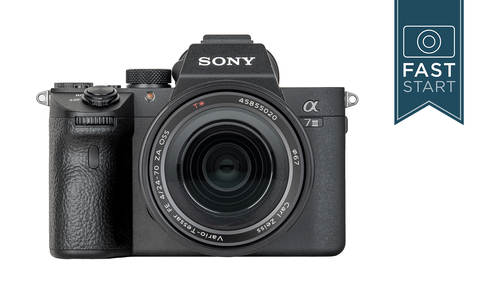 Camera Controls: Control Wheel & Shutter Release
John Greengo
Lesson Info
3. Camera Controls: Control Wheel & Shutter Release
Take your first picture (if you haven't already) with the basic, most-used controls on the Sony camera body. Explore the control wheel and shutter release, as well as the joystick that's new to the Sony a7 III (hint: the joystick also doubles as a button).
Lesson Info
Camera Controls: Control Wheel & Shutter Release
It's time to start with the main portion of the class, all the good stuff, and that's the camera controls. I love this section, because we get to go around and talk about every single button, what it can do, how to set it, and what we can get out of the camera. Let's start with a few basic controls that we're going to be using a lot. Turn the camera on, and it automatically goes to a sensor cleaning system. So it's gonna try to knock dust off with the sensor so that it stays clean. This was a major problem on early digital cameras. You may still need to clean dust. I got dust on my sensor on my recent trip, and that's because it's relatively exposed on these mirrorless cameras. So you do need to be careful about changing lenses. But it's a good system that will help you out as much as it can. The shutter button will need to be half-pressed to wake the camera from the sleep mode that it goes into on a regular basis. We have two main controls, a front dial and a back dial. These are goin...
g to be used for a wide variety of purposes. Shutter speeds, apertures, but a lot of other controls in the camera as well. On the back we have a control wheel, which we'll be using for, once again, a variety of purposes, going through the menu system, moving focusing points, as well as other changes. Kind of new on the a7 series, the latest, the Mark III version of the a7 cameras is the joystick. This is the latest, must-have feature on a camera, and I absolutely love cameras that have a dedicated focus control, because now you can move your focusing point very quickly around the frame. It gives you just quicker access to changing composition. But this is also a button, as well. Not only do you move it from side to side, you can also press it in to enter controls as well. We'll be using those throughout the day. We're gonna first look at the top deck of the camera. As I mentioned on the shutter release, obviously you use that for taking photos, but when you press halfway down, a number of things happen. The metering starts taking place. The camera will auto-focus. It will wake the camera up if it's been asleep. So if you're in the menu mode, and you're kind of lost in the menu mode, and you just want to take a picture, and you want to back out of it, just press halfway down on the shutter release. It automatically takes you into the shooting mode immediately. The half-down shutter release press is a position that your finger will often be in. Now some people like a feature called "back button focus", and this camera has it, because there is an AF "on" button on the back of the camera, that we're gonna talk more about. As you get the camera out of the box, I'll have to admit that this AF "on" button makes no sense at all, because when you press the AF "on" button back here, the camera focuses. Let's say you move the camera around a little bit, take your finger off, press down on the shutter release, the camera's going to refocus up here. The only way that the AF "on" button makes sense is if you turn the AF on the shutter release off. The way you turn it off is you jump into camera settings one. You go to AF2, which is on page six of 14, and you turn off the AF with shutter button. If that sounded like complicated instructions that I just gave you, not to worry, we're going to go completely through that on the second half of the class when we go into the menu system. That's just the shortcut for people who want to jump ahead and make that change right now. I like using the camera in back button focusing, because I can focus on a subject, and then I can recompose. I don't have to leave my finger on any of the buttons. Then I can take as many pictures as I want without the camera refocusing on me. It's an advanced technique that most photographers, once they give it a try, and they use it and get used to it, they don't go back. They see the advantages. For people just getting in to photography, it doesn't seem to make a lot of sense. It seems a little bit complicated, but if you give it a try for a few weeks or say a thousand shots, then I think you might be won over with it. It's a great system that a lot of photographers really like.
Class Materials
Sony A7 III Recommended Settings
Ratings and Reviews
John GreengO! What a wonderful teacher! As always to the point. You do all the testing for us and we get an amazing tour of the camera. Really thrilled with your class once again. Thanks a lot!
Thanks John. Another great class! I appreciate the thorough explanations. I many never use all of the features on this camera but at least I know what they do. Love all of your classes and would definitely recommend them.
Wonderful class. John is a great instructor. Learned a lot. Only wish he'd include a bit more on using a7iii to shoot video, such as using Clear Image Zoom, and including video in the ending Camera Operation settings section. Loved the course though.
Student Work