Photo Basics
John Greengo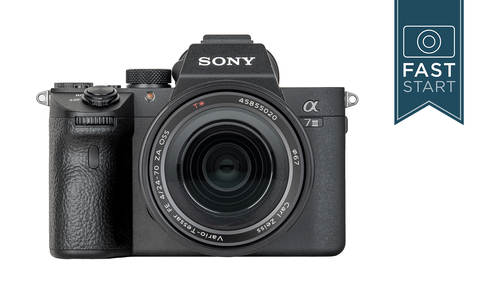 Photo Basics
John Greengo
Lesson Info
2. Photo Basics
New to photography? John covers the basics like what a mirrorless camera is and using an EVF. Learn basic terms like aperture, ISO, and shutter speed as well as factors like APS-C versus full frame sensors.
Lesson Info
Photo Basics
I wanna take people through a few photo basics in case you are new to photography and just decided to get a great camera, and still don't know a lot about photography. Well this is a mirrorless camera, which means it does not have a mirror. Thank you for that. In the lens we have an aperture which controls the aperture. And so the aperture is one of the ways in which we control light in photography. We can open it wide open to 1. if we have a lens that lets' us do it that far, and close it down to 22 and sometimes further. And this is one way that we control the amount of light coming in the camera. It is also how we control how much depth of field we have in a particular image. Depth of field is what's in focus, in front of and behind, your point of focus. And so you can have shallow depth of field, with a 1.4 lens, and then as we stop our aperture down, we're gonna get a little bit more depth of field with each of our aperture changes that we make. And so there's a wide variety of re...
asons why we might wanna have shallow or great depth of field, but that's part of the creativity of photography. So down at f/22 we're gonna get the maximum depth of field out of a lot of lenses where most everything is in focus. And there's our great depth of field. So that's our aperture control. Light comes in to the image sensor and is fed directly back to the LCD on the back of the camera. And it is also fed to the EVF, the electronic view finder, that you get to see the image on. And the EVF is a great and new advancement in photography in that you get to see the exposure that you are shooting before you shoot the picture. And I recently took a Sony camera on a long trip to Mongolia and I never got a bad exposure on my Sony camera because every time I looked at the screen I could immediately tell if my shutter speed and aperture combination was proper for getting the right exposure. It's just intuitive, you can see it right there and easily. And this is also true with focusing and light balance and so that's one of the advantages of the mirrorless camera is you get to see final results before you've even shot them which is a great thing I love about these cameras. Now, at the sensor level we have a little bit more complicated design in some ways because it is open and exposed to light in it's natural state. When it's time to take a photo it needs to close the first shutter curtain, prep the sensor so that the sensor's ready to capture light, it captures the light, and then a second curtain comes in and closes it off. And then the second curtain needs to open again so that you can see light coming into the sensor for the next image. Now, I'll say that we're gonna talk more about this when we get into the shutter system on the camera cause there's some other options that allow the shutter to work in a very different way but this is kinda the standard way that most mirrorless cameras work. So the shutter system is available at different shutter speeds so we're gonna start off at 1/8000th of a second for super fast motion, and then we'll go down to 30 seconds so you can actually get beyond this as well. So that's a little bit about what's going on on the sensor and in a mirrorless camera in general. One of the most important things on any camera is the size of the sensor and this uses a full frame sensor which is the same size as 35mm film. It's not the largest that you can buy but it's the largest of the common sizes we'll say. And so there's a lot of other cameras that use smaller size sensors that we're not gonna really talk about in the class but they are available and they have a variety of benefits and drawbacks to them. As I said, this is the same size as 35mm so photographers as they made that transition from film to digital could just get new lenses that fit on, or use their old lenses that fit on the new digital cameras were very easy. So that's why this is a very common standard in photography. This smaller sensors do offer the option of having smaller size cameras and smaller size lenses and so as I say there's an interesting set of trade offs when you go through these different sizes. But this is one of the larger sizes and it's one of the more common especially among professional photographers. So if you wanna learn more about the basics of photography and the fundamentals of photography I have a couple of classes. You might wanna check these out. They're are couple of more popular classes here at Creative Live and they're a great way to add to all your knowledge of the camera cause you do need to have knowledge of photography if you wanna take great photos in the big scheme of things.
Class Materials
Sony A7 III Recommended Settings
Ratings and Reviews
John GreengO! What a wonderful teacher! As always to the point. You do all the testing for us and we get an amazing tour of the camera. Really thrilled with your class once again. Thanks a lot!
Thanks John. Another great class! I appreciate the thorough explanations. I many never use all of the features on this camera but at least I know what they do. Love all of your classes and would definitely recommend them.
Wonderful class. John is a great instructor. Learned a lot. Only wish he'd include a bit more on using a7iii to shoot video, such as using Clear Image Zoom, and including video in the ending Camera Operation settings section. Loved the course though.
Student Work