Olympics Coverage
Al Bello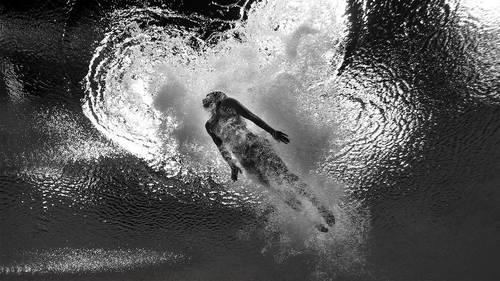 Olympics Coverage
Al Bello
Lesson Info
4. Olympics Coverage
Lesson Info
Olympics Coverage
This is the ultimate event that you want to do. If you're a sports photographer, the best and the baddest and the greatest sports photographers migrate to the Olympic Games and the old go together and they will compete just like the athletes for the best photo. Your hours are insane. Was there for a month in Rio On some days I was working 18 20 hours. There was a couple of days like that, and it's constant every day. It's the same regimen. Get up early. You get to your event, you set up. You do with Chapter. Do you work through the day? Medals, medals, medals. Another event. Keep going. Grab some lunch quick as you can go in the water. I did all the aquatics at the Rio Olympics, so it was in the water. Out of the water. Reset the camera. That camera's broken. We gotta do. You gotta bring this camera, That venue to get this one to go in that venue there was a whole scene. So this is just some of the stuff at the Olympics. You know, you can set up to do a picture like this of Michael Phe...
lps coming straight at you. Or you can shoot the same swimmer, Michael Phelps, but with a whole different way of looking at it. Blurred. 15th of a second beard of water. 15th of a second. Just going for it. Just trying to come up with something different remote behind the starting blocks. This'll was the big story. Phelps first Ryan locked. It was the last time they were gonna race. Each other was the big race. Here they go. But I wanted to set the scene. And what you do is you know, I had the camera in the middle of the starting blocks, coming with the lights, the ceiling, all the lines of the pool. It's all going one way. You see what I mean? I say that's how you build a photo composition comes in. Sometimes pictures happened before you. So a girl like Katie Ledecky, who was a beast she killed the field in almost every race. She went to set the world record and be sued. Beats these swimmers by all this length. It's like Secretariat racing at the Belmont for the Triple Crown. I wanted to set the scene also was set it cleanly, so all the lane markers. There's no distracting backgrounds. I was upstairs that night and then she finished. The race gives it upsets the world record, So you're just trying to get it all in. You know, you got a position yourself in certain positions for swimming where they break the surface. This just doesn't happen. Where? Oh, a big burst of water. I kind of knew. You know, that there might be a chance when they come up for backstroke, that they're going to blow water out of the no. So this is just as the swimmers doing that switch to the Winter Olympics, and you're trying to just work with the elements more than anything because you're outdoors a lot. It's cold dealing with snow and again, no working with bright colors, composition. The eyes of this bobsledder is what makes the picture for me wide open, clear mask. A lot of them have the a lot of them have a dark, massive, couldn't see this one just happen to have a bright mask and their eyes were wide open. This is a ski jumping picture from in the bushes, like I went into the forest to go find this picture it's off the beaten path, but it was worth it for me to go in there and you gotta find someone with the right uniform in this. In this particular situation, it was the pink that pops out out of the black again, a panning photo piece of light coming down on the end of the ski jump. Panic. You worked the rails in some of the snow and again betraying speed. This was a cross country race that I was scheduled to be at the finish line, but I saw the way the sun was going, and it was one part of the track. Where is a little bit of light dancing around one of the turns. I ran up the ski mountain ous top of the ski jump right to the top, looking straight down started the race. So if the skiers go through and I ran back down the mountain, got to where I had to get to the finish line and was able to shoot that as well. This is a happy accident of my camera phone with snow. I was doing Starburst photos at 16 and when I looked at the frame afterwards, I was like what is old? This? It was just a big blobs of snow that was on my lens. So sometimes that works. This is, ah, remote behind the net and just timed it for when the puck hit the glass. This is a little triangle of light that was dancing around the track at a time, and I was able to work the 10,000 meter finals in with the high jump. So the little piece of light was just dancing around, and I was able to work that out. Fast forward to track in Beijing. One minute it's sunny out, and then the next minute it's a big rainstorms. What I was telling you just got to be prepared for everything. I noticed that there was the way the lights were hitting the making a big puddle on the track and forming the shadow. I just ran up into the stadium and figured out where I had to go. Got that? This is Ah, it's hard to see, but it's a diving photo and it's backlit. So I wanted to get splashing water off. The diver, as she spent, has spun around doing her dive. This is the other way around now with the sun seen set of Rio 2016 The last bit of light is on the diver. It's one of the dives that you wait for when they do the big spin at the end. This is on Xtreme Blur turned into, like, more of an impression, like 1/4 of a second synchronized diving. Kill the background, make it nice and clean by going way up into the stands or the scenes right in front of Barcelona. Can't get any better than this. This has been done plenty of times, but it never. I never get tired of this kind of photo with the church in the background. Remote picture from the steeplechase, late day sun exposed for the sun and let everything else go dark. This is a remote over the rings. You know, it's how to get lucky and hope that the skater would do a little spin in front of the rings. This is again a planned picture that happened to happen in real life. I knew decathlon. The athletes weren't great in any one sport, but just good in a lot of a lot of different. Once you had to be good enough to Teoh dual all 10 sports, but I know that in the long jump, someone's gonna eat it on the jump. We'll either jump and a lot of them fall the wrong way and they try too hard and mistimed. Jump. It's all about timing. So went to the top of the stadium and just wait. Waited up there and sure enough, this guy kind of trip jumping over the over the long jump and felt, and he made his imprint as he slid across the sand. Same thing with this girl in Sydney at the Olympics in 2000 I went into the top of the arena and just focused on the balancing being, and this poor girl fell off. The bounce and being used in the lower Olympics was over, But that's kind of what I was hate to say. This kind of was hoping for. This was a photo I chased for a long time. This is a one swimmer that I was familiar with, Uh, and he would blow water out of his mouth before every race. A lot of swimmers do this kind of like a macho thing to just mark your territory so this guy would do it every race, and I always try to get it with the right scene. Or somebody would always be in my way or the light wasn't right. And just so happens this is how television with this particular arena, and it was a lot of backlit and and they didn't like the side of the pool. So when dark, So I was ableto finally time it right. This is a quiet moment before Michael Phelps entered one of his last races for before he won his gold medal. And it's a real to me on either side of the photo with chaos, but you'd never know it looking at this photo, it's just one little corner I got as a physician. I was that as the swimmers were waiting to come out and be introduced, so you just have to wait. And he just happened to look like a heavyweight boxer coming out for a championship fight. So his face is kind of disappearing, and then he won his medal and then from that same position, just shooting the other way. I was able to mix the crowd in and and get this nice celebration shot and also from the same position. A nice little moment of one of his teammates crying over his own first gold medal was Michael's like gold medal again and just a simple moment. Kid with a flag. One won a medal for his country, but it's just the juxtaposition of the flag in the background is black. This is, um, this is an image of a reaction, and it happens all the time at the Olympics. There's happy. They're sad. Everybody is either over the moon for their gold medal or the straw because they lost the race, you know, And you know these little details. Shot with the girl with the Great Britain fingernails is one of my one of my faves. Thistle is a picture that tells the story all at once. Where are we happens? Olympics. This is the big left for the local guy. He made the big lift. The crowd went wild and he just jumped, went berserk
Ratings and Reviews
Sports Photography: Making the Shot is a very good class for showing what really goes into big league sports photography as well as a glimpse into the sacrifice and outside-the-box thinking needed to standout from the crowd. Al Bello's images are stunning and his years of experience and unique creative style are clear in each one. This is not necessarily a course where you are going to learn camera settings or recommended lens suggestions for certain sports, but what it lacks in that area, it certainly makes up for through inspiring images and Al Bello's humble presentation style.
Al Bello did a there good job with this course. He gives a lot of informations of the gear and setup on different locations. He makes you inspire to look for better shots than other does. This course helped me to work on location with other 20 photographers. And I can be proud to take a totally different shots then others of horses that we photographed in 3 days job in Poland. I really recommend it!
Student Work