What's a Story?
Jamie Jensen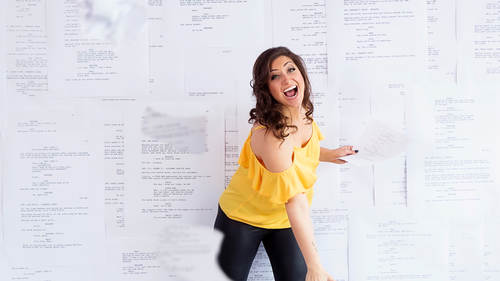 What's a Story?
Jamie Jensen
Lesson Info
2. What's a Story?
Lesson Info
What's a Story?
So, what is a story? Does anyone know, does anyone want to try to define what a story actually is, if you break it down to the basics. I think you have your characters, and your plot, and there's a hero, and there's a damsel in distress. (laughing) And then they all come together, and it creates a story. Yep, So, a story is, and that's totally right. A story is a character achieving a goal, in spite of obstacles. So, when you're breaking down story, and you're looking at story elements, these are the three elements that you always want to be looking at. You have a character, you have a goal, you have obstacles, and this is where, when you're developing a story and you're trying to make it more compelling. You get to play with each of these elements. And like, how can we make the goal more exciting, how can we make the character more interesting, how can we make the obstacles more challenging? This is how you develop a story. I'm not saying make it up for your business, you're gonna...
be using authenticity and telling a true story. But you want to tell a story that's gonna get you where you want to go. So, it's just a fun way to be able to, play with what these elements are. Now, in business there are always two characters, there's you and your customer. So if you think about your business story, kind of like a love story between you and your customer, you can break down each of your characters individually. So you, as a character, is your brand. This is how, you know, we're not going to go into all of the brand stuff here, but establishing your brand, is establishing you as a character and how you play into your customer's story. So, when you are identifying your character and getting really clear on everything about yourself. You wanna be clear on who you are, you know, where you're from, what you're about, what makes you interesting and different. What is it that's unique, that you bring to the table? What's compelling about you? And what makes you you? You know, quirks, a personality, a specific sense of humor, right, what is it that makes you, you. So, when we talk about the things that make a great character, we are typically talking about qualities. So, when you think about, even from fictionalized work, like if you watch TV and movies, you know, who your favorite characters are and what you love about them, and what are the qualities about them that make them so enticing. Usually, they're going to be qualities, that you identify with and appreciate, and usually those characters will also have values that you identify with and appreciate. And usually the same goes for the theme for brands that you love. They align with your same values and the things that you appreciate right? Personality, sense of humor, what kind of comedy do you like to use in your brand, if you're writing. Which character from a sitcom would you be, if you were a character in a sitcom? So, this is just the fun way to think about, bringing character to your brand when you're writing. And also beliefs, beliefs and world view. What are your philosophies, what are your core beliefs that you stand for in your brand? And then, your customer. So, we wanna know who they are. Who are they, what do they deeply care about? What are their values, qualities, beliefs and personality? Who are they, break them down, get as specific as possible about them. You want to know these things, because it will help you engineer your story around your character, around your customer. Now, as much as, as much as you can, you know, we can engineer it, as much as possible. A lot of story is reverse engineering for messaging, so when I say this, I don't want you to feel that it's really manipulative, I mean reverse engineering sounds so manipulative, I just want to be real. I understand that, most of the time, you're going to attract customers that have similar values to you, so you'll find that a lot of what you develop, as you break down, you know, your specific values and what you stand for as a brand. It often will naturally align with what your customer's interested in, but doing that market research and getting to know your customer is so important, so that you can make sure that you are spinning stories and using stories, that really appeal to them. And then goals, so we all have goals as human beings right? It's like a natural way of life, you're here today because you want to learn more about using powerful stories in your business. And, but what are those powerful stories going to do for you? What is the outcome of what those stories are going to deliver to you? Are they going to bring you more customers into your business, are they going to improve the sales conversions with the customers that you already have a relationship with. Like, what can those stories do for you? So, when we think about the stories we're telling, and the goals that our customers have, you know, I want you to think, not just about the problem you're solving, but about the bigger goals that they have and how you're helping them get there. So, what's your customers goal, and what's their vision? What is there bigger vision for the type of life they wanna have, for how they wanna feel, for what they want to achieve? For who they wanna be in a year, or five years, or ten years. 'Cos that's the story we're gonna be telling. And then the third element is obstacles. So, you know, if we all achieved our goals really easily, there would be no story. If I told you that I went to Hollywood and immediately got a million dollar movie deal, (laughing) and was like, "I don't care about anything except my million dollar movie deal!" There would be no story. Story does not exist without obstacles. Obstacles create tension, and tension creates desire. So, the lack of having, the lack of having is what actually creates that tension, in your audience, for them to say yes to a sale. So, there are three main levels of obstacle that you can always be playing with. Internal, which is, usually, it's like mindset stuff, you know, what are their thoughts that are holding them back from what they want? How are they internally getting in their own way? Interpersonal, so that's relational, you know, who are the people who are getting in the way of what they want, and environmental. So actual society, surroundings, you know, maybe they have a specific job that is like the environment that they're in, that doesn't work for them, for what they want. These are the different levels of obstacle, you can always be playing with, when you're spinning a story.
Class Materials
Storytelling for Business Workbook
Ratings and Reviews
Oh gosh, I have been hunting for this clear information for MONTHS. I have taken many storytelling courses to figure this out, but every time, even though I learned a little more, and got closer to the level of precision I wanted, I could feel that there was some pieces of the puzzle I was missing to know how to craft stories in my business from beginning to end in a nice, succinct and clear way. I was missing the core structure of this different types of stories. I think I needed to hear this years ago to be honest, and I finally feel like I have the tools I really been searching for. I feel deeply grateful for all the work has been made in the background to make this course available in the first place. Thank you
I very much enjoyed the structure of this course. Jamie takes us through very clear examples that I was able to apply while I was taking the course. The presentation itself is very clear and enjoyable. Overall - a great way to get a boost to your business storytelling!
Student Work