Sequential Storytelling for Max Impact
Christian McLeod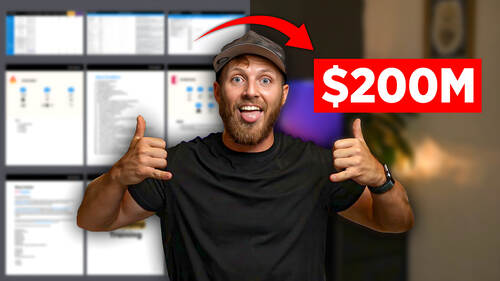 Sequential Storytelling for Max Impact
Christian McLeod
Lesson Info
7. Sequential Storytelling for Max Impact
<span>Looks at the importance of creating a narrative that flows logically and compellingly through a marketing campaign, like an email sequence, ensuring each part has standalone value while contributing to the overall message.</span><b><br></b>
Lesson Info
Sequential Storytelling for Max Impact
Now imagine a TV series so gripping that you have to watch the next episode, I'm sure you have one. But just imagine your brand story having the same pull or even a fraction of that pulling power. Well, in today's session, we're gonna dissect the magic of sequential storytelling and dive into a multimillion dollar sequence of emails that captivate, engage and convert. So remember that belief blueprint that we crafted where we're gonna see it in action, guiding our storytelling journey and writing a choreographed dance that tells a compelling story that engages and drive sales. So if you've ever wanted your audience to eagerly await your next episode or hear what's next with your brand, now's the chance, let's get started. Mhm Now, I want you to answer me honestly here. Have you ever been thrown into the middle of a movie without any context? Probably have I know I have and you generally probably feel bored, right? Or you just can't connect or get interested. And it tends to be pretty c...
onfusing right now. It's because movies have a plot. Now they have a sequence, a co-ordinated sequence of information about characters, right about their problems and their struggles about their rise and their fall and eventually a conclusion right now without that, we feel lost and we feel lost pretty quick now, no connection to the people, places or things in the story doesn't feel good. Remember your brand is similar, it has a story to tell and your consumers are the viewers, right? Watching the movie. And so if they feel like they're not connected, they can feel lost really quick. And this story needs to align with the markets story. So imagine you're watching a movie and you feel like that's me. There's a reason why rom coms and sad stories uh that are very, very typical stories tend to be the most popular is because we feel that connection, we feel like they are me, right? I have that lover. Oh man, I wish they did. You know this, we we see us in the movies and that's the same with your brand story and your messaging and your emails and your ads in your website and your copy and your products and your offerings can go on and on. It needs to resonate with the market and we've already begun right? This first step diving into the mind of the market, right? So you've got that information, we just need to tailor everything to it, right? That story must have a flow, right? A sequence now that guides us from start to finish. Now imagine you're stepping into a store for the first time, right? There's an energy, there's a rhythm, you know, there's someone there to greet you and guide you through the experience. And the same principle applies to our marketing, right? We want people to, to walk into our door and feel like they begin to know what's going on and the most important brand or most brands are completely missing this, right? They just jump right into set, they just running up to the person at the door and saying, hey, buy this, you know, grab 15% off. Do you like this? Like I want that uh here take this, this is our best seller or oh, here you need this. It's it is ridiculous, right? And I, you know, if you look at marketing from most brands, you will begin to laugh once you realize these types of things, right? We do things a bit differently. Um And it works, this is not obvious, obvious at this point. Um but we use something called an open door sequence. This you probably heard of a welcome sequence, right? This we call the open door sequence for obvious reasons because we're opening the door and we're beginning to tell the story. Whereas a welcome sequence, you use a template or a welcome sequence template on Clavia or mail champ or whatever you're using, for example, um it's very basic and it's like, hey, here's our product take this here, you know, you should buy, it's very salesy very branded. Now when a new visitor lands in your digital store, right? Whether it's, you know, your website and you're selling a service or you're selling a product, uh It doesn't matter, you want each message to be a personal conversation with them, right? One where they're reading the copy and thinking damn, that's me. Like, and yeah, I get it right. Like, yeah, that like you just have that feeling. I don't know how to better explain like that's me, right? That sounds like me. That that's a real situation that happens with clients and and potential pros prospects and uh visitors to your site. And I'm going to get you on the path to providing this type of experience. So I want you to consider this, what are those key details, those little golden nuggets of information that will influence their buying decision. Importantly, in which order should they hear them? Right? Yeah, any idea bing bing bing, right? We covered that in the believability checklist. So I want you to just refer back to that and know about these things that we should be telling them and in what order? Well, look at the priority, right? The priority is what you can get to as soon as you can. Now, I would say if you if cost is no no issue and you can just implement, get a lot of time, get a lot of money done, whatever it is then focus on impact because the higher impact ones um are the most important, obviously. So revisit that and your value bank to recollect what your market is focused on and that covers the what? Right? You know what we should talk about and we're gonna talk about the how right in a minute now, here's the curveball. What if they miss a message? Right? You imagine a welcome sequence, right? And let's say it's like emails or seven emails and you send out an email and you're like, hey, this is what we're all about, blah, blah, blah, blah, blah. And then they don't even get that, but they get the third email and suddenly like it's like they're just falling into the middle of a conversation and I'm sure you've had it before where you join someone and their mid conversation. You're like, what, what are you guys talking about? And you're just trying to piece things together and it doesn't make sense that that happens a lot, right? So we want to make sure, you know, if they don't open every email, we've got to ensure that that, that each email holds its own weight, right? Unlike a normal conversation, we need to be able to let people be pieced in and, and have value on its own while fitting into the larger story. All right. So how do we achieve that? But we do this through bite size stories or micro stories in each email, right? Each one with a beginning middle and end, right? They've got to be engaging on their own. But when pieced together, they kind of form this larger compelling narrative, all right, the goal, consistent core message story flows seamlessly from one touch point to the next and ultimately capturing the imagination and leading them on a journey with your brain. That's, it sounds fancy. It's not really, we're gonna get into it and its values and its solutions are at the highlight. So remember, it's not going to be uh just about telling a story, it's about guiding your audience, right? Because if you, if you've ever told someone a story, you know, if you have kids, you can relate, I'm sure bedtime stories all the time, you will get a quick grasp or if you love reading and my recommendation tip, not in any of this uh presentation. If you want to write really well read a lot, that's the biggest tip of all. Read, read a lot, read your, read, other marketing, read, great marketing, read, bad marketing, read anything, read books, read stories, read novels, read anything and you will write better. Now, back to this uh it's about guiding because if, when you tell this story, you're walking someone through who this person is, what this is about, where they're going, what their struggles are, what their goal is, how they didn't get it, how they eventually did, right? Whatever it is. And we're going to take this open door sequence as an example, right? Because it's, it is the truly the prime example of weaving a sequence in storytelling, right? We could tear through how belief is built and how we can drive more engagement and sales from this. All right. So we're gonna go through those 7 to 5 to 7 emails of this sequence and it has driven many, many millions of dollars for the brands that we've worked with. So it is definitely something I wanted to bring up and we're gonna do dive in right now. Open door sequence is open and this is essentially a welcome sequence. I've gone over that already. So I'm gonna jump into the technicals now, this is in no particular order, but I personally have had a preference. Um that I think makes sense sequentially and this would be what I would recommend. Now, I don't have them in order below. Um just so that you can use them at your own free will. So the first one is, hey, I wanna forewarn you like hi, it's me. I'm forewarning you. Uh And then, you know, this is what you're about to expect. I just wanted to make sure this made it to your inbox to give you the discount, to say hello to, to make sure you're, you know, you know who we are, et cetera from this uh this new welcome sequence or this newsletter you signed up to or you're a new customer and you're part of welcome sequence, whatever it might be, maybe they're a new lead, whatever they are. Number two is this one right here, which is more about your story, right? The mission you're accomplishing and you know, the impact that you're having. This one is about features and benefits and like the the the way that the product and offering that you have brings value and anything you have around it from all the values that we've discussed and will discuss in the coming videos and then we have reviews testimonies. This is like the proof. This is like, how do we know for sure that this product or service works, right? People are signing up, they're unsure, they're not in that 2% ready to buy, they're trying to learn. So we need to prove to them that this stuff works. Testimonials, uh a accounts, maybe real estate deals or whatever you have, maybe it's products that provide a result of performance, maybe they make you fitter, maybe they make you stronger, healthier, happier or whatever they are cooler. We need to prove it. Uh So that's what that's about. This is about community and the impact on the community, the transformations there in your team and any potential stories that you want to tie in there with your personal story, the empathy and the reflected glory from the believability stuff. This is all believability in story form. That's all it is and we can mix and match text based emails and HTML. So the designs, the beautiful designed emails, those are HTML. We actually want this first email to be text and I'll get into that in a sec, but you can have a mix between text intro and then it gets into design, which is a way that I have not seen anybody else doing, but it has worked wonders for our clients. So I highly recommend doing that the other two. and I'll explain, there's actually one that's not on this page. Uh It's at the very bottom of this do but this is the guarantee. So what guarantee you're offering? How is this guaranteed? How can you provide these great results, et cetera? And then this is what are the stats like if, if we were to say this forms better legitimately, what is the science backing it? Go back to the believability checklist, you'll see little things like certificates or science are proven and you know, research that kind of stuff, that's where you can fit this. Now, the goal of this entire sequence is to build trust and credibility. That's pretty much it. We want to build up that belief and then reduce the doubt, emphasize the reduction in risk and then emphasize urgency and impact to get them to their desired outcome so that your product or service helps achieve that. OK, let's look at the visual, this is the breakdown of the entire flow and you'll see it goes top to bottom on the left, top to bottom, on the right. So number four is here and number five is up here. This is the structure I would choose for, let's say an Ecommerce brand in this case where we're splitting between, you know, hey, they have and have not purchased before. So if they haven't purchased, we give them a little bit bigger if they have purchased before, we give them a little less. Um because they're already part of the system. Now, we want to get those people over the edge. That's why we would do that. But they're both pretty much the same. That's the only difference there. Um These are in my order the way I like it, feel free to mix and match and do as you please. However, there is something to note on like the impact, think about the believability checklist and that impact list, things like guarantees are huge, reviews, huge, the features and benefits huge and emphasizing the story and the like the the transformations that have come out of this. So push them up when and if you can and then focus on the selling aspect later and then you can get into our final piece, which I'll explain after we go through these emails. So email number one or email, whatever is the founder letter, this is the text based letter and I've actually gone ahead and saved you the hassle like, oh, I don't know what to write. Well, you have no excuse. Here is the copy I'm literally handing you cold copy that you can warm up tweak into your brand and get it set for your mission. Uh, introduce your product. Talk about what you've got going on, you know, et cetera that's going to set you up. I'm not going to dive into it. The next one is that you're in now, you can swap these or you can send them at the same time as well. Um The you're in is more of a quick intro you'll see here. It's like, hey, stoked, you're involved. Glad to have you in here. This one involves HTML. It'll, it'll have some design it. So it's less likely to deliver to the inbox just by, by a smidge at the beginning. But this is very high likelihood to get to the inbox. That's why we want to send this so that when they open that, then our next emails, subsequent HTML, emails will likely deliver and be opened. So this is incredibly important. Do not not do this. This one I would recommend doing and you can do it at the same time as number one, but this is really to just forewarn this is that high. It's me again and I'm coming back, I'm a man of my word. I said I was gonna give you these questions and, and this is what we're talking about, you know, how, how do we, how can we offer this? Um why? How is this really guaranteed? What do our 10,000 customers in artistry actually say about our brand, et cetera. So these are all great questions to go over and then you can just quickly exit with a statement like this. Now, I've provided an example. This is just a notebook brand. I just mocked up randomly, but we have a client that's very similar to this. Um I'm just not sharing their brand. So this is how they would approach it. And we would say, hey, you know, you're officially in the community, our community. I'm a man of my word. You know, here is the beginning of a handful of emails that you can expect in this in the coming days. We're just gonna tackle some of the questions that people have been asking. Like, how do we offer these high quality notebooks? Are they really guaranteed to be bleed and smudge resistant, right? They even highlight some extra questions that are right there. Then we say, what are the X amount of customers in? So in this case, 10,000 plus artists and brands have to say about this brand, right? How do we prove we're the best, right? So I'm laying all these out for you and this is, you know, a way that you can design it, you know, take this, use a Clavia template, duplicate it out and you're, you're gonna be, you're gonna be sweet. Um Then you can just fill in all the details and I provided you that up above. So you can copy this, build out those sections, copy that you're golden. All right. The next email is the impact and mission and transformations, right? So I'm including those iconography there. So you're aware of where they are. But founding story, how did this all start? Now? You can say this is the mission, this is the impact, you know, it could be building schools, it could be planting trees, it could be just helping businesses, it could be uh whatever it is. But we want to emphasize how this all started started and why that's tied in with our background, our story, why this really means something to us. It's not just an arbitrary, you know, I like trees. Here you go. It, it really has to be a good story behind that and that's where we get connection to that emotion. Introduce yourself as the founder, show picture your team, all that good stuff that creates a physical connection. We connect with humans way more than we connect with brands and things. So when people see faces, they feel a much greater connection. It is inherent. Uh There is many, many studies done on human to human connection through even imagery. So just keep that in mind because it's very, very powerful, highlight the transformations of customers or of the impact, you know, let's say for the sake of it, uh they're building schools, right? So if they're building schools in, let's say Ghana. And you want to show the transformation that those kids had because of your, your business. And this is something this brand literally does. They, they actually build schools in places like Ghana and stuff. So I'm not just making this up. This is something that can be done and it's something that makes sense for their brand and they're helping a lot of kids and they show that transformation. So it's not just about transformation of your customers, but also the community that's involved, whether they're uh just involved as a community or they're part of the impact community or they're a customer or they're in your team or yourself. There's a lot of things you can talk about. The next one is reviews and proof. This is strictly focused on the results and transformations, quotes, testimonials, reviews, proof that what you have works or, and if it's not a performance specific thing, let's say it's, it's just an awesome notebook and there's no performance qualities but people just love it because it's really high quality or whatever. That's something we need to prove that people have had their hands on this and they know that it's high quality. Um easy one quick intro state the amount of customers or, you know, it could be, we've dealt with hundreds of venture capitalists or maybe it could be hundreds of homes in the North Dakota region. I'm just picking something but you can state the amount and over so many years and then show some of these quotes and testimonials show faces. This is important, image, quote, image, quote and just move your way through that very easy template. The next is who we are. Get personal, talk about your team, share your accomplishments, personal story, empathy and reflected glory. This is literally a a emotional journey that you want to connect. Show and as I said, reflected glory, you wanna reflect what the customer is hoping to achieve, to show that you have achieved that or someone in your vicinity has achieved that and that's what inspired it. Emphasize those there's no real template for that go as you wish. Um Why ours stand strong, why our product or service is the best and why people love it uh features benefits, highlight it here. This is that product thing is is getting really down toward the end of your sequence. You're emphasizing your products and you're kind of selling, it sounds more silly. Um emphasize the stories around that. And again, keep referring back to transformations how the competition stacks up, you know, is there like, do you have better results than them? Do you have you served more people? What whatever it is mention the science inserts too. If there is like uh quality testing or third party testing that backs up your mushroom brand. There you go. Start putting that in there. One of the last ones is guarantee again, it doesn't in no particular order but stack the belief factors here, reduce the doubt, reduce the risk and highlight the sense of urgency that your company and you have for the customer to achieve their desired outcome. That's rarely done, right? That's a good way to put it to just emphasize that you feel an urgency to help them get results. That's what it comes down to highlight that guarantee, make ultra color, give it a nice little icon, make it branded and give it a cute name. Something that represents your brand and makes sense for it. So 200% lifeproof guarantee because these notebooks are lifeproof and they literally will last you for life and they look great as they age too. So that's why they chose that. Here's the bonus once you've built this sequence and you're doing campaigns and you're sending out emails of value and as we're gonna get into give GT later in this uh course, stack those, keep them pull them out. You, you find one that's successful. You really liked an email. You're, you're talking about a topic that's complimentary. Start tacking these on to the end of your sequence. Do do do do just keep going, Adam Adam Adam and build belief, stack logic and facts with emotional stories and it should be jammed with value and press this in the reason I call it the infinity sequence is because it literally should never end. If you're creating a campaign a week and it has to do with your core offering and it has to do with your business and the values that you represent, throw it in, throw it into the end of the sequence because new subscribers will not have seen what you sent in those campaigns. And so they will receive the ongoing emails from the welcome sequence. So throw that in there and make sure that they're receiving those great emails that you've sent out. So that's the trick to this. This is the infinity sequence on top of the open door sequence. Now, I do have another bonus for you and it's called the triple hit. If you're an ecommerce, this is I'm gonna keep this quick. If you're in service, uh you can practically ignore this, but this is really good for uh understanding where people are at in the buying sequence when they get to almost the end for those in service business. Keep this type of follow up. You know, if you're on a call and they're not feeling like you're they're catching, then you want follow up and, and provide value, value, value, value, value. You're not following up saying, hey, I follow I'm following up, help me or I'm waiting on that thing from you. No, you need to follow up and give them value. Just provide them value, value, value. That's the benefit of the infinity sequence. And that kind of covers you here for the triple hit now the triple hit is an abandoned cart sequence essentially. But it's just three emails. One, get it in the inbox to remind them, get them a discount and connect with them. Those are the four goals out of this. So number one is don't give them a discount. Do not do that emphasize your free shipping, your guarantees and your great customer support and that they just happen to leave it. That's it. Boom Hit them there. Number two is give them a discount, but this is pretty much the same email as number one. You're just giving them a discount on top. You're emphasizing the speed of shipping, the speed, you know, the free of it, the guarantees, all that stuff and, and emphasize that give them a little urgency by pressing in like, hey, you know, I can't keep this deal forever. It's only for the next 12 hours and give them a little countdown timer boom. And then the third one is the magic sauce that has converted crazy numbers for us. And this is a founder letter so very similar to the intro to the, the welcome or the open door. You say, hey, um I just wanted to reach out because you abandoned your car and you know, I I you didn't take up our offers. I hope everything's all right. Love your feedback. Love to connect. Let us know how we can do better. And if you do change your mind, here's a little bit better of a discount, you know, if give them 10 here, give him 15 or 20 here and just give that to them. Now, I'm not gonna just leave you hanging here. I've actually included these sequences to show you and I've included all the details and examples and I've even included um that copy for the last one. So, go ahead, copy that, use it. It's very powerful. I'm not gonna spend too much time here because there's a lot of service businesses watching this too. So uh let's jump back in. All right. Now that you've looked at that, we've got an extra piece of information. So action items quickly and you'll see the the piece of information highlighted already. But identify your story, identify your messages, your values and your market's mind. We really need to hone that in ensure that every message stands alone and can really let people fall in no matter when, where, what email they open. We wanna shift from that sales perspective to story perspective. We don't want to just talk about the product. Hey, here is what we offer. Hey, get this blah, blah, blah. That is like that's back in the I don't even back in the day. That wasn't a good thing to do, right? But people do it a lot and so we're evolving and you are joining this course to become a better brand. This is how we do it. This is where the millions are made. OK. Leverage our two sequences. One, the open door sequence and number two, the triple hit sequence. So the triple hit is your abandoned cart sequence. And that takes three pieces. I've gone over it already and you're going to use that because it really allows the founder to shine and the, the simplicity of the sequence to really generate you more, more revenue. Whether it's on uh ecommerce or if you're a service based business, you can do something similar, but you're going to drive more value home um to, to that market. That's not necessarily, hey, continue booking with us, but here's more value and then you're gonna graft engaging micro stories. Lastly guide. Don't just tell, right. I'm just gonna tell stories for the sake of telling stories. We have stories that weve and make sure there's a message and value that comes out of it. All right now for anything or anyone looking at the ecommerce side of things. This is like a fraction of what we're covering in Voa Os. So definitely make sure you, you check it out. Um This is prime real estate. We need to make sure we got these dialed and we're bringing those values to our sequential storytelling. So we'll catch you in the next hour. No.
Class Materials
2_Mind_Navigator_Map.xlsx
3_Competitor_Awareness_Map.xlsx
6_Voya_Believability_Checklist_(CreativeLive).xlsx
7_Triple_Hit_Sequence.pdf
8_Email_Bootcamp_Training.pdf
8_Memory_Mapper_-_Story_Prompter.pdf
1_Bonus_materials_-_Links.txt
Ratings and Reviews
So much valuable information and resources in this course. Christian is a wealth of information and a wonderful instructor.
Student Work