How to Afford Help
Tomayia Colvin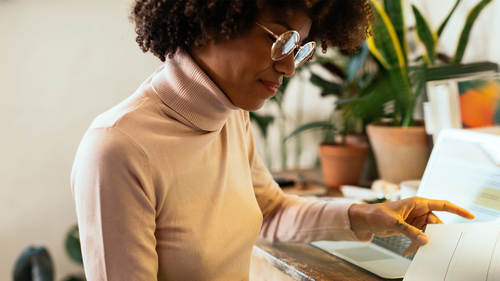 How to Afford Help
Tomayia Colvin
Lesson Info
5. How to Afford Help
Lesson Info
How to Afford Help
How to afford help. How many of us believe that you can't afford it? Oh, everybody, yay! Okay, all right, so here's the deal. You can no longer afford not sleeping. You can't do it anymore. You can no longer afford not seeing your family and you can no longer not live up to your highest potential. Point blank, you can't do it anymore. You have to let something go. When I, last year, my brother, he was in ICU and I walk into the ICU. I'm walking down the hallway and the doctor was like, well, we're not sure if he's going to make it. Okay, this is bad. Guess what I had in my hand? A laptop. Hmm, that doesn't make sense. If the doctor says that your brother may not live, please explain to me why you have a laptop? What is more important? My brother living or me talking to you about these grad cards that are so ugly that you picked out? Which one is more important? Where did I need to be present? In the hospital room, so I can't afford personally not to have that presence or be present in ...
the life of my family anymore. I just don't imagine myself getting to the Pearly Gates, God, I really, really wish I would have sent that client the gallery. (students giggling) Personally, I don't see that happening in my life. Regardless of your beliefs, I don't believe that you're going to be on your deathbed saying or thinking about a client gallery, a client album, a video. I could care less about anything that had to do with your life. Who am I thinking about on my deathbed? My friends? Was I present? Did I show up to the birthday party, did I show up to dinner, did I go to girls' night out, did I go to spa day? At the family, with my family, did I go and spend time with my dad? Did I go fishing although I hate it? Did I spend those quality times? When I'm on my deathbed, I'm not thinking about a client and their needs. I'm thinking about all the missed opportunities that I missed because I was putting my business in front of my current and my present life. We can no longer not afford to do this. We have to make some decisions that are going to impact life as we know it. Here we go, how to afford help. You need to cut some of these expenses that we're paying per month. Sometimes I get a receipt, I'm like, I didn't even know I was paying for this still. Just me? (students giggling) Oh, okay, that's fine, that's fine. I'll take that, that's fine, okay. If you're not using that subscription, cut it. Go bye-bye. Cut out the monthly expense of you paying for a service that you're not using. That $20 a month or that $15 a month, that's one hour of somebody else's time that you just paid for. Just by cutting out that one subscription. Imagine if you cut out two or three. Add a little cushion to your session fees to cover the cost of those additional staff. If your costs, and we'll talk about this later, if your cost of doing business is 200, charge 225. Charge 250. That will get you three to four hours of someone else's time. It will benefit you in the long run.
Ratings and Reviews
Tomayia is a great teacher!! The way she instructs makes you wanna jump out of your seat and get to work. I loved her encouragement to delegate tasks. Really stuck with me.
I loved it! A punch on the face !
Student Work