How To Find Help You Can Trust & The Right People For Your Business
Tomayia Colvin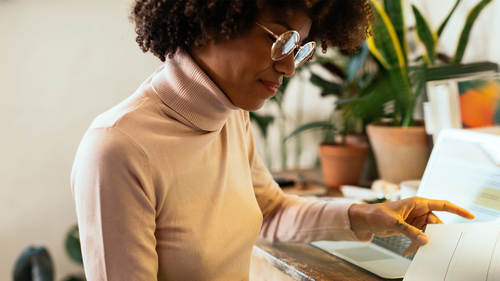 How To Find Help You Can Trust & The Right People For Your Business
Tomayia Colvin
Lesson Info
4. How To Find Help You Can Trust & The Right People For Your Business
Lesson Info
How To Find Help You Can Trust & The Right People For Your Business
The question is how do you find help that you can trust? Because it seems like I have given just about all of my life away to someone else. Yes I did, okay? So, you ask for referrals. So, the best way to do this is if you're in like different networking groups, or different communities on Facebook. Does anyone have a virtual assistant that they love? They'll tell you. They'll also tell you who not to hire. Or, I'm thinking about hiring this person, what do you all think about, have you all worked with her before? What are your thoughts? Because no one's going to put up like a bad Google review up on their website. So, you have to ask for proof from someone else. Look for someone who has similar the values as you do. I don't like glitter and sparkles in my brand. Now, if you asked my daughter, I will have sparkle and glitter everywhere in my entire life. But when it comes to my brand, I don't like sparkle and glitter. That's just not something that I like. So what did I do? When I was l...
ooking for someone to do my brand, I specifically looked for someone who didn't have what? Sparkle and glitter. It's very simple, you just write down the things that you like in your life, in your business and your brand and you find someone who feels the same way. Same for me as far as retouching. I have to have someone who understands that I appreciate and I love women for who they are. So, if I have an editor who likes to liquefy everybody, we're probably not going to work out so well, right? Because I'm gonna be like what happened to my double chin? Like that was the proof that I had two kids, like what happened? Right? So, I have to make sure that if I'm hiring someone, that person believes in the same things that I do. Does that make sense to you guys? Yeah, because like only reduce my tummy when I ask you to. You don't just go reduce my tummy because you think I'm supposed to have a flat tummy. That's cake and cupcakes there, okay? (audience laughing) Websites with contractors. There's a place online that you can look and I think it's called B-Hans, they changed the website and I apologize, I forgot to write it down. But there are different places that you can put out what you need and you can put your budget. How much do you want to spend? Because you may not have a lot to spend at first. There may be someone just waiting in the wind, just looking for an opportunity to be a social media manager and that person will come onto your team and help you out but you have to be honest with your budget. Personality test, this is good. How many of you have taken a personality test before? Okay. So, I found out like two weeks ago in class, one of our lecturers, they had us do a personality test. And some of my classmates, they were like dictators. And I looked at them and I was like that makes all the sense in the world. (audience laughing) Yeah, I was like that makes sense, like you're always mean. Like yeah. So, it helps to know like who's good at what. So I can go and do this, I can be outspoken, I can do all these things but if I'm hiring a bookkeeper, or a CPA, I may want you not to be so happy-go-lucky all the time. I want you just to pay attention and do these books, okay? Or, someone who does your social media for you. If I have a vibrant and outgoing personality, I certainly want someone who can almost mimic myself on social media. If I'm servicing like high school seniors, I can't have someone who's like, Hello, these are your pictures. They're gonna swipe right past me. Right? So, you have to have someone that speaks the language of your business, if you're inclusive and you're diverse and that person is only picking like particular pictures out of your social media, out of your Google Drive and you look up and you're like, what happened to the diversity on my website? You have to have someone that matches and meshes with you.
Ratings and Reviews
Tomayia is a great teacher!! The way she instructs makes you wanna jump out of your seat and get to work. I loved her encouragement to delegate tasks. Really stuck with me.
I loved it! A punch on the face !
Student Work