Color and Logo Types
Khara Plicanic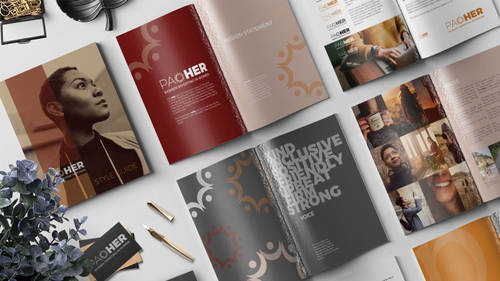 Color and Logo Types
Khara Plicanic
Lesson Info
4. Color and Logo Types
Lesson Info
Color and Logo Types
So what do we have going on? Let's talk about what's on this page first of all. So we have the logos themselves and this is like so much thought. (laughs) It just makes me giggle. So the logo should always be like this with the text, but the only other way that it's acceptable for the power brand is this element here. So like the O becomes this little thing of all the people, so it looks like a cool graphic element but it's also supposed to be the women that are part of this group and it's a diverse group, so I like to have this logo appear with different opacities or what we would call tints in InDesign. So if we select these you can see they're actually individual bits, they're individual pieces. So this one here is always viewed at 100% opacity. So I guess I didn't set it up with color tints, because it just didn't seem necessary, I built it to be opacities. So this one's 100, this one's 95, every person it goes by 5% to be lighter. So this one here is 65%, so we need to take this t...
ype and we need to have a piece of text right here that says 65%. So we can do that easily by just selecting this type that already exists, we're gonna hold down alt or option, and we get that double arrow cursor, and just click and drag it over. And it'll snap, the smart guides help us snap it in place so it's aligned with everything. And I'll just press T for type tool and come in here and change this to 65%. So there's a little rule over here that is telling us how this logo is used. So it says when this icon is presented in full color, then it appears as shown here. So with the different opacities for each piece. When the icon is presented in a monochrome, oh, I think I didn't mean to say that there. This is full color, I've got these switched. Oh hey, let's learn how we switch those back. (laughs) This is, oh yeah, no we gotta draw lines in the right place. Sorry. This one applies here, so we're gonna draw lines to fill this in. See this is why we do these design things. So how do we know? This rule, is that talking about this icon, or this icon? Well this is full color so it should appear like this, but we don't know is this talking about which one. So we're gonna create a line in here to help the viewer understand that. Because even I, the person who designed this, am confused when I look at it. So we wanna fix that. We're gonna draw a line. Grab the line tool right over here, and I'm just going to click and drag. I'm holding shift to just make it be perfectly vertical. If I don't hold shift then I have to fidget and cross my fingers and hope I get it right, and that's too much work. (laughs) So I'm gonna move this slightly left of the text that's here and also in-line centered with this little head of this person in the element here, and the smart guides are doing that for me. So you can see the line's appearing on the screen, and I just drag this, click and drag as long as I want the line to be. I can use the space bar while I've got it to move it around. So I'm clicking, dragging, holding my mouse, and then I press space bar to move it. And when I get it where I want it I let go, and if I need to adjust it I can. So I want it here, and what do I want this line to be. Right now it's just a solid stroke. It's black because my black is my current outline color. So let's change that first of all. We don't need a fill so I'm gonna set the fill to none. For the outline color I want it to be this gray color. And instead of a solid line I'm gonna change that by going to the stroke panel, this is the icon for the stroke panel. If you don't see the stroke panel you can come up to Window, Stroke. And we're gonna change it from a solid line to dotted. And if I adjust the weight of the line you can see the dots get bigger or smaller, so I think I'm just gonna go with the two pixel, yeah, two pixel weight for the dotted line. Okay, now look how much more understandable that is. Okay so this is the rule that applies here, so it's telling us that this is the full color icon and when you're printing in full color then it looks like this. So we have diverse ladies. When you're printing in monochrome, which is this, then it appears with this opacity, so that we can sort of simulate some different colors even though we're only using one. So let's put another line over here, so I'm just gonna select this, hold down alt or option, and drag it over using the move tool. Okay, let's change the type here so that this is the way, 'cause this is black and it just looks a little bit out of place and I wanna change the alignment on this too. So first thing I wanna do is adjust the alignment. So if this is leaning up against this vertical line it would be nice if this was aligned in a way that would reflect that, and communicate that this somehow belongs with this. So when it's left aligned, I'm not sure that that's happening. So I'm gonna select it and then I'll press T for my type tool, and I'll come up to the paragraph attributes and choose right align, or align right. I'm also gonna grab the move tool, and hold shift, and just drag it straight down, so the bottom of it aligns with the bottom of the line. Okay? So, we also wanna tag, tag this as body copy because this is a different font, if I highlight this and go up to my character attributes in the control panel, I see that this is Times New Roman, and that is not in line with our body copy style. So, let's actually change that and I'm gonna select both of these boxes. So I'll use the move tool to select this one and shift click to select this, and we'll go to our paragraph styles and click body. And now we can't see anything because, if you recall, our body copy color was white. What are we to do? Okay let's recolor it. So with these two selected, let's go back and choose our swatches. We'll tell InDesign we wanna format the texts by pressing the T right here, then I'm gonna select gray, oh it's so much better (laughs). The gray though is not body, that's not part of our body attributes. So if we go to our paragraph panel we see oh my gosh we have another override here and we can be okay with that. We could also, if we wanted to, we could just leave that or we could create a character style. But we're gonna keep it simple. The character style would then sort of override the color of the paragraph, and we would use the paragraph style to choose the font and the alignment and all of those things, and the character style to change the color, but we're gonna leave it with an override. And we lost our right alignment when we tagged it with body so I'll just click away to deselect, click back to get this one selected, and then we'll go and reapply, with the type tool, we'll reapply that right alignment. There we go. Okay that is looking really good. The other thing that we have happening on this page is this is talking about, okay here's the logo, it's built from Montserrat ExtraLight, Montserrat Black, and Regular. So it's just breaking down every aspect. These are the colors that make up the brand in their RGB values and like what color goes where. And then over here we see those different colors and if we zoom in we see, okay here's that color in RGB, CMYK, HEX, and the PANTONE Spot Color. So if you work in print design, you know what that means. It's just ways that you can build color in different formats. But one thing that I left out is how did I figure out what all these colors were, it's a process. (laughs) So you only have to do one and that's gonna be right here for this RGB value. So one simple way we can do that is this color exists here in InDesign, so if I just select something with this color like this color block and I look at my color values, and I see this color, it's R=120 G=22 B=21. So I'll just come in here with my type tool, maybe, there we go, get the type tool in the right place, and I'm just gonna type 120, G 22, B 21. And what is this right here, this type is Montserrat Regular, so this should also be Montserrat Regular. There we go. So I found these values by just looking at the color itself and this color is named with that value. If it wasn't, I could always just come in here and double click this swatch, and then I could actually see the values right here in the swatch options box. And I could change that from RGB, if I'm like what's the CMYK, then I could come up here and choose CMYK and see those values. So that's how I did that. So we could hand this off to someone and say I need you to make my brand piece for a conference I'm attending or whatever, make me some business cards, and they would know exactly what they need to do as far as colors, and voice, and fonts and stuff.
Class Materials
InDesign Style Guide Course Files
Ratings and Reviews
I'm reasonably new to InDesign and i found this class easy to follow and it also helped me get a basic idea of the tools and settings needed to use InDesign for other projects too.
Khara, I can't thank you enough, I needed a quick InDesign lesson to complete a company brochure immediately after I was hired and your course made it possible! Thank you!!
Student Work