Taking Flight: Drone Photography & Video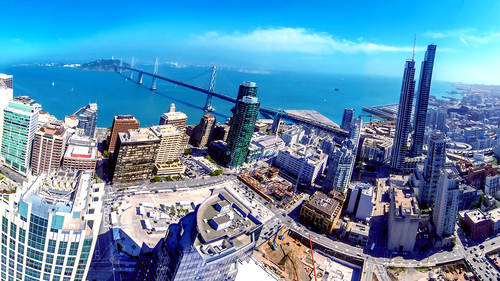 Taking Flight: Drone Photography & Video
Class Description
Drone photography and videography captures some of the most stunning images out there, but the tools, techniques, and gadgets used to capture the action are often confusing and difficult to master. Join Jeff Foster and special guests for an exciting and highly informative class and get a running start at unmanned aerial vehicle (UAV) photography.
In this course, you'll learn how to capture stunning aerial shots with an impressive range of aerial gear – including; 3D Robotics multicopters, DJI multirotors, GoPros, DSLRs and more. You'll get an introduction to the best tools for beginners and see demonstrations of the sophisticated gear used by the most in-demand professional photographers and filmmakers. You'll learn essential skills for controlling a UAV flight; basic flight controls, necessary equipment for successful shooting, planning and lining up the perfect shots, flight prep and safety, waypoint navigation and more. You'll gain an understanding of the production and post-production techniques unique and essential to aerial photography – including how to stabilize video, create stunning panoramic photos, and remove lens distortion in your photos and videos.
If you're ready to explore this wonderful world from a new elevated visual perspective, then this is the course for you!
Guests include:
Colin Guinn - 3drobotics.com
Mark Johnson and Romeo Dursher - www.visual-aerials.com
Stephen Wheatcraft - www.aerovisionpro.com
Peter Sachs - dronelawjournal.com
Russell Brown - russellbrown.com
CreativeLive is proud to announce that Jeff Foster was a Bronze winner in the 36th Annual Telly Awards for this class.   With nearly 12,000 entries from all 50 states and numerous countries, this is truly an honor. Congratulations Jeff!  
---
What You Will Learn in This Course
1. Gearing Up: Intro to Aerial
Jeff will take us through some of the various quadcopters and multirotors that are commonly used in the hobby/commercial photography markets today. Basic concepts of pre-flight prep, safety, equipment, and terminology will be covered for various disciplines.
2. Basics of Flight
Colin Guinn from 3D Robotics joins Jeff in demonstrating the basics of good flight, best practices to improve your skills and get those important shots you want!



3. Practical Application – Commercial Flight
Jeff leads off with some examples of fixed-wing drones used for various commercial and environmental uses, such as precision agriculture, search and rescue, firefighting and land surveying. Colin Guinn shows us how 3D Robotics is already addressing these important fields with advanced technology.
4. 
Advanced Flight for Film Production 
Romeo Durscher and Mark Johnson of VisialAerials.com to show us the S1000 octocopter and how to use it to get those high-definition aerial video shots that filmmakers demand. Stephen Wheatcraft then brings his S1000 octocopter in to demonstrate how he gets beautiful landscape panoramas with his setup. 
5. 
The Future of Drone Flight: Laws 
We will be talking in the studio with drone expert and visionary, Colin Guinn from 3D Robotics about his vision of the industry – where it has come; where it is today and where he sees it in the near future. We are then joined via a live video feed from Maine with drone legal expert Peter Sachs, Esq. To discuss the recent mandates and restriction imposed by the FAA in the US and what that means to the industry on a global scale.
6. Processing Aerial Footage in Post w/ Premiere
Jeff will show us some footage from the previous day's flights as well as some examples that might need a little "help" with stabilization and color correction, using Adobe Premiere Pro CC.
7. Processing Aerial Photos in Post w/ Photoshop
We're honored to have THE Russell "Doc" Brown from Adobe join us for a head-spinning session in Adobe Photoshop CC with tips on working with drone-captured images and what projects he currently has brewing!
8. Processing Aerial Video in After Effects
Jeff returns to turn up the heat in Adobe After Effects to share with us some of his techniques for footage stabilization, lens correction, tilt-shift lens effects and much more!
---
Reviews
This is a great course! This workshop was very professionally put together. This was my first experience with CreativeLive and I was impressed at every turn with how well everything turned out. The content was engaging, the guests and instructor gave out many many useful tips on responsible drone operation... I can't say enough great things about this course. I'll be watching many of the segments over and over again to pick up all of the quick golden tips that were shared, as well as picking up the proper industry terms for types of shots, or piloting techniques. Very impressive! Thanks to Jeff Foster, his guests and the entire crew of Creative Live for making this happen. Simply Amazing!
Not for experienced/informed pilots looking for the next level. It was a good intro for those new to the concept of UAV's in photo/video but never got specific enough about maneuvers, equipment, or shooting styles to be useful. The outdoor flying was a complete mess. Demos of what the equipment looked like, not how to best use it creatively. Glad I watched it live. The chat rooms were very informative.