Targeted Marketing: Connecting with Non-Conformist Clients
Make Your Website More Intentional: Using Words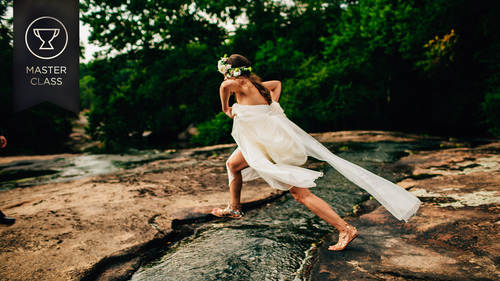 Targeted Marketing: Connecting with Non-Conformist Clients
Make Your Website More Intentional: Using Words
Lesson Info
Make Your Website More Intentional: Using Words
00:00:02.03 --> 00:00:06. The first part is to get your own house in order or 00:00:06.9 --> 00:00:09. get your own website in order so this is assuming 00:00:09.4 --> 00:00:11. that people who are wedding photographers here or 00:00:11.85 --> 00:00:14. watching already have their own website which is awesome 00:00:14.79 --> 00:00:18. great first step andi I'm going tojust basically give 00:00:18.67 --> 00:00:24. you ideas for how to integrate the ways to have reached 00:00:24.0 --> 00:00:25. your couples into your actual site 00:00:27.21 --> 00:00:30. so the first thing is using your words and some people 00:00:30.92 --> 00:00:33. might think that this is a little bit obvious or a 00:00:33.21 --> 00:00:37. little bit elementary but a lot of people I have kind 00:00:37.77 --> 00:00:40. of have a lot of people don't do it as effectively 00:00:40.6 --> 00:00:44. as they could s so you're about me page on your website 00:00:45.17 --> 00:00:47. I learned this when I was planning this class...
with 00:00:47.91 --> 00:00:50. my producer he told me that you're about me page is 00:00:50.6 --> 00:00:54. the most visited page on anybody's website more than 00:00:54.64 --> 00:00:57. your portfolio more than your blawg it's the about 00:00:57.44 --> 00:00:59. me paige because when someone's hiring you to do their 00:00:59.79 --> 00:01:02. wedding they want to know who you are as a person 00:01:02.57 --> 00:01:05. they can look at your photography most people aren't 00:01:05.09 --> 00:01:08. photographers can't tell as well like the nuance of 00:01:08.28 --> 00:01:10. different photographers they get like general ideas 00:01:10.37 --> 00:01:12. but they don't see the detail they really want to 00:01:12.61 --> 00:01:16. know who you are as a person and then go from there 00:01:16.67 --> 00:01:20. so you're about me page is a way to bring your clients 00:01:20.89 --> 00:01:24. they're trying to reach into the conversation on dh, 00:01:24.44 --> 00:01:27. just a note about that again, going back to the idea 00:01:27.84 --> 00:01:30. of being of fear and worrying that you were going 00:01:30.75 --> 00:01:33. to alienate people. Um 00:01:35.27 --> 00:01:39. I fully acknowledge that if you are going on to your 00:01:39.24 --> 00:01:43. page and if you're deciding teo teo take your business 00:01:43.4 --> 00:01:47. in a direction for example of being vocally inclusive 00:01:47.36 --> 00:01:52. of gay couples queer couples there's a chance that 00:01:52.24 --> 00:01:56. your that some people are going to run away and that 00:01:56.01 --> 00:01:59. depends a lot on where you are in the country it depends 00:01:59.75 --> 00:02:01. a little bit on how established you are personally I think that the benefits of that outweigh the risk but that is a personal decision that a lot of people have to make and if you're really struggling for money I'm not going to tell you to do anything that's going to alienate your audience however, if you're the kind of person who's like I believe that gay people should be able to get married and I want to shoot gay weddings um and you put that on your site you're going to be bringing in an entire population of people who have really been left out of the wedding conversation and you're going to bring in straight people who also believe the same thing into your into your orbit and maybe potentially you're going to take some people out of your orbit and some people are going to be running away but really you're going to be expanding your audience and expanding your reach so that's kind of a risk that people have to run at their own comfort level, but I truly believe that being out there and open about who you're trying to reach is on ly going to bring more people in versus alienate people one example that I came up with is say for instance you're really into shooting weddings of people who've been girl scouts like you just really love girl scout cookies and you were like a girl scout as a kid and you're just like you love camping at whatever so you love girl scouts if you have on your website like my favorite weddings to shoot our girl scouts I was a girl scout it was awesome whatever when you have people visiting your site and they're girl scout or they were one there going like yeah girl scouts all son but if you have other people who are like oh, I wasn't a girl scout but I wish that I wass or like I love girl scout cookies or other things that don't directly it's you're not directly talking to them but they see that you're talking to people that they like those people are coming in too so you're getting the people that you're specifically talking to as well a cz um and adjacent population of people who might not be as specific is that but who still kind of like it and then if you get another person who's coming in being like I need a wedding fiver oh the girl scouts screw the girl scouts I don't like them then maybe you didn't want to shoot their wedding anyway because you love girl scouts justin example so yeah, so some examples for for doing the about me paige if you want to work with career couples, make sure that you are straight up about it and say I you know, excited about marriage equality or I loved too she shoot couples regardless of gender or any other phrase that you can think of that addresses that is essential because queer couples now that there is kind of being brought into this whole wedding thing are looking for people who are speaking to them because there's a lot of photographers out there and if you're not specifically saying hey, I want to shoot you as well they don't have any way of knowing if you're you know, not the right photographer for them for whatever reason or if you're a person who supports what they're trying to dio dido same thing for like if you want to do cultural elements, make sure you mention that the couple who the person who wanted to do a local wedding but with international elements I would say, you know, emphasize that on your about me paige you know, I love different cultures I'm so excited about shooting weddings that incorporate like global perspectives, you can have a lot of creative ways of doing it, but the point is you have to be specific about what you're trying to reach on dh who you're trying to reach because those people are looking for a photographer who's talking to that because they're like I said they're being left out of the usual conversation and they're looking at pages upon pages of white hetero typically rich pictures of people that looked like that that fit that description and when they are hearing about themselves on your about me page they connect with that and that's how you that's how you reach out to so I have two examples of about me pages that completely nallet you guys can't read this because it's so tiny eh so I'll just read it for you read the highlighted prices for you this is a photographer named kristen marie she's a total genius and I love her she says here about me I'm kristen I try to shoot a bit differently than your traditional bride and groom alter photos there's no need for the and then it says you are quirky genuine, steadfast different significant loving, respectful and then it's kind of like a list of adjectives that describe the couples that she wants to reach so if somebody is reading their set her sight and says oh yeah I am one of them sarcastic look oh I am a little bit sarcastic they they understand that she's talking to them specifically does that make sense? S o she specifically says I'm doing things differently she uses really specific language as two in what way those couples are different. Andi I think that that's really effective and I I really love that and you'll notice if you look in her portfolio a lot of her couples kind of have this like art seed they just it just seems different it's kind of hard to explain it's hard teo verbalize but you'll you'll see these elements that she's describing here in her work one more example here this is oriana corrine who's another amazing photographer and someone who helped us make catalyst which is totally awesome um she says here as an artist I've made it my duty to reflect the way we celebrate marriage today I'm most interested in the ways in which we subvert disrupt and ultimately reclaim what marriage khun b for each and every one of us so to me that speaks to somebody who is maybe a little bit critical about marriage or not really sure if they want to get married feels like maybe marriage is a little bit uncomfortable for them or they're not really sure how they fit into it because there are a lot of couples who feel that way especially in like this more modern time where you know you don't have to get married at all if you don't want to so there's a lot of there's a lot of tension there and so she sort of calls out that tension and says if you're feeling a little uncomfortable or you want to disrupt what traditional marriages, I'm the person frio and then she does it here, as a list of her favorite things, which is kind of like a fun take on it on dh, she goes like all out in terms of her personality, which I really, really like but it's, very bold. One of the things that she the first thing on her list here is called trill wave feminism, which is like an extremely modern phrase that people use for a feminism that's inclusive of all different races and all different gender expressions. Wedding space disrupting, which is one of the phrases that she helped us create for catalyst on dh, then other things like music, her pets activity. She likes things like that, and this has the exact same ah effect as the previous one with the adjectives, except for it's, a bit more specific. So if you're someone who's like, oh, yeah, I really love whiskey and, you know, comic books, which are things that are listed here. You see yourself in this description and you're like, got it she's talking to me. So a couple of strategies for this beyond doing you're about me page which again everyone's looking at your about me page and it's super super important that you're about me paige reflects the people you're trying to reach but these air a couple different blawg ideas in order to sort of hammer that home in a more fleshed out way because you're about me page while extremely effective and very looked at it shouldn't be very long s o if you and this also helps you kind of continue the conversation into a blogged so these air some different ideas you can describe your dream wedding so you can talk about that gay wedding at a farm or you can talk about wanting to shoot a speakeasy nineteen twenties deco wedding and just you know, putting yourself out there by saying this is what I want to dio this is what excites me this is what makes me feel like wedding photography is the thing for me and this is what gets me out of bed in the morning is the idea that I might be able to do something like this so when that person who's having in nineteen twenties deco wedding comes along to your website they're like, oh my gosh what I'm trying to do is what this person really wants to dio so it works, you know, it's basically the idea still of talking directly to the people that are trying to reach other things like doing a funny quiz writing about your three favorite weddings that you have shot hoops shot truck doing doing a miss connection style what your portfolio needs I really encourage people to be as creative as possible and to really let your personality show there are so many wedding photographers out there who's about me pages just like hey, I'm so happy you're here and I'm really excited to talk to you and photography is my passion and I love making people look beautiful and all of these kind of like really generic things that's not helping you reach the people you're trying to reach that's just showing that you're a nice person who has a business to me it's more important to have a show a lot of your personality and a lot of what you you know putting out there who you really want to work with and what those people look like and what they d'oh so when those people come to your website they're like this is totally me and if other people come to our web site and they're like that's not really me but I'm into it like I really like this you're going to get those people to so these are just a couple different ideas write a manifesto which is basically what I did and it was extremely scary my struggle with my about me pages I did do a manifesto and is extremely long and you just said you want to keep it short, how do you do that log and then add links like and here's more? Yeah, so on my page, I don't think there's a way for me to pull up my page, but I have, like, a sort of shortened version and I lead off with, hey, I'm carly, I'm a feminist wedding photographer. If you want the full explanation as to what that means, click here and then it brings them to the block. But after after that little blur by just give him a couple of bullets and it's basically, like I care more about your family saying hey to each other than your dress hanging in a window. And I really want to capture people as a couple and not like just the bride and just kind of like the the most essential things, and then you can give them a chance to read more once. They're kind of interested on a blogger other kind of like long form things that makes sense. Thank you for asking a question. Um here are more tips very blawg so make again make it as specific as possible and I think I know I feel like I'm hitting this like extremely hard but the more specific you are the when those people who are left out of the conversation read that it's such a meaningful thing to them that that that like brings them into your orbit in a really special and important way I'm going to tell you a story in a minute about that but just try to be a specific as possible and remember that like unless somebody really hates the girl scouts saying that you love girl scouts isn't goingto isn't going to turn people away or if you really love hiking or being outdoors and you wantto on ly work with couples who are getting married outdoors if you say I really loved the outdoors and someone's good having an indoor wedding they're not necessarily going to run away but if they're having an outdoor wedding and they love the outdoors they're going to feel the connection with you and they're going to reach out to you obviously once you have all this content that's reaching out specifically to the couple's you're trying to reach you can put it on pinterest obviously social media blasted on instagram and all that on dh then think about where on the internet are the are these couples hanging out? What are they reading so we'll get more into that in a second.
Class Description
Not everyone aspires to the big white wedding you'll find on the cover of the major wedding magazines. Find out how to connect with a more eclectic client base and reach out to folks who do life differently in Targeted Marketing: Connecting with Non-Conformist Clients with Carly Romeo.

There are a lot of ways to put together a wedding and even more personality types and preferences among the people who throw them. Find out how you can reach out and offer your services to LGBTQ couples, interracial pairs, feminist brides and grooms, interfaith duos, and other convention-bucking couples in this fun and approachable class.

If you are nervous about communicating across differences, don't want to offend, or simply don't know where to start – Carly can help. She'll share some essential tools for staying authentic to yourself while opening up your business to wedding clients who do things their own way. You'll learn how to be more inclusive with your marketing and confident in your communication skills.  

Reviews
Good energy on Carly. Good advices and alot of new ideas came to my mind! Recommend!
Loved this course! Thank you Carly!