Decks & Moodboards
Alex Strohl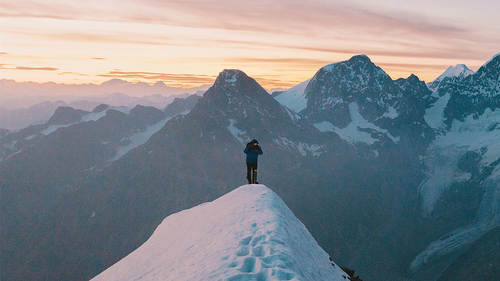 Decks & Moodboards
Alex Strohl
Lesson Info
35. Decks & Moodboards
Lesson Info
Decks & Moodboards
(bright music) The difference between moodboards and decks. For me, a moodboard is about a visual inspiration so I'm taking an idea to a client, I'll build a moodboard with what the project will look like and sometimes I don't use my photos, I'll use photos from somebody else if it's in a place I've been, I can't make that stuff up so I'll just use anything I can find that fits the visual vibe I want to go for. For a deck, it's different. A deck is more about selling. The deck has deliverables, some cool lines about yourself, it's more about making credibility. Just showing what you can do and decks can be more generic. You can have a deck for outdoor brands, you can have a deck for automotive brands, you can have a deck for camera brands. But the moodboards are very client specific so when it comes to moodboards, I'll just use I'll just make them on demand for a project and just visual inspiration and just having a general story of the project we're doing. So they get an idea quickl...
y in ten pages max. And the decks, I just usually have them for each industry I want to talk to. Decks and moodboards are super strong when it comes to selling yourself. So, spend time making them. Watch online for other decks and get the inspiration because it can really sell. It's a document that gets attached to the email or PDF and the client can share it internally with all their team they can print it, they can hand it to people. If you don't have that, you're missing on that little Letterman that people can talk about and share internally at the company. So, juts invest big time in decks and moodboards. So what do you put in a deck? In my deck, I have a bio, quick bio some profile pictures, some headlines from publications that have featured my work some of my strongest photos from that industry I'm pitching, five, six images. Some thumbnails its a grid of photos that can show more diversity, more details and close ups. Then have some social media stats, Instagram, Facebook, just audience generic numbers. Then I'll just have the contact info, email, phone number, and that's it. Fifteen pages max. Spend a few hours doing it because it's worth it. Keep updating it because that will give you a huge edge over somebody who doesn't have a deck. Moodboards, they should be short and sweet but super inspirational like dream stuff, so I'll source images from the place I want to go. Then I'll build a story around it. Maybe a three part story, it's very Shakespearian but what is it I want to do in that place? Am I going kayaking? Surfing? Climbing? Biking? So, let's say I want to kayak, let's say I want to ski, and let's say I want to climb. Well, I'll build three sections in the deck for each of the things I want to do and have matching images that show the vibe I'm going for. And it doesn't have to be that you're going to recreate these images you have in the deck. You just give a sense of the direction you're going. The client's not going to hold you like oh we don't have the same looking photo. You just give them a feel. You get them excited and then you do your thing. Where do I get my images from? Well, it's usually a local that lives there, I'll use them for their photos and I ask them if I can. But if you can't reach out to that person, I think it's okay to use their images in this private context because you just want to show the vibe. And, I use Tumblr, 500px, Google Images sometimes when there's nothing on that place. Like Kyrgyzstan for example, there just isn't much there. So whatever I can find that'll give me a good sense of place, I'll just use. For the inspiration in your moodboards, that's where we come back to community because knowing who shoots what and where is key. If you pay enough attention to this photo community, you'll know somebody in India, somebody in Bangalore, somebody in Philippines, in Japan and even if you know just one person there, you can pull from their work to make your moodboard. And then bonus is you get to hangout with them when you go there.
Ratings and Reviews
There's a lot of useful information on how to start up your bussiness or your carreer as a photographer. Great advices, he shows his personal workflow, from the beggining of a shooting till the end. That was what I was looking for. The editing process maybe could be reduced in only one chapter. Worth it.
Student Work