Managing Your Life Budget
Alex Strohl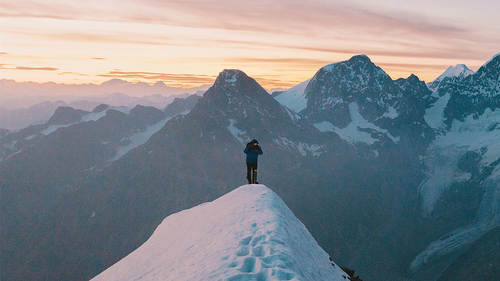 Managing Your Life Budget
Alex Strohl
Lesson Info
26. Managing Your Life Budget
Lesson Info
Managing Your Life Budget
(light music) (camera clicking) So, this is module three, which is all about business. Working with brands, and getting noticed. How can you transform your career, or even start it? Years ago, I had this photography teacher in university, who warned us, and he told me that, it's only a small part of the equation, being a good photographer, and the largest part of the work is actually being a marketer, a bookkeeper, an accountant. You're just dealing with people who are your clients. So, the more friends you can have, the nicer you can be, is almost more important than being a good photographer and it's funny to say that but there's way more talented people than me out there, but they're not working as much because they're lacking in other skills. Before I even got into this, I stopped and started to think, What is it I want to do? What's my ultimate goal in life? Am I chasing money? Am I chasing experiences? What is it? So just if you haven't done that yet, it's fine. And it took me ...
a while to understand it, and I'm still learning it. But if you haven't done it, don't feel bad. Just take a minute to think why do you want to make this your work, and what is something you can track as progress. Technically, that means that means you're setting up income goals. How much money do you really need? Cause if you don't have any parameters, you're gonna be working forever, cause you'll never have enough. So deciding how much you need to live is important. Deciding what's your long, long-term goal? What's your life goal? For me, it's all about having healthy and loving relationship with people. That's all I care about. So whenever I'm going to make a decision, do I wanna work with this person? Do I wanna do this job. Well does it get me closer to my goal, which is to work with people I like, yes or no? If it doesn't, then I'd rather not do it. If I have this parameter of financing. Do I have enough money to live? Then, I can make decisions in a more educated way. One more thing, is that I wanna run my life's budget like a business does. So I set aside money every year for guilt-free spending, money aside for education, so I wanna make a workshop, I wanna go take a class somewhere, I'll set some money aside for that. On a different account, just so whenever I need to use it, it's good, it's already there for me. It's pushing me to learn more things, and to invest on myself. So just have little buckets. Create different bank accounts in your own online banking, where you can save money there automatically. So I'll set money aside for guilt-free spending and trips. I'll set money aside for education, whenever I wanna take a class, a workshop, or anything else, there's money aside set for it already automatically. So it's on a different account, whenever I need to use it, I'll use it. I don't have to think about it. It's there for me, and just knowing it's there will push me towards learning more things, because I already have a budget for it, I better use it. Even saving for retirement is a big deal for freelancers, and there's a lot of information out there. A guy called Ramit Sethi has a good class on that. So google him. So to recap what I did when I... Photography became more serious, I set some goals even financial goals. So just setting up a goal is a good way to make better decisions. Also, even a financial goal are important so you know when to stop and to track success. But I just keep it to whatever I need. It's nothing too ambitious. So one thing that I learned a few years ago was how to save money. I don't think it's something that we're taught. So what I do to save money, put money aside and I did that way before I started to make enough money to even start doing it. And when I talked to friends, you know, they're like, "oh, well. I'll save money when I make some more money. You know, like I'll do that later cause I'm not making enough money yet just to live." I totally understand. It's not an easy place to be. But I think that, and that's Ramit Sethi, actually who gave me this trick is that if you approach it with maths and science a cold blooded approach to money is let's say you get a cheque for a thousand dollars 10 000 dollars or 100 dollars, it doesn't matter. If you save, let's say, 20% automatically of that amount to savings or to learning or travel. Well it's happening before you even know it. So you set up a system and you're not doing it manually. You set you that transfer every month from your online banking you know, from your check in, it goes to your savings. Number one which is for learning, savings, retirement. So just having a system in place will get you there. I think that goals are good but to achieve goals you need systems. So that's one of the systems I put in place. Is I automatically save money for everything I need. So marketing learning, et cetera, (light techno music)
Ratings and Reviews
There's a lot of useful information on how to start up your bussiness or your carreer as a photographer. Great advices, he shows his personal workflow, from the beggining of a shooting till the end. That was what I was looking for. The editing process maybe could be reduced in only one chapter. Worth it.
Student Work