The Interview Work Flow & Finding the Magic
Tania Ketenjian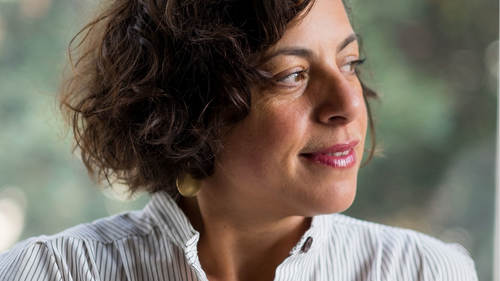 The Interview Work Flow & Finding the Magic
Tania Ketenjian
Lesson Info
8. The Interview Work Flow & Finding the Magic
Lesson Info
The Interview Work Flow & Finding the Magic
This is my favorite part. The workflow, well, the actual interview and what allows for finding some magic. I do prepare questions. But I really think that the questions are just a safety net. They're there, we're gonna talk about what I envision the structure to be on say a piece of paper. You've written out your questions, you kind of know a sense of what you hope to get out of this person so, I'm gonna take an artistic stance. When did you do your first painting? When did you first realize that painting was something that resonated deeply with you? You can start thinking, you can have a certain structure and clear questions. Or you can have even specific questions. Tell me about that piece you did in 1987 Times Square. But they're really just a safety net. Because something the interviewee is going to give you answers that you don't expect. And you don't want to just go back to your questions. The questions should only really go, you should only go back to the questions when you're f...
eeling like oh my gosh, I don't know what to ask next. There it is, my safety net. Ideally, you want to have a paragraph. This is how I do it. I have a paragraph of what I hope to get out of the interview. In a general sense, I hope to get out the person's aspirations, what happened when they had a career change, and what they've discovered since. Just sort of an arc of what that, how that flow is going to go so that you, can come in confident with that. Without having to remember the details of each question. And then the structure. So are you going to start with their early life and then the middle, and now. Are you going to focus on one incident and have them describe that one incident. And then go from there. What is the structure gonna be like? Almost like a timeline of, of them that you then adopt into the interview. First, you've got your questions. Those are at, I would say at the bottom. You've got the flow, which is in the middle. And then what you hope to get out of it at the very top. And then this is important. Allow for all of this to go right out the window. (laughing) And actually be excited about it going out the window. Because, recently we did a series on Iran. And for LACMA. We were going to learn about Iran through women in Iran, and we had this whole structure. It was gonna be women, it was gonna be a little bit about oh the revolution, and what kept on coming up in every interview was poetry. Every single one. I had to throw out all the ideas of what we were gonna do and focus simply on poetry. Which actually was very enriching. But you have to allow for that. Because when you are in a interview situation, and something comes up that you didn't expect and you get excited about it, it gets captured in the audio. And when you're excited about something then the listener gets very excited about it too. You've got your questions, and you've got what you hope to get out of it. But that is all secondary to the magic that happens between two people in a a given moment of time. So, throw it all out.
Ratings and Reviews
I've just started a podcast - Beyond the mountains podcast. I am really enjoying the process. This is a great class for anyone who wants to become a better interviewer. I am 6 episodes in and I am learning that the magic starts about 15mins into the interview. Now I am trying to be an active listener and just have the courage to go off script and see where the conversation goes. This is a good class for any podcasters and interviewers.
What a great class! The instructor is wonderful to listen to and her samples of interviews are excellent. Definitely recommended.
I loved Tania's passion. I was curious to take a class about the Art of the Interview. I'm glad this class exists. This course is the perfect companion to my copy of Lawrence Grobel's The Art of the Interview.
Student Work