Daily Routines & Systems of the Working Photographer
Alex Strohl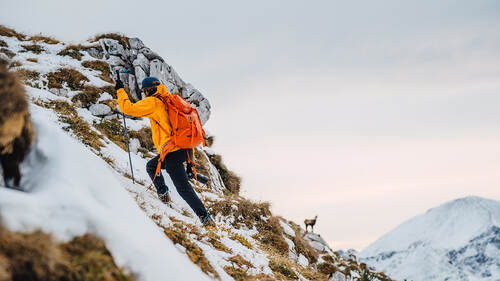 Daily Routines & Systems of the Working Photographer
Alex Strohl
Lesson Info
4. Daily Routines & Systems of the Working Photographer
Lesson Info
Daily Routines & Systems of the Working Photographer
(bright upbeat music) In this episode, I share an overview of my daily and weekly routine. So, you can see how I get things done, and how you can build your own routine. Now, before I start, I'd like to address the fact that most people think of a routine as a bad thing. It keeps you from doing exciting things. It leads you to live a boring life. But I'm gonna give you what a positive interpretation of routine is. And to me, it is something that allows you to get things done. It is a set of rules, and systems, and constraints you create for yourself, to actually move along. And I think this system is something that keeps you on track, and it prevents you from sleeping to lower standards. So, our first share have built my own routine for Life in Photography, and then share with you how you can build your own. (gentle music) So, let's start. In the morning, I rise between 8:00 and 8:30. I literally just grab a big glass of water, chuck it down, and go do some breathing exercises. Wim H...
of is a really cool routine that it takes me half an hour. It's just a set of breathing exercises. And it really makes me feel awesome actually. It also allows me to be, at least I notice a difference when I'm outdoors running or skiing. It just makes me feel good. And I feel like it increases my breathing capacity. After that, I move on to breakfast, have a big, big mug of green tea with my tea. I'll have some oatmeal, and some Wesley, and some granola, with some coconut milk, and whatever fruit is in season. Now it's winter, so it's a peas. After breakfast, I get on into my little log book. So, it's actually right here. It's where I write. It's pretty simple, ship captains used to use it back in the day to track their progress. I just use it to know couple things. I'm pretty have a pretty bad memory, so I use it to know what I've done the day before. So, every morning, I write about the day before. What did I do? Who did I see? And what do we talk about, and where do I go? Pretty factual stuff. It's one little page, it takes me five minutes and done. After I've done this, I finally allow myself some phone checking time. So, this is, notice it's about 9:30 now, and it's the first time I even check my phone. 9:30 to 10:00 am, I get onto the meet of the day. So, I take my other little notebook, and I usually get down on my to-do list. What am I gonna do this day? And I strongly recommend having a short to-do list, 5 to 10 items that accomplish day in and day out, that will put you far ahead of anyone else. Just if you have the small focus list, and you get it done every day, and that's it, don't drag stuff for the next day. So, the to-do list can include, get back to this person by email, edit this photo. It has to be very specific. It can't just be, make a media kit, that's not a to-do list item to me. A to-do to list item would be, pick a layout for the media kit. Second item, pick images for the media kit. Third item, do some research. And then that's much more actionable. I can also include physical activities like doing some yoga or going out. I'll just put that on what I wanna do today. And I can even write what time I'm gonna do that, that feels really good. Now, it's 10:00 am, so between 10:00 and noon, what I do, is actually get moving, right? So, if this is a workout day that's Tuesdays, Thursdays, and Sundays, then at that time, usually 10:00, I go out for my exercise. So, typically, I like to go uphill. In Montana, I have this ski resort that's outside, so I just literally go up as fast as I can up the mountain, or ski up, walk up, depending on the season, and head down back, shower. So, that is an exercise day. If this is a non-workout day, so it'd be a Monday, a Wednesday, or a Friday, I just get to work. So, I pick literally the hardest item on my to-do list, and I get it done first. That's to me, like making the hardest thing of the day, first thing, makes me feel really good. 'Cause after that, it just gets easier from there. Noon to 1:30, this is a pretty cool part of the day. I shower, get down to lunch. Little note on lunch I prefer to have lunch with friends, or family just because it's such a nice thing to share a meal. So, I try to never eat alone. If I am on a trip somewhere, I'll try to meet up from a local, you know, with a local from the city, or a client, whatever. I just like sharing food with people. And I think we should all do that more. 1:30 to 2:00, this is cortado O'clock. Need I say more? So, I have a good coffee, I talk with friends if they're here. I'd pick a good magazine or a little book. This is just permission to chill and do creative things. Yeah, it's just a good time to let the mind wander for me. 2:30 to 7:00 pm, now I check my emails for the first time of the day. So, notice, that I don't really check it in the morning. I think that if I do so, I have to check it multiple times throughout the day, so I'd rather check it once. And usually, after 2:30, every email, every important email of the day has come in. So, it prevents me from checking it five times. With the inbox, I take care of what needs to be taken care of. I either respond or archive, a.k.a delete. (chuckles) I can't reply to everybody. Or simply I just delegate it to whoever can do this thing if I can't do it, or just pass it on to somebody. The important thing, is that I wanna act when I see something. And that, in the philosophy part, I talk about never touching things twice. So, if I see an email, I'm gonna act on it and move on. Then I keep working through my to-do list until it's done. And usually, by 6:00 pm, I'm done. If I have planned my day accordingly, sometimes I overextend myself and sometimes I don't plan enough. But if I've done my day accordingly, by 6:00 pm I'm done, and I can just get to some creative things like editing photos and just working on some writing. That is a equal part of the day. And I haven't talked about Saturdays. But on Saturdays, I dedicate these days to either spending time with friends or family, and getting only creative work done. No emails, no tedious tasks, only fun stuff. 7:00 to 9:00 pm, well that's dinner, free time, I just eat and relax. 9:00 to 10:30, this is actually when I feel the most creative. I have a bunch of ideas after dinner, I don't know why? Maybe 'cause I'm full and I'm just relaxed. But I feel like I get pretty creative, and I like to carve out some time there to write out new ideas or do some research. Whatever I'm fired up about, I give myself that half an hour to an hour to just have fun with it, permission to be creative. And if I'm not feeling creative, this just happens, I'll just watch a movie or watch a show with Andrea. 10:30 to 11:30, this is my alone time. I'll make a tea, and just grab a book and just read. I try to read every day, at least half an hour. And in the weekends, maybe get two or three hours in. A couple of items I wanna share to help you with your own routines and systems. This is a set of questions I've developed with the help of Ryan Holiday. I've actually picked up some of his own things and made a screensaver from them. First one, when you're facing any task, ask yourself, is this essential? So, do I really need to do it right there? Maybe it's not, just ask yourself that. Second, ask yourself if generally day in and day out you're progressing? I try to ask myself every day, am I really progressing at this or am I stagnant? Anything that's stagnant, it's dying. And then third, what do I bring to this thing? So, whatever you're I'm contemplating between making a thing, a task, or whatever that can be a project. I'm always asking myself, what do I bring in? If I don't have a good answer, then what the hell am I doing it? Another big one is I'd recommend you to save time in the mornings to just be with your thoughts. So, don't check your social media, or your emails straight in the morning or in bed, please. I've done that for a long time, and I've really benefited from not doing that. Big guy, (chuckles) big one. Read a bunch. It's not like, if you feel bad about reading or you have trouble finding time to do so, just remember that you're doing work when you're reading. Sure, it's pleasurable work, but it's still work. You're educating, you're cultivating your mind with ideas that will maybe in one year, come out and benefit you immensely. And maybe the biggest is leave time for deep work. So, carve out time where there's no dinging and buzzing from computers or laptops, or people interrupting you to just do deep work even if it's once a week. In the weekends, I don't stick to a schedule unless I have to obviously. Some of the things I do, is take care of admin stuff like life stuff like insurance or all the admin things that I don't really enjoy but need to be done. And then, the fun stuff. You know, I go on adventures, I read more, I journal more than in the week. And I also spend time doing some personal development, whether it's taking lessons or improving a skill. I really like learning and improving. And I think we all do, right? So, the weekends are a perfect time for that. Some ending notes. When I'm on a shoot, I rarely can stick to my schedule right. And it's important, first I was frustrated, right? But it's important to know that it's fine. When I'm on a shoot, I'm just getting the shoot done, and that's what matters most, that's it. Doing my shoot, my schedule go second. So, if you're feeling stressed out because you're not sticking to your little schedule, you have a journal when you're on this shoot, that's fine, you'll pick that up when you go back home. Some words of caution. Note that this schedule is what works for me. I've honed it over the first six years, and I constantly adjust it slightly. So, don't just go and sort of copy the schedule and make it yours, that's probably not gonna work. So, if you're an night owl, for example, well this makes something that allows you to work at night. Just you have to know yourself to build your schedule, and you do that to practice. So, yeah, make a personal schedule that suits your life needs. (gentle music)
Ratings and Reviews
A helpful combination of mindful and technical! I loved all aspects of the lessons Alex taught in this workshop! They were well thought out, specific, and easy to follow. Each category had numbered lists of steps, followed by more specific descriptions of them. The lesson about the art of negotiation, as well as the one out in the field with his dad were both full of really helpful first hand knowledge. (Also, side note: loved how his dad did NOT care about the production hahaha. Just a man about his business. A perfect example of someone you document and direct when you can!) The only reason I didn't give this five stars was because of the uncut interview episode with another photographer about how to find motivation. It was the longest episode, but there wasn't a lot of content there, and the video was really drawn out considering how much was actually being said. Maybe if the person being interviewed had been given an idea of the questions before hand, or if all the dead space had been edited out in-between, it would have felt like a little bit less of a filler? That being said, I really enjoyed this course overall and got a lot out of it! Well priced, and I would definitely buy again.
Phenomenal guide to find YOUR reasons to be better This might be my favorite workshop from Alex. He shares amazing insights and provides frameworks to help you understand the why behind what you do, and plenty of valuable advice into how you can improve or find your own motivations. Loved this one.
Absolutely amazing. You can see the works these community put in this course, is simply amazing and incredible. Inspiring is the right word!
Student Work