Shooting the Same Place In A New Way
Dan Tom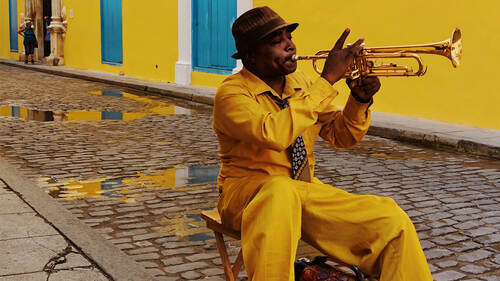 Shooting the Same Place In A New Way
Dan Tom
Lesson Info
6. Shooting the Same Place In A New Way
Weather, light, and timing changes the mood of our images. Dan Tom takes us through the strategies to photograph the same places and people in new ways.
Lesson Info
Shooting the Same Place In A New Way
(air whooshes) When I first got Instagram, I started noticing a lot of people discovering a lot of photographers particularly in the Bay Area and it became like an inspiration source for me because they were shooting places in the city that I grew up in that I had never seen before in my life. (chuckles) And I slowly kind of... My interest kind of peaked and I was like, "Where is this place?" And so when I... I was still living in LA at the time but when I would come back four to five times a year to visit the Bay Area and visit my family, I would always make a point to try to hit up a new spot. And so the more and more people that I saw shooting the Bay Area and particularly San Francisco everyone's kind of going to the same places 'cause there's only so many places to go to in the city. And so what I was trying to figure out was like maybe if I were to go to these places, how to differentiate myself from what I've seen before. And in some places there's limited spots to get differe...
nt views, but in some places you can pick different vantage points, you can walk around more, you can explore the area a little bit but my main focus was to shoot the same place but with the ideal weather conditions. And so that was my angle and my goal, to differentiate myself from the rest of the photographers that were already shooting the same places, the popular spots in San Francisco. I came across this one photo one time and I saw, I think it was Elaine, my friend, Elaine, but she had gone to this place and I saw it was just literally her. She was standing on a rock and all you saw was the sky and she was above a layer of clouds. And that was the first time that I had ever seen a photo of Mount Tam. I was like, "I have to go to this spot." Like, "Where is this spot?" After seeing those specific conditions with the low clouds and her being above the clouds, and you're just kind of on top of the world. Tam is like the highest point in Marin county or in the North Bay so you really get to see everything below and you get to see the city in the distance. You can see the water, the ocean. It's just a spectacular place. So that's become my favorite place to shoot sunsets. And I've probably been there, by now, like 30 or 40 times. It's about 40 minutes north of San Francisco. So one example of a place that I had seen plenty of photos of is Mount Davidson. And that's just a hill located near West Portal in the city. And the best conditions for that area, because there's a lot of tall trees and you can kind of... There's this ledge where there's this fallen tree and it became a really popular tree that it was big enough where people can hang on and sit on, but there was something really special about Mount Davidson in the fog. And if you know San Francisco, fog is very, very available here and pretty much it's foggy most of the year. Sometimes it burns off in the day, but in the mornings, in particular, I would try to go there for sunrise and try to get fog when the light comes in. That was like my goal to shoot Mount Davidson. And so that was an example of how I would try to shoot a particular place that people had taken plenty of photos of and then maybe trying to spin it in a different way. Another place that I would see is, sometimes depending on the location in the city, for example, the Golden Gate Bridge. There's lots of different vantage points you can shoot. You can shoot the bridge from the city side, you can cross the bridge, shoot it from the North Bay side. So I just did a lot of... I probably went to each of those places probably over 20 or 30 times, and what I've come to learn is that you're always gonna learn more each time you go. But you have to put in the work. You have to put in the effort, and I think that's the first step. So if you really wanna try to get the photo that you're really looking for you do have to put in that work. You do have to do a little bit of research, maybe see what angle would be the best to shoot this place at or the object that you're shooting, depending on the light. Is it better for sunrise? Is it better for sunset? Those are all things that you have to consider with photography and with anything really. The more work you put in, the better results you're gonna get. And for me, putting in the work was really doing the research about a place before shooting, maybe referencing other people's photos, seeing what they have captured, and that all provides a contextual element to what you might wanna be shooting and give you an idea, before you actually get to a place, of how you might wanna shoot it. It also gives you a point of reference in terms of how you might want to differentiate yourself from other photos that have already previously been taken. But I can't emphasize this enough, the more times you go... I think it takes a lot of work, it takes repetition. I can't tell you how many times I've been to a place multiple times, different times of the day but I might only really love one photo from that 10 times of going to the same place. Don't settle for photos that you're not sure of or you might not really love. I think it's important to always post, if you're thinking about posting in Instagram or showing people or you really wanna build a portfolio, to really just showcase the work that you really love. So then we went over a few tips with shooting and prepping and maybe a little bit of more prep work this time, but I just wanna encourage you guys to not get discouraged. You're gonna have photos that you're not gonna like. That's just kinda par for the course. I always have photos... I have thousands of photos that I've taken that I don't even use or later I look back on to reference, but that's all part of the growth process. That's to be expected. You're not gonna have... Every single photo you take is not gonna be a photo that you love. So keep trying, keep giving it an effort and you'll get there.
Ratings and Reviews
Great Workshop - Not just for iPhones This workshop was concise but packed a lot of great information. The things taught can not only help you take better photos with your iPhone but can also be applied to any format of photography. I particularly enjoyed the section where Dan edits viewers photos. I feel inspired to get out and try what I learned.
I like the way Dan Tom sees the world and how he is inspired. This is more than a workshop for me. I felt like I was in an other world. This workshop also gave me a lot interesting informations about photography. To be honest, I watched this workshop 4 times already.
Made me appreciate taking everyday pictures with my phon and express myself daily
Student Work