Class Introduction
Sarah Doody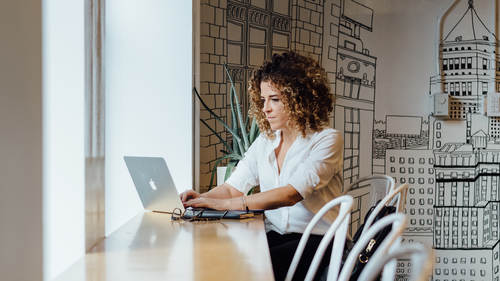 Class Introduction
Sarah Doody
Lesson Info
1. Class Introduction
What is the purpose of design? Discover the world around you from a different point of view and learn how design manifests in your daily life. Sarah lays out what you will learn in this course.
Lesson Info
Class Introduction
I wanted to start with a story this morning. And, how many people have been to Las Vegas? I'm sure many of us have. So I've only been to Las Vegas once, but a few years ago I was talking with my aunt. And she's an architect, she's worked with Frank Gehry, and she works on some secret things at Google right now. But, we were somehow talking about Las Vegas, and I'd always heard this myth, maybe, that I wanted to confirm with her, that Vegas casinos pump oxygen in to keep you inside. And, the apparent truth is, not true. Just even from logistics, can you imagine an oxygen tank that big? I'm not sure how that would work. So that is not true, but what they do do is they do have a much lower temperature to keep you alert and awake. And I'm not sure if you realize this, but there are a lot of other things within a casino that are designed to keep you inside, spend more money, and hopefully never leave, basically. So I want to run through some of those. So the temperature is definitely one th...
ing. The second element here, so if you've ever been inside a casino, and maybe you're with some friends, and then you say okay, I'm gonna go get a drink, and you turn around, and you're completely lost. I know that happened to me, and I remember circling around and around trying to find my friend. And it's not by accident, it's by design. Because these casinos are designed to be like a giant maze, a giant labyrinth, so that you get trapped, and so that you cannot find your way out. And the restaurant is on one side, the restrooms are on the other side, the exits are somewhere else. It's just not very easy to get around, and that is by design. Because the point of the casino is to make you stay there, spend money, and sit there as long as possible. The next interesting thing about the design of casinos is the carpet. So I'm not sure if you've ever recognized this, but the carpet is normally very loud, let's say. Very distracting. It's never really a solid print, there's always something crazy happening on the ground. And again, that is by design. It's ugly, I'm not going to stare at the carpet and admire it, unless I really love that paisley print or something, but it's just not pleasing. And so your eye kinda rejects that, and is brought up to all the wonderful visual stimulation that's happening elsewhere. So these carpets are intentionally there as a distraction, to make you notice everything else, all the eye-candy, really, that's sitting around waiting for you. The next interesting thing about casinos is obviously the colors and the sounds. And if you close your eyes and think back to a time when you've been at a casino, you know that sound. The dings, the alarms, I remember I was my first time to Vegas, and I was actually, conveniently, at the Wheel of Fortune slots, and I remember sitting there, and it's ding ding ding ding. And then it just didn't stop and I realized I won, and that rush was so cool. I think I won 200 dollars or something, but I just remember the lights, the sound. And the other interesting thing is, that's all designed so that when someone else is winning around the corner, in another aisle, is makes you think well, I could be the next person. So it's this motivational trigger to keep you going, and keep all your senses engaged in this magical casino experience that's happening. And the other designed thing in Casinos is time. If you think about it, there's no windows. There are no clocks. There is no sense of time, you're lost. You are in this zone of illusion so that you don't know, and you have no idea if it's seven a.m. or seven p.m. It's just like a nightclub. There are no clocks on the wall in a nightclub. They want you to spend more time, dance the night away, buy more drinks, and hopefully leave at three in the morning. If you live in New York. So time is just non-existent in Casinos. And maybe you've thought of some of these things before. Maybe some of these things you're thinking, 'My mind is blown, I never even realized 'this is the trap I'm in when I go to a casino somewhere.' And it's the same, I was in Monte Carlo a few years ago, and we just walked into the casino, but it's the same. It's dark, no time, ugly carpets, lots of bright colors, sounds, et cetera. And so it's all designed. And design is really about people, and why is this Las Vegas analogy relevant? It's because the design of the casino is intended to change how you think, and your behavior. And so, you don't have to have the word 'designer' in your job title. To design things, you really have to know people, and how people behave, and what motivates them, and how to influence how they think. And understanding the experience is not just about casinos. This happens in emergency rooms, when you are at the grocery store, similar things. The milk is always way back at the end, because they want you to have to go through the whole store. They've designed it so that to their benefit, you're navigating the whole store, and passing by all the other things that you buy, that you don't need, because you just came in for milk but it's way back at the very back. So design is really about people, and understanding how we can influence what they think, and what they do. And in this class, we're gonna cover why design matters. It's not just about making things look good, it's about the outcome, the impact. Specifically, we're going to touch on the principles of design. So we're not going to be learning how to use Photoshop and things like that. We're gonna be looking at the principles of design that you can apply to whatever you are designing. A business card, a spreadsheet. Whether you're working in Photoshop, or Canva, or Google Docs or something like that. Look at these principles. Then we'll move into some of the elements of design. So things like typography, color, white space. And then we're going to go through some examples of poorly-designed things, and transform them through some live design sessions that we're going to do. Look at resumes, look at a spreadsheet, social media posts. Email signatures, which you probably don't think much about, but there are some hideous ones out there. So we're going to use these principles that we will learn to transform a lot of design deliverables. Whether you are using this in your job, or whether you're using it to make a better resume, or get someone to notice that Facebook post that you're putting about your garage sale or something. Design is something that you can really use to impact what people are thinking, and hopefully to actions that they take. And once you understand these principles, I promise you, you will never be able to look at a business card, a resume. When you're at the grocery store, you will be thinking about all these principles. And just going back to that conversation I had with my aunt who's the architect, I just could never get that out of my head once we started talking about the design of casinos and things. And when I started out in my career, I was a web designer. And I remember my first week on the job, someone was explaining to me how web design works. I didn't go to school for that, I kinda learned on the job. And just learning about how to make a website, I was ruined, because I can never look at a website the same again. And every time I look at it, I'm thinking that navigation, or this element. And I'm just always thinking that, it's ingrained in my brain. So hopefully through this course, I ruin you, and you are able to now see the thinking behind the design, and hopefully use what you see in maybe poorly-designed things to make the things that you make in your business or your life a lot better, so that you are influencing how people think, and the action that you want them to take. And I really want you to develop your eye for design. And so if you remember just one thing from this class, we already said this, but design is about people. Yes, aesthetics matter, and we'll get into that. But if you want to make something that is going to be impactful, you cannot just start thinking about all the pretty visuals. We have to start with the people who we're making the design for.
Class Materials
Visual Design Reading List
Visual Design Resources List
Get Started with Adobe Stock
Ratings and Reviews
I wish more people knew, appreciated, and respected the content Sarah covers in this course. Design is such a critical piece of the functionality of the tools we use every day but its often disregarded as "fluff" or just "aesthetic". Sarah does an outstanding job of establishing the importance and methodology of design for beginners. I would recommend this course to literally everyone.
Definitely recommend! This course is aimed towards people who don't make a living as a designer but are exposed to it in everyday life—even if they're unaware. Your resume? Design. Your social media posts? Design. Your spreadsheets? Yep, design. Sarah does an awesome job giving an overview about what design is and actionable things you can do to improve. The "live design" portion is awesome and it's where she re-designs/improves documents, mostly on the fly. She goes through her thought process so viewers can learn to think like a visual designer. I would definitely enroll in another class, especially if she chose to focus more in-depth on a few design principles for the entire class.
Awesome Class! highly recommend.
Student Work