Design Principles: Color
Sarah Doody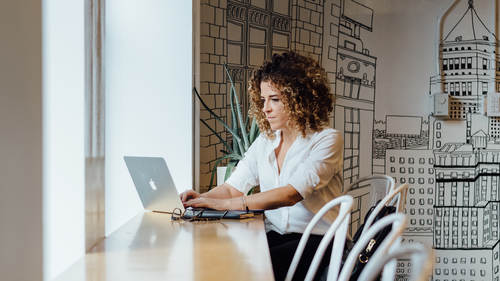 Design Principles: Color
Sarah Doody
Lesson Info
14. Design Principles: Color
Color is powerful and should be used strategically and sparingly. Learn basic color theory, including the emotional effect of color, its relationship to contrast, and how to use it as a tool to influence your audience's intake of information and even user action.
Lesson Info
Design Principles: Color
So finally we're moving onto color which is very important, because I think a lotta people love to use all the colors and it just becomes a little overwhelming. And color has such, such power to influence what people are feeling, how people interpret information, especially concerning charts and things like that, and how they ever interact with your design, if it's something that they can click on, a website, maybe it's an interactive PDF or something like that. So basic color theory, really teaching us that certain colors mean certain things. And if you have done any branding or marketing, you know that brands choose color to really prime us for how they want us to feel about their brand. So there is this great article, you can go read all about this, but this is the color emotion guide, and you've probably never thought about this before, but I think it's just amazing to look at this and see how all these different brands have kind of used color and using them to try and create a cer...
tain emotion. So Dairy Queen, red, 'cause red is generally thought of as being bold and exciting. Creative is purple. Yahoo, I think they were kind of going for that back in the day. We have, oh Cadbury chocolate. That kind of feels creating, that's fun. But blue, lot's of corporate companies are blue, and why is that? Because blue has this connection to trust, strength, dependability, things like that. And yes there are different types of blue. Twitter to me is like a trustworthy, fun blue. Maybe a more corporate blue is, well let's see, J.P. Morgan. That feels pretty rigid, but it's still blue, because it maps back to this idea of trust. So it's just interesting to go read that article, but color has the power to influence our emotions. So color in action. Wanna go through a poll here and this is a fake poll, but let's just roll with it. So a poll for how many people are in favor of a new budget. And how many people do you think are in favor of the new budget? Mm, 81%, why? 'Cause it's green and I would think it's green. If I didn't closely read the logo which says, or legend, green is not in favor. But a lot of people would get that wrong and a lot of people would think, oh 81% are in favor just by the use of color, right? So color, huge impact. If this were some very important data point, I could easily manipulate how people are going to interpret this. But in this example, how many people are favor of viewing the new budget? Not in favor is red, in favor is green. Much easier. We are being transparent, it's no confusion, right? And when you look at them all side by side it's a lot clearer. Even in black and white though, it's important to think what shade are you using. So color can really train us also, to expect certain things. Remember that repetition, repetition also has to do with color. So it can prompt us to anticipate or take a certain action. So when you see a little red circle with a number inside of it, what do you think? Normally, you're now trained to think, someone needs me, something is new, I am being validated or there's a message or a comment or a like or something. It's this. That's why you're now trained and you're somewhat addicted, because anytime you see those red circle numbers you wanna touch, you wanna see what's new over there, right? So we've been ruined because our brains are now trained to expect red means go do this action. Imagine we have been booking a flight, and you know how sometimes after you book a flight they say, oh do you wanna add trip insurance? Okay, do you wanna add trip insurance? Uh, no thanks, yes. Well, most people, I don't know this by research, but I guess most people are like, no, no, no, I don't want to do it. But the green is yes and people could easily click that by accident, because maybe their (mumbles) changed to green. But if we do it this, thanks for booking a flight, would you like to add it? We're influencing potentially what people are doing. You'd wanna test this and see which one works, but just having the button be green or red can have a huge impact and a lot of the companies test religiously colors, even shades. Google was famous, Marissa Meyer, she was an early engineer there, and there was this story about how I believe they tested 42 or 43 colors of blue. You can go Google that one, but it's true, color makes a big difference and they're like scientists. They're computer engineers. They weren't just doing this for fun, they were doing it 'cause it was moving numbers that were mattering to their business. So color creates this really consistent visual language that impacts recall and actions. And we had this example before, but you can see now you're noticing the repetition of color, even in this class. And if you're presenting, it's also helping me at the same time. But color can also add a lotta complexity and especially in business cards. We see this all the time. So let's look at this business card. It's not bad. Pretty pink, but first of all, this business card is a little hard to read, because pink on pink, depending on what your computer looks like right now, there could be different levels of contrast, but when you put colors on it like that, can be very, very hard to read. So we just lighten it up a little, whoops we went backwards. If you just lighten it up a little, it's hard to see maybe, but this is a very, very light, light pink, so it's a lot, lot more readable than it was that darker pink like that. So color is impacting readability as well, which we know is so important. Color, some people like to use a lotta color. And I've seen business cards like this, homepages, brochures, etc., where they're using so much color. And the problem is, is this bad looking? Not nescessarily, but think of it from a cost perspective. The more color you add, the more expensive it's going to be to print. So as a designer I'm thinking about those details, because back to the economics of design, you need to think about those details and that could really impact your budget for this thing. It becomes very different if you're printing large poster boards and brochures, and things like that. But we have to consider the impact of color. You can still make something pleasing even if you're just using one color, not to mention it's a lot cheaper to print as well. But between these four, I would argue that I think some of them look, some of them feel, a little bit more professional, a little bit more pleasing than others. And depending on your own definition of professional and pleasing we might disagree, but I kind of gravitate to the ones over here. Just the ones over on the left are a little wild and colorful for me. But again, it goes back to that balance of subjective and objective in design and the message you are wanting to communicate to people about your brand.
Class Materials
Visual Design Reading List
Visual Design Resources List
Get Started with Adobe Stock
Ratings and Reviews
I wish more people knew, appreciated, and respected the content Sarah covers in this course. Design is such a critical piece of the functionality of the tools we use every day but its often disregarded as "fluff" or just "aesthetic". Sarah does an outstanding job of establishing the importance and methodology of design for beginners. I would recommend this course to literally everyone.
Definitely recommend! This course is aimed towards people who don't make a living as a designer but are exposed to it in everyday life—even if they're unaware. Your resume? Design. Your social media posts? Design. Your spreadsheets? Yep, design. Sarah does an awesome job giving an overview about what design is and actionable things you can do to improve. The "live design" portion is awesome and it's where she re-designs/improves documents, mostly on the fly. She goes through her thought process so viewers can learn to think like a visual designer. I would definitely enroll in another class, especially if she chose to focus more in-depth on a few design principles for the entire class.
Awesome Class! highly recommend.
Student Work