Using a Plug-in: ON1 PhotoRAW
Lindsay Adler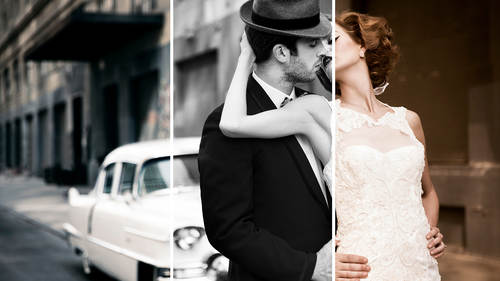 Using a Plug-in: ON1 PhotoRAW
Lindsay Adler
Lesson Info
13. Using a Plug-in: ON1 PhotoRAW
Lesson Info
Using a Plug-in: ON1 PhotoRAW
There are a 1,000,000 different companies out there that do plug ins off all different sorts. I mentioned a few of them before. There's everything from Nick to alien skin Teoh Mac Fund to whatever personally I tend to use on one on and on. One's got a bunch of different products. The reason I originally was working with them or would like picked them as the one I was working with his. They had a specific tool that allows you to up size your photos. So, like if I crop in and I don't have a big enough file, it actually allows me to resize it and editor Pilates it up. So I got that package because I loved like that's what I needed it for for big prints. And then in that system, I discovered their color effects. So I think the biggest benefit of working with a plug in software is not that it colors stuff like you could. You just saw how many different things we could do a 1,000, different ways. It's the fact that we don't know what we want to dio, because there's like there's too many opti...
ons and too many things, so when you do work with a plug in. In this case, I'll grab the on one Mean duplicate this on the on one, it's Ah, the on one effects. 2017 is the one that I'm working with. Okay, okay, it's that whole, like, I don't know what I want to do thing, and it gives me all of these different options. So in the top left hand corner, I've got toning for black and white. So let's say I don't know how I want to tone this. I can click over it and it's going to give me all of these different options in each one is completely You could completely modify it. So I think of this is like the color look up tables where it's giving you ideas of how to tone it. But I can go to the right hand side, and I can change everything. I can change the texture, the grain vignette, the color, the strength, the all of it. So there's everything from black and white changes and noticed there's entire one called color grading. So this is Bronze Portrait, for example. And so this is they know that's that's the terminology for the movie, so these tend to be a little bit moodier, and they tend to be intended to add color color tones, not overpower. The photo that makes sense is not meant to be like this Now becomes red with a little bit of yellow. So if you look, this is what we were doing before, is it not? I had until the shadows and a little warm to the highly. It's like the same thing that we've been doing. But of course I can always back off the capacity, so yeah, so it gives me a little bit more previews they actually have in here. An entire one dedicated. They've got portrait. Where's the one that cinematic probably alphabetical, right. So the entire ones that are intended to cinematic. So this one is the day for night. One obviously doesn't work for this. But if you're shooting something outdoors and you want it to look like night time, they've got that it's got a 1,000,000,000 different ones. So my whole point is, if you need help knowing what you wanted to dio, this gives you more control than lots dio and it gives you more control than an Maybe an action does because you can control over here. That's the gist of it. I can control absolutely everything. Um all right, so that's those plug ins. I'm not really showing you specifically how to use this one with the idea behind them.
Ratings and Reviews
Fantastic course. Lindsay Adler is a such a photography Rock Star. She can do it all, shooting in and out of study, lighting, posing, teaching and very amazing, Photoshop guru. Thanks for getting Lindsay, in the beginning I never knew that she was so skilled in all these aspects. As you progress in your photography, you learn lighting, skin tones and white balance, then skin retouching, then you learn color grading and analogous colors, complimentary colors, color triads, etc. Color Grading is so key to that final polished and "expensive" look. Lindsay did a terrific job teaching this course. I watched it 3 to 4 times to really pick up how to use these tools. Lindsay is a phenomenal teacher and photographer. Thanks for getting her Creativelive.
This is a great class to learn many options for color grading images. Lindsay gives comprehensive options for use in both LIghtroom and Photoshop. She has a style of teaching that is easy to follow and does an excellent job of summarizing each technique after introducing it to help the process sink in fully before she moves on. I love how she goes over everything she does thoroughly in a way that clearly explains each step without assuming everyone knows what she is doing. There is never a time when I thought "wait, what did she just do there?!:". Just really great information that is well taught.
Awesome class - Lindsay is a wonderful teacher. It might be nice to have a list of the equipment used, I had to go back a couple of times to find all of what Lindsay was using. Excellent and well done!!
Student Work