Day to Night Adjustments
Ben Willmore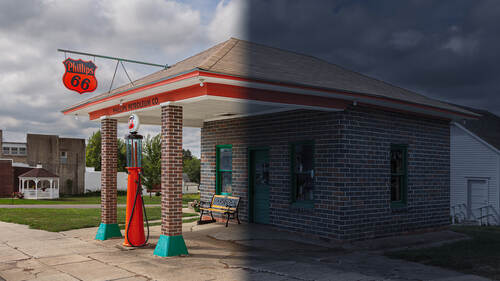 Day to Night Adjustments
Ben Willmore
Lesson Info
2. Day to Night Adjustments
See which Photoshop adjustments are needed to make an image look as if it was captured at night.
Lesson Info
Day to Night Adjustments
Now all the images I'm working with here happen to be JPEG files. Oftentimes I like applying this technique after I've processed an image as a normal image because some of the changes we're gonna be making um are things that I want to have shift the image in ways that are a little bit less than realistic. And if we're working from a raw file, then it's gonna be more realistic when we move things and it's not gonna quite look right. So that's why I'm starting with the apex. Uh I'm gonna start off here by going to the filter menu in choosing camera raw filter. Uh And you can either apply this when you're opening it. If it's JPEG file, there's no difference going up to the filter menu, then there is using this from bridge or anywhere else. So what I want to do first here is make this image dark. And so I'm just gonna grab the exposure slider and move it to the left and I'll keep moving into the left until it feels rather dark. Then I want that bluish feeling that you saw in that twilight ...
sky that you saw in the one that had taken in Paris with the Eiffel Tower. So I'm gonna take the temperature slider and I'm gonna push it towards the left. But when I do that, the image is gonna be rather colorful, especially if you end up darkening it and shifting it towards blue. So I would like to come down here to saturation and make it less colorful at night. It's harder to see color. And therefore we want just a hint of color instead of the full fidelity of that color. So I'm gonna bring it down maybe 40 or 50%. So it ends up starting to feel like night at night is really hard to see colors. Uh Then there are other things I can do if I have my subject in here and I want to be able to see more detail. I can come in here and bring up the shadows a bit. I don't want to bring them up too far though because if I make it overly easy to see what's in the shadows, it's not gonna look like night time, but I can bring it up a little bit. The other thing that's going to have a large influence in this image is contrast. You can increase contrast if you wanted to look really like it's nighttime because then it's going to be extremely hard to see the Shouter detail or you can bring it lower if you really need to show what's in the darker areas of the picture and it's just going to look rather dull when you have saturation down and exposure down. If you bring your contrast down a lot, you might need to readjust exposure to fine tune, then there are other controls in here that can be useful. If you find the brightest portion of your sky is too bright, you can bring down the whites, whites ends up working on the absolute brightest part of the image and determines exactly how bright it is. So sometimes you need to tune that down just a little bit. Then you can also experiment with D haze. If you bring the haze up, it's gonna make a shadow detail go away pretty quick. If you bring it down, it's gonna bring out more of that shadow detail. But if you bring it down, bring it down a small amount because if you bring it down a lot, the image starts looking really soft. So you just want to bring it down a little bit, maybe 10 or 15 if you need to see a good amount of shadow detail, or if you want to make it difficult to see the shadows, bring it up. But again, just a little amount 10 15, that kind of range. So let's take a look at the difference between this image when we started and what it looks like. Now, I'm just gonna come over here and say go to the defaults. Remember this was a JPEG file. So the defaults will show what that original look like and I'll choose undo then so you can see our end result. And there's our first idea of what uh a nighttime look could be. Maybe. Now let's do this again. The last image did not really have a lot of colorful information in it. And so it was much easier to just work with. But if we have a lot of color, then when you come up here and do your camera raw filter or open this in camera raw, if you'd like from bridge, then you're gonna have to be more careful with what you end up doing with saturation. So here, let's darken this image. This one's a little bit less than ideal because of how bright those clouds are. You can always tell it to select the sky if you go to your masking feature and then adjust the sky separate to try to get those highlights down quite a bit. I can show you here, I'll go to the masking feature. I'm gonna tell it to select the sky and then I'm gonna take this slider here called highlights and I'm going to bring it down as far as it goes. You notice it doesn't have that much effect. I can also bring down whites and that's really the one that's gonna start mellowing out the brightest part of that sky and that's gonna help it look like night time. But let's get out of our masking tool and back to the overall changes and let's bring down our exposure now. And now that sky is not quite as bad, it looks a little bit like it might have been a full moon and there was a little hint of um light hitting those clouds. Now, I'm gonna bring this down quite a bit to really make it look dark because I want the areas in the background to not be all that prominent, but look at how colorful the images. And so let's bring down our saturation and tell those colors feel like you can tell what color they are, but it's not easy to tell it's not blatant, maybe more like in there. And then let's give it more of an evening feeling by shifting towards blue. That's when all those colors are gonna start combining and it'll start feeling a little bit like night. But at this point, I really want to see my subject a little more in. So I could either bring up my shadows a little bit or bring down contrast. If I bring down contrast, it will become a little bit easier to see and maybe a combination of that and bringing up my shadows shadows isn't doing all that much though. And so this is one of those images where I might come down here to d haze and move it to a negative amount to further lighten up those shadows. Uh If you want to, you can bring up blacks, but you gotta be careful because we bring up blacks too far. It's gonna start looking like just a dull image in general. Let me show you one other method we could have used because there'd be a more straightforward one if we didn't use camera raw. So here I just have an image nice overcast sky that makes it easier to make it look like nighttime. And I'm gonna come down here and this time I'm not gonna use camera instead, I'm gonna use an adjustment layer. Now, you could customize the look by using curves or any of the other adjustments, but you'd have to start from scratch and have a vision for what it needs. There is something built in that tries to make it look like it's nighttime and that's a color, look up color, look up. Another word for that is a lot, lot means look up table and that's the kind of file that can be loaded into video devices like a little display screen and it can be applied in real time. And so this is what video people use when you come down here and you choose color, look up. That's when you get your color, look up adjustment layer. And these are our choices. Well, if you look at a lot of these, the bottom choice doesn't have any options available for us to choose any presets. The middle choice, not very many, it's the top choice that most people go for in any here. Look for anything that has the word night or dark in its title or there's also one called moonlight in there as well. Anything that suggests darkness. So I'm going to come down here to the one that says night from day and choose that. Now, it automatically added a blue, it's actually a slightly purplish blue to the image and it darkened the picture. I can just come right back up here and try any of the others. Here's one called moonlight and it just gives you a slightly different version. There are a few others in here. If I come up a little higher, there's foggy night. I don't really like that one.
Ratings and Reviews
Student Work