Neural Filters
Ben Willmore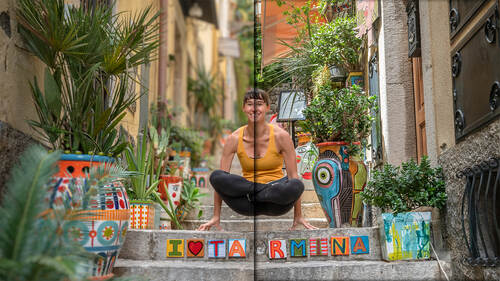 Neural Filters
Ben Willmore
Lesson Info
6. Neural Filters
Adobe has made some significant additions to the filters that use machine learning to accomplish tasks that would take everyday users way too much time to accomplish.
Lesson Info
Neural Filters
Adobe has a special section of filters known as neural filters that use machine learning to apply things to your images that are pretty crazy and they've made some additions. So let's dive in and take a look. I'm just gonna go to the filter menu and choose neural filters. And neural filters are not new but this list has expanded over time. And the ones that are found down here under the word beta, you might find a little cloud icon to the right of each one and that's because they're not installed by default. If you see a cloud icon, click on it, and once it's done, it will install that particular filter. In this case, I'm gonna use a filter called the landscape mixer. And all I need to do is turn on this little check box, and then we're gonna get a series of images up here at the top. If I click on one of these images, it's gonna change the appearance of my image to match the overall look of that. So, in this case, it's a winter scene, and look what it did. It made this look like a win...
ter scene. Or I can come down here and make it look like sunset or make it look like it's got greenery around it. This one looks even more green. And if it's putting a little too much in, let's say I went for the winter look, then down here, we have a strength slider. And sometimes, just bringing it down a little bit really makes a difference because now we just have a hint, a dusting of snow. And so we can do that. Also, we have some sliders down here. We can change the general look of the image. Let's say I wanna make it look like it's later in the day. Well, I just bring up the night slider as far as I need to, or I can make it look more like it's sunset in here to warm it up. There's all sorts of other choices that are here. The other thing you can now do is not just use their presets. You can also choose custom. And if you choose custom, there's a popup menu right here and you can choose any of the images that you currently have open. And I don't even know what this picture looks like but I'm gonna choose it. Oh, it's some boats on water, so of course, it's not gonna look good 'cause it's trying to make this look like water. But if you choose an image that would be appropriate, you can now use your own pictures in not just these presets. I'm gonna click okay and let's switch to a different picture. Here I have something that I've masked. In this case, I have a bird that was flying across the sky and I've removed the background on it. If you look at my layers panel, I have a temporary layer here full of white just so you can get an idea of what it looks like. Well, I'm gonna throw away that layer that has white in it and put a different picture behind. And when I do, you can see the areas of the bird that were in motion where you could see through what was there just don't look good because you see remnants of the old background that used to be in the image, which was an overcast sky. Well, I would like this to look good on this new background. To do so, I go on my layers panel. And if you take a look at what I have, I have my replacement background underneath. I have the image here, and there's a mask that is limiting where that layer shows up. If I hold down the shift key and click on the mask icon, there's the original background in the picture. So the only thing making it so that background disappears is this layer mask. Then in my layers panel, I need to make sure I don't have the layer mask active, instead, I have the image active. And then I can go to the filter menu and I can choose neural filters. And the one I wanna use this time is one called harmonization. I'm just gonna turn on that little on/off switch and up here, it says reference image. Because you might have multiple layers underneath this, it needs to know which one you would like to have it match. So I click here, and it gives me a list of all the layers that are contained within this document. And I'm gonna choose that bottom choice. And now, watch what happens to my image. Now, instead of having hints of the old background color in there, I have more hints of this. And I can control it because we have a strength slider here. If I turned it down, you would see more of the old background color showing up. And if I turn it up, in this case, I'll bring it all the way to a hundred, you'll see more radical change to the image. If that didn't quite do it, I could also move these sliders around to shift the subject itself, not just the transition area and maybe I wanna make it a little warmer so it feels like it really blends in. I could also make it more saturated or less depending on what makes it look best or brighten or darken my subject matter. And when I'm done, all I need to do is click okay and I'm gonna get a brand new layer above my previous one and the original layer will be underneath so if I turn off that layer that's in the middle, then you can see my end result which in this case doesn't look amazing but oftentimes, it's a radically better result. Then let me show you one more. I'll go back to this boat image. Let's go over here to neural filters and this time, let's use one called depth blur. When I turn that on, it's gonna try to figure out how far away from the camera each of these objects is. And then it's gonna give me a result that looks like I have narrow depth of field. And in the upper right here is a preview image. If I move my mouse on top of it, I get little crosshairs. And if I click on something, that becomes the area that will be sharp and in focus. And I could move to a different area, click, and it will change. And I could go to one of these boats in the far distance as well. And so that's gonna allow me to choose exactly which area is sharp. And then there's a choice here called focal range. And that means how much depth of field will you have. How large of an area will actually be sharp. And so you could expand that range to even try to get that second set of boats. Although if you wanted the second set of boats, you'd probably click in between them here to get a kind of partial distance area that's there. Then here we have blur strength which is simply how much we're gonna blur that background. And in order to make the background look a little bit more realistic, we have a haze slider which can bring up the dark portions, so it lightens them up and makes it look hazy. And also, down here, we have grain. Just try not to bring grain up too high 'cause it's gonna look artificial pretty darn quick. The number the slider goes really high when you usually need a very low setting just so that this looks like it has more of the grain of the area down here. And we could shift the color as well, maybe making it look a little bit warmer in that area or a little cooler, depending on what would make the picture look its best. When you're done, you just click okay.
Ratings and Reviews
Holy cow! I hope you already know everything about these programs before you start this class, and are ready to be off to the races! I watched the first part twice and still didn't quite catch everything. Ben slowed down a bit afterward and was fairly easy to follow throughout the rest. I appreciated the updates, but would like to be able to take a few notes next time.
Student Work