Upcycling Leather into Accessories
Gear to Make a Leather Journal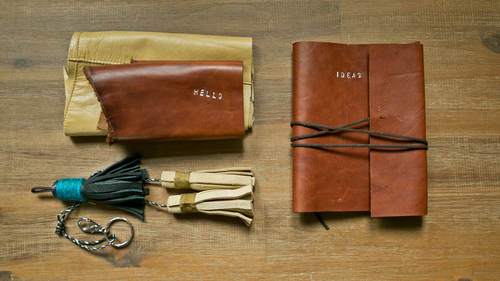 Upcycling Leather into Accessories
Gear to Make a Leather Journal
Lesson Info
Gear to Make a Leather Journal
So it's looking at project using leather that we would so with because sewing with leather is a little bit different than sewing with regular fabric but there's just a few little tweaks that we can make and I'll explain it to you so what? We're going to make our these recycled leather books and these air really fun to fill with blank a newsprint paper or with gritted graph paper I believe we have a graph paper inside of this one here and I'm going to show you how I always have a notebook like this with me in even in a digital age I still have something about writing something I think that helps your memory a little bit better than just typing it or so we're going to learn how to make these and then these air embellished in a couple of different ways on the outside this one is stamped with leather stamps says ideas on it and I'm going to show you how we do that and then this one is actually got an iron on a photograph and I'm going to show you how we do that too both really simple ways ...
tio personalize these for gifts or for yourself so let's get started so the supplies that you need for this project are a lot like the other leather project that we did you need your leather pleather scraps for this project I like thicker leather because I like the uh covers toe hold that better but if you have a nice thin worn leather you can sew it into two layers you can just rather when I cut one rectangle you will cut two rectangles and you will sew them together to create one thicker piece and I did that for one that I'll show you here in a minute you need your fabric scissors nice sharp scissors you need a rotary cutter or a way to make a nice clean cut it doesn't have to be with the rotary cutter I prefer to use a rotary cutter I use a craft knife to cut my paper I don't use my rotary cutter but a craft knife I don't my only he's my rhetoric better for fabric I don't I don't mess it up with paper but I guess you could and then I use a ruler and I use thes clear quoting rulers again you can use a regular ruler but these air what I have in my studio you need a cutting matt and so with leather it is important to get the right kind of thread you want to get a synthetic threat he don't want cotton thread and uh I'm not really sure of the reason for that I think cotton might break down a little differently than leather and it's just a little more durable so I get thread that is available at any craft store but it's usually nylon or polly and I just get a color that's close to the leather that I'm using I use for this project a bound folder decrease my paper you need a selling machine and you need a leather needle so these eagles you can also get in the craft store they're different from a regular fabric needle because they have a tiny little knife edge that actually cuts down into the leather see definitely want to get your regular meal may so with leather but not for very long and it just can't take the the power that's needed I use binder clips toe hold pieces of leather together when I'm sewing because if you puncture leather with a needle it's going to remain in the same with pleather so the's air good to have teo hold it in place and the last thing you need is leather lacing to make the tie that will go around the outside we don't need that so let's that's you can't see that part yet so let's do the leather did you yes special foot for your sewing machine to sew with weather no now some people use a walking foot because if you're sowing two layers together of leather it just helps move them along I intentionally did not use that foot for what we're doing today and I just used to regular but I happen to have my regular if it happens to be a patchwork foot so it's like a quarter inch but, uh, you can use the regular basic foot that you have on your side machine. I think I worked just fine.
Class Description
New leather is durable, but costly on your pocketbook and the environment. In Upcycling Leather into Accessories, Blair Stocker will help you find second-hand sources for fine leather and teach you how to transform it into fresh, workable material.
As the author of Wise Craft: Turning Thrift Store Finds, Fabric Scraps, and Natural Objects Into Stuff You Love, Blair is full of helpful tips on upcycling old goods. In this class, she'll teach you how to make gorgeous new leather goods from old ones. You'll learn how to:
Pick the right tools for leather working
Prep, clean, and cut leather for re-use
Sew and glue leather pieces together
Projects will include; journal making, bookbinding, tassel making, stamping, and printing – all with leather.
Upcycling Leather into Accessories will make leathercraft an affordable and fun addition to your creative arsenal.
Reviews
Blair has a very clear voice and takes us through the projects in a very calm and clear way. The projects are inspiring and just the general idea of crafting with materials found at thrift stores really appeals to me so definitely recommend this lovely little class.