Masking with the Brush Tool
Matt Kloskowski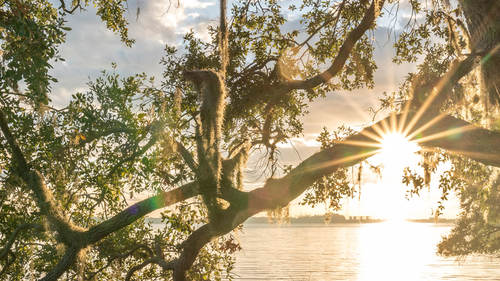 Masking with the Brush Tool
Matt Kloskowski
Lesson Info
5. Masking with the Brush Tool
Lesson Info
Masking with the Brush Tool
I have another little thing that I'll do, which is kinda like the reverse technique, where we have light, I actually wanna tone it down a little bit, and I want the part of the photo I want to really stand out. To me, the background is kinda bright, and that again, you're outdoor scenes, like a lot of what I find myself doing is just darkening the background. Darkening a background to make a subject stand out more. Sometimes, that's all it takes. We could go grab our brush and I could paint over the whole background and I could darken it. Or, I kinda do the reverse technique where I pull back on exposure and then I take the Brush tool and I go pull up on exposure. Let's get our flow back to 100%. And then, I'll brighten the bird. So far I've been using a big brush and I've been paintin' the whole thing, that's not gonna work here, because there's too much of an edge here. The bird's gonna have a glow if I start to paint, you know the bird's gonna have a glow around the bird. So, what w...
e can do is turn on what's called Auto Mask. It's a little check box right down there. I turn on Auto Mask, I'm gonna zoom in on the photo. I wanna show you, I'm gonna paint, and the ideas is, I'm gonna keep that little plus in the middle, that little circle, I want to keep that over my subject. So, as I paint, even though that outer ring of the brush is on the outside, it's not spilling out past it. And if you want to turn on your overlay, you can see it. So, you can see what it's doing. I can paint over here. It leaves a little bit of a line, you're never gonna see that, for what we're doin'. It's why I won'y use it when it's really really intricate work, it's usually a job for Photoshop. For something like this, I'm not necessarily gonna spend the time. We'll just go and I'll do a quick outline. Once I'm done with the outline, I turn it off because if you didn't notice, if you weren't able to see, it's blotchy in some areas. That's 'cause it's auto masking, it's trying to detect edges. I don't want the rest of this to be blotchy, so I turn Auto Mask off and then I'll go in here, and after I've done the outline, I'll just go through and I'll paint inside of there. So basically now, I have the bird selected in a way. And we added exposure to it, that's probably too much, but now I can go and I can control my background with whatever slider in the basic panel I want to, right. I've totally control of the background, and now because I've done a brush on the bird, now I've got control over that too. I can go in there and I can darken it. Sometimes it's really as simple as painting the background dark. Sometimes that will help your subject stand out just as much as all these other tools. The reason why I wouldn't use a vignette there is just because, a vignette is gonna kind of, think of it, a vignette's gonna encroach right into the middle. It's gonna be more of a glow, where in this case we have a very specific subject that we wanna make sure we outline. The one question was, I know you're showing us, you are creating, when you're using the brush tool, going up in exposure, down, whatever the case is, making your own brush, do you ever use the preset ones that come with Lightroom and if so, what would you use those for? Good question. That was from Sunny. What's that? That was from Sunny. Sunny! What Sunny's referring to, if you go to the Brush, you'll see right next to Effects, you'll see all these brush presets inside of here. You can make your own. I made a bunch of my own inside of here. The way that you do it, is you essentially just go in here and you set your settings the way that you want, and then go down to the bottom and click Save Current Settings as New Preset. That's how you can make your own presets. There are some presets here. It's a workflow thing, I think everybody just works a little bit differently. For somebody out there, they're like, yeah they just go to Exposure and it resets all the other sliders but Exposure. For me, if I wanted to, if I had this goin' on and I had all these settings going on, and I decide I just want to paint with Exposure, for me, I just double click Effect and then I move Exposure. Same way, different way to get to the same thing. You can go up to the menu and you can click on that, and it'll zero out everything, or you can just double click Effect, will always zero out everything inside of there and then you can move whatever slider you want. And it's a good segue to I think an important topic, because I get asked this a lot, so a photo like this, when would I take it into Photoshop and do a selection, like a real selection and a real mask and all that stuff? I've been guilty of that, I won't even blame it on anybody else, I'll just say I've been guilty of this many times over the years. Somebody sent me an email, I had done a video, it's like a 60 second tip on how to make your skies darker. I went into Lightroom, and I used the graduated filter and I moved two sliders, and bam everything was done. It looked great. And the next week, I did like a 15 minute tutorial on how to bring your photo over into Photoshop, how to make a perfect complex selection of all the trees and everything, and use adjustment layers and all these different things to go in there and work on your sky. And so somebody wrote me a message, and they're like, dude, last week you showed us how to do it in 60 seconds, this week you just showed me how to do it in 15 minutes, what am I supposed to do? I realized that's a key ingredient missing in a lot of education out there is, when do you use certain techniques? Here's my easy way to think of this, how much do you like the photo? That's really what does it. Last week I was at an event in Monterey California and I was there for something else, I wasn't trying to make art. I wasn't making photos that I thought would be compelling, they had shots set up on the beach with surfers and everything like that, and there's 150 people crowded around, everybody's a little bit different, that is not my place to shine. I'll stand back and I'll grab a couple photos of the surfer in the sun, it's like yeah that's cool, and I'll post it and I'll hashtag it, just 'cause apparently that's what we do. (laughs) But, photos like that, it's as fast as I can possibly go. There's a purpose to it, I wanna share where I am, I wanna share that I've been there, but I don't necessarily wanna invest a lot of time because I don't think this is gonna be one of my timeless photos that lives on. Now, other times, where I'm like, I really like this photo. It's gonna go in my portfolio. I might wanna print it out in a photobook. It's gonna go on my online web gallery, big on the screen. That's the time where I'll take it from here and I'll do all the TLC stuff and all the longer stuff that you may see me or other people doing.
Ratings and Reviews
Matt is a fantastic instructor who males it feel like a joy to learn. It was very interesting to see his take on how to fix uninteresting lighting. This course delivers on its promises and it's well worth the price.
This is a great class. Matt is a fabulous teacher who explains things very well and in a very likeable manner. With only using a few sliders and basic tools in Lightroom, Matt is able to totally transform an image. I have lots of old photos I didn't think it was worth doing any editing on....now I'm sure I can save quite a few!
Matt Kloskowski is funny, humble, and totally knows his stuff! He doesn't just show you how to use Lightroom to fix undesirable lighting conditions, he walks you through various ways to recognize and work around them in camera/on-location, to make your post-processing even better. I am so flipping glad that I took this class when I did! My shoot last night started a half hour later than I needed it to, and the planning and processing techniques I learned here totally saved it! In fact, this class, combined with Caroline Tran's film class and Blake Rudis' landscape class made the shoot into more than I was expecting, even though everything went wrong on-location! I can't wait to show off my finished image. Thank you Matt for an awesome class!
Student Work