Start With the Basics
Matt Kloskowski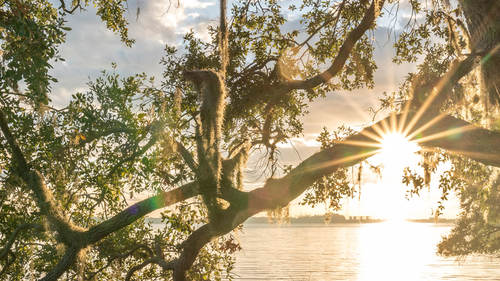 Start With the Basics
Matt Kloskowski
Lesson Info
2. Start With the Basics
Lesson Info
Start With the Basics
I wanna start slow and just give you some basics. Really my main goal with this is, not just the how, but some of the why behind when I look at a photo what do I see and what are some things that help me bring out what I want. Pretty common situation here. We got this little kinda canopy of trees here. A few basic little things that I do are. We all get drawn to the Exposure slider when we can see that lighting is off. This is overcast, this is a flat overcast day. The light that you see is just light coming in through a canopy, but it's cloudy, it's blah. I think we all get drawn to, hey let's crank up the Exposure. The Exposure is the sledgehammer of all this stuff, everything gets brighter, everything gets darker. That's kind of what starts to make our photos, I will constantly use the term flat, just blah. 'Cause everything now starts to get bright, everything starts to get dark. What I'll do a lot of times, is instead, I'll bring Exposure, I'll either leave it or I'll bring it bac...
k. I'll go to the White slider, 'cause if you think about what we wanna do here, we want to enhance, it's gonna be very hard to just add light to a photo that has zero light in it. But, if we have some semblance of patches or blotches of light, when you go to Whites, that works different from Exposure. So now you're boosting the light that's already there, but you're not just takin' everything and sayin' hey make everything brighter. That's the recipe for a flat photo, is to just do it to the whole photo. You will see me come in here and do Whites when I wanna brighten things up, rather than just blast Exposure at the whole photo. I'm not sayin' I might not come in here and tweak Shadows a little bit too, but by and large I'll go in there and boost Whites and I'll bring Exposure down. When lighting is flat and kinda overcast, and cloudy, temperature will give that warming color to that cooler type of a light. And it'll almost give the appearance that it's sunlight. So, that's one. To follow that up, on another example here, again, simple photo. I was walkin' by this, I saw that, and I don't know what got me to stop and take the photo was, just all the patterns, and the shapes, and the texture of everything here. It didn't come across that way, once I looked at it later on the computer. I brought the Exposure down, that darkens everything, Whites up. Exposure down, Whites and that's before, that's after. Two sliders, makes a big difference. What we did, is we're saying give me what's lit and kind of give it a little boost. Another thing that I will do quite a bit of and it'll become a running joke in this class by the end, is I will add a Vignette to almost everything. Especially, my outdoor, my landscape, my nature type stuff, my wildlife stuff. I will add a Vignette to almost everything. The way that I think of this, how many people in here are portrait photographers? Do you use lighting? How many people use lighting? A lot of you use lighting. You naturally create a vignette. You create a vignette because you will light what you want to light on the subject. You're not gonna walk up to the subject and point a light at their feet, for the most part. You're gonna light the subject and you're gonna let the fall off of that light naturally draw people into that photo. Your travel, your landscape, your wildlife, your outdoor photos, we don't get that option. No matter what I light I shine on that mountain that's a half mile off in the distance, it doesn't matter. It's not gonna help. I can't strobe the trees. I mean, unless there's one right in front of me. In a grand landscape, or you're in Costa Rica, you look up and there's wildlife, I can't strobe the monkeys in the tree. We can't do those things. So, to me the vignette is our way of controlling the edges of the photo. Usually we wanna draw people in. It's not a rule, but it kinda is for me. I will go over here and I will pull in a little Vignette from the side, that Midpoint kinda controls how it encroaches. And then, Feather it off a little bit. So now, just with a Vignette, and just with a couple of sliders, it's a pretty drastic change. We're not doing crazy crazy Photoshop work to this. You're just a few sliders and a panel that we have here. Going back to this photo, that would be the second step that I would do here. Again, pull that Vignette in, darken some of those edges, work with the Whites, little bit on the Shadows there too. But, just simple little changes. Another little trick that I have, this isn't, I kinda just thought of this, because I'm lookin' at the photo here. Another little trick that I have for tryin' to hide when these things happen, is whenever you have those little white holes in the trees, I'll try to clone 'em or heal 'em out. Or, another easier way, which is just Crop it. Not bad, but if you can't Crop it to get it out, I will go and grab my Clone, my Heal, you could if you're using Photoshop you can use the Spot Healing Brush, whatever tools you have in there, and I will go and I will just kinda paint in some of these little areas and just try to control a couple of those little spots that happen up there. Again, we're tryin' to give the illusion that we had little bit nicer light than we did. When people see white pieces of sky pokin' through trees, it kinda takes the attention away from that. One of the other things you'll see as I'm goin' through here, I mute everything inside of Lightroom. Just so you guys know, if I go up here to the Filter menu in Photoshop, and go into the Camera Raw/Filter, if I double click a camera or raw file in Photoshop and it opens, it will open up in Camera Raw, all the tools here are exactly the same as what you see inside of Lightroom. So, if you don't use Lightroom and you use Photoshop, then you have the same exact tools. They work the same, they look the same, everything's the same between 'em.
Ratings and Reviews
Matt is a fantastic instructor who males it feel like a joy to learn. It was very interesting to see his take on how to fix uninteresting lighting. This course delivers on its promises and it's well worth the price.
This is a great class. Matt is a fabulous teacher who explains things very well and in a very likeable manner. With only using a few sliders and basic tools in Lightroom, Matt is able to totally transform an image. I have lots of old photos I didn't think it was worth doing any editing on....now I'm sure I can save quite a few!
Matt Kloskowski is funny, humble, and totally knows his stuff! He doesn't just show you how to use Lightroom to fix undesirable lighting conditions, he walks you through various ways to recognize and work around them in camera/on-location, to make your post-processing even better. I am so flipping glad that I took this class when I did! My shoot last night started a half hour later than I needed it to, and the planning and processing techniques I learned here totally saved it! In fact, this class, combined with Caroline Tran's film class and Blake Rudis' landscape class made the shoot into more than I was expecting, even though everything went wrong on-location! I can't wait to show off my finished image. Thank you Matt for an awesome class!
Student Work