Using Radial Presets
Matt Kloskowski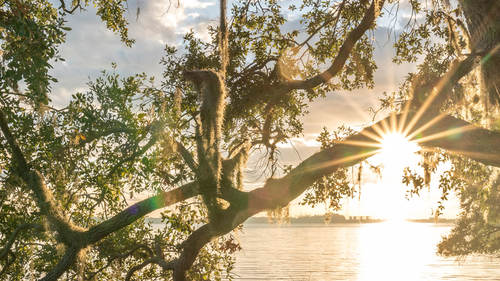 Using Radial Presets
Matt Kloskowski
Lesson Info
9. Using Radial Presets
Lesson Info
Using Radial Presets
We can use a lot of the same techniques again here. Maybe pull my exposure back, just create a little bit more, more of a dynamic type of a look to this photo. Pull the exposure back, grab your radial filter. Kinda boost the exposure a little bit. Then, again, I always use the word skim. Kinda skim that across. Exposure, a little bit of warmth, before, after. Might feather that a little bit more. Another thing that we can do here is, as an example I could use the same technique, right? Come over here, increase the exposure. Skim cross, kinda rotate it around. Then I can right click I can duplicate. Pull another one, make a little bit smaller maybe. I can really start to play with the light. The other cool thing about these things, is you can make presets from them. So I could go over here, oh this is, I was gonna, a good segue into the technique, too. I'll go in, and I'll draw, I'll kinda use just a little bit of a glow from the top. Again, it's just exposure, and some warmth. So part ...
of what makes, to me part of what makes a back lit photo like this, when you have all of these trees and this could be a portrait, it could be a landscape. But it's the way that dappled light kinda mixes with the leaves and it makes them glow. So when I throw this on top of that, it gets flat, right? I've taken away, I take away a lot of that contrast that really makes that back light work. So same thing as we did before, we go over here, we go to luminance this time, 'cause I don't really wanna do it based on color, and then I tell it, get away from the dark stuff. So now it's like, I can really get in there and start to mess with the back light in the trees. Probably too bright, so pull back a little bit on there. But we can start to add these little filters inside of here. I can add one from the top, I can add one from the sides here, and then when you go to your preset panel, when you create a preset, you guys will see, you can save the radial filters, and the graduated filters, as a preset, which is kinda cool. So, what I'll usually do, is I'll save that as a preset. And it actually remembers where you save it. So proportionally in the photo, it remembers the position where it's in. So what I'll do is, I'll save one for the top right, I'll save one for the top left, I'll save one for, maybe one over the top. Sometimes I'll put a few coming in from the top, right, or left, and just to, I'll kind of run you through, these are, I mean, I use my own presets. Here look. Not saying that these would all work for this, but just look at what you can do. I'm gonna switch photos, lemme try it on this one, see if it... So, if you wanna see how this is created, I'll apply it, you go to the radial filter. So it's just a bunch of little radial filters inside of there, and I can click on every one of them and adjust. You see all the sliders are over there. But do I wanna do this on every photo, no. But do it once, and make a preset of it, and now you have something that you can go experiment with. Especially, you know I can look at it, and I can decide, A, I wanna change one of them, so I can go over here and change it or, if it's too intense, I can just kinda go through here and start deleting a couple of them too. Oh, or all of them. (laughing) That's my favorite little animation in Lightroom. Sometimes I just like to sit here and press the delete key, just so I can see the (imitates explosion). (students laughing) Poof. All right, and then one more, just to give you another example. I know we added a vignette to this one. Same concept though, guys. You've seen me do it before, probably quite a few times. Probably keep the exposure where it's at here. Grab a radial filter, and I use, I mean, all the time on portraits is... If you're using flash, great, but sometimes either you can't, or you're not. Just little quick things like this. Notice how it starts to brighten everything over here? Right? Nothing saying I can't do what we did with the clouds before and pull the highlights back. I can control those areas, too. Or I can boost them, sometimes it's nice to make it a little bit more intense. All right, so I am gonna wrap up here in a second. One of the things, guys, is you follow me over at MattK.com, if you guys like this kinda stuff. I do all kinds of stuff over on my website. The profiles that I demonstrated to you before, I actually have a little free profile pack on my site too, so you can check that out. Then I also, for CreativeLive we did a big sale, I have a profile pack, it's got all my black and whites, and some other cool ones I made from some look up tables and stuff, so you can check that again as well. So it's MattK.com/profiles. The other thing guys, there is a video on that page. If you haven't seen these things, it is a change in workflow. So beyond my profiles, just go watch the video because it is a change in our workflow, and it's a change that's here to stay. These profiles and color look up tables, these are the new presets of the future, so if you haven't seen it yet, at least go watch the video because I think it's gonna be a big part of what we do in the future here. Again, just hit the home page if you wanna check out some other stuff. Any questions before we wrap up here? I take a lot of fire performer pictures, so a lot of mine are taken at night. A lot of what? Fire-- Fire perform, yeah. Yeah, so I tend to have a lot of, like so the fire will tend to be overexposed, especially with the fire breathing and stuff, so that'll be super overexposed, and then it will be dark, and then my people will be dark, and I don't know necessarily how to fix that. The overexposed fire. So if you go try to add light to it, you're probably gonna even further hurt the problem. So what I would say is, is pulling back on highlights would help the overexposed fire. Mm hm. Maybe some combination of shadows and exposure. You gotta be careful, 'cause both of them are gonna open up a lotta noise in the photo to, so. Yeah, that's why I was concerned about, especially it being dark, like with for the rest of this photo too, so. One of the things you can do, is if you go to any of those tools, the graduated, the radial, or the brush, one of the tools would be, you also have a noise filter too. So if you did something that opened up the shadows, or opened up the exposure a little bit that made it brighter, you could actually counteract the noise in the area, and just use it specifically inside of that area too, so. Thanks. Cool. All right, yes, Kenna. We have some questions from online, Cool. Since we have a little bit of time. Question is, Ann from Ann Goodall who says, when you create a radial preset, does it also save the luminance values? Yes, it saves whatever sliders you had created in the thing, it saves everything inside of it. Cool. Next question is from Carlos Alonzo who asks, in the area selected by brush, so when you're using a brush, Yeah. what color correction possibilities do we have? He's saying, is HSL available, or do you need Photoshop for that? You need Photoshop for HSL. So the only color correction things you get with the brush or the radial filter or the grad filters would be temperature and tint. So if you wanna counter-balance it with warm or cold, or green or magenta. The only other thing you get is saturation. But if you need a specific, specific color, then you'd have to go over to Photoshop. Cool. Good feature request, though. (laughs) All right, we have another one. This is from WM who says, Matt, I've had a sunset or a similar shot to your beach shot Yeah. one of the ones that you worked on here, said but a ghost appears with drop highlights. Where you're, maybe perhaps when he is dropping the highlights, but a ghost appears on the hard edge. How do I save the picture, and darken the sky/highlights. All right, so the answer is kinda two parts. Sometimes, if you do extreme highlight correction, you do get ghosting, that's the downfall of pushing any one of those sliders to the extremes. So you sometimes get ghosting. Depending on what it looks like, if it's a fringe it could be a chromatic aberration. I haven't seen the photo, but the only thing that I would say is, is if it comes down to the lens corrections panel, there's a little thing called Remove Chromatic Aberration. So if it really is a hard fringe, that could help. If not, the only thing I could say is, is don't pull back on the shadows so much. That's a time where you might, bracketing might be in order, because he has to pull back on the shadows, but if he had another exposure, he could blend those two together. Down where it say distortion and vignetting under that specifically, what does, what's the advantage of using those? Distortion will remove extreme-er distortion in the photo. Usually from a wide angle lens. And then vignetting will remove lens vignetting. Like, you know, the darkening of the edges. Even though I personally go back and add it back in, I don't want that artificial darkening from the vignetting. And is that on top of the profile corrections? Yes. 'Cause I thought that's what that did. Yeah, profile corrections will detect the lens and camera combination and do some fixes, but if it doesn't do what you want it to do, then you can go down there and kinda boost the distortion. Again the lens vignetting thing, some lenses just put a, have a vignette on it. Sometimes if you have a filter on the end of your lens, sometimes you'll see a little bit of darkening there, and that can counteract that a little bit too. Sir. Yeah, with your radial filters, can you-- I call you wavy guy. All right, yeah. (Matt laughing) With the radial filters, can you do any sharpening with radial filters? Yes. Can you do sharpening with radial filters? All of these tools up here have a sharpness slider. I will warn you now, it's not super, super visible, but you can do a little bit. So (laughs) it's a, yeah it's, sometimes I'll demo, I'm like, look at the before and after, and you barely see it, you know. So it's not gonna be a lot of sharpening, but you can do a little bit like on an eye or something like that.
Ratings and Reviews
Matt is a fantastic instructor who males it feel like a joy to learn. It was very interesting to see his take on how to fix uninteresting lighting. This course delivers on its promises and it's well worth the price.
This is a great class. Matt is a fabulous teacher who explains things very well and in a very likeable manner. With only using a few sliders and basic tools in Lightroom, Matt is able to totally transform an image. I have lots of old photos I didn't think it was worth doing any editing on....now I'm sure I can save quite a few!
Matt Kloskowski is funny, humble, and totally knows his stuff! He doesn't just show you how to use Lightroom to fix undesirable lighting conditions, he walks you through various ways to recognize and work around them in camera/on-location, to make your post-processing even better. I am so flipping glad that I took this class when I did! My shoot last night started a half hour later than I needed it to, and the planning and processing techniques I learned here totally saved it! In fact, this class, combined with Caroline Tran's film class and Blake Rudis' landscape class made the shoot into more than I was expecting, even though everything went wrong on-location! I can't wait to show off my finished image. Thank you Matt for an awesome class!
Student Work