Vlogging for Photographers
Class Introduction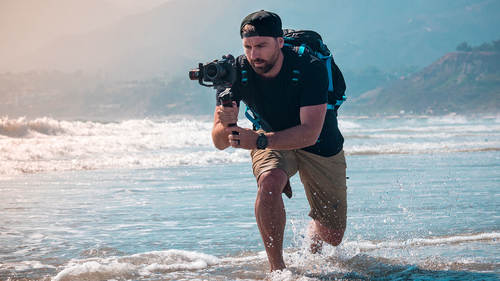 Vlogging for Photographers
Class Introduction
Lesson Info
Class Introduction
(audience applauding) It's time to go on. Hope there's a whole group of people. Okay, I gotta put this away. What is up guys, how's it goin'? I am gonna be teaching you guys about vlogging today. I brought my vlogging camera which I'm sure you guys know very well, the big fuzzy on top. Where is my clicker? This class is about vlogging and why I think vlogging is important for creators. It's a newer medium that's become so popular recently. There's so much opportunity for people to create a new business or just do something different with what it is that they're doing. I'm gearing this more towards photographers for Photo Week because I think photographers have such an opportunity to add video content to what it is they're doing and build more of an audience and get more engagement from the people that follow you. What is vlogging? I'm gonna go through basically what is vlogging and my ideas about vlogging, what I've learned over the last three years about doing it. My name is Jeven D...
ovey, obviously. I have a production company, I started vlogging out of my need to do something creative. As a lot of you who have your own company or you're a freelancer, there's a lot of times when you just are working for other clients and you're bogged down by always doing client work. For my production company, there was a period where it was just work work work and I needed to do something creative, so I started vlogging because I was able to create video content out of what I wanted to create and not just focus on clients' work. That's where my vlogging began and I started it as a passion and now it's become a second career. That's what I'm gonna talk about in this course today. You can earn money from doing what you love and not always working for clients. That's why I started vlogging. What's changed is that when I originally started, it was just for fun. I was just doing this on the side. My wife thought I was kind of crazy. She's like, why are you always running around with a camera? Why are you putting all this content on the web? Over time, as my channel has grown and everything that I'm doing has grown, I have built a business out of it. Now there's money coming in, there's sponsorships, ad money. I'll talk about this later on in the presentation but it's gone from something that's just for fun, creating content, to actually a business. We'll talk about how you can do this. We'll go through some demonstrations of how easy this is to do if it's something that you potentially would want to do. This is how you can get in contact with me. My YouTube is Jeven Dovey, my social media handle is CreatorFilmSchool, which was mentioned at the beginning. That's something new I'm starting. I just wanna put this up at the beginning because this is one of the first things I wanted to explain. If you're gonna put yourself out there on social media and be a vlogger, create content for other people to watch, don't be afraid to tell people that you are a vlogger. Don't be afraid to tell people to come look at your social media. You're making this content to be seen, so make sure that whenever you're meeting someone new for the first time, that you're like, hey, I actually do a vlog as well, you can check it out here. If it comes up in conversation, you can talk about it. That's why I put this up in the front. Also, if you have any questions about today's presentation, feel free to reach out to me. That's the other thing I wanted to get out of this. If you are going to be a vlogger, if you're going to be putting yourself on social media, you have to be ready and willing to talk to everyone that talks to you. If someone has questions, you have to be ready to answer them. If somebody wants to learn from you, you have to be open to engaging with them. That's the whole idea around social media and vlogging and why it's become such an awesome form of content is that vlogging gives you that direct engagement. We're gonna go through what is vlogging, how to vlog, distribution, which is where you're gonna put these vlogs, monetization, how you can make money off all this, and some things that I've learned from three years of doing this.
Class Description
If you think blogging is a great way to win new clients and keep in touch with current ones, then wait till you try vlogging. Video is a uniquely powerful medium and allows you to give people an intimate glimpse into your creative process. Adventure filmmaker and Youtuber Jeven Dovey will introduce you to the world of vlogging and everything you'll need to be successful in this growing field.
In this class, you'll learn how to:
Choose and buy the gear you'll need to get started.
Take great footage and edit it into a compelling story.
Share your vlog online and ultimately monetize it.
This is your chance to be a step ahead of the crowd and connect with your audience in a whole new way.
Reviews
Thanks Jeven for an informative look into vlogging. I am a pastry chef & am embarking on this journey, so there was some very good tips on where to start. Looking forward to your next course. Sue Wiebe