Vlogging for Photographers
How to Vlog & Tell A Story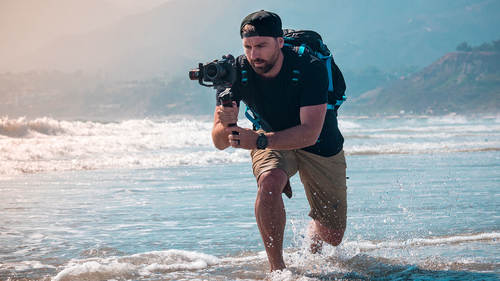 Vlogging for Photographers
How to Vlog & Tell A Story
Lesson Info
How to Vlog & Tell A Story
What does your audience want to see, pretty visuals or story? Hands, pretty visuals or stories. Pretty visuals? Got one, two. Story, yep. Story is much more important. People don't, I mean, obviously pretty visuals are amazing and I'm gonna show you the stuff I use in my bag. This is what I carry with me whenever I'm vlogging, and I'll pull everything out. I have a lot of different tools in here. But if you just have your iPhone, you can create awesome vlogs. You don't need to have crazy equipment, you don't need to have all these pretty visuals, you don't need to have all this sexy B-roll. Obviously, it's nice, and as you start doing more vlogs, you start incorporating more of this, these kind of like cinematic techniques, you can make your vlog look better. However, just talking to cameras sometimes drives a lot of views. This video is just me talking to the camera on my iPhone, about my drone getting taken at Nicaragua. So it was a popular topic that people were interested in. This ...
video's gotten 366 thousand views, which is pretty insane. And it took me, it's a six minute video, it took me ten minutes to shoot, five minutes to edit, and I put it up. And this video off of just ads alone has made me almost 600 dollars, which is crazy because it was just me talking to my camera and then I uploaded it. So your vlogs can be as simple as just you talking to camera you talking to your audience, but people want that connection, they want that story. So, that's one of the key things, is storytelling. So, when it comes to creating your vlogs, you need to tell a story. So, you gotta think before you shoot. When you're about to go shoot a vlog, so for example, today I'm shooting a vlog about this event here, about being here at Creative Live. I'm not just gonna run around and just shoot everything that happens. I'm gonna think about, well how do I wanna craft my vlog for today? So I thought about this this morning when I was sitting in my room and I basically want to tell the story, I want to show Creative Live, I want to tell the story of like, what I, got me here, so I'm gonna talk to camera in a few different ways. Talk about what got me to Creative Live, show the experience, and then I'm gonna wrap it up later. So, I'm gonna think about the story before I even go into shooting it. So that's just something you need to do with any vlog that you're creating, is you just need to think about your entire story structure. No matter, even if it's just you talking to camera, you need to think through what is that you're gonna do. You don't want to just ramble, because if you ramble for twenty, thirty minutes, people are most likely not gonna listen. If you ramble for six minutes, and it has a little bit of a story arc to it, then people will listen. So the basic structure, you just want to have a beginning, a middle, and an end. And, like, a hook, because we're dealing with social media. We're dealing with the digital world where people, you have their attention for two seconds. You know, everyone's like a squirrel nowadays, they look at your video, they move on. So you need to hook them somehow. And I'll explain, kind of what I do for my hooks. And then, you do a beginning, a middle, and end. And that's as simple as just setting up. Like I was saying, I did a talk outside the building here today, and I said this is what I'm doing today and explained everything that I'm doing. And then I'm gonna shoot the entire experience. I've been shooting a little bit here and there. And then afterwards, I'm gonna talk to camera again, somewhere outside, and that's my structure, beginning, middle, and end. And then, so I have some sort of cohesive story in there. And then my hook, I'll have to figure out later. I don't know what I'm gonna use yet. Maybe it's me running on stage. So you want to treat it as a film. No matter what you're producing, you want to treat it as a film. So, just kind of a visual representation. You got your hook, you set everything up, that's just like, if you were to talk to camera. And you can do this throughout your vlogs, over and over. So if I'm doing a travel vlog, for example, I might do this three times within a core story. Because you're gonna have these many stories that come up but every time that you are doing something on video, if you just have it kind of hanging there, and it's just like, you all of a sudden are at the store getting coffee, and you ran into so and so. And there's no, there's nothing around that that people can like, grab onto and they, they're like, well what was that? I don't understand it. If you had set up that you're going to meet this, you know, photographer at coffee, before you went and had coffee, then you did the thing and then afterwards wrapped up, like, who this person means to you. Maybe it's someone special, or maybe it's just a random meetup. But you have that kind of beginning, middle, end in everything that you're doing. And this can be in little sections throughout your piece, but the overall needs to have this as well. So, one thing I want to talk about is, one video, one concept. So, these are two completely different videos, but they still have the same story arc within them. This one was at an elephant sanctuary in Thailand, and when I was coming up with this video, we had this opportunity to work with this elephant sanctuary and I wanted to use this video as a way to show how elephant tourism is being affected nowadays. And how you can properly interact with elephants, versus the improper way. But I did this in a way of a vlog, where me and Rachel went to this elephant sanctuary and had the experience. But instead of me going and doing the experience and running around holding a camera just like, hey, we're over here, we're over here, doing this, we did a little thing at the beginning where we sat down and we talked to camera about elephant tourism, what we're about to expect, what's coming up. Talked for probably 15 minutes and I probably used, you know, 30 seconds of it. And then, we did the whole adventure, and then the end, I did a wrap up to camera, then I also got someone from the sanctuary to do some wrap up on camera as well. So it has more of this bigger story arc about elephant tourism in the, you know, in a fun vlog where we're running around hanging with elephants, so, there's that. And then for like, camera tutorials or filmmaking reviews, I do the same thing. I'm always going to set up what it is I'm doing, and I'm gonna explain why I'm doing this for you, as the viewer, to show you. So if it's a review of this gimbal, for example. I reviewed this gimbal. I'm going to say, like, this is a gimbal, this is why I think that this gimbal is interesting, some things about gimbals in general, why you might use them. Then I'm gonna do my review about that product, and then at the end I'm gonna wrap it up and say whether I think that it's something that you should potentially use in your arsenal or not. So I still have that story arc, I go through, you know, beginning, middle, end. And it kinda has that cohesive feel to it. So you set up, you do the thing, wrap it up. That's as simple as you can put it. So what to shoot. What do you want to shoot? No one cares about your day. No one cares about you brushing your teeth. No one cares about you eating breakfast. And you see this a lot on vlogs, that you'll watch it, and somebody will be sitting there eating cereal, doing this, doing that, nobody cares about that. Unless you're like a massive creator and you have an engaged following, people will consume anything that you produce, so you might so some vlogs like that. I have shot a ton of vlogs like that that really suck. It's just part of it, you learn and you learn from you experience, and you learn from what gets really horrible reviews. So you just wanna have a clear goal with your videos, and that's what I've been talking about. Is that you want to make sure that if you're going to do like, an elephant sanctuary that you have this goal that you want to talk about elephant tourism. You're not just going to play with the elephants. People like playing with elephants but, that's not everything. You want to have something to it, something that someone can walk away from it with, and that's important. So for, for photographers in particular, some ideas of what to shoot might be like, behind the scenes of your photo shoots. Those do awesome. People really like to see behind the scenes and they really like to see the entire process. And that's something that I think there can be more of on YouTube. Like, people want to see the creative process that goes into a professional, especially with photography. Everyone wants to be a photographer. So if you have some sort of, if you have some sort of art that's yours, well, you can let people into that, and see kind of behind the scenes and all that. How-tos, like I was saying, I do a lot of tutorials. I do a lot of camera reviews. Anything how-to does well. And I think that's a great way to grow your audience of people that are, have a similar interest of you. So if you wanna do how-to videos, say you're a cannon shooter, then do videos about all the products that you own and that you use. So for me, if I'm gonna do product reviews about my setup, I'm gonna do a review about this microphone. I'm gonna do a review about the camera, about the lens, about the tripod. Now I've got four different videos that I can do with things that I actually care about and I use that other people might be interested in, and I'm gonna find a similar audience because people who're interested in this setup or these pieces, are now gonna find me. And they might be like, oh I like this guy, I wanna watch more of his videos, and I'll watch more of his other vlogs as well. So once somebody comes into your channel, or your wherever it is that you're posting these, and they find you, they might like your video of this lens, but they're like, I really like the way that guy tells his story on camera or does whatever he does. I'm gonna watch more of his videos. And that's when it comes back to you as an individual, people will grasp onto you. So there could be 100 videos about this lens out there, but people will like the video that you produced about that lens, so they're gonna like the rest of the videos that you produce. And they'll watch your elephant sanctuary video because they like the video that you produced on the lens. So photographers, you have a huge opportunity here where you can do how-tos, you can do products, that, and behind the scenes of your shoots. Just concept shoots, shooting different ideas. That you're gonna find a community around what it is that you're shooting and you're gonna find people that like what you like and you never know will come out of that. Might be, you know, more business, new unexpected things like I was saying. Events, so like I was saying, this is an event, I'm shooting this event today. So if you're doing an event, that's a great idea for just a vlog, for just a day in the life. Because people like to experience these events. If you have like, if you wanna be inspirational or motivational, doing like a motivational video was always an idea of a vlog. The one I'm gonna show you at the end is kind of an inspirational video that I'm doing. I'm gonna see if it works on my channel or not, we'll see. And you must communicate with your audience. Don't just put this, like, don't shoot content that is like, showing your day and doing all this, and you're not actually engaging with your viewers. Like, you want to communicate directly with your audience so you break that fourth wall, you talk to the camera. You say, how are you today. You say I would love feedback on this, can you, you know, do you guys have any questions about this. I always ask if people have questions. I always ask if people want to know more information about a topic, because you're creating a conversation and you gotta continue that conversation. So, that's the biggest way to grow an audience that's dedicated, is to, you know, keep the communication going and just be a real human. So I kinda touched on this. Create content that people are searching for, if you're building an audience. So this is what I was saying about like, products or you know, specific styles of shooting, or like, maybe you do a video Ten Techniques to Shoot Portraits. That would probably do very well. You know, Ten Ways to Use Your 50mm That You Wouldn't Think. That's a video that would probably do popular. Like, there's these just, ideas that you can come up with that you could use your products in different ways. And that's stuff people are searching for. And a good way to just look at this is go on YouTube, because YouTube's a search engine, and start searching things you might want to do. Go type in like, I wanna do a video on portraits, so type in, portrait photography. See what videos pop up. Now make videos similar to that. Or go into that video and then look at the comments, and see what people are asking for from these other creators. So there's holes all over YouTube and people want more content, and you just have to start hunting for it. And that's how you build a bigger following, is you create content that people are searching for. And then from that, you want to create content that your audience want to see, wants to see. So this is once you start building your audience, you're going to, you'll start listening to what your audience is telling you, and just start creating more content like that. So people will start asking to see more videos. I had someone reach out to me and said, I want a video on how to shoot slow motion, so I shot a video on how to shoot slow motion. And I shot it for that one person individually. And that videos been, I think has 30 thousand views right now. So it's once you start answering questions and, you know, creating content for other people, other people have that same question, so, create both. But, you need to have a goal. Nothing will be handed to you, you're not gonna just put a vlog up and people are gonna watch it. So you need to have a clear goal. So if you want to be a tech reviewer, if you wanna do, if you wanna get more clients. You have to understand that, how am I gonna get these clients, who are these people, and then create content that those people might want to watch. So, you really need to have that goal. And you just need to think through, who is gonna watch the content that I'm producing. And if it's not the people that you want to watch it, then you need to be producing different content. So, imagine everyone who views your content is sitting in front of you. This is something a that lot of creators forget and a lot of YouTubers forget. I don't normally have a crowd like this, this is nice. I can see people. Hi. But, usually I'm sitting in my room, by myself, talking to a camera for hours on end. And I'm by myself. So you kinda forget the fact that there are people on the other side of the screen. And that's just something that you need to remember whenever you're creating content, even if there's ten people watching your video. That's ten people that are sitting in front of you watching your video, so create content for those ten people. Okay, What To Shoot part two. Just looking at time. Okay so, I kinda touched on this earlier so, you're gonna shoot your main content, you're gonna explain everything, that's when I was talking about how you wanna set things up, you wanna shoot all your content, and then you want to explain it later, what happened. So that's, you wanna explain everything. B-roll is very important, just for when you get into the edit phase. So when you start editing content and you realize, you're talking to camera, maybe you shot like, an event and you're talking to camera the whole time. Well, there's, you need to have stuff that stitches in you talking to camera in different ways. So that's where B-roll comes in and this is where you can get as creative as you want. And that's where people get into like, really cinematic B-roll. They wanna create these sexy videos. It's great, but that's the stuff that stitches everything together. So as you get more into vlogging, you might be more into doing this B-roll. And you'll start, I mean, I like to shoot awesome B-roll. That's why I have a bag of cameras with me everywhere I go. It's heavy. Shoot more than you think. So when you're starting, if you're new to vlogging, you gotta just shoot everything and shoot more. I, there's sometimes I'll have three, four hours of content for a ten minute video. And you'll start learning, that was at the beginning, obviously now it's changed where I know what I need to shoot to create a vlog. But you gotta shoot more than you think. You're always shooting more content. And you might shoot five shots for a transition from you going from Point A to Point B. But those five shots, you're gonna end up using all of them. If you shoot 20 shots, you'll end up using all of them. It's crazy how much footage you'll end up using because you want to keep it engaging, you want to keep it fun. So that's where the B-roll comes in.
Class Description
If you think blogging is a great way to win new clients and keep in touch with current ones, then wait till you try vlogging. Video is a uniquely powerful medium and allows you to give people an intimate glimpse into your creative process. Adventure filmmaker and Youtuber Jeven Dovey will introduce you to the world of vlogging and everything you'll need to be successful in this growing field.
In this class, you'll learn how to:
Choose and buy the gear you'll need to get started.
Take great footage and edit it into a compelling story.
Share your vlog online and ultimately monetize it.
This is your chance to be a step ahead of the crowd and connect with your audience in a whole new way.
Reviews
Thanks Jeven for an informative look into vlogging. I am a pastry chef & am embarking on this journey, so there was some very good tips on where to start. Looking forward to your next course. Sue Wiebe