Vlogging for Photographers
Vlogging Gear & Editing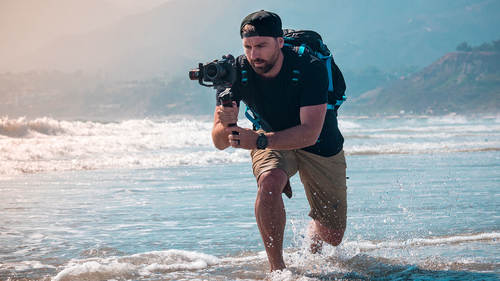 Vlogging for Photographers
Vlogging Gear & Editing
Lesson Info
Vlogging Gear & Editing
So let's talk about gear. So camera. I'm gonna just pull these up. Okay, so this, I use the Panasonic GH5, you can use any camera that you want. Personally I use this because it has a flip out screen and so you gotta think about, are you gonna need to see yourself so you can frame yourself properly. Whether you're doing this or whether you have it on a tripod and you're siting down, hi. Flip out screen makes a huge difference. You could use a GoPro, you could use your phone and vlog. Camera really doesn't matter, it's the story that matters but something to think about with cameras is that auto focus, are you gonna always be out of focus if you're shooting on a camera that doesn't have good auto focus? Or if you have to manually focus, it does get annoying after a while. Another thing to think about, does it have a mic input? So you see I have my fuzzy mic in top. If you're shooting just camera audio, it starts getting distracting because people, 'cause the audio's not gonna be as good...
as if you're using a shotgun mic so for me, I've used my iPhone, I've used a GoPro, I've used 360 cameras but the one I use for everything is my Panasonic GH with a wide lens because of the mic input and because of the flip out screen and auto focus isn't great but it works. And then you want to create a look that fits your brand so we'll talk a little bit about branding but if using a GoPro fits your brand then use a GoPro. It's just up to you. Microphone, this guy, so I have the windscreen on top. Like I was saying, you want to think about do you have it built in to your camera or is it external? External is always gonna sound better if you have a nice shotgun mic on it 'cause then you can hear exactly what you're saying and not everything around. If you're using your camera audio, you're gonna hear someone over there, this, you're gonna hear cars driving by, it's not gonna be as good whereas this, I was vlogging outside with construction and you can still hear it perfect because it's a nice shotgun mic. And that comes from just the nature of a shotgun mic and then also I've got my windscreen, this is called a dead cat. I guess that's why they call it that, it's furry. But everyone always asks me when I'm traveling, they're like, "What is that on your camera?" and everyone wants to touch it, all kids run up and they (laughs). Selfie stick. This is just to make it easier to hold the camera and out from away from you. So it keeps your distance so you can get a nice shot that's here up, less shake and it's just so you can film yourself. Also something to think about is that if you're vlogging, a lot of times you are shooting yourself so you might have to put the camera over here and then walk over, do your walk, okay great got it, come back, grab your camera. I end up doing this a lot. Grab my second angle, okay, do the walk again. So selfie sticks come in handy a lot just because you're gonna be filming yourself and for any photographers who are doing behind the scenes and you want to vlog behind the scenes, then that's where a selfie stick comes into play. You might, you're gonna shoot, say you're doing a behind the scenes shoot and you want to show the process, well you're gonna set the camera up in different spots while you're doing the shoot and that's how you can get the different shots and you don't have to have someone else there. Obviously, it's nice to have someone else shooting you but I rarely do that, I always am filming myself but I have convinced friends here and there to film me which is always nice. Bonus gear, so we got a whole bag of gear here. This is stuff I use for, this is your main vlogging setup. Beyond that, this is stuff you don't necessarily need. Gimbal. So a gimbal just keeps your, oh look, there's a jacket there too. Throw that out. When I get cold. So I always bring my gimbal with me. It's obviously a much bigger tool but this keeps everything super smooth. So a lot of times, if you're shooting cinematic B roll, you're gonna want to get some awesome, smooth, cinematic footage and that's what a gimbal is good for. It keeps everything perfectly smooth. It's a great tool just to get smooth footage and also I've seen a lot of creators using this to vlog. So if you vlog yourself using a gimbal instead of the selfie stick, you get perfectly smooth footage. Now it's more of a hassle because you're dealing with batteries and you're dealing with a tool that doesn't always work, sometimes these things fail on you and it's just kind of a pain sometimes to always be carrying this which is much heavier than this. But I always carry one of these. More show and tell. Computer, you're always gonna need a computer to edit. Let's see, a good backpack I mean, as you know, as a photographer, a good backpack makes a huge difference. This is the backpack I use because I can open up it up and get to all my stuff. I always carry a bunch of extra lenses with me. This is all for B roll. I use one lens to vlog and I use other lenses, a lot of primes to just shoot my B roll like cinematic B roll. Like I was saying, sometimes I use a 360 camera just because I can hold this up and I don't have to worry about where it's pointing because it's so something to consider if you're doing something more action oriented or if you're trying to shoot a situation where you just need to set down a camera and get the shot. 360 cameras are something to start thinking about and I like using them a lot. Whenever I'm out traveling, if I'm out climbing, like if I'm hanging off the side of a mountain, I'm not gonna use this to vlog, I'm gonna use this because I can just hold it up and not have to worry about falling off the rock as least amount of possible. But I've gotten some really cool footage on tops of mountains using a 360 camera because it smooths down your footage and it's just something different and unique. Drone. Everyone likes drones so I always carry my drone with me. So I always keep this on me because you never know when you're gonna need a drone because for vlogging, it gives you a different perspective, a different way to see a new location. It's great for any sort of transitions, any sort of B roll and it's great to get the extreme wide shots so if you are going to a new location and there's the option that you can fly your drone. People love seeing drone footage so you could start with a few shots of B roll of the space where you're at, visuals of, say, the location goes into B roll with you at the gimbal running around, then you go into the vlog. That's how you could start using these tools to transition. So you can mix in drone footage here and there. I use it all the time. And I always carry all this gear with me all the time so vlogging has a lot of gear with it. One other thing to think about is defined look. So I always wear in my vlogs a hat, I always wear this watch, I always have similar kind of color schemes going on and with this, you also have for example, my office, I always shoot in my office with this kind of lighting color scheme. So defined look is gonna give you character, it's gonna make you a person that every time they've stumbled upon your video, they're gonna be like oh that's Jeven's video, they know exactly who I am. If I walked out here in a button up shirt and a tie, people would be like who is that guy, that's not something you ever see on my channel. So your character's kind of, you can define your own look and it comes from your own personality. It sets the tone for your videos and just gives your brand a visual identity and something you have to think about. Whenever you're talking to camera, if you're gonna build a set or build a place in your house to do this, this is a very easy to start vlogging is just talking to camera and then 'cause you have time, you could sit down, talk to camera but you need to make sure your background looks good and your lighting looks good. Because that makes you stand out from a lot of the people that do this who don't have a good visual look to it. So it's important to think through your brand, think through what you wanna say. So I don't know if any of you have heard of kit.com but it's a very awesome website and I highly suggest all photographers should have an account on kit.com, it's free, but basically if you want to see any of my gear, anything that I use, go to kit.com/jevendovey and there's all my gear that I use and I explain what each piece of gear is for. So if you go on there, I have different kits that are based on my vlogging kit or my YouTube studio kit. You can see every piece of gear that I use in my YouTube studio for and it's all there, all the products. For photographers, this is huge because if you set one of these up, all those links are affiliate links so if somebody clicks through, you get a little commission off of every sale that goes through that website. It's set up with Amazon affiliates and it's pretty amazing and I'll talk about the money side of it soon but that's one of the ways that I bring in income is affiliate marketing. Okay so editing. Learning a software. I'm not gonna go into specifics to editing because there's so many pieces of software and there's just, it's a big course to go into that but the key to editing and the key to making this easy where you can consistently be producing vlogs is learning a software, just take a couple days, find a course on Creative Live or another course out there. There's tons of content out there on the web and you can basically sit down and learn a software. Once you learn it, then it will be easy to edit the vlog but if you are stumbling with the software, that's when people take days to edit a vlog. It takes me usually less than an hour to edit a vlog from a ton of content. So I will shoot all day, edit in an hour or two and get it up by the next day if I'm doing a daily kind of video. Another key is organize so just having a good organization system so that if you are, so I do a lot of tech reviews, product reviews. If I need to think about if I had shot something in the past that I want to refer in the new video, I have everything organized in a way where I can easily find that clip, bring it in and not have to be digging through hard drives. So organization, just becaues when you start vlogging, there is a ton of content that you're producing. I keep everything, I know some people delete stuff but I just have hard drives full of content and I just keep it organized and it's crazy, I'll pull up stuff from two years ago. Chronological order so if you're shooting, so for today, I'm shooting a vlog about this entire experience. I'm gonna edit this in chronological order because I'm shooting in chronological order. So for editing, I literally take all the footage that I have produced from today and I drop it on my timeline and I watch it and cut it as I go and it makes it really fast and easy to cut a vlog. If you're doing stuff where you're pulling footage from different places, you can't do this but if you're shooting a vlog like a day in the life, you can literally drop everything into your timeline and just cut as you go and it makes it really fast and really easy to cut a vlog. But the key is cut out the boring bits. Nobody wants to watch a 20 minute vlog, a 30 minute vlog about you going to the beach for the day, it's boring, so cut it down to a two minute video that's really exciting and has the best bits. You just, yeah, I mean it's you want to cut out as much as possible so that your video is between one to 10 minutes, my sweet spot is 10 minutes for vlogs, I do a lot of 10 minute vlogs and that does well on YouTube but you might find that five minutes is good for you, you might find that two minutes is, you need to find what works for you and how much time that you wanna, what you can tell your story in and that's kind of how you go by it. Write a script or outline. So a lot of times I will think through my video, I'll shoot everything but then when I get back to my edit, I will literally sit down, I'll glance through the footage, see what I got and then write out an outline or a script about what I'm editing before I do it and that gives me a way to think about it on paper or on my computer just thinking about it outside of actually looking at the footage and then you can go through and start cutting off of that. It makes it a lot easier to edit once you have an outline and you know where you're going with it. Big thing with editing, learn how to sound edit. It makes a huge difference because when you get into post and you have audio going like this, up and down, like it's really soft in one area, really hot in another, you're gonna lose your audience really fast so you just learn sound editing, just the basics of sound editing and mixing so that you're consistent throughout the entire video. It'll make you stand out. Don't be afraid to cut. So if you have something awesome in your video but it doesn't fit your story, cut it out, just make sure it fits your story. So don't be afraid to cut things. It's gonna come up a lot. Okay. Time matters. So I bring this up because you don't want to spend months and months working on one vlog. You want to shoot, produce it, put it up there and move on to the next. And that's kind of with this nature and this style of creating content is that you have to always be creating. Whether you're doing one a week, two a week, you just always want to be producing content so if you spend eight days working on a video, you can't be working on the next video. So try to figure out a way to make it go faster, the entire process, cut fast, put it up there, learn from what you did right or wrong, move on to the next video. There's nothing worse than just sitting there, hanging on to a video for weeks on end unless it's a massive video but if you're just creating vlogs constantly, you could cut it in a day, watch it once, great, good, got it, move on to the next thing. Because what's gonna happen is that you're gonna learn from your mistakes because people will start commenting. You'll start getting feedback directly from your audience and then from there, you make your next videos better. So just the idea is that you wanna produce more content, less time.
Class Description
If you think blogging is a great way to win new clients and keep in touch with current ones, then wait till you try vlogging. Video is a uniquely powerful medium and allows you to give people an intimate glimpse into your creative process. Adventure filmmaker and Youtuber Jeven Dovey will introduce you to the world of vlogging and everything you'll need to be successful in this growing field.
In this class, you'll learn how to:
Choose and buy the gear you'll need to get started.
Take great footage and edit it into a compelling story.
Share your vlog online and ultimately monetize it.
This is your chance to be a step ahead of the crowd and connect with your audience in a whole new way.
Reviews
Thanks Jeven for an informative look into vlogging. I am a pastry chef & am embarking on this journey, so there was some very good tips on where to start. Looking forward to your next course. Sue Wiebe