What is Vlogging?
Jeven Dovey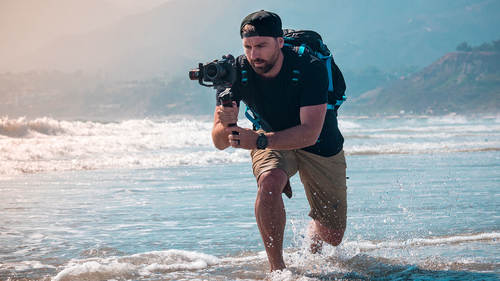 What is Vlogging?
Jeven Dovey
Lesson Info
2. What is Vlogging?
Lesson Info
What is Vlogging?
What is vlog? So, this is typically what you think of vlogging, so you think of people just walking around filming their day, doing this. And I kinda wanted to go through this and explain that is not just what vlogging is. You see this in popular media or you see this on the news when a major vlogger does something stupid. People see that and that's the only aspect that you're seeing about vlogging, is that Jake Paul or Logan Paul like does something stupid, and now CNN picked that up, and now you're seeing vloggers are just these kids running around doing stupid stuff. And that's not necessarily what vlogging is, that's one aspect of it. There's definitely that entertainment side of vlogging, but vlogging is more than just running around with a camera talking to yourself. So, what vlogging is, is video blogging. So, if you have a blog on your website, what would you put on that blog? Now, essentially you're just creating video forms of that. So, if you wanted to just, you know, speak ...
your mind on your blog, then that's what your vlog would be. If you wanna tech reviews, or you want to talk about gear, or you want to talk about an event. That's stuff now you can make into a video. So, vlogging is essentially video blogging. Right in the name, but essentially, anything that you would put on a blog that if you had a website, and you had a blog, anything that you would put on there, is what you would create a vlog about. And there's obviously some more to it, but that's kinda the idea. There's no right way. You're constantly changing the way that you are going about creating content. So what I created three years ago, I am not creating now, and at the end of this presentation I have a short video that I actually edited on the plane over here last night at midnight. That's like a three minute short film vlog that I did that's completely different than a lot of the other stuff that I'm doing on my channel. And I just wanted to show you guys this, because I wanna show you that you have to always be kinda constantly making new content, trying new things, engaging your audience in different ways. That's the idea from vlogging, is it's always evolving. So what I did three years ago does not fit what I do now. But the biggest thing about vlogging is that it's a direct connection to an audience. So you are talking directly to people on the other side of the screen. You're not talking just to, like, you're not just a brand just talking to, like, how do I wanna say this. Basically, you are a direct connection to another human being on the other side, and you are talking through the screen directly to that person, so you are looking at the camera and you're talking directly to them. So you have to remember that, that you are making this connection, you are not just talking to the air, you're talking to actual people, and that's where vlogging is different than, say, other forms of media. And people are hungry for this connection. So you'll find the more and more that you're vlogging, you start getting these dedicated followers, you'll find people that want to consume everything that you produce. And it's pretty insane, like, people really want that connection. It's pretty cool to see, and it's pretty cool when you start building this community because what it comes down is that you're building a community around people that share similar interests, people that are into doing the same kind of things. So, as photographers, there is a lot of opportunity because you're interested in a specific niche of photography. It might not be necessarily what you're shooting. So you could be a wedding photographer, but you're very interested in a different style of photography, and you don't really have an outlet to create this content. Well, with your vlogging you can basically start creating shoots around this and film it and find a community that also enjoys doing something that's similar. So, I want to pull up this screen. These are four different styles of vlogs that I do on my channel, and something common that's in all of them is that it's me on screen and it's always me talking to camera, it's always me doing something and bringing you along on the adventure. So, for me, I do a lot of tech reviews, so I get products, and we'll talk about sponsorships later on, but I do a lot of sponsored kind of videos where I have a product, someone pays me to do it or I do it for free, and I'll do video reviews. I also just do a lot of tech tutorials. So, I'll do how to shoot slow motion, or how to light this type of scene or something like that. And I'll explain a little bit, those versus kinda the other productions I do, which are, like, I love to travel. So, when me and my wife travel, I shoot vlogs from it. This is what I started out doing, however, I don't do it as much anymore. And then one of my biggest passions is mountaineering, so I have now found a way to basically do mountaineering and get the entire process paid for through my vlogs. I get everything paid for, and now I can just go on these trips, and I know it's completely funded by the videos that I'm creating on YouTube. So, what is vlogging? Vlogging is basically your perspective, it's coming from you. So this is kind of something I wanna hone in is that everything that you're putting on video is coming from you as an individual. So it's your creativity, it's whatever ideas that you want to do you can make possible through your vlogs. You don't have to limit yourself. It's your knowledge. So you can, so, if you are very knowledgeable in a particular topic for photography for example, if you're very knowledgeable in it, share that knowledge. That's a very good topic for vlogging. It's you, and it's a look into your world. So basically you're pulling back the curtain and giving people access to you as a person and behind the scenes of what they might see on, say, like your Instagram. So if you have a popular Instagram and people only see your feed, well obviously with your feed, you've sculpted it in a way so people can see that this is your style of photography. Well, this is now a look into your world. What it takes to make that photography, what you do beyond just doing these kind of photos. So it gives you, it's behind the scenes in a way, people love behind the scenes content. Vlogs are not for you, you're creating content for others to watch, but at the same time, they are for you. And I wanted to put this up just because vlogs, you're always creating content for other people to watch. But you always have to create content that you would want to create. You don't wanna just put content out there that... As soon as you start putting content out there that you don't believe in, you're going to lose your audience. So if you care about the content you're producing, if you enjoy the content that you're producing, then other people are going to latch onto that. They're gonna join your community and they're gonna become part of what it is that you're doing. So, let's see. So what is vlogging? It's entertainment, it's learning, it's information, it's the connection, and it's from an individual, not a business. Now if you have a business you can definitely do a vlog, however, it's more from the individual, and that's, when you see popular vloggers, it's because they're coming from an individual. You don't really see brands thrive in this medium, because people want to connect with a person directly. So for example, when I first started doing vlogging, my wife and I started a travel vlog, and it was called Wanderworks. It wasn't under Jeven Dovey. So I did this wrong, I started doing something that I wasn't necessarily as passionate about as I am now. And we started because we wanted to be a travel couple brand. And we thought that we were gonna be, like, travel vloggers. Well in reality, we're not gonna travel full time and we're not going to be doing this, so when we started doing our vlog, we started doing travel vlogs as a couple. And the issue is it kinda looked like a business. Our name was Wanderworks. There was none of that personal connection, because when you approached it, and you saw it, it wasn't like you were entering a person's life, you were entering this business or this thing that's called Wanderworks. So I kinda shot myself in the foot the first year, and you can look in my analytics, and it's just such a slow growth at the beginning of the first year. And then when I decided to make it more about the individual, make it more about me, the things that I cared about, it was insane the spike that took off, and then from there it's been just skyrocketing ever since. So it kinda starts snowballing after time. And that's because I changed what I was doing from what my idea of what I wanted to do to actually things that I cared about. Let's see. So why would you vlog? So as a photographer why would you vlog, or as a creator or creative, why would you vlog? It's a direct conversation with your audience. I've been talking about this. You can monetize in new ways. So like I was saying, there's money to be made in this. It's still in its infancy. There is a lot of potential to make money vlogging, and we'll go through that in a little bit. You can get new clients. I have had some clients come through the door that I would never expect to come through the door. And they all found me off of our vlog. And we've been doing some pretty cool stuff that I would never have had access to if I hadn't been doing the vlog. So you can create new unexpected opportunities, and meet people with similar interests. And this is a big part of it. I've been talking about this whole community aspect. You're gonna meet other people by doing this. You're gonna collaborate with other people, you're gonna start talking to other people because it is a community. And when you do that, you start meeting other creators that have similar interests and you start doing projects together that you care about. So it's interesting how it all grows and kind of snowballs together. So, here's kind of three things that have happened recently that are, I'd like to say, unexpected. So, this picture is from Cinque Terre in Italy. So, Rachel and I got called up by Royal Caribbean randomly one day. They saw our vlog and they were like, we want to bring you to Barcelona, and you're gonna go on a trip on the Symphony of the Seas, which is a new ship by Royal Caribbean. And we got paid to go take a cruise and film the entire experience. So, kinda came out of nowhere, just got an email one day because of our vlog. And that was all just because of the content I've been producing. And so we filmed, I think we did five or six vlogs throughout that. Three were a typical day-in-the-life kind of vlog. I did a couple tutorials, and I did a wrap up kind of short film. And I edited all of it while I was on the boat, or the ship, they call it. So I edited it all while we were there. So, I did this entire trip and it was amazing. And we met, like it was a group of 30 influencers. So there's a group of us that got to hang out and now these people are our friends that we chat with all the time. Pretty cool experience that just came from creating content on YouTube. I get a lot of product sponsorships. Almost every day I get new companies sending me products. I don't always do the products or post about them, because I only want to do products that I care about, and that I would use. For example, Garmin, I've always worn a Garmin watch, it's just something I love working with, and they reached out to me one day, and they wanted to work with me on their new camera. They wanted to send me a watch, and then they were paying me to do a whole campaign. So that kinda came out of nowhere, and it's a brand that I already really enjoyed. And then this is a pretty big one, I've always had a dream to work for National Geographic, and then one day I got an email, and they wanted to feature one of my videos that was about me climbing a peak in Mexico, the tallest peak in Mexico. And so they ended up doing a whole article about that video, so in a roundabout way, I shot for National Geographic. (audience laughing) Which was pretty, it was awesome. That entire trip I got funded through my vlogs because, the money I made off of my vlogs, I was able to take this trip, and make content that now is being shared and ended up on National Geographic. Okay, one thing I want to say is that the size of your following doesn't matter. Obviously, big following is gonna drive bigger brand deals, but at the end of the day what matters is your engagement and your connection with the people that are following you. So even if you have like 20 people, it doesn't matter because those 20 people, if they're highly engaged, they will consume everything that you produce. And when it comes to monetization, there are obviously advantages to having bigger and bigger followings, but there's also ways in which that you can monetize smaller followings, and that's through things like creating digital products, and other things like that. So if you have a smaller group of people, it's not as big a deal, the engagement is what matters.
Ratings and Reviews
Thanks Jeven for an informative look into vlogging. I am a pastry chef & am embarking on this journey, so there was some very good tips on where to start. Looking forward to your next course. Sue Wiebe
Student Work